A $700bn B2B playing field
Before moving to the 5G enterprise opportunity, let's look at what 5G promises as the next G of communication technologies. Broadly, 5G supports three main use cases:
Enhanced mobile broadband (eMBB),
Mission critical communications ((URLLC), and
Massive machine-type communications (mMTC).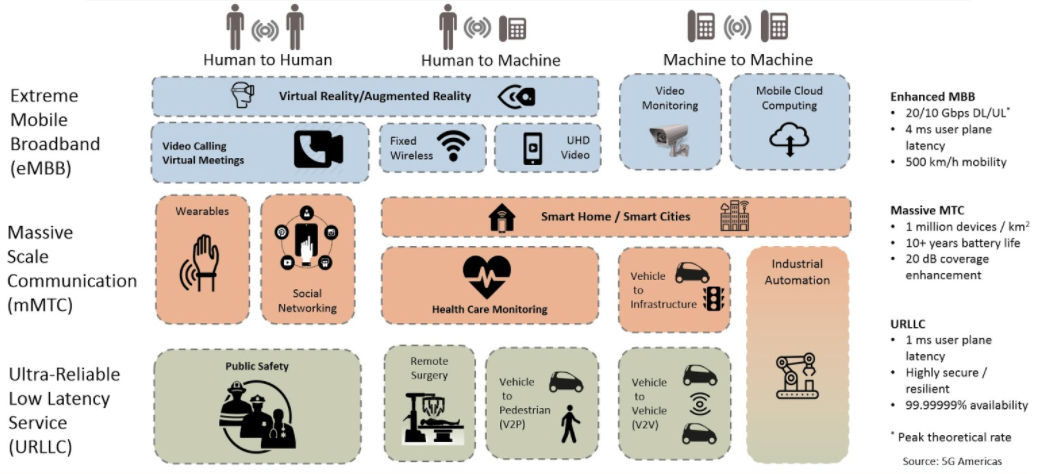 The Release 16 was important for enterprises as it expanded 5G use to new services, spectra, and deployments. It enables new use cases such as industrial automation that require enhanced ultra-reliable low latency communications (eURLLC). Other developments included support for NR-U and private network, both aimed at strengthening the case of 5G for enterprise use.
A study from Ericsson pegs ICT opportunity from industry digitisation at $3.8tn in 2030. For service providers, it is an additional $700bn in revenues over the next 10 years. Sure, it is exciting as CSPs can turn their flattening growth curves completely around. However, benefiting from these 5G led transformative use cases will require them to do things differently from past. To support varied use cases, 5G systems must be built to enable logical slices of the network. These slices can then cover specific SLAs for a particular application. In today's world, most 5G deployments are referenced on the non-standalone 5G architecture (3GPP Option 3). This implementation does not allows for true 5G NR features including network slicing, URLLC, and support for mMTC. Most operators launching 5G therefore stand to quickly benefit from 5G speeds, utilizing existing LTE deployments.
Also, it is yet several years before organizations are ready to fully embrace 5G led transformations. Service providers still have to solve the problems that they face with enterprise connectivity today.
So while telcos prepare to address the more complex vertical opportunities involving building and orchestrating a complex ecosystem of suppliers, focus should also be maintained on capitalising the enterprise opportunity.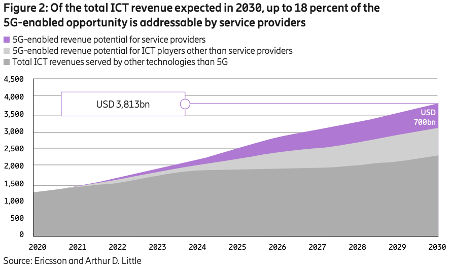 5G is relevant for enterprises today
The question is definitely not whether CPSs should do 5G or not. The first mover advantages with 5G are now clear. The rationale is what can 5G do for CSPs and their enterprise customers that 4G could not achieve. CSPs should look at very basic use cases, starting with connectivity. Of course, digital maturity of Asia's developing and developed markets vary.
Expand connectivity: Connectivity dominates telco enterprise revenues while new digital services are promising faster growth. With the established business models and service maturity, connectivity is CSPs cash cow today. Expanding connectivity services with use cases such as 5G-FWA and enhanced mobile broadband is the right step to take first. It particularly puts mobile operators in a strong position in the managed connectivity space by offering SD-WAN over the 5G FWA last mile.
Enhance coverage: There are two existing gaps CPSs can fill by adding 5G to their connectivity portfolio. Need for enhanced coverage is gaining importance with the emerging trends in enterprise mobility. Remote working and the ongoing shift to cloud is dictating changes to enterprise wide-area-networks (enterprise WAN) and connectivity. 5G's faster speed and greater capacity can address business' cloud-based applications and remote working needs without deploying high-speed fixed networks.
Simplify service plans: CSPs can effectively rationalize their service offers for businesses. Operators have long relied on volume-based pricing which is coupled with the rolling of a large number of service packages. This will change with 5G as operators do not need to differentiate on data allowances. They can have fewer service packages, yet differentiate using a value-based approach.
Fortifying CSPs existing capabilities
Simplify complex environments: An area where CSPs have maintained a strong foothold is rolling out and managing enterprise WAN for their clients. In some scenarios, wireless has emerged as a more flexible, scalable, and cost effective solution to the fixed 'wide-area LANs'. Verticals such as mining and ports have shown interest in private LTE to connect assets across spread out areas. However, many have stayed with Wi-Fi and ethernet to meet the complexity of connectivity needs within selected environment. SLA's, QoS, and network latency for real-time video analytics, asset tracking, and video surveillance systems for port security differ. The ability of 5G to serve various QoS and latency requirements makes is more suitable for such environments.
Improve flexility: Private and public 5G deployments are likely to find relevance even in more traditional applications like greenfield installations for new campuses, branches, and even pop-up locations. Enterprises may require connectivity for temporary locations and campuses. The buyer could be an event management company that needs to setup temporary network. Visitors can access free internet while dedicated capacity is available for other applications such as live broadcasting of the event. Network slicing on public 5G network can serve by enabling different QoS and SLA requirements for various applications. Network slicing on 5G is key. Not only will it let enterprises configure each slice to varying needs, but will also offer the flexibility to price differently.
Prepare for new breeding partners
Verticals mean long tail of partners: Capitalizing on the 5G opportunities will require CPSs to actively collaborate with a long tail of ecosystem partners and suppliers. Managing a network of multiple complex partners – industrial customers, system integrators, cloud providers, and other CSPs require an open network infrastructure that is cloud based, scalable, agile, and mostly automated. CSPs also need to look beyond networks, and address the capabilities of existing operational and business support systems. These are the enabling layers that support rolling of new services, pricing flexibilities, automated provisioning among many other capabilities required to support 5G use cases.
Implementing a solution like Singtel's Un-boxed (a 24×7 unmanned pop-up store) demands a new kind of agility in operator networks and operations. A retail customer adopting this solution can unlock the full potential by moving its pop-up store around to various locations based on demand analysis. CSPs supporting those services require an agile network to match the requirements of on-demand, secure, and flexible connectivity to network services with automatic provisioning through self-service platforms.