# 1 Bridging the protection gap while tackling the rising awareness on health and wellness
2020 was a landmark year of the century, when COVID-19 spread to nearly every corner of the world. The virus brought about one of the biggest global crises of our lifetimes. The pandemic caused an increased awareness of people towards their own health and wellness. People are reaching out to practice regular self-care and want a mitigation plan against any unprecedented health risks, or more specifically – the exorbitant medical bills.
According to the China Banking Regulatory Commission, health insurance business in China has shown an outstanding quarter-on-quarter revenue growth of 17.4% in Q3, 2020. This has generated a total revenue of ¥ (RMB) 666.6 billion despite the gloomy economy outlook. The paradigm shift in consumer demand and a low penetration rate of health insurance within the APAC region has opened a window of opportunity for insurers. Insurance companies are responding to this by developing new variants of health insurance products.
Insurance companies will look at addressing the primary barriers of health insurance in the region, which are outdated benefits and affordability. They will focus their efforts on two key actions to gain share in emerging markets., viz.,
Pivot the coverage of healthcare insurance to keep pace with swift changes happening in the medical and social fields
Rectifying healthcare product and services to reduce high claim experience – promote self-health management, provide preventive healthcare benefits, and enhanced early-stage illness benefits.
Marching into 2021 with more unforeseen consequences of Covid-19 pandemic, the consumers' sentiments on getting a health insurance is anticipated to reach an all-time-high.
# 2 Usage-based pricing model will flourish in APAC
The launch of 5G network, advancement of IoT, telematics sensors and big data analytics will enable an era of usage-based pricing for insurance. While the current penetration is low, insurers and a new breed of start-ups are developing solutions to address this new trend. This is particularly true for the automotive industry where we are likely to see the replacement of conventional auto insurance with a usage-based insurance ("UBI") over a period of time.
"Technology innovations can change the insurance paradigm" – Prag Ved, Executive Vice-President & Head- Consumer Lines, Tata AIG General Insurance

Other than the new mobility solutions such as public transport and shared cars, the new norm of remote working has landed an opportunity for UBI to grow. With the lockdown imposed by the government, what really changes alongside the work-from-home scenario is that people no longer need to drive their vehicles as much as they used to. What remains the same, though, is the hefty insurance premium for vehicles that stay stationary.
The core value of UBI is pay-as-you-use. This turns out to be an appealing proposition to consumers today – they can fully enjoy a cost-efficient auto insurance plan. Many believe that remote working will be embraced permanently to a certain degree, hence we will see an optimistic growth in auto UBI's consumer uptake this year.
Some of the regional and challenger insurers that have already introduced UBI for vehicles in APAC region include:
Thailand: Thaivivat – AIS
Malaysia: AXA Affin
Singapore: MSIG – Carro
Taiwan: Nan Shan
Japan: Sony Assurance
India: Tata AIG
3 Insurtech reforms the battlefield
#
"By 2029, 42% of gross insurance premiums would originate from Asia-Pacific, with China accounting for 20% of this." – Swiss Re
With insurtech, startups pledge to revolutionise the centuries-old insurance industry. Asia Pacific is the new breeding ground for innovative insurance products and business models. The region, particularly in Greater China, India and parts of Southeast Asia is a sweet spot for insurtech startups. This is due to the growing wealth, rising middle class and a powerful base of generation Y and Z. The latter is a significantly underserved population of the insurance industry.
While it is almost impossible to overhaul the insurance industry, the incumbent insurers are somehow drawn to insurtech startups. This is because they are leveraging on their high flexibility in business models, cutting-edge technology and data enabled operations. Meanwhile, established insurtech startups that are pursuing more market presence and new market access see cash-rich, established incumbents as a great accelerator to help them grow further.
"We want to buy all 100% in insurtech companies, which align with our business." – Prashant Tripathy, CEO, Max Life Insurance India
Hence, the industry is expecting 2021 to be a year where varied forms of collaboration conversations will be initiated between established insurers and insurtech startups. Most companies follow one of the following three approaches in partnering with the insurtech startups.
Invest through corporate VC arms

Mitsui Sumitomo Insurance Co. launched Mitsui Sumitomo Insurance Venture Capital
Cathay Financial Holding Co., Ltd launched Cathay Venture
Ping An Group launched Ping An Ventures with an investment of $150m
QBE Insurance Group launched QBE Ventures with an investment of $50m
IAG launched IAG Firemark Ventures with an investment of $75m
Massachusetts Mutual Life Insurance Company, launched its second Southeast Asian fund worth $100m

Merger and acquisition

Singapore's homegrown digital insurer – Singlife recently completes a S$3.4b merger deal with Aviva Singapore. The aim is to deliver innovative insurance products with intuitive technology-enabled solutions.

Technology partnership

AIA Group announced that they will be forming a regional technology partnership with ZA Tech Global to fill the digitalisation gap within the product suite and services.
# 4 Reimagining a holistic customer experience ("CX")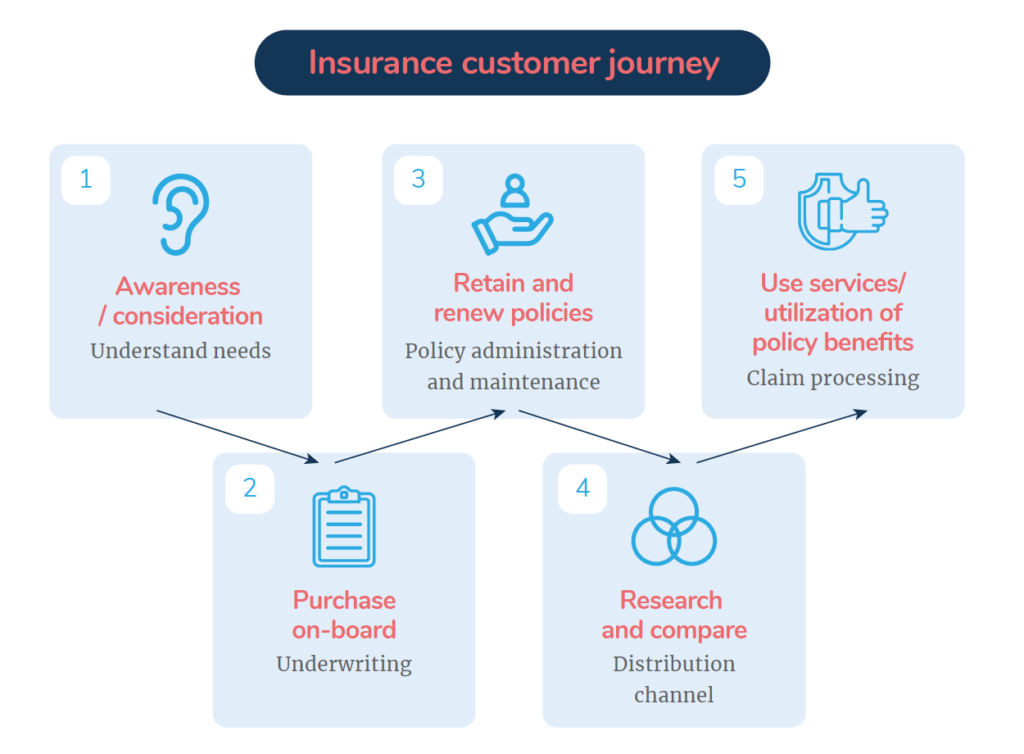 Like many other industries, CX holds a significant role in the insurance industry for insurers to develop an affinity relationship with the consumers. It is commonly known perception that insurance business is tied with lack of information, frustrating slow claims process and inflating premiums. As customer loyalty declines and more insurance challengers join the arena, CX is undoubtedly one of the top priorities for insurers in 2021.
Digitalisation has enabled insurers to embark on their journey to revitalise customer experience. It is common to see insurers in APAC introduce omni-channels to support customers enquiries, customer portals and mobile applications. Moving forward to 2021, we foresee insurers continue to adopt a purpose-driven approach that pivots customer experience to be ahead of customer expectations based on 3 main pillars: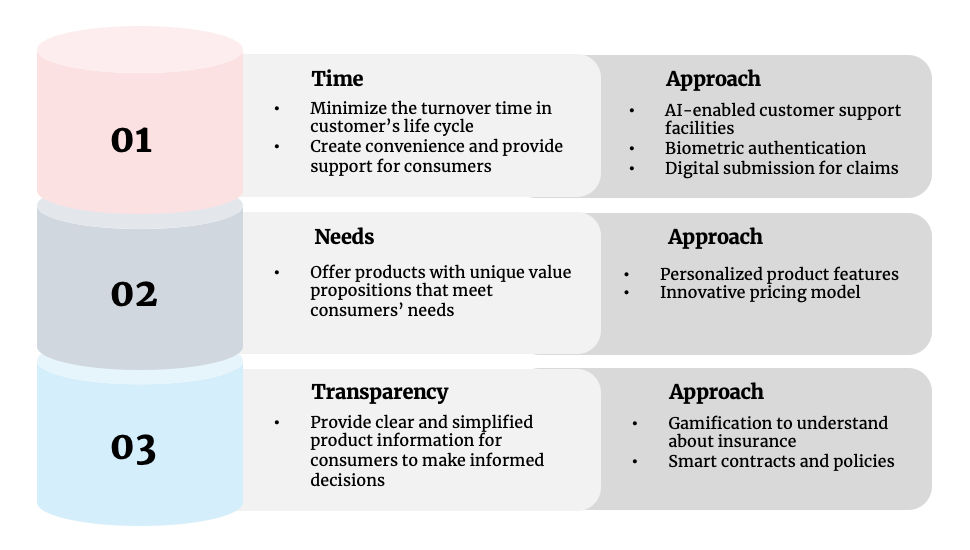 See more about CX Trends 2021 here.
# 5 Curating products with one-of-a-kind value proposition
The Asia-Pacific region is a combination of economies at various levels of development in terms of income demographics that have distinctive prospects. We also see many evolving global phenomena making inroads into Asia. The fast-growing gig economy and rise of self-employed slashies (individuals with multiple concurrent jobs) will permanently substitute the traditional workforce structure.
Citing industries such as food delivery (e.g., Grab, Food Panda) and freelance content-creators (e.g., YouTuber), this new model of employment does not provide benefits and protections that come with the usual full-time employment. This includes life and health insurance, as well as a pension fund. There is a chance for insurers to design a comprehensive insurance policy that caters to the characteristics and job nature of gig workers.
Customisation will be the keyword for APAC insurers to integrate in their product development process in 2021. Insurers need to see insurance in a new way, rather than the conventional "one-size-fits-all" policies that target mass market. Future insurance products should be curated with a unique value proposition that tailors to the needs of consumers.
"The Company will continue to explore the market-oriented mechanism to develop products, innovate product design and portfolio" – New China Life, one of the dominant insurers in Taiwan
A few niche segments that are expected to be the industry focus in 2021:
Microinsurance for the new-generation lifestyle: eWallet theft and loss, device protection, data breaching
Personal accident and savings insurance for the new workforce structure
Beginner healthcare insurance for middle and low-income groups
On-demand general insurance for assets (property, automotive, machinery, travel)
# 6 Unlocking the boundaries of insurance with deeper integration across the vertical markets
"Expect digital to further blur industry lines, supercharge scalability, and loosen geographical restraints for professional services." – Jessica Tan, CEO of PingAn China
As much as the insurers want to grow in the digital age – through product customisation, big data analytics, smart pricing model etc., the insurers realise that the industry can no longer grow as a silo. Concurrent with other transformations in 2021, we will see insurers tempted to have more touch points with the consumers, creating new engagements through an ecosystem model.
Many tech giants, notably Apple, Amazon and Alibaba have become successful by deliberately using an ecosystem-based approach. They leverage on the key elements of having a large user base and frequent customer interactions to scale the value creation for the consumers.
Today, many insurers have started working with a wide range of third parties (e.g., banks, airlines, e-commerce etc.) to offer relevant products to the end consumers based on their data profile. However, simply participating in existing ecosystems orchestrated by third parties has its limitations; the real growth opportunity for insurers is to build their own ecosystem.
This year, we will see insurers, particularly the big players allocate capital and resources to implement the ecosystem strategy. Insurers will start to diversify into varying business lines/ aggregator platforms that are a part of consumers' daily lives, such as real estate, healthcare, automotive, finance, e-commerce and so on. Through the data captured, insurers will be able to create a unique value proposition for every single customer and funnel this into their core business – insurance.
While it is expected that the big players will own one of the few large ecosystems in the market, we also foresee small-scale insurers and insurtech startups to ride on the ecosystem economy by publishing open insurance API.
Ecosystem is a future-proof strategy to drive a sustainable growth in insurance industry.
# 7 Completing the puzzle of digital transformation – cloud adoption
We have discussed many trends that are anticipated to happen in the insurance industry. One thing we realised is that these trends are revolving around digital transformation, be it customer journey, an insurance product or to orchestrate an ecosystem. In order to prosper in the digital economy, insurers see the necessity to adopt cloud computing to enhance their operational efficiency.
Cloud adoption is set to happen in discrete steps. No one firm can shift to cloud overnight, and same goes to the insurance companies. Based on Kellton Tech, the cloud adoption maturity model is categorised into four stages:
| | |
| --- | --- |
| The Greenhorn Stage | Adoption of storage solution- an experimental stage to migrate less critical applications and systems to cloud |
| The Apprentice Stage | Replace on-premises servers and move more workload into the cloud in a lift-and-shift exercise. Enterprise architecture is restructured to bring in new application visibility and monitoring capabilities |
| The Practitioner Stage | Enterprise enters a dynamic cloud ecosystem, aimed to maximize return on cloud investments by leveraging serverless computing solutions, data warehouses etc. |
| The Role Model Stage | Cloud-native organization. All new applications run in the cloud as a default practice. Data centers are offloaded to manage the retaining legacy system for a while. |
Amid the Covid-19 pandemic, agility of cloud technology is vital for insurers to respond to high volumes of customer enquiries and demand in a short turnover time. Take, for instance, the updating of policies to include compensation for new infectious diseases without additional costs. Embracing cloud technology will also allow insurers to reflect on new regulations such as an insurance framework or international financial reporting standards ("IFRS"). Insurers can also deploy new products instantly to meet the market demand.
There are more drivers that accelerate insurers to take a step further in cloud adoption. In 2021, we foresee insurers from APAC will at least move one stage forward from its inception stage, based on the cloud adoption maturity model above.
Learn more about cloud adoption here.
# 8 Exploring the next-gen insurance technology – blockchain
Blockchain is the most talked-about emerging technology in the market today. In the insurance industry, insurtech startups and some of the pioneers in the mature market have started to explore the application of blockchain. The aim is to elevate efficiency of whole insurance processes.
There are some unique characteristics of the technology. For instance, take its capability to ledger every single digital transaction and event that are distributed between many parties with an inerasable feature. We anticipate that insurers will focus on implementing blockchain in two areas:
Expedite underwriting and claims
The procedures and turnover time for underwriting and claim processing are vital tractions to retain customers. Despite the digitalisation of both processes, insurers are still striving to improve from "fast" to "real-time".
Example: Blue Cross (Asia-Pacific) in Hong Kong adopted blockchain-backed solutions in 2019 to speed up the claim process. The trailblazer says that its platform can handle more than 1000 concurrent transactions in a second.
2. Anti-frauds
APAC holds the annual claims fraud record at 4%; this is the highest percentage when compared to other regions. Blockchain technology allows all insurers on the network to be instantly aware when a claim is made, preventing "double-dipping" fraud from happening. This is when a person attempts to submit a claim to multiple insurance companies.
Example: 11 insurance companies in Taiwan has come together to launch a blockchain platform for a trial period of 6 months. The new platform will allow participating insurers to share the data and be notified on any claims made by the policyholder.
Latest update: Thai Re launched smart contract platform using IBM's blockchain technology on 6th January 2021 to manage more than 10000 annual reinsurance contracts with its insurance partners.
Though blockchain technology is still nascent among the APAC insurers, we believe it is an important part of the future insurance industry's infrastructure.