We must continue to simplify our business, improve our customer proposition, and invest in innovations that deliver better customer outcomes and improve the efficiency of our operations. – Shane Elliot, CEO
Company profile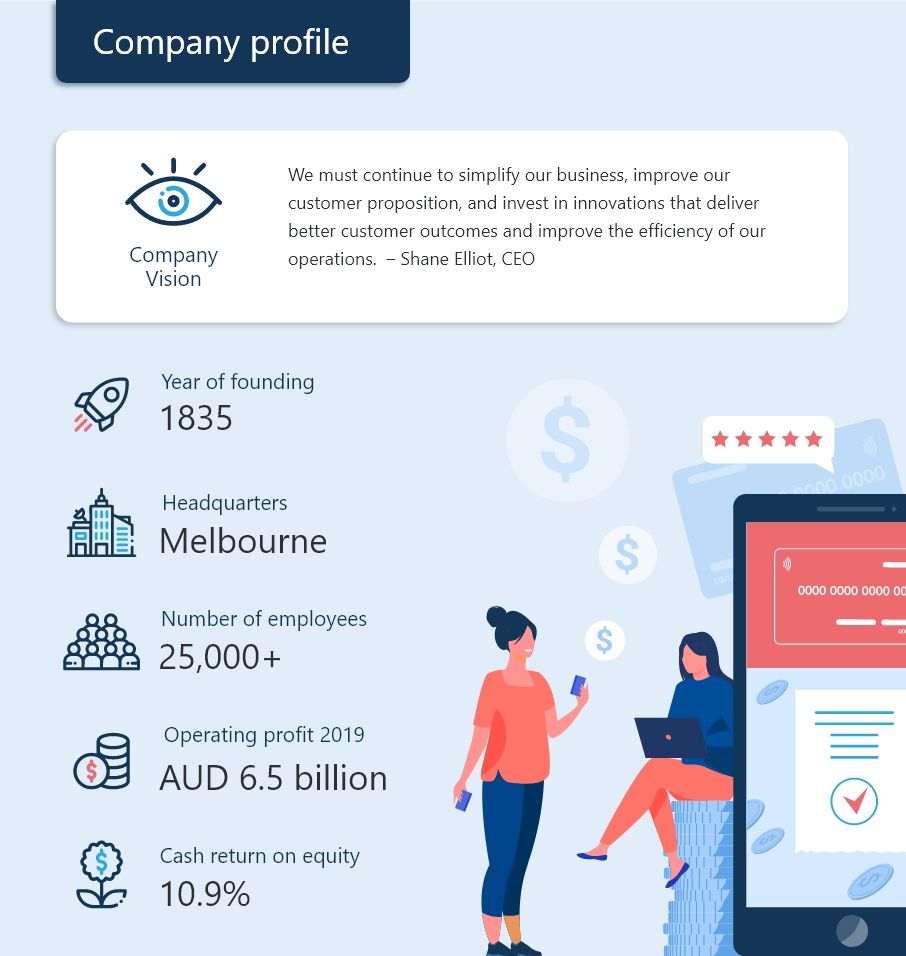 Background
The bank has a legacy of over 180 years.
ANZ aims at developing innovative and responsible financial products and services; participating in relevant policy development and research, strengthening stakeholder partnerships, and harnessing available skills.
The bank globally operates in 33 markets, providing financial products and services to both individual customers and businesses.
Challenge
ANZ identifies that SME owners struggle to gain support throughout their business journey. Hence, ANZ believes in a consumer-centric approach and recognizes the following challenges SMEs face in their daily business:
Non-collaborative work environment
Misallocation of time to non-core activities
Acceptance of digitalization
Solution
ANZ bank aims to help the SMEs through:
Building a safe, diverse, and inclusive workplace that encourages engagement, collaboration, and development
Improving digital capabilities
Removing routine-task from SME owners daily workflow
Business Model
The bank focuses on providing simpler customer-centered products that drive engagement. For SME customers, apart from traditional financing and lending, ANZ provides:
Options for easily and directly importing any Business Black card transaction history to compatible accounting software platforms, such as Xero or MYOB.
A large network of branches and Smart ATMs and the availability of dedicated relationship managers, allowing small business owners easy access to their banking facilities and ongoing support.
A comprehensive merchant terminal device for retail businesses called ANZ BladePay:

This Android-based mobile payment device was designed to simplify the payment experience.
It allows the point of sale to be taken directly to the customer such as to process payment for a meal at a restaurant table.
It includes options to split bills, add tips and send e-mail receipts to a customer's account.

A range of resources that could help in starting, running, and growing an SME business: Business planning template, a 'start your business' checklist and understanding money.
Workshops to help small businesses stay safe online, raise awareness of online scams and reach millions of customers through the campaign to help them protect their 'virtual' valuables.
People strategy
ANZ aims to build a safe, diverse, and inclusive workplace that encourages engagement, collaboration, and development. Further, they aim to create competitive remuneration and benefits, effective performance management and recognition for their employees.
'Speak up' culture: To ensure managers recognise exemplary risk and audit behaviours.
Workforce capability building: A social learning platform, providing free access to ANZ employees to learn from internal subject matter experts external content providers, and user-generated content.
A focus on investing in data and engineering talent with new roles and development opportunities in data analysis and science.
Partnership strategy
Saver Plus: A savings and financial education program developed with The Brotherhood of St. Lawrence.
MoneyMinded: A partnership with the Steppingstones microenterprise program, offered to women who have migrant, refugee, or asylum seeker backgrounds.
CoreLogic: A partnership to conduct an in-depth market analysis of the Australian housing market for both buyers and renters.
Technology Strategy
Biometric authentication: ANZ helps customers with VoiceID technology to verify customer identity using their voice to make high-value payments.
Technology Platforms across Automation, Data and Payments (e.g. NPP) resulting in enhanced customer insights, and improved service delivery.
Machine Learning as a service platform launched. Benefits include a 40% improvement in customer service level agreements for Trade Guarantees.
The way forward
As a way forward, the bank should focus on:
Improving digital capabilities and reaching out to more customer through customised products.
Leveraging open banking capabilities to identify customer needs, cash flow management, spending areas, and business reviews to build a robust risk management system.
Strengthening relationships with SMEs by supporting them in every step of the business journey.