Leader AWS faces hostile competition from regional and local cloud providers. Will they fall behind in Thailand?
Competitive overview:
The infrastructure services market in 2020 is predominantly led by Amazon Web Services (AWS) and Microsoft Azure. Combined, the two players take 65% of total market share, equivalent to US$ 93million.
Over the years, emerging regional provider, Huawei Cloud, aggressively penetrated the market. They have managed to get 18% of market share (approximately US$ 25.7million today).
Up and coming players, Google Cloud Platform (GCP) and Alibaba Cloud, are slowly making headways with a cumulative market share of 5%. Whilst not as aggressive as Huawei Cloud, these players are becoming gradually visible along with other cloud providers in supporting Thailand 4.0 initiatives.
Another group of contenders are the local cloud providers such as True IDC, CAT and AIS. Altogether, they account for approximately 12% of the total market. We projected that they will further expand their footprint, taking advantage of the familiarity with the local accounts' sentiment.
Market share analysis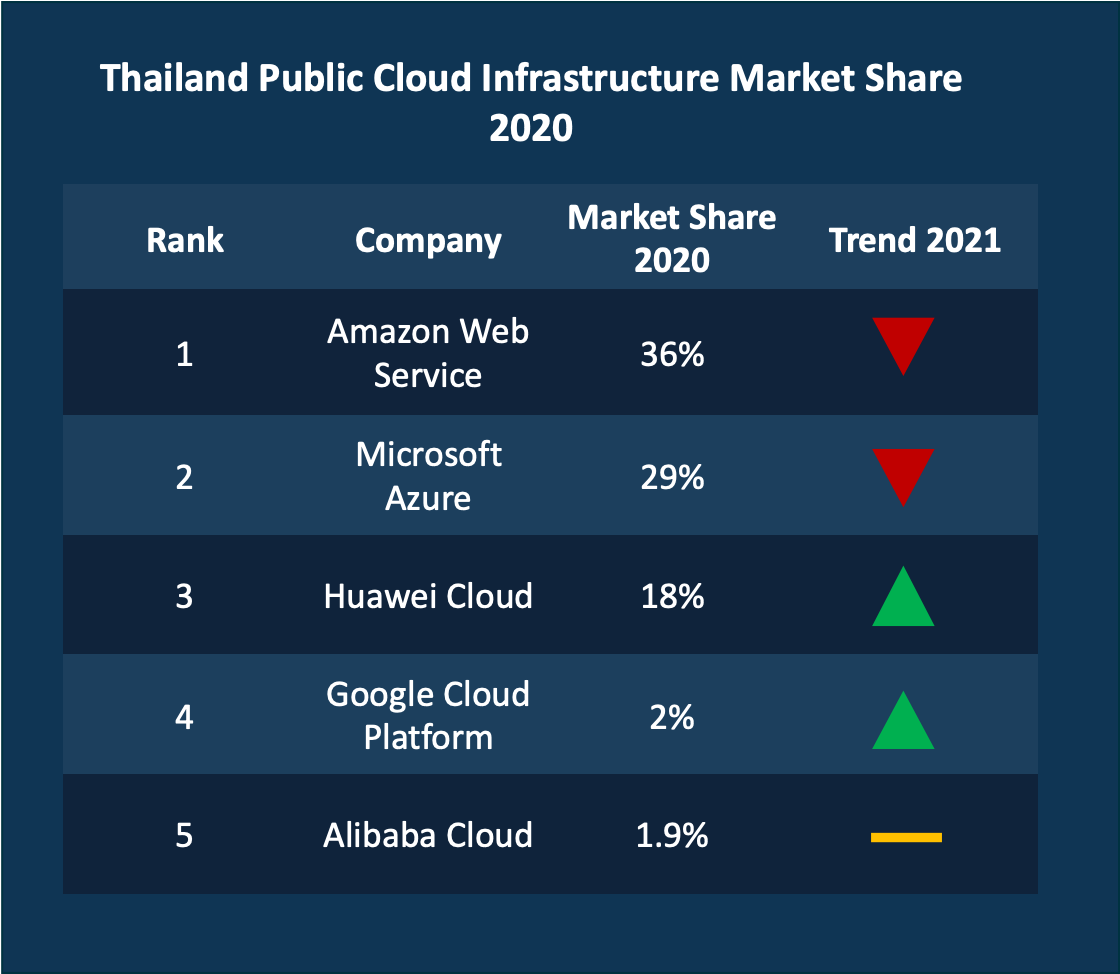 In 2020, the Thai public cloud market was forecasted at US$ 579million. Additionally, the cloud infrastructure segment amounted to US$ 143million, or 25% of the market. Although the number of providers is increasing to support the demand for IaaS, global providers AWS and Azure largely dominate the segment last year.
Market leaders
There are several factors that have positively impacted both AWS and Azure's presence in Thailand. AWS is one of the first providers that entered the Thai market in 2015. This is mainly to cater to the newfound demand from the Digital Native Businesses (DNBs) and large local enterprises. Some of the emerging companies that caught the attention of AWS include SCM, 2C2P and KMITL, which subsequently became their customers. This garnered confidence and provided local use cases for AWS. Consequently, they went on to win more accounts across industries, awarding them the market leader position since their inception in Thailand.
On the other hand, runner-up Azure has a strong presence with the Thailand public sector. For instance, they have collaborated with Department of Health for a social-related project. Furthermore, Azure co-produce a guideline with Bank of Thailand for the usage of public cloud within the BFSI vertical. As an outcome of these collaborations, Azure became the preferred cloud for the two sectors. Riding on these successes, local enterprises in the healthcare industry and smaller government agencies prioritize Azure cloud in their digital transformation journey, which was witnessed in 2020.
The collectivists culture within the Thai market puts high importance on supporting local relationships. Additionally, as English is the second language, there are more opportunities for local providers to penetrate the market easily. For AWS and Azure, however, the bridge that connects local enterprises with them is that of the local system integrators (SIs) or Independent Software Vendors (ISVs). As a result, AWS built a sizeable network of 69 local partners, which contributed approximately 73% of its total revenue last year. Azure, on other hand, has an even higher reliance on its local partners for services and billing, which in 2020 alone drove in 94% of its revenue. These shed light to the importance of partner network for international providers to participate in the Thai arena.
Emerging international players
Huawei Cloud is inching towards the leader's position by steadily gathering its own market share. At 18% this year, Huawei Cloud has been actively supporting Thailand 4.0 initiatives. This was illustrated as Huawei provides end-to-end hardware and software solutions in cloud, AI and IoT services. Additionally, their 2 locally hosted data centers and 5G development gave them an edge against other global providers. With these advantages, local enterprises do see the values in adopting Huawei Cloud. It is unlike neighbouring markets such as Malaysia and Singapore, where Huawei Cloud accounts for minimal market share. Therefore, with the correct execution, Huawei Cloud's future in Thailand is promising and could result in an increased market share.
Other emerging players such as GCP and Alibaba Cloud have been marking their presence in the last few years. This can be seen as they actively engaged with the digitalization efforts in Thailand that go beyond infrastructure services provided. Such efforts include becoming a part of a digital academy in True Digital Park. In this case, respective cloud providers designed a course based on their strengths and specialization. For instance, Alibaba offers certification in the area of cloud system analysis. GCP, on the other hand, will be providing online classes for small medium enterprises (SMEs) and NGOs. With competitive pricing, these players are expected to gain revenues in the coming years.
The rise of local contenders
It is important to note that telecom providers and Internet service providers (ISPs) are slowly shifting their position from cloud partners to cloud providers. For instance, True, UIH, and INET are all partners of global cloud players like AWS, Oracle and SAPs but in the recent years, they have ventured into the cloud infrastructure market. On top of fulfilling cloud services, they are also upselling their own cloud solution. Though these solutions may not be as robust as those by global leaders, to an extent, they are sufficient to cater to the local demand and needs.
Furthermore, these local players have some influence on public sector, and Government-linked Companies (GLCs). For instance, CAT became the provider of choice for G-Cloud after years of the public sectors utilizing public cloud. In short, the Thai market is ripe for digital transformation and the competition from local players is becoming more aggressive. This could shake up the cloud leadership rank in the near future.
Twimbit takeaways:
With the rise of local providers, competition in winning accounts and recruiting partners amongst CSPs will be more aggressive in the Thai market.
AWS and Azure's market share is expected to fall in the next year due to tighter IT budgets amid the pandemic and the emergence of other players.
As digitalization of infrastructures becomes imperative, local providers may focus on targeting GLCs mandated for Thailand 4.0 initiatives, such as digitalization of airports and train stations.