A business may be profitable but can still close down because of poor cash flow management. I learned it the hard way – Jasper Goh, Founder, Ascend Design Private Limited
Introduction
Competition for serving and addressing SMEs goes beyond simply providing access to working capital financing, loans, and deposits. Today, differentiation is built on seamlessly integrating products and services into customer journey maps. In addition to that, the value lies in serving SME owners to improve business outcomes rather than offering them products and services.
Despite the difference in daily operational needs based on the core business proposition, ese key activities which go beyond the functional aspects of traditional lending and deposits are mission-critical for SMEs. They want services to operationally minimize the time and effort required to manage their finances and successfully run their business.
Why do SMEs need services beyond traditional bank offerings?
Focus on critical revenue generation opportunities: There is a radical shift from spending energies on routine and mundane activities which are essential for businesses. These can be easily outsourced and digitised while seeking alternate routes for business growth opportunities.
Increase digital adoption: SMEs realise that automating activities and becoming truly digital will improve efficiency. This will help adapt to the changing competitive landscape, all the while preparing for an unforeseen crisis such as Covid-19.
What are banks gaining from this?
Banks achieve a successful outcome to serve SMEs in its end-to-end customer journey through:
Increase attach rates*: A service-led approach over and above traditional bank products is what SMEs are looking for. Helping SMEs in getting things done efficiently with additional benefits without heavy in-house investment increases the bank's attach rates.
Improve creditworthiness: To help achieve profitable business outcomes, SME owners seek services such as accounting, payroll, payments, collections, and marketing from banks. The data collected and analysed through these sources helps in building a robust and strong credit profile. This helps banks to effortlessly fulfil SME's financing needs.
As a result, we now see banks offering a full suite of integrated services to support an SME customer's end-to-end journey. These journey maps include activities such as accounting services, invoicing, payroll, account management, marketing, and cybersecurity. The top three banks in Singapore, namely DBS, UOB, and OCBC, lead the world with their all-encompassing services to serve the SMEs.
The banks' engagement with the SME owners is accelerated during Covid-19 with the support of government moratorium, grants, and sanctioning policies. Consequently, to incentivize and promote the growth of SMEs.
Twimbit's 8-point checklist to serve end-to-end SME journey
Based on our in-depth research on the customer value propositions of 45 banks spanning 12 Asia Pacific countries and expert panel discussions, we have developed an 8-point checklist. The checklist lays down on key activities that help to successfully serve the SMEs through their end-to-end journey.
Figure 1: The 8-point checklist to serve SME customer journey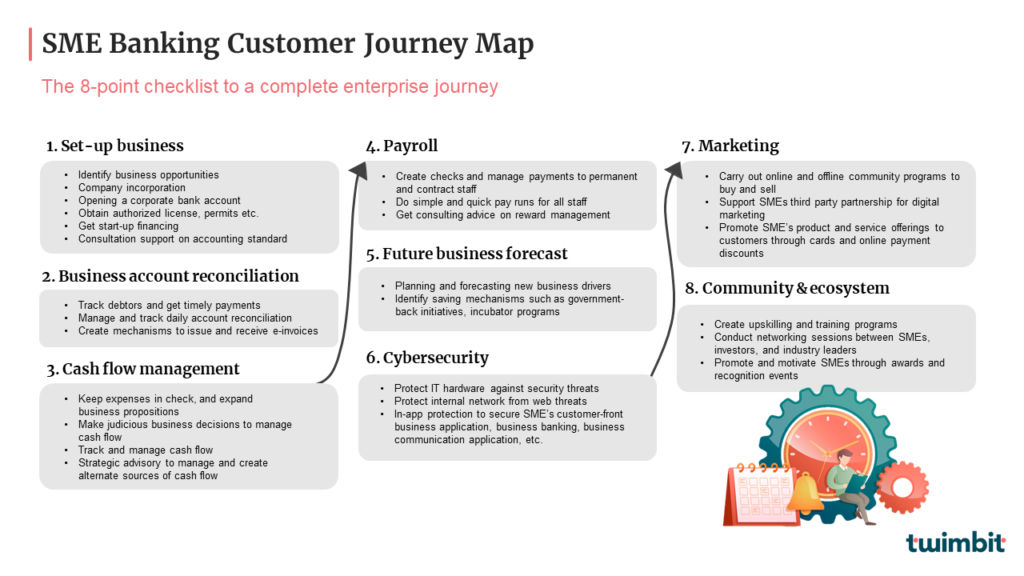 Set-up business: Help entrepreneurs kick-start business operations and turn the idea into reality
1.
Identify business opportunities: Customer segment, area to serve, partnerships, business structure, and product or service layout
Register your business: Company incorporation, opening a business bank account, government formalities, licenses, permits, GST, and legal operations
Get start-up financing: Secure the requisite amount of finances to kickstart its operations and receive continuous consulting support on protecting personal assets from business financing
Business account reconciliation: Help owners create accurate, up to date, and reconciled financial records.
2.
These statements show the true state of operations through digitalization, improving business decisions
Track debtors and get timely payments
Manage and track daily account reconciliations
Create mechanisms to issue and receive e-invoices
Cash flow management: Help owners create adequate liquidity for operations to reduce the dependency of external working capital financing.
3.
Keep expenses in check, and expand business propositions
Make judicious business decisions to manage cash flow
Track and manage cash flow daily
Strategic advisory to manage and create alternate sources of cash flow
Payroll: Help owners manage staff information, contracts, remuneration, and centralized and organized systems.
4.
Create checks and manage payments to daily and freelance staff
Do simple and quick pay runs for all staff
Get consulting advice on reward management
Future business forecast: Help owners understand business drivers which contribute towards profitable future outcomes, including government-backed initiatives, incubator programs, partnerships, cross-border expansion, and product or service innovation.
5.
Planning and forecasting
Creating saving mechanisms
Business investments
Cybersecurity: Help owners protect their devices, data, and systems from external threats.
6.
Protect laptops, PCs, smartphones against malware, ransomware, and other security threats
Protect business broadband against web threats before they can reach the internal network
Get in-app protection to secure the SME's customer-front business application, business banking, business communication applications, etc.
Marketing: Help owners connect with their customer network for referrals, campaign programs, rewards, and cashback.
7.
Carry-out online and offline community programs to buy or sell
Support SMEs through third party partnership for digital marketing
Promote SMEs product and service offerings to individual customers through cards and online payment discounts
8. SME Community and ecosystem: Help owners develop and hone their skills and enhance their network to adapt to the ever-changing market dynamics and constantly engage with them for a healthy relationship.
Create upskilling and training programs
Conduct networking sessions between SMEs, investors, and industry leaders
Promote and motivate SMEs through awards and recognition events
Conclusion
SME focused market players must target on the checklist to create value-added revenue streams, which go beyond fulfilling the lending needs of the SME owners. Additionally, the pivotal shift toward data sharing through open APIs is helping Asia Pacific countries to build digital infrastructures that support a variety of financing and non-financing needs of the SME owners.
Seamless integration of products and services into customer journey maps for SMEs to start, run, and grow its business is the way for SME banking.
Banks that believe in improving business outcomes for SMEs build a clear value differentiation from their peers, increasing the banks' attach rates.
The data generation and collection through customer journey maps will help banks strengthen the credit profiles of SMEs to obtain easy and hassle-free financing.