People.. were poor not because they were stupid or lazy. They worked all day long, doing complex physical tasks. They were poor because the financial institution in the country did not help them widen their economic base. – Muhammad Yunus, Founder- Grameen Bank, Bangladesh
Introduction
The fulfilment of financial inclusion is still far in this rapidly changing and exponentially growing 21st century. While there is a segment of the society accessing new-age developments like Use now-Pay later and Digi-cards, there is a segment still struggling to even have their own bank account. This inability to open a bank account is reducing their means to have savings, make investments, and obtain credit. What is concerning here is that the latter constitutes a majority of the population in various countries of the Asia Pacific region. (Figure 1)
Figure 1: Country-wise split of unbanked adults as a percentage of total adults, 2017-2018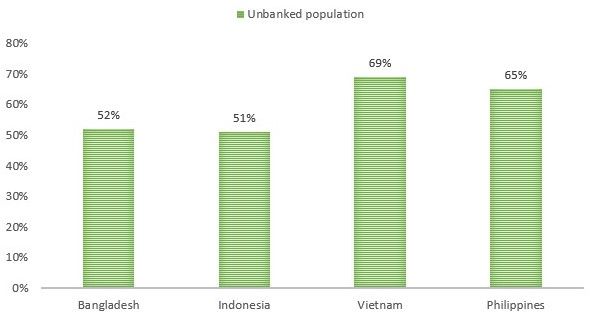 The need for financial inclusion
Opening a bank account is the first step toward financial inclusion as it uplifts the unserved and underserved segments in four key ways:
Savings open doors to good education and lifestyle
Investments enable a secure future
Insurance gives access to better healthcare, vehicle protection, and electronics
Credit helps grow businesses and increases personal well-being
Figure 1: Financial Inclusion Gateway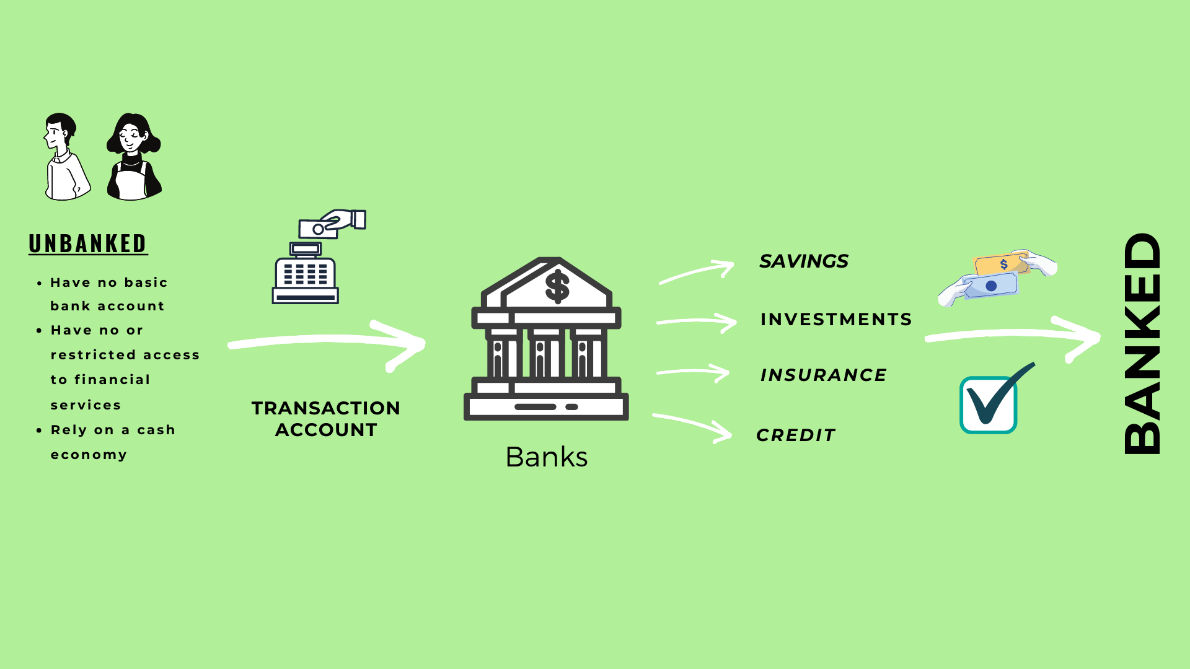 To understand how banks can drive financial inclusion, we conducted a detailed research on 30 banks spanning Asia Pacific countries. Based on our research, we have a learning list of ten banks that are successfully achieving financial inclusion in their respective country of business. While these banks continue contributing toward uplifting the society, others can learn, ideate, and apply similar practices.
Selection Criteria
In selecting the top 10, we identify banks that have a legacy and a unique financial inclusion strategy, demonstrating evidence of success.
Inclusion
We have set four board criteria to determine the top 10:
Economic impact: Operational success was measured by the number of customers served, numbers of accounts operated, FI accounts (if any), FI loans, etc.
Environmental impact: Market penetration and presence
Technological impact: Digital adoption and dispersion
Social impact: financial inclusion strategies, literacy drives, and lives impacted
Exclusion
For this research, we have excluded political and legal impact which supports or opposes the enablement of financial inclusion in a country.
(In alphabetical order)
Top 10 bank enabling financial inclusion in Asia Pacific
Agricultural Bank of China (ABC), China
Bank highlights
With over 837 million customers and 23000+ bank branches, ABC is one of the pioneers when it comes to financial inclusion in China. It has a range of dedicated products for farmers, rural residents, and rural entrepreneurs.
Bank BRI, Indonesia
Bank highlights
Bank BRI covers over 66% of rural Indonesia with the help of over 420000 BRILink Agents. It has successfully created a digital ecosystem that not only facilitates banking transactions but also shopping, travel, etc.
Dutch Bangla Bank, Bangladesh
Bank highlights
With over 17 million mobile banking customers, Dutch Bangla Bank is enabling financial inclusion in Bangladesh through technology and agent banking.
Grameen Bank, Bangladesh
Bank highlights
The brain-child of Muhammad Yunus, a Noble Peace Prize winner, Grameen Bank in Bangladesh offers zero collateral loans. With over 9 million customers they cover 93% of the villages in Bangladesh.
HDFC Bank, India
Bank highlights
HDFC bank is driving financial inclusion through initiatives like Kishan gold cards, milk-to-money, village entrepreneurship among others.
ICICI Bank, India
Bank highlights
With over 4.7 million Pradhan Mantri Jan Dhan Yojana accounts and 2.5 million first time women borrowers, ICICI bank is achieving financial inclusion through its digital banking app Mera iMobile.
India Post Payments Bank, India
Bank highlights
A Financial inclusion driven bank, with over 2 crore rural bank accounts. It also has 190000+ Dakiyas (post-man/-woman) enabling doorstep banking services in rural India.
Postal Savings Bank of China, China
Bank highlights
With over 98% of total china covered, Postal Savings Bank of China has over 600 million customers. In 2019, 50% of the loans were distributed to poor households.
Punjab National Bank (PNB), India
Bank highlights
35% of its 18 crore customers are from rural India, who are being served by 5500 business correspondents. PNB has a 59 minutes loan portal that gives the customers access to easy loans.
State Bank of India (SBI), India
Bank highlights
Laying the foundational stone of financial inclusion in India through its kiosk banking model and business correspondents. SBI is managing its 44 crores customers through 22000+ bank branches, one of the highest in the country.
5 factors hindering inclusion
Individuals either choose or are forced to stay unbanked. Our research shows that there are five key reasons for Asia-Pacific's unbanked population.
Level of wealth
Financial illiteracy
Know-your-customer remediation
Conservatism
Inaccessibility and dependency
Their reasons can vary but, in the end, they all lose the same thing. They lose an opportunity: an opportunity to save, an opportunity to invest, and an opportunity to grow.
6 key actions to drive financial inclusion
6 key teachings we derive from our analysis of the aforementioned ten banks driving financial inclusion, to help other banks promote and imbibe them as a growth opportunity, are:
Conduct financial literacy drives to educate individuals on the know-how, and the benefits of banking.
Create a kiosk banking model to build touchpoints in rural areas and remote locations.
Embrace agent banking or a business correspondent model of banking to enable door-to-door and network-based banking based on trust and security.
Give access to hassle-free loans and bite-size low-cost loans to meet the specific needs of an individual.
Invest in mobile banking applications supporting vernacular languages to increase digital adoption.
Partner with telecom, social media companies and fintech companies, such as Paytm, Grabpay, Alipay to reach out to mass customers and understand customer behaviour.
I dream of a Digital India where mobile and e-banking ensures financial inclusion – Shri Narendra Modi (Prime Minister, India)