Bank BRI is introducing the theme of Integrated Financial Solution in 2020. The theme summarizes the aspirations of BRI to become a service provider and integrated financial solution (end-to-end financial solution) in accordance with the customer needs and life journey. – Sunarso (President Director, Bank BRI)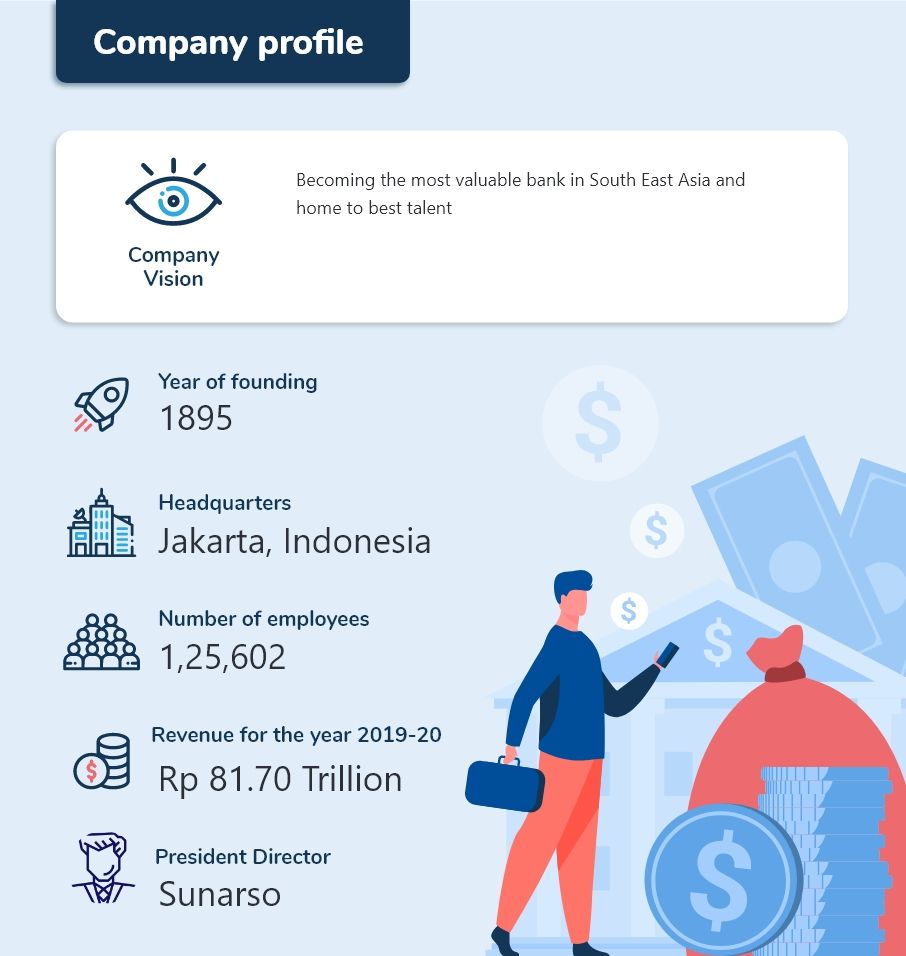 About the bank
Bank Rakyat Indonesia (BRI) is one of the largest banks in the country with a fleet of over ten thousand bank branches. The bank is one of the biggest microfinance lenders in the country and is committed to accelerating financial inclusion in Indonesia through digital transformation.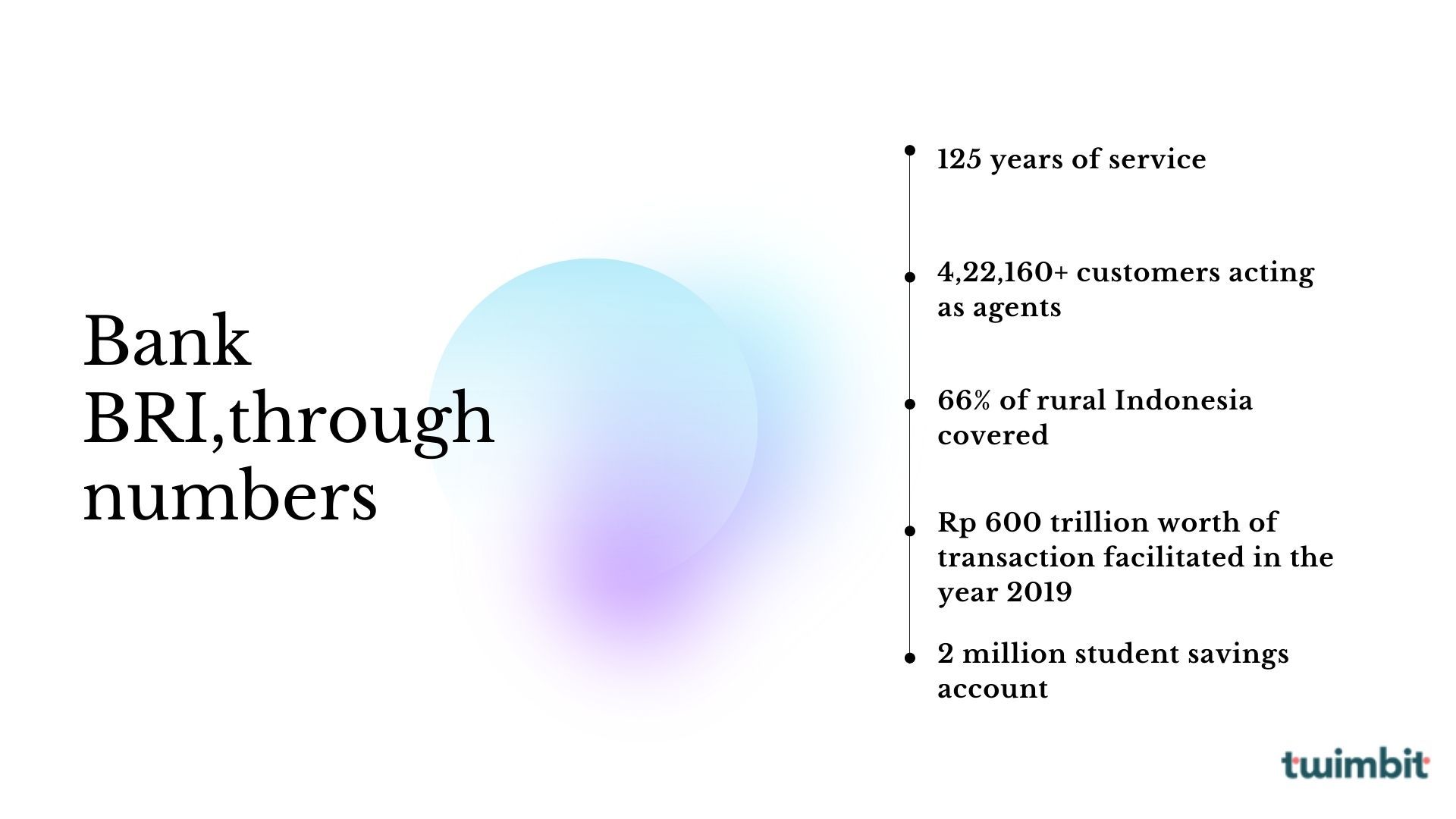 Challenge
Bank BRI identifies that Indonesia lacks an adequate banking infrastructure for the rural population, which leaves a majority of its people unbanked. Further, it also identifies that the population chooses to stay unbanked because of:
Poor savings habit
Financial illiteracy
Lack of internet connectivity
How is Bank BRI driving
Agent BRILink

Agent BRILink, a nationwide network of branchless agents, enables Bank BRI to reach rural Indonesia.
The agents can open a bank account, facilitate withdrawals, and disburse loans in under two minutes, using the Pinang app.
BRILink agents are bank customers who have a high-reliability score (calculated using the banks' big data) and who maintain a minimum balance of USD 800. Combining this data with Google Maps API, Bank BRI can score all their customers and recruit them as BRILink agents.
To enable BRILink agents to drive financial inclusion in the area, all they require is a mobile phone with internet facility. With most of rural Indonesia not covered with high-speed internet connectivity, Bank BRI overcomes this hurdle by launching its own satellite.
While it is very unusual for a bank to operate a satellite, it does reflect the bank's commitment towards serving the underserved. To date, the bank has over 4,20,000 agents covering over 49,200 villages of Indonesia.

 Teman Simpedes

To inculcate the habit of small savings, Bank BRI distributes deposit boxes to the customers with a universal key available only to the BRILink Agents. The money collected in 'Teman Simpedes' is deposited by the agents into the savings bank account of the customer.
In an introductory phase, over one lakh of these 'Teman Simpedes' were distributed.

BRI Junio:

BRI Junio is a dedicated product created by the bank to nurture the habit of savings in children right from an early age. It also helps children plan their finances.
BRI Junio has add-on features like e-banking, insurance, and customised debit cards.
People strategy
BRI aims to strengthen its human capital through excellent practices, creative programs, and strong governance. For this, it has laid practices like:
Implementing creative communications
Appointing Certified Human Capital Practitioners
Advancing and digitalization of human capital systems
Promoting healthy industrial and employee relations
Monitoring and evaluating the success enablement functions
Adopting the 70:20:10 structure of learning and development
Technology strategy
Cloud Apigee API Management Platform: Bank BRI uses Google's Apigee to onboard agent partners. With the portal, onboarding time is reduced from six months to one hour.
Cloud Vision API: Enables the bank to integrate with the Indonesian Government's ID database. Identities of new customers are instantly verified, eliminating fraud concerns.
Infosys Finacle: To pioneer digital lending and customer experience in Indonesia, BRI's Pinang is supported by Infosys Finacle. With the presence of Pinang, Bank BRI Group can reach higher volumes of customers in Indonesia at high speed (from application to disbursement in less than 10 minutes, all without a face-to-face meeting).
Partnership strategy
Bank BRI with FWD group to develop life insurance market in Indonesia
With Everest to fuel Indonesian-European remittance corridor
Bank BRI with Investree for SME Lending
The way forward
Bank BRI, one of the largest and oldest banks of Indonesia is at the forefront of driving financial inclusion in the country. The bank has overcome the hurdle of:
Financial literacy, by introducing BRI Junio
Lack of banking infrastructure, by appointing banking agents
Internet connectivity, by launching its own satellite
While Bank BRI will continue to strengthen its ongoing projects like Pinang App, Indonesian Mall and Ceria, the bank has undertaken an initiative to develop non-core banking business with:
Corporate Billing Management: A billing management platform to help the business houses manage invoice and receive payments.
SME Ecosystem Platform: To facilitate transactions of the MSME segment.
Agriculture Ecosystem Platform: To monitor the harvesting outcome of every farm-land in Indonesia regions.