In the past, SMEs had to go through a one-way application approval process when they came to us for lending services. By working with our partners and embedding our services seamlessly into use cases such as supply chain finance and rural lending, we hope to bring our services to SMEs across a wide spectrum of industries. – Xiaolong Jin, President of MYbank
Company profile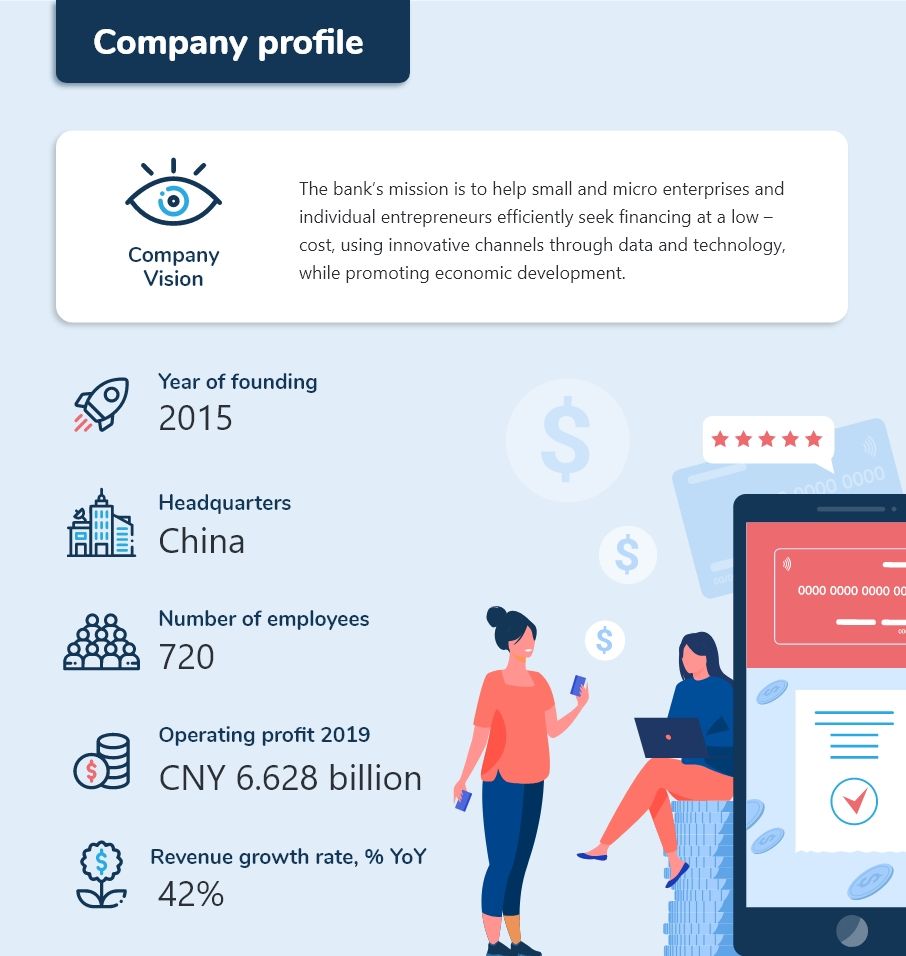 Background
Mybank revolutionized the SME financing in China by creating an intelligent loan application process:
It analyses 100,000 indicators, 3000 loan strategies to approve a loan application through big data and artificial intelligence.
It built a "3-1-0" model, which takes 3 minutes to apply for a loan on mobile, 1 second to approve, and 0 intervention.
Till June 2020, MYbank's customer base was made of 29 million small and micro businesses including street vendors.
With their 24/7 loan facility, MYbank receives 8.7% of loan applications between 11 pm and 4 am when traditional banks are closed for operation.
In addition to that, 80% of the borrowers have never received a business loan from any bank.
Shareholding Structure
A majority stake in the bank is held by 4 key companies as listed below, while the rest is owned by private equity investors.
| | |
| --- | --- |
| Shareholder | Shareholding |
| Ant Technology Group | 30% |
| Fosun Industrial Technology Development Co. | 25% |
| Wanxiang Sannong Co. | 18% |
| Ningbo Jinrun Asset Management | 16% |
Challenge
MYbank is China's 'first digital bank' dedicated to bringing inclusive financial services to small and micro-enterprises, with a key focus on supporting women's empowerment. The challenges they've identified are:
Women entrepreneurs in emerging markets face a gender finance gap when it comes to growing their start-ups due to unequal access to capital.

Digitalizing operations and embracing the digital dividend.
Obtaining digital financing, developing digital skills, and fostering a digital community.
Solution
MYbank's business model empowers SMEs to survive and thrive by:
Enabling financial institutions in China to leverage proprietary risk management technologies so they can provide collateral-free business loans to SMEs.
Increasing the inclusivity of financial services for SMEs by sharing its technologies with more financial institution partners in China and beyond.
Using the 3-1-0 lending enables borrowers to complete their online loan applications in three minutes, obtain approval in one second and with zero human intervention.
Developing a '3D' approach to support women entrepreneurs: namely, "Digital Financing, Digital Skills and Digital Community.
Business Model
MYbank leverages the enormous amount of data collected on their sister companies, Alipay and Credit Sesame:

Alipay has a holistic coverage of an individual's payments, spanning utility bills, credit card repayments, administrative fines, tuition fees and a complete one-stop shopping platform.
Furthermore, Alipay allows shoppers to use facial recognition and fingerprint to verify their identity, adding another layer of customer information gathered at the backend.
Complementing this customer data, Credit Sesame rates customers and small businesses a credit score based on their transactions on Alibaba's shopping platforms and Alipay's payment history.
MYbank's intelligent loan application process is built by capturing customer data of 550 million active users on Alipay's platform coupled with Credit Sesame's big data credit rating system.

MYbank adds a product called Sell More, Borrow More that provides loans to more than 50 million offline, quick response (QR) code merchants.
Mybank launched the Star Plan at the 2018 SME financing summit Hangzhou.

It aims to boost further financial inclusion mission of the bank by sharing their technological capabilities, such as AI, big data, and risk management systems with regional and rural financial institutions in China.
The bank intends to serve 30 million SMEs and farmers through cost-effective financing services by 2021.
Partnership strategy
In an initiative to launch contactless loans, MYbank partners with 100 banks for supporting SMEs to resume operations and overcome the impact of Covid-19.
Jinmailang Food, a food manufacturing company with a distribution network of 5,000 supply chain distributors, partners with MYbank to extend credit lines to these distributors using fulfilment and logistics records.
Log56.com, a Chinese logistics platform, partners with MYbank to help 200,000 truck drivers and micro logistics owner to apply for loans.
Technology strategy
MYbank is the first bank in China to establish their entire core banking model on a cloud without any physical branches.
The financial cloud computing platform can handle highly concurrent financial transactions, large amounts of big data, and flexible expansion.
In addition to cloud computing, the bank's technology suite comprises AI, big data, and predictive analytics.
To build a robust risk management system, the bank trains their AI algorithms with over 100,000 loan approval indicators, 100 predicting models, and 3000 loan strategies.
A comprehensive digital communication community called 'business engine' that provides an open, safe and interactive place for 40 million SMEs in China, including 19 million women entrepreneurs to learn from each other.
A dedicated "Mulan Community" for women entrepreneurs which covers three main areas: a hotline for business advice, a virtual "Mulan University" that offers 100+ financial and tech courses, and an online chatroom for women to exchange business ideas.
Results
MYbank is successfully achieving their mission to uplift the SMEs in China, which constitute 90% of all business entities in the country.
Serves 10 million SMEs who have traditionally been unserved or underserved (89% of these SMEs are from third or lower-tier cities in China) through supply chain finance.
Serves 29 million SMEs in which less than 52% have fewer than 5 employees and more than half of those are mom-and-pop shops.
MYbank helps keep the non-performing loan (NPL) ratio for the SME business loans offered through the 310 models at around 1%.