Are neobanks in India putting their best foot forward to deliver superior CX?
The heads of neobanks are masters of change with a customer-centric approach in building a hyper-personalised, integrated, and secure banking experience. These leaders have a clear perspective and laser focus on reshaping the way customers bank in the future. They build immersive and frictionless experiences while educating customers with the right services throughout the journey. By harnessing the data and technology strengths to create interactive journeys, neobanks enable account openings in just a few clicks and within minutes.
Twimbit CX Benchmark Score for India's Top 13 Neobanks
Twimbit's analyst team created real accounts with 13 Indian neobanks offering retail banking services to evaluate their CX capabilities in the account opening and transaction processes. The entire customer journey has seven critical digital measures of success for customer growth and engagement. In the evaluation, each neobank has its score based on a Harvey Ball analysis for the said seven parameters (Figure 1).
Figure 1: Top 13 neobanks to ace CX in India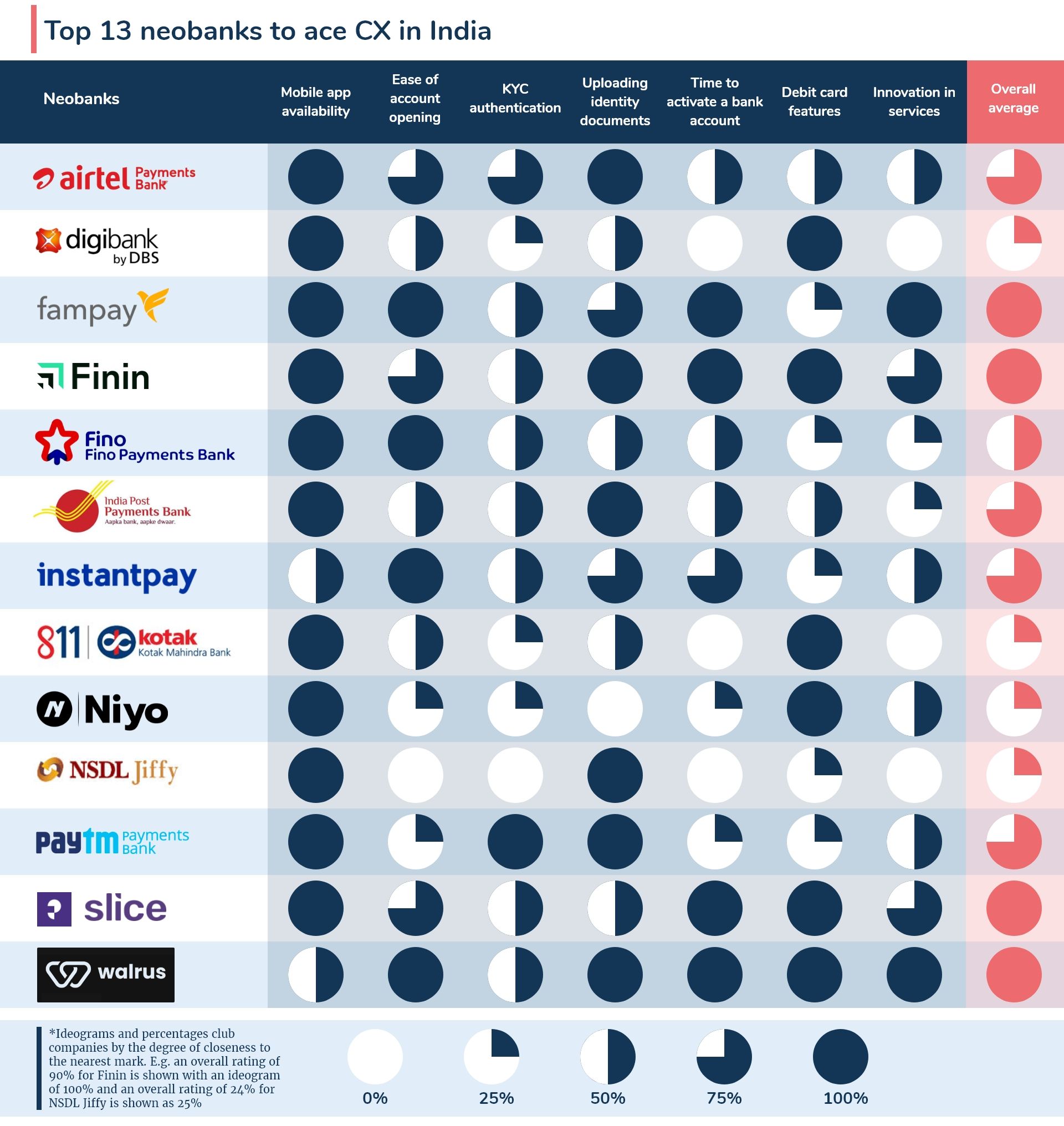 Is getting a neobank account as easy as baking a brownie?😂😜
A deep dive on 7 CX parameters for each of the 13 neobanks
#1 Mobile app availability 📱
All neobanks have their respective mobile applications and allow account opening only through these apps. However, not all neobanks support both IOS and Android versions. It is an "either/or" situation that can lose potential customers who do not have the supported operating systems. However, as the neobank matures from its infancy stage, it is bound to create apps in both operating environments for maximum reach.
Finin supports both Android and IOS operating system
Figure 2: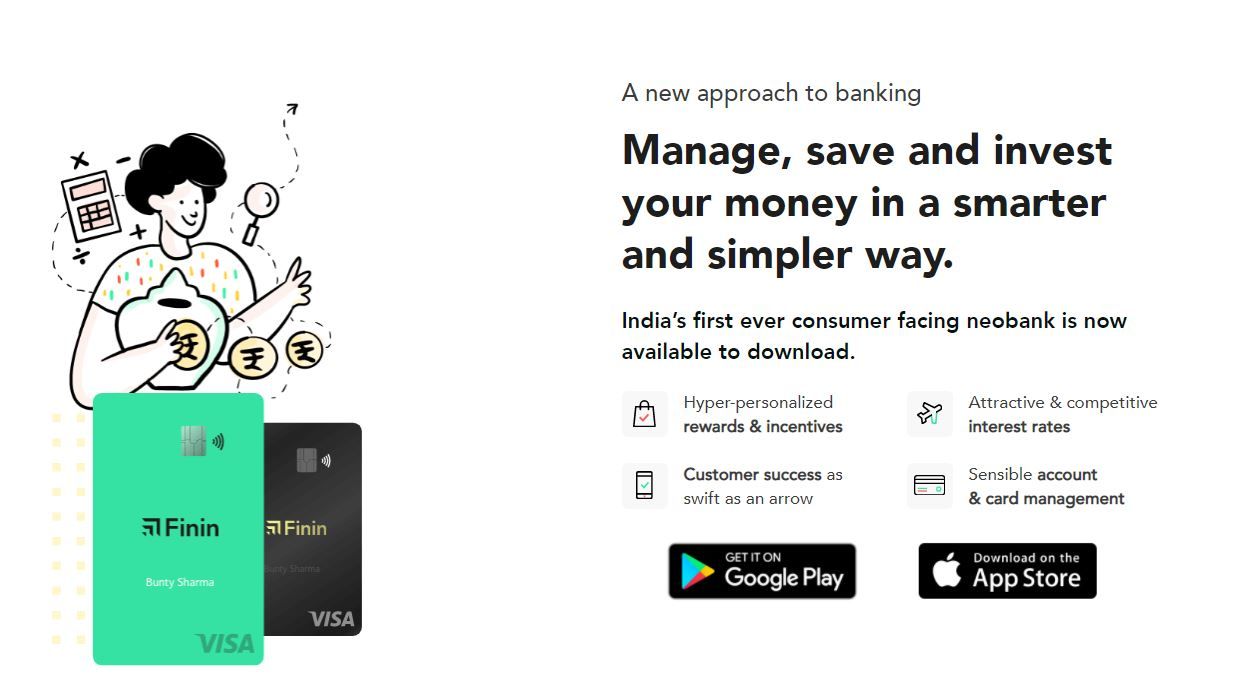 Walrus only supports the Android operating system
Figure 3: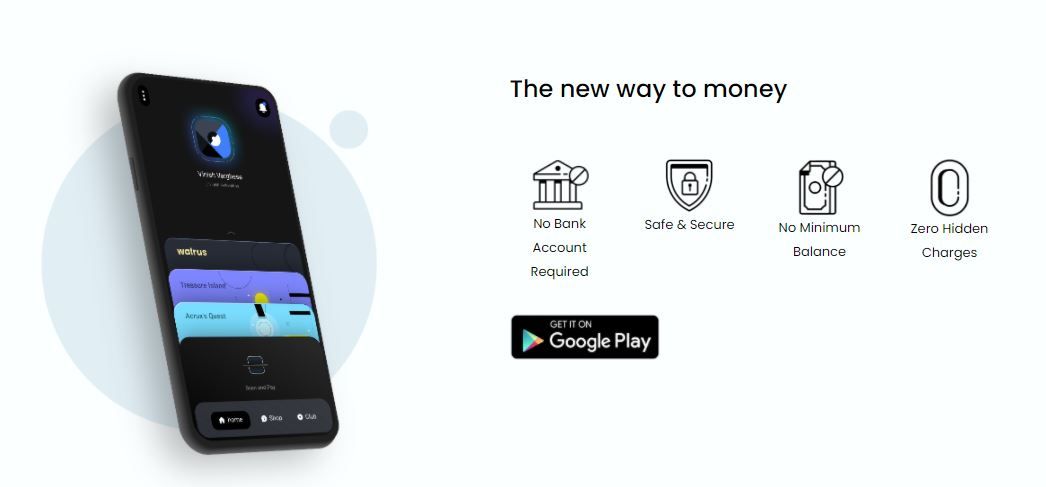 Figure 4: Mandatory app permissions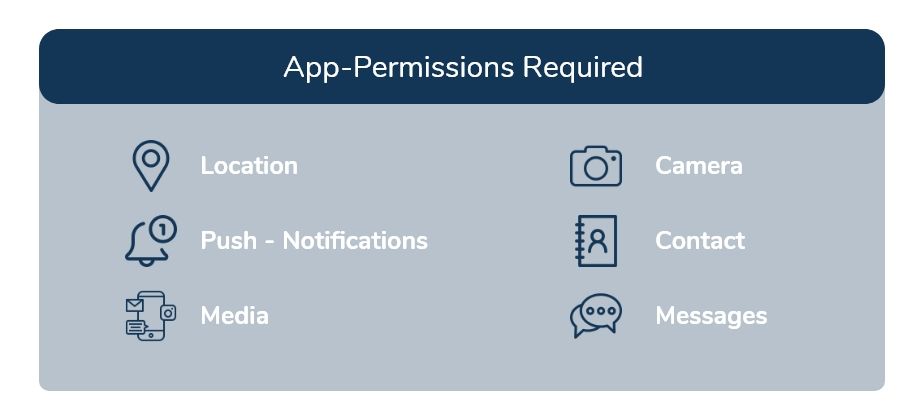 An app is an instant hit among customers if the size of the app is less, requiring minimum download time with limited app permissions.
#2 Ease of account opening 🔓
A customer can experience the most friction while registering to open an account. On average, it takes 4 – 14 steps to register for a neobank account (Figure 5). However, registration for an account does not necessarily enable account activation. An account is active for transactions and benefits after customer verification happens digitally, offline, or both. Based on the analysis, having less than 9 steps in an account's registration on the app increases the offline intervention for activating the account. The fewer steps substantially increase the time taken to activate a neobank account due to the offline customer remediation process.
An ideal success measure for the neobank is to complete its account registration within an average of 8-12 steps. These steps include filling out information and uploading identity documents for verification.
Figure 5: Number of steps taken to open a neobank account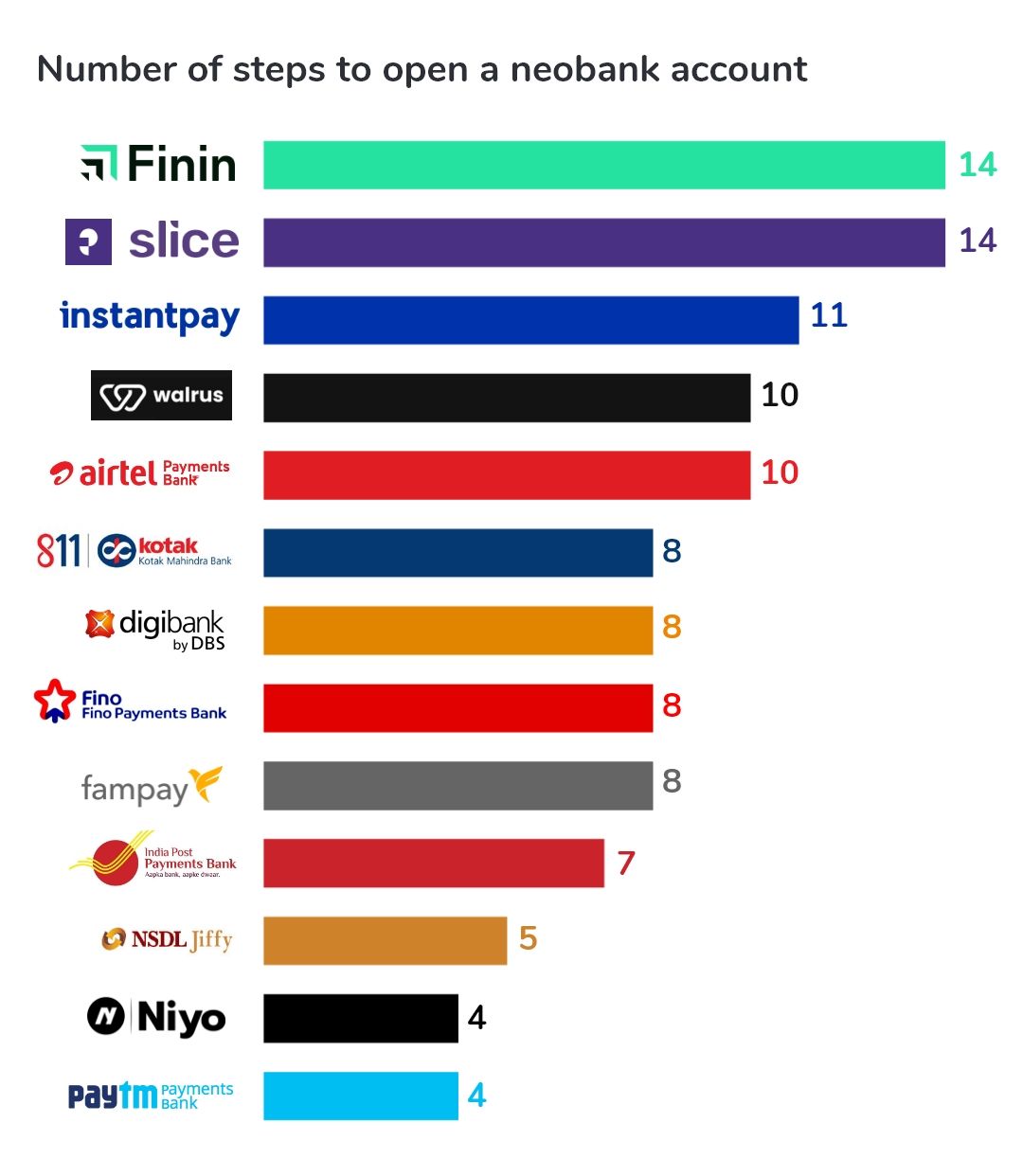 As per the analysis, on average, it takes 5 minutes to 20 minutes to register for an account (Video 1).
Video 1: Slice requires 14 steps and takes 20 minutes to register the account
There are instances when an account registers in less than 10 minutes, regardless of the number of steps. In these cases, the process gives adequate guidance to customers at every level.

Verifying the customer's identity is a critical factor in building a sense of security and trust with the neobank. In India, there are two types of KYC authorisations that a neobank uses (Figure 6):
In-app Aadhar-linked KYC – A customer fills in his Aadhar card details, uploads the soft copy of the card, and verifies it with an OTP. However, according to the Reserve Bank of India (RBI), this authorisation method limits transactions to INR 200,000 (USD 2,681) per year.
In-app video or in-person KYC – This authorisation method allows the customer to complete his KYC authorisation via a video call feature supported within the app, an agent visiting his residence to verify details or a visit to the designated KYC authorisation terminal.
Figure 6: Type of KYC authorisation supported by each neobank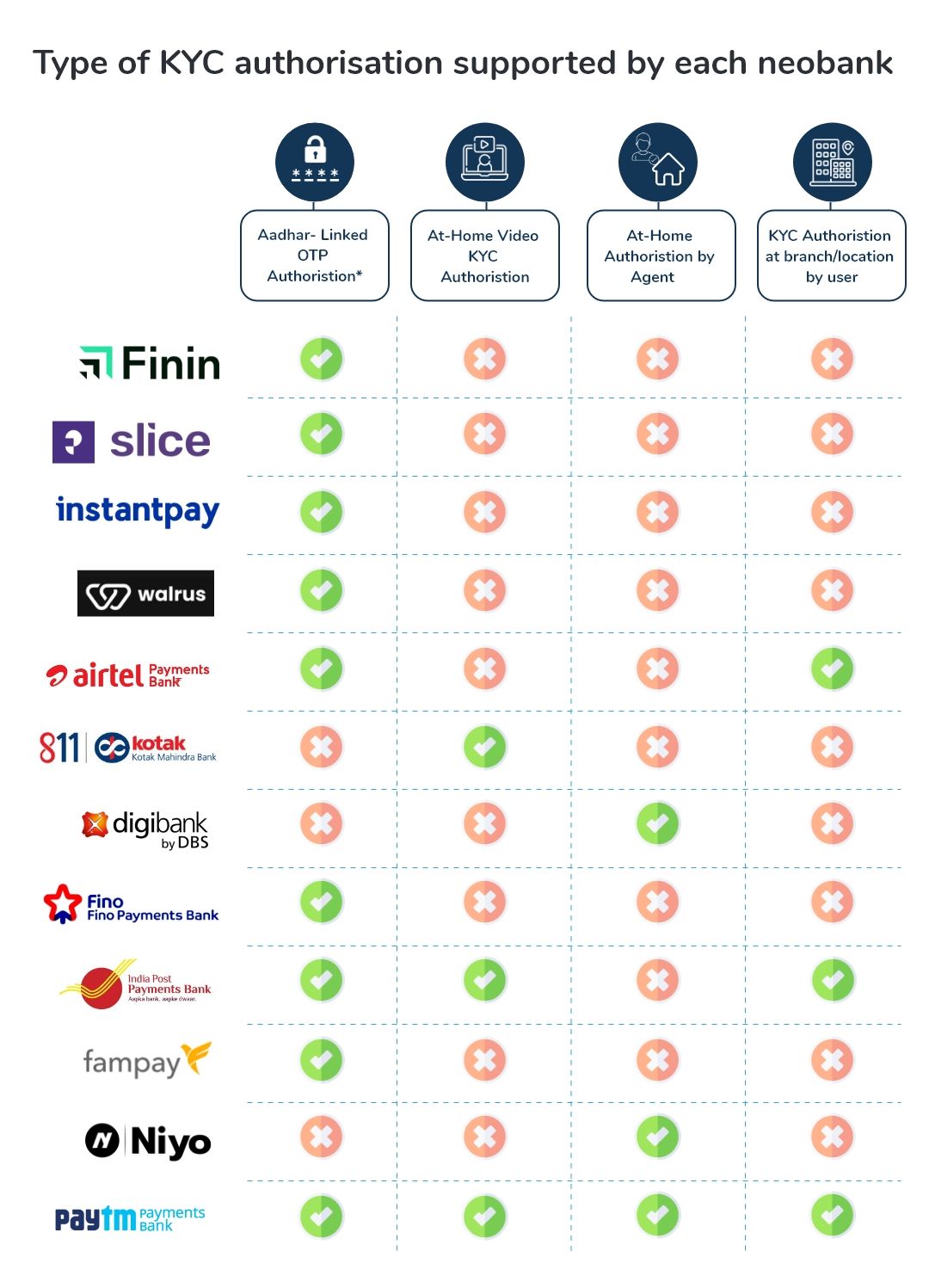 #4 Uploading identity documents 📤
Irrespective of the KYC authorisation type, customers must submit their identity proof for verification (Figure 7). Most neobanks require a maximum of two identity documents: the Aadhar card and Pancard. Certain banks can fetch Pancard or Aadhar card details through the mobile number; in this case, the customer only needs to upload one of the two documents. However, there are certain exceptions. Niyo requires the customer to submit his passbook (account statement) from any other bank he holds an active account with. In the case of Slice, if the customer is a college student, he would need to upload his respective college identity card. For Kotak 811, the bank requires the customer to sign a blank sheet of paper and upload it. Some banks require additional documents, such as a driving license, voter ID, and passport, for verification. However, during our research team's evaluation, some banks did not follow up on the KYC authorisation process. The agent did not reach out after multiple requests (Digibank by DBS), or the app did not proceed to account activation despite follow-ups with the respective neobanks (NSDL Jiffy and Kotak 811).
Frictionless KYC authentication happens by linking the mobile number with an Aadhar card or Pancard, as well as obtaining details from the centralised database. This level of authentication removes the step for the customer to upload documents onto the app. An OTP verifies the auto-fetched details.
Figure 7: Documents to upload for KYC authentication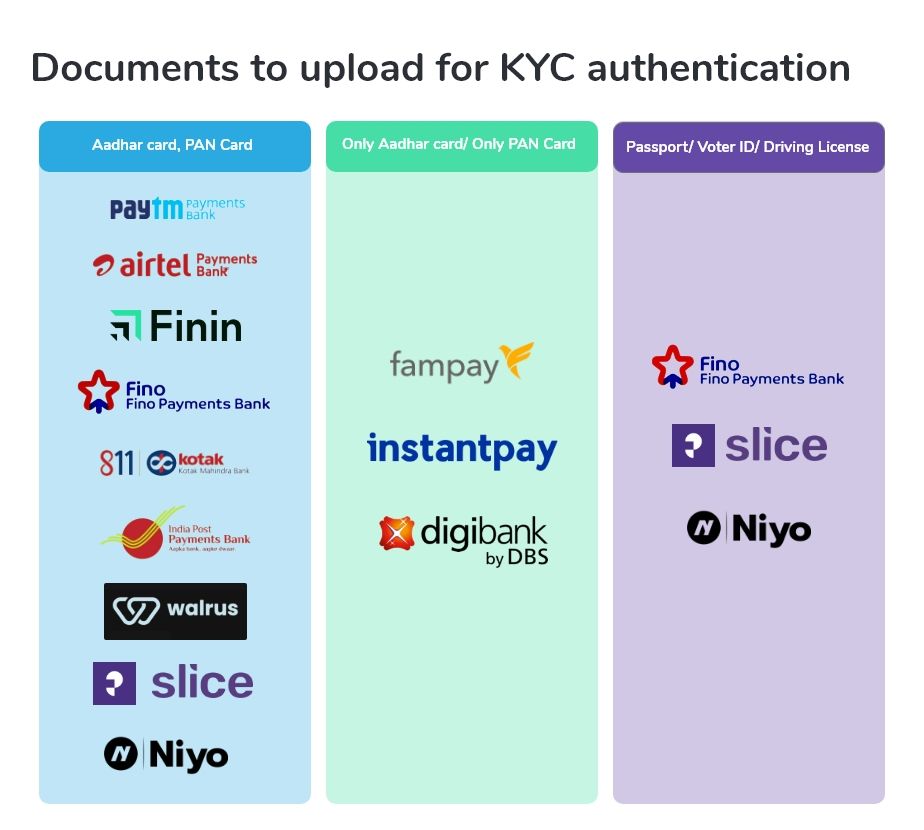 #5 Time to activate bank account 🎉
Post-registration, it takes less than an hour to a maximum of 5 working days for a neobank to verify its customer's details and activate the account for services. All neobanks offer non-chargeable zero balance accounts with the ability to start transacting instantly. The account can be topped up using any of the customer's existing accounts, therefore incentivising the customer to make the neobank their primary transactional account.
The key success measure for a neobank lies in its capability to support account registration, KYC verification, and account activation within 10 minutes.
Figure 8: Post-registration evaluation and the "Hoo-Ray!" moment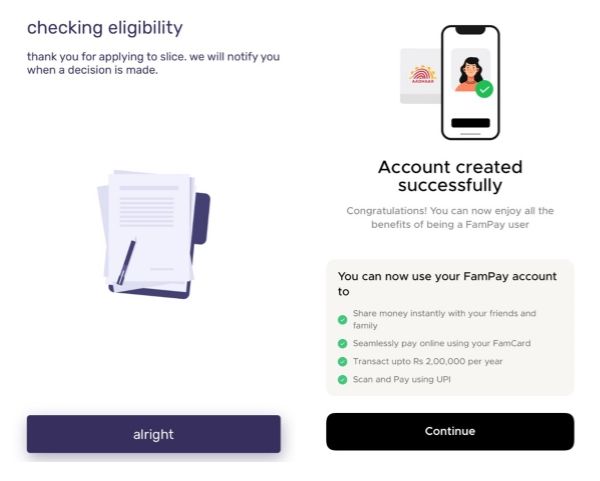 Figure 9: Zero-balance active accounts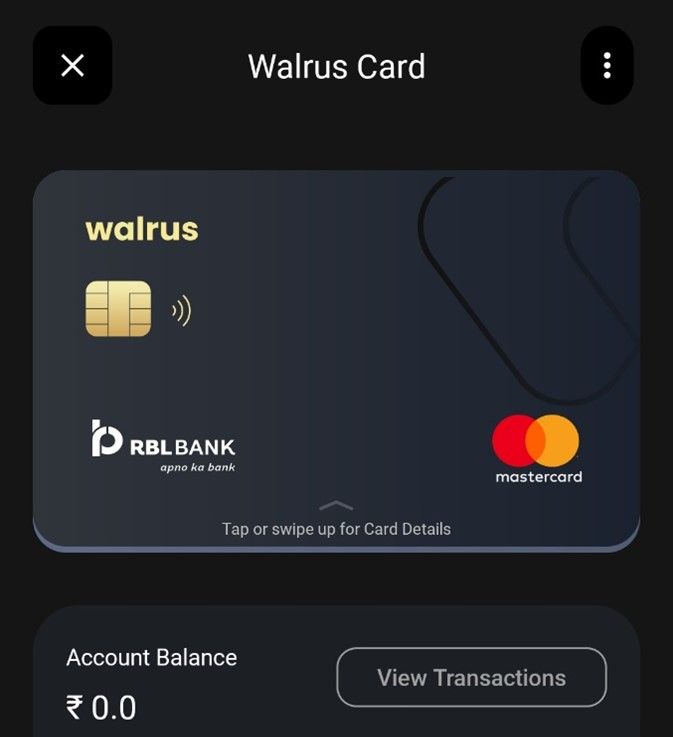 Debit cards are the most exciting part of the neobank's experience. The customer can avail of a customised card (Figure 10), a metal card, and a portrait card, depending upon what the bank offers its customers. Interestingly, millennials and the GenZ population are highly sensitive to the extensive use of plastic, non-environment-friendly material, and carbon emissions. As a result, virtual cards and metal cards have become extremely popular in these segments. Neobanks have even started charging for physical cards to promote environmental sustainability and digital transactions. However, regardless of the physical card make, it should be free of cost for the customers until there is replacement is necessary due to theft or loss of card (Table 2).
Figure 10: Design your card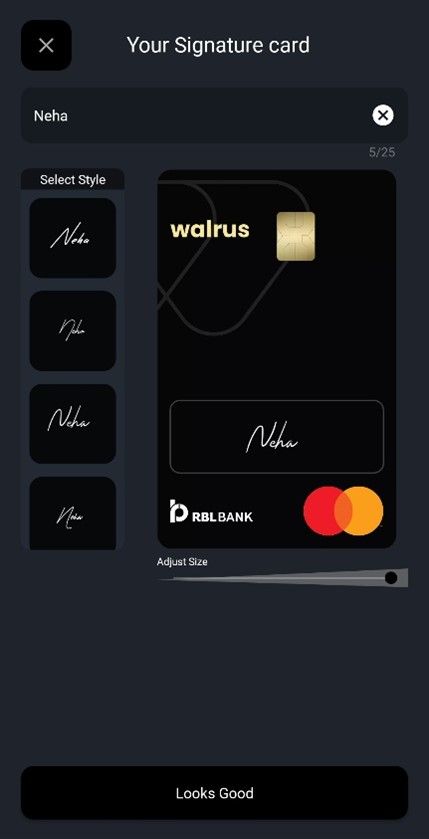 Table 2: Summary of debit card charges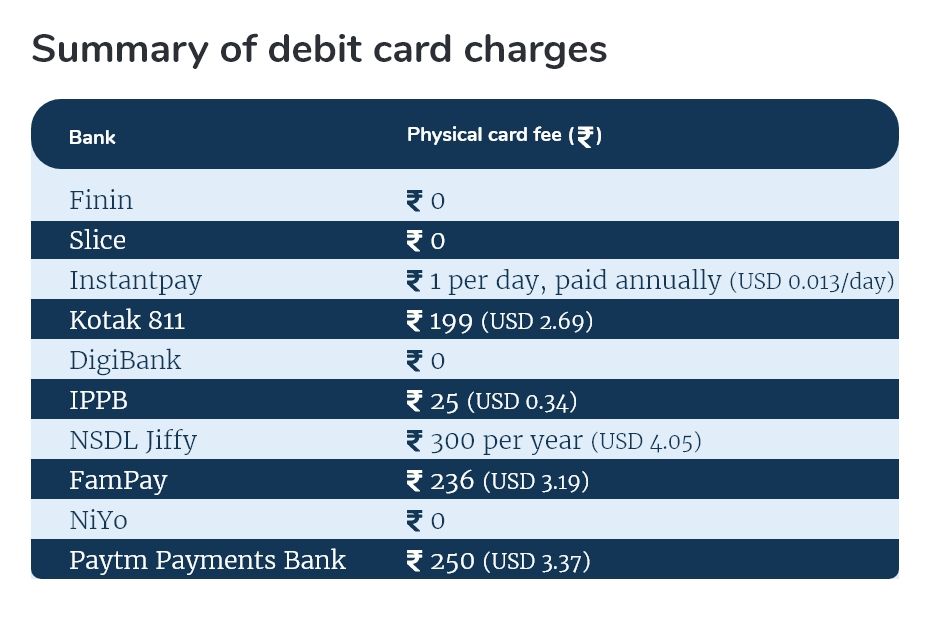 #7 Innovation in services 🎇
Most neobanks provide basic banking services such as Scan and Pay through a unified payment interface (UPI), card swipes, and transaction summary. The exciting quotient is the gamified money management tools that neobanks embed into the app. Walrus and Fampay have their money-saving games, Dracons attack, and #savethestreak, respectively. At the same time, Finin offers an interactive saving and spending dashboard – Fiboo. The gamification experience engages customers as it enables them to track their transactions on a real-time basis. This feature further enhances the customer experience as it regularly excites customers to earn rewards and cashback based on their unique personas. However, there are two key capabilities that most neobanks still lack -chatbots for query management and a third-party ecosystem.
Case in point 1: Fampay and its interactive, gamified app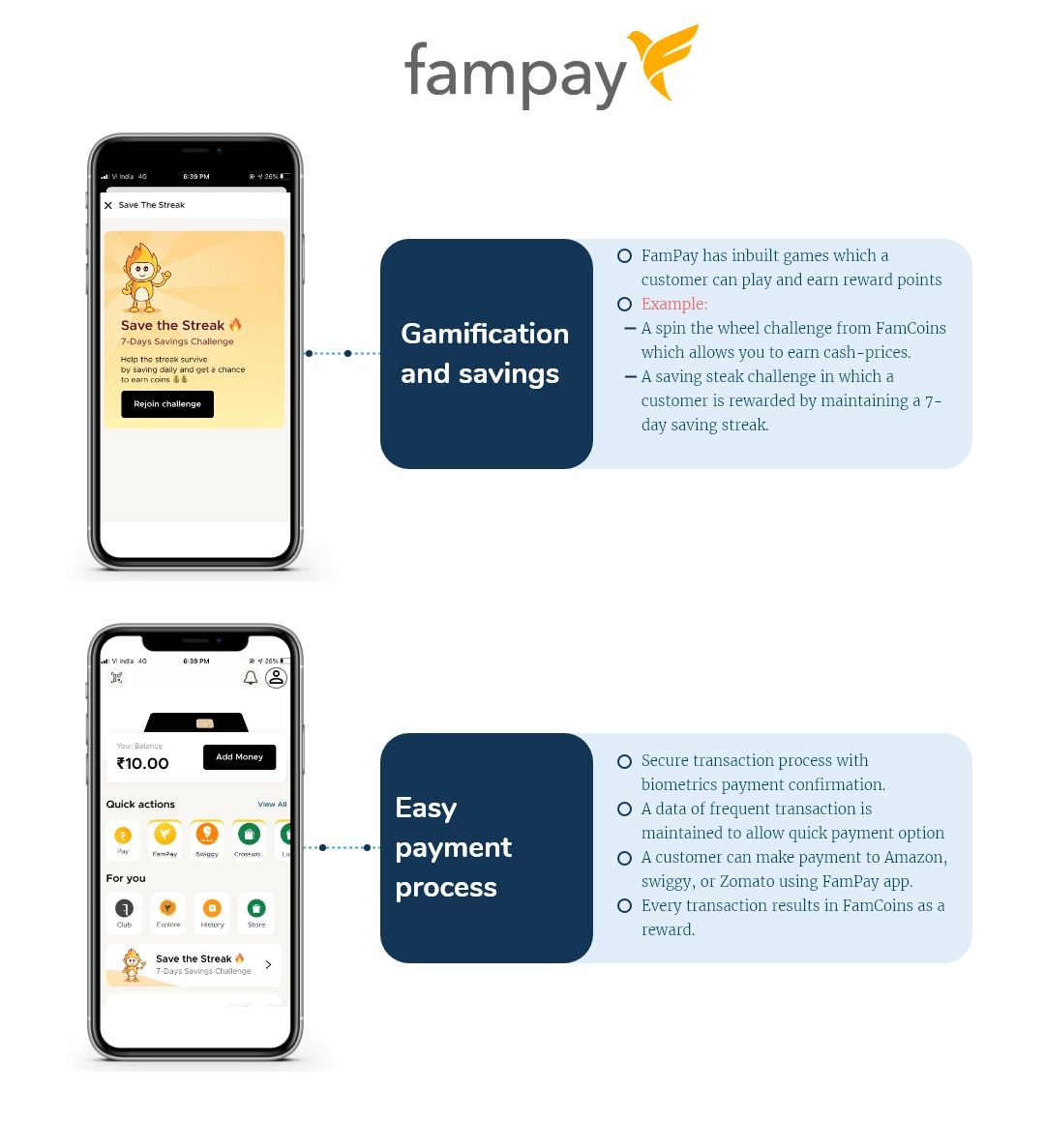 Case in point 2: Finin and its easy-to-use, reward-based app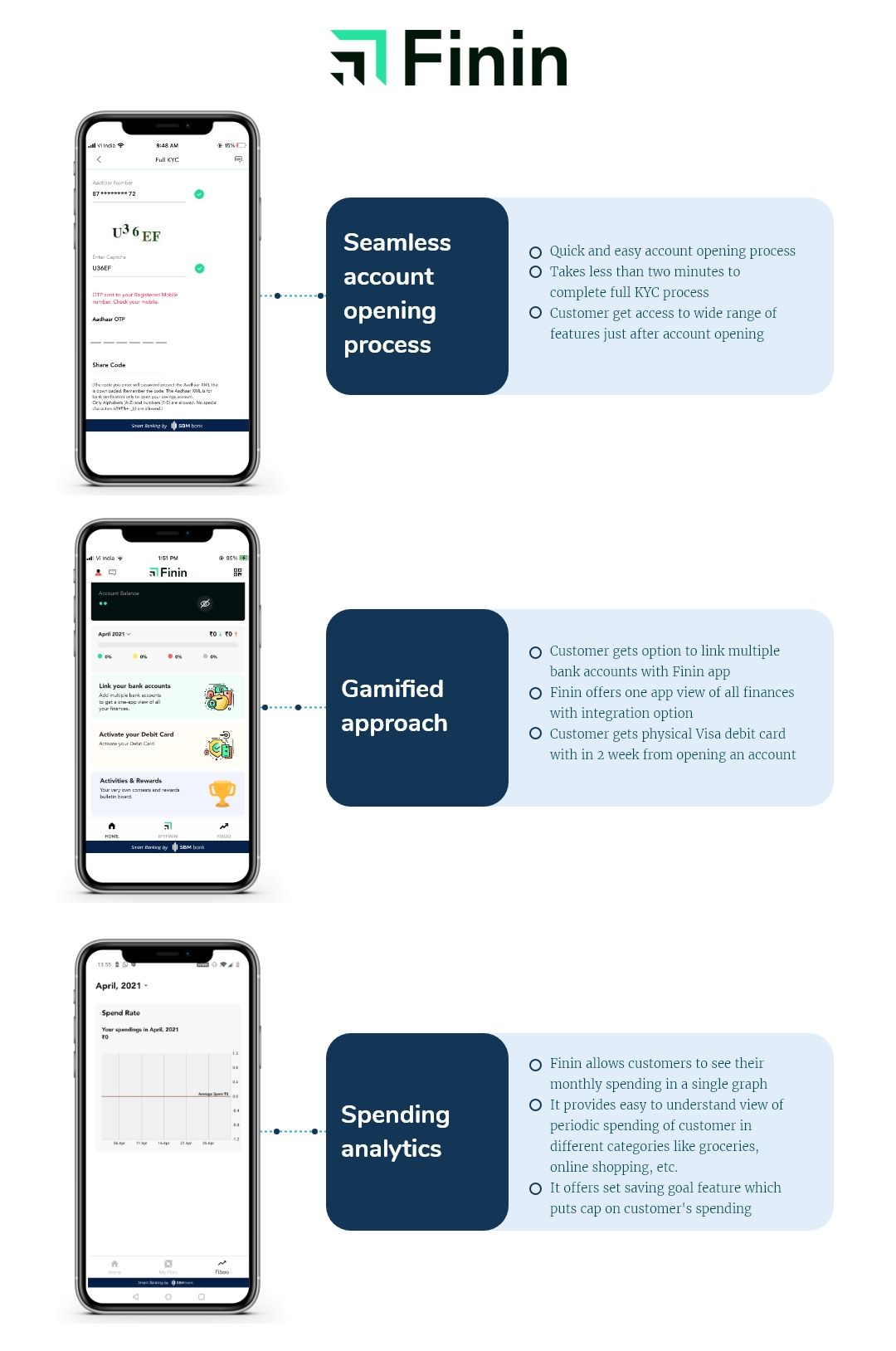 Conclusion
Neobanks in India have a significant growth opportunity with their technology-driven and customer-centric approach towards banking solutions. These banks have already begun to change customer perceptions from traditional banks to neobanks with 42% likeness for a customer to open a neobank account. However, to be resilient and relevant in the future, neobanks must ensure continuous innovation to deliver frictionless experiences. Currently, Indian neobanks offer limited capabilities compared to their counterparts in the Asia Pacific, Europe, and the USA.
Key takeaways
🧨 Innovate to add more features – advanced chatbots, contextualised recommendations, customised saving accounts, and enhanced security
🛒 Add third-party products – Integrated lifestyles services such as small-ticket insurances, wealth management, and loans
🎯 Create an exhilarating experience – Targeted incentives, rewards, and cashback to make personalised and memorable experiences
Endnotes
Khyati Khandelwal, Research Intern, contributed to the research in conducting a preliminary literature review and conceptualising the article.