Company profile
CEO: Yasushi Itagaki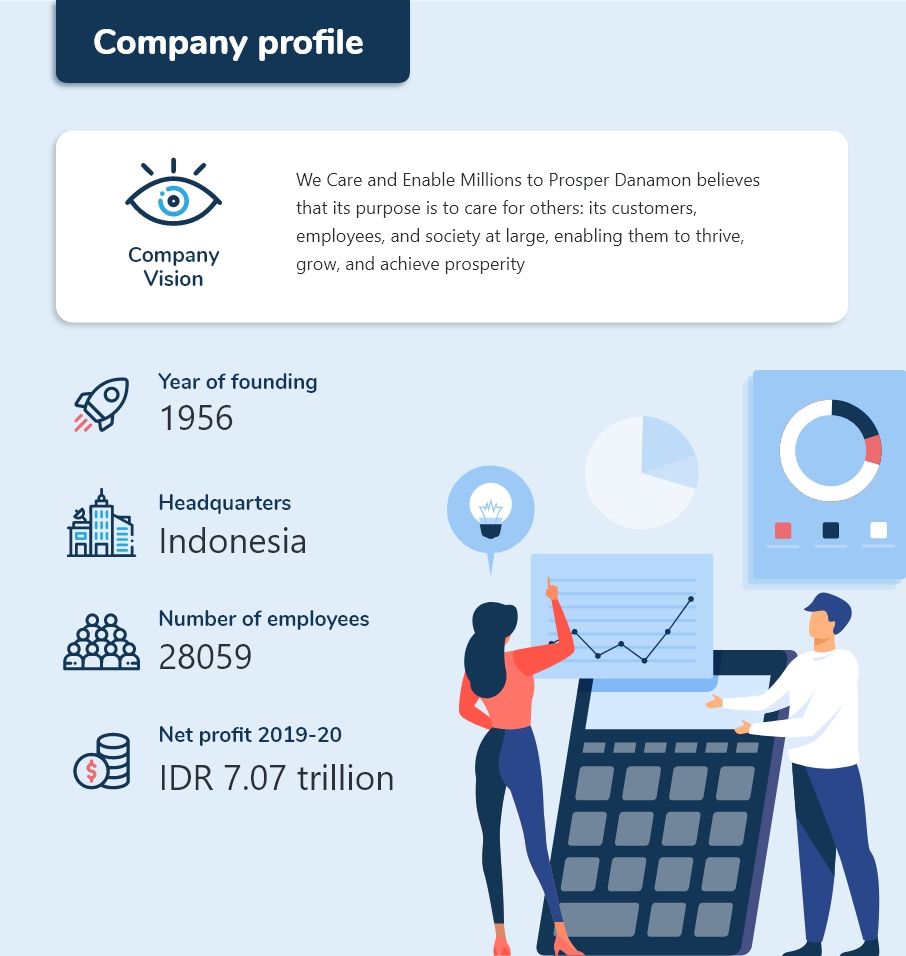 Danamon's mission
Danamon's vision is to care not only for its customers and employees but also for the society at large by ensuring growth and prosperity. Danamon's missions are as follows:
The bank aspires to be The Leading Financial Institution in Indonesia with significant market presence. Danamon believes that by being a strong financial intermediary it can act as a catalyst for welfare and prosperity.
It aims to become a customer-centric organisation covering all customer sectors, each with a unique value proposition.
The bank aspires to be the employer of choice for all its stakeholders including cusomers, employees, shareholders, regulators and the community.
Challenges
Bank Danamon despite being one of the oldest banks in Indonesia with a huge customer base was facing a challenge in targeting the millennial generation due to the high demand and expectations set by them. For example, millennials require a wide range of personalised products and services with minimal fees and great customer services.
Danamon faced major challenges such as the following while serving millennials:
Integrating technology in its business process to simplify the banking processes.
Redefining products and services to match the needs of the millennials.
Training and development of employees to familiarise them with the use of advanced technologies.
Solutions
To defeat those challenges to serve millennial demographic, Bank Danamon came up with the following changes in their business functions:
Created a digital platform facilitating end-to-end digital onboarding.
Partnered with companies which provide digital solutions to financial problems.
Launched its mobile application named D-Mobile in 2014.
Provided skill development programs to its employees and launched a leadership series.
Background
Bank Danamon was established in 1956 as Bank Kopra Indonesia and was renamed as PT Bank Danamon Indonesia in 1976.
In 2012, they collaborated sports teams and brands to offer personalised credit and debit cards with various offers.
The D-Mobile application was launched in 2014 with an e-commerce feature for online banking resulting in a technological disruption in the banking sector.
Business Model
Bank Danamon's robust business model extends to the following businesses:
Consumer self-employed mass market (CSMM)- CSMM targets the salaried market by offering various banking products including unsecured cash loans with easy access and simple requirements.
Self-employed mass-market- This sector serves and assists micro and small-scale businesses to gain better access to banking services and products.
Retail banking- Danamon's consumer banking business serves its retail customers with a wide range of solutions including deposits, personal loans, and investment products.
General Insurance- The bank's subsidiaries, Adira Insurance, offers a comprehensive range of general insurance services that cover motor and non-motor vehicle insurance products.
Corporate Banking – Danamon offers distinctive end-to-end solutions by providing breakthrough products and services to corporations with an annual sales turnover exceeding Rp 400 billion.
People strategy
Danamon's vision for their human capital is to become a company of choice for a career and be recognised as a high-performing company. The company executes a leadership series which consists of:
A face-to-face session called Leadership Café involving several prominent speakers discussing a variety of real-life topics such as ethical leadership, employee grievances and so on is held regularly.
A Leadership Giving Back session is delivered by Danamon's directors and managers periodically.
An internal sharing session, Leadership Chat, is held on EAZY Chat for employees to interact directly with the board of directors.
Partnership strategy
Danamon's recent tie ups are as follows:
Manulife and Danamon have partnered to sell insurance products through the bank's digital and offline channels. They primarily target Indonesia's growing middle class.
Adira Finance, one of Danamon's subsidiaries aims to provide digital solutions crafted to an individual's specific need.
Technology strategy
Danamon aims to simplify and reduce processing time to provide its customers with superior customer service and experience by investing in digital capabilities.
In 2017, roughly 30 major initiatives were taken to develop digital customer service channels, reward points, open banking ecosystem and other digital-based applications.
Moreover, Danamon is redesigning and establishing the infrastructure to provide an omnichannel and multichannel experience.
7 product and service offerings that make Danamon a
End-to-end digital account opening facility.
Simplified and affordable overseas fund transfer.
Savings account (D Save Savings) that offers insights on customers' savings and spending pattern.
Quick Response Code algorithm is available to simplify the transaction process.
Danamon KPR (homeownership credit) assists customers who wish to purchase, build, and renovate a home thus making the process easier.
Pilgrimage Savings accounts to help individuals save for a long-desired trip to Mecca.
Proteksi Prima Emas Plus (PPEP), a financial protection tool to overcome monetary challenges.
Awards
Year
Awards
2016
Top 3 innovation for banking by Warta Ekonomi
2018
The most consistent bank in service excellence by Infobank
2019
– The best digital bank in banking service by Tempo Financial Business Award
– Best digital KYC and account opening initiative, application or programmer by the Asian Banker
Conclusion
Bank Danamon revolutionised the digital banking sector in Asia-Pacific, setting benchmarks for its peer (traditional) banks. To further enhance its operations to serve the millennials, Danamon must:
Understand the needs of the targeted customer and offer customised products and services to attract more customer.
Embed socially responsible strategies and policies while developing new products and services.
Invest in redesigning user interface by employing high-end technologies to attract millennial population.
Note
Saksham Verma and Rajvardhan Bhatia contributed toward this research by conducting preliminary analysis and conceptualising the topic.