Company profile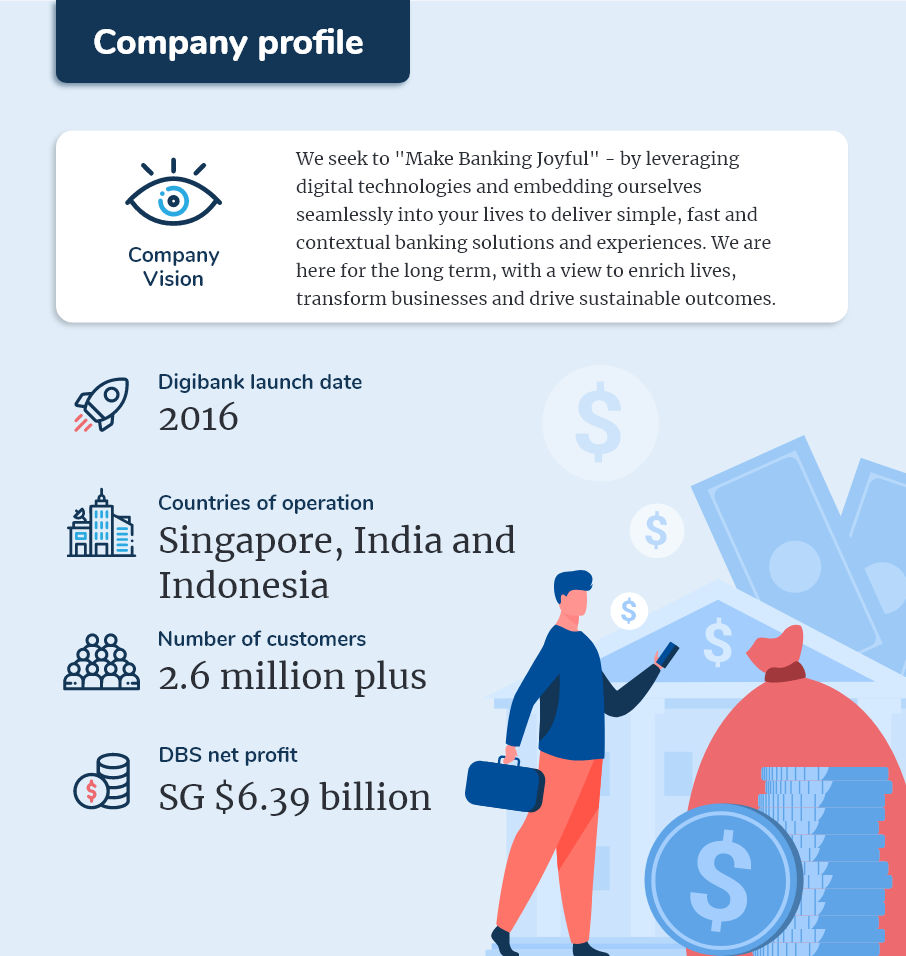 DBS's mission
Being purpose-driven is core to how the bank runs its business. It aims to support the life cycle of its customers while making banking joyful through digitalisation.
It aspires to be a people's bank and focus on three sustainability pillars:

Responsible banking
Responsible business practices
Social impact
Challenge
Despite DBS being a technology company and a leading bank, they were unable to bring millennial traffic with its existing banking products and services due to the following reasons:
There was a shift towards a customer-centric design.
Rising need to make banking invisible by shifting to digital platforms.
Rising demand for a respectful, easy to deal with and dependable bank.
Demand for a reduction in the number of formalities, paperwork and processes.
Solution
To offset the challenges and resonate with the millennial mindset DBS launched its neobank Digibank. Digibank provides the following features:
Personalised profile and customised quick links
Payments made easier
Instant account opening
Biometric log in
Background
DBS was established on 16 July 1968 by the Singapore government, to take over the industrial financing activities from the Economic Development Board.
The bank is recognised for its digital disruption approach, including the launch of their mobile application in 2010 and transactions via facial recognition in 2019, bagging them the title of the World's Best Bank by Euromoney in 2019.
Business Model
The bank's strategy is predicated on Asia's megatrends, including the rising middle-class population, growing intraregional trade, urbanisation, and the rapid adoption of technology fuelling innovations.
DBS marries the professionalism of a best in the class bank by understanding the Asian cultural nuances such as relationships, services, insights, and innovations.
Along with the heavy investment in technology and infrastructure, DBS embraces design thinking to deliver customer-centric front-end applications.
DBS focuses on three core business segments:

Institutional banking
Consumer banking or wealth management
Treasury markets

They have a strong and engaged board which provides strategic direction to all tasks.
Every action is carried with a set of values in mind. They are purpose-driven, relationship-led and innovative, this helps the bank in achieving their goals successfully.
People strategy
DBS prioritises employee development by investing in upskilling and reskilling every employee.
In 2019, it launched 'Be My Guest' where an employee could sign up to another department's offsite meeting, or simply cross-shadow a senior leader to understand the working day in a different department of the bank.
DBS strengthens the bank's culture through behaviours which are purpose-driven, relationship-led, innovative, decisive and fun.
A dual-rating system is in place to emphasise on how an employee can improve themself, in addition to what areas they should focus on.
Anytime Feedback is an initiative to drive a culture of openness and continuous improvement in every employee.
4 best practices in DBS's people strategy:
DBS Open- A quarterly group-wide townhall hosted by CEO Piyush Gupta.
Tell Piyush- An online forum where employees can freely share their feedback and post their questions to the CEO.
Frequent department meetings and events are held by senior and executive management to engage their teams on business plans, performance goals, and other areas of interest.
Different channels for employees to reach out to HR to provide feedback or ask questions are available.
Partnership strategy
DBS has partnered with the below mentioned institutions to provide innovative banking solutions:
DBS Give for Good works with South West Community Development Council to craft local programmes to achieve their mission to assist the needy and bond with the people.
The bank partnered with Haier, a leading Chinese electronics manufacturer to provide digital financing to their distributors within 24 hours.
DBS collaborated with Infor, a cloud software provider to launch supply chain-focused projects.
DBS in association with LiquidX brings in new working capital solutions for their clients. This partnership delivers superior and scalable solutions across multiple customer segments.
Technology
DBS has reconstructed its technological backbone to be digital to the core. Over the years, this has taken place via the use of microservices and by being cloud-native, resilient, and scalable. They have successfully re-engineered their traditional banking model and technology strategy towards a model in which both co-exist with shared key performance indicators in an agile manner.
9 product and service offerings that make DBS a millennial-focused bank
Instant paperless digital onboarding using Digibank.
Quick money transfer with DBS PayLah.
Instant transfer and withdrawal using facial recognition.
They use robotics technology in DigiPortfolio.
Management of multiple accounts through an integrated DBS Digibank mobile application.
Banking transactions via SMS Banking.
Personalised cashback and offers in various retail shopping outlets and restaurants.
DBS Tele Advisory for financial insights and advice.
With the help of Nav Planner, DBS helps on track, protect and grow their money.
Awards
Year
Award
2016
World's Best Digital Bank by Euromoney
2017
Asia's Best Digital Bank by Euromoney
2018
– Asia's Safest Bank by Global Finance
– Best Bank in the World 2018 by Global Finance
– Global Bank of the Year by The Banker
2019
– Top 10 business transformations of the decade by Harvard Business Review
– World's Best Bank by Euromoney
– Most Innovative Private Bank in the World by Global Finance
The way forward
DBS provides ideal examples of how, through major disruption in technology, traditional banks can win the hearts of younger generations. For continuous growth they should:
Focus on increasing the digital acquisition of customers and grow digital channels of share.
Build multiple touchpoints in order to understand the millennial mindset and deliver convenient and proactive services.
The bank's radical innovations in the banking sector by infusing traditional paper-born practices with digitalisation have led to their profound success
Note
Saksham Verma and Rajvardhan Bhatia contributed toward this research by conducting preliminary analysis and conceptualizing the topic.