In its 24 years of existence, Dutch-Bangla Bank has epitomised the banking landscape of Bangladesh with its innovation, integrity and inclusive banking and financial services. – Bismillahir Rahmanir Rahim (Chairman, Dutch-Bangla Bank)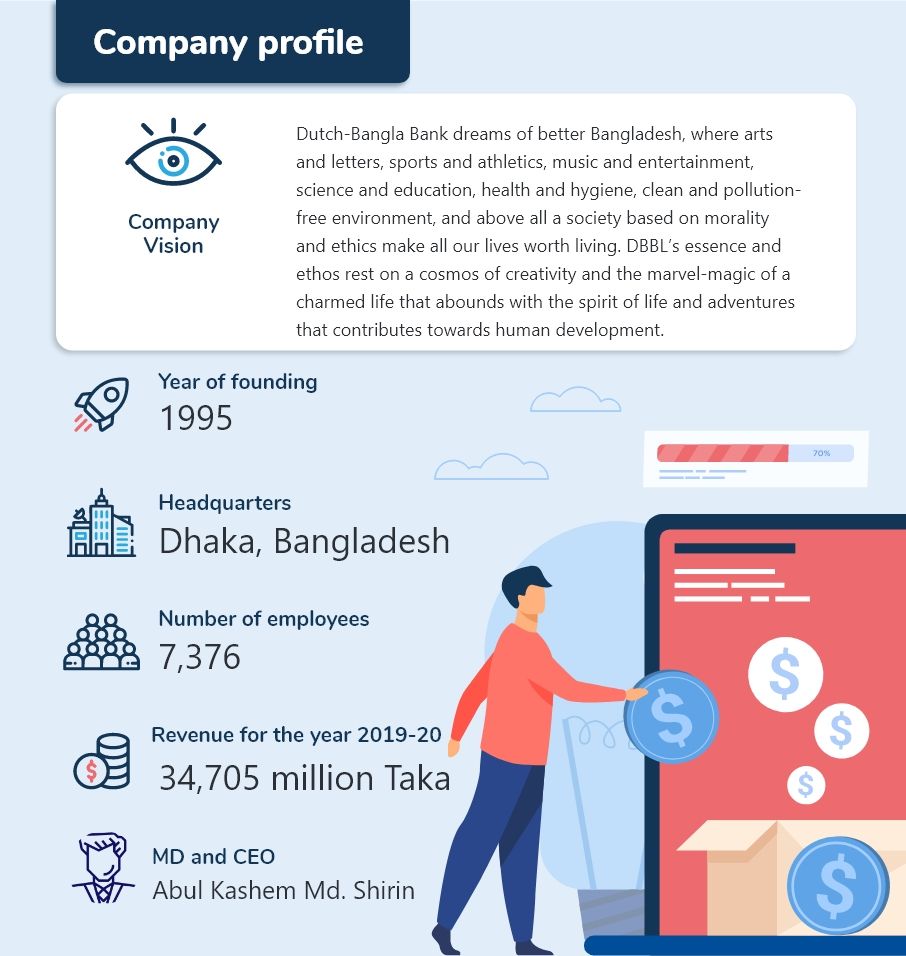 About the bank
Dutch-Bangla Bank is Bangladesh's first joint venture bank.  The bank was an effort of local shareholders spearheaded by M Sahabuddin Ahmed (founder chairman) and the Dutch Bank FMO (Financierings-Maatschappij voor Ontwikkelingslanden). From the outset, the focus of the bank has been:
High growth manufacturing industries, and
Financial inclusion
Hefty investments in technology and an early move towards automation has worked wonders for Dutch-Bangla Bank.
In 2003, it became the first bank to introduce plastic money to Bangladeshi masses.
Dutch Bangla Bank also operates the nation's largest ATM fleet. Through technological innovations, it is in the process of drastically cutting consumer costs and fees by 80%.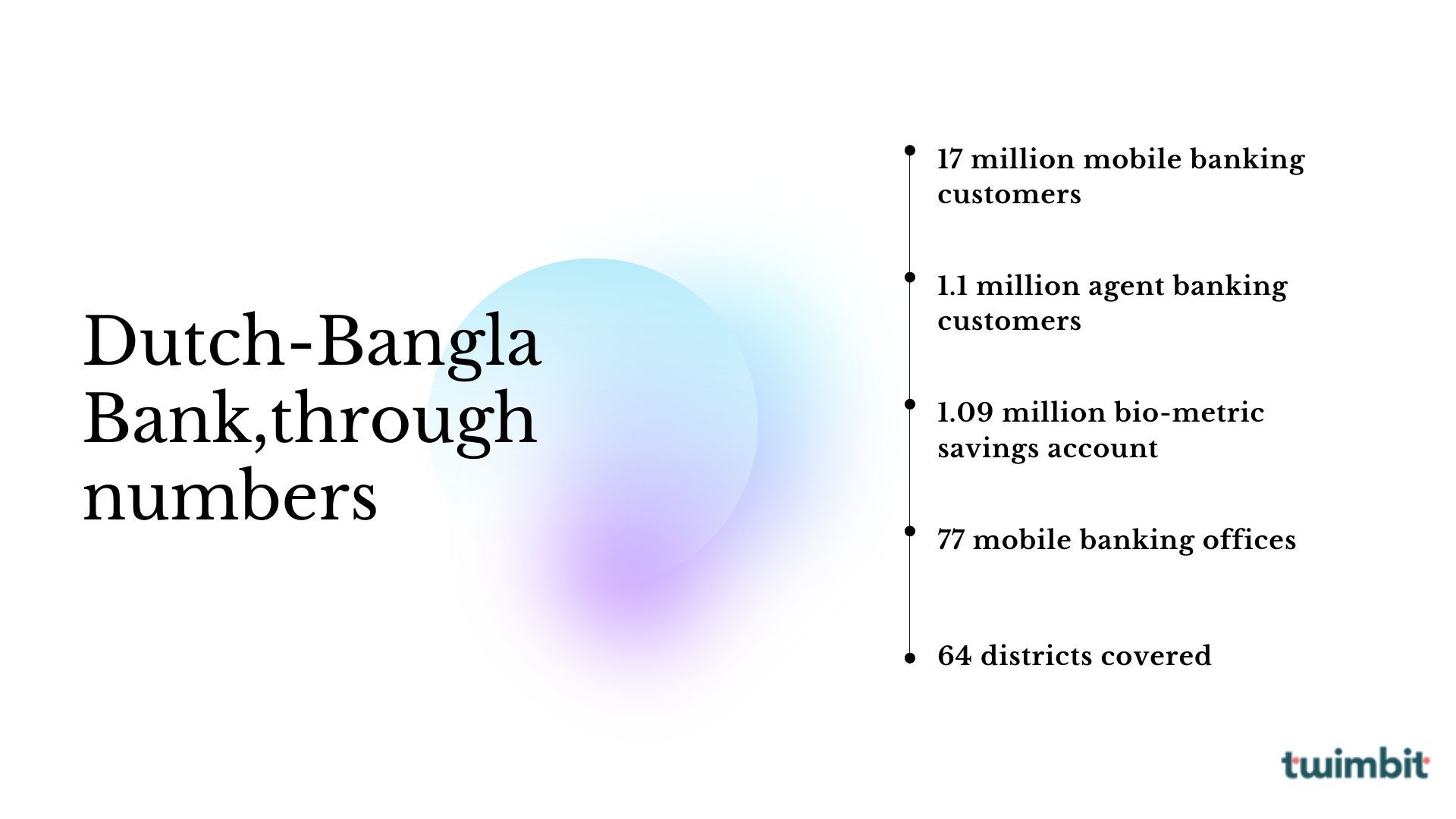 Challenge
Despite being one of the fastest-growing economies of the world, over 50 percent of the population in Bangladesh has no access to bank accounts. Dutch Bangla Bank identifies two primary reasons:
Absence of banking infrastructure in rural areas
High transaction cost
How is Dutch-Bangla Bank driving financial inclusion in Bangladesh?
Dutch-Bangla Bank, is accelerating financial inclusion in Bangaldesh through the Mobile Application: Rocket and Agent Banking Model. Thus far, Dutch Bangla's Rocket is already home to over 17 million customers.
Mobile Banking: Rocket
Dutch Bangla Bank's mobile application 'Rocket' operates with an objective to provide financial inclusion. The application facilitates the use of vernacular language that enables the bank to reach the masses. Rocket provides all major banking services such as opening bank accounts, transfers, digital lending, payments, etc.
Rocket infrastructure: Dutch Bangla Bank has identified zones and regions to set up mobile banking offices to serve its customers better and resolve every query related to mobile banking. Presently, Dutch-Bangla Bank has 77 mobile banking offices in 64 districts of the country, to offer different services to its customers.
Rocket symbolisation: Rocket symbolises faster and more flexible banking solutions, with advanced technology in a fool-proof transaction model, that gives comfort to a customer.
The Agent Banking model:
While regular banking models require customers to physically visit a bank, this model engages agents to carry banking transactions from their outlets (A shop like structure). These agents are like distributors under a legal agreement with the bank to provide a wide array of financial services.
Dutch Bangla Bank is using super-agents and banking agents to penetrate the banking market in Bangladesh. The pre-assignment of roles of the Super Agents, DSRs, and Agents is helping the bank to increase efficiency.
Range of services
Biometric-based banking services to rural and semi-rural areas so that unbanked citizens can join the formal financial sector from their doorsteps.
Deposits, payments, and withdrawals.
Courtyard meeting to address rural customer relationship gaps.
Loan application and disbursement.
Encouraging women to open up a bank account and inculcate the habit of savings.
Benefits of Agent Banking
Greater convenience, and cheaper transaction costs
Travel shorter distance to use banking services
Long business hours (9 AM-7 PM) enables agents to entertain more customers
People strategy
The People Strategy of Dutch Bangla Bank revolves around continuous learning and development. This is facilitated with:
Career Development Programs: Dutch Bangla Bank helps their employees gain a competitive advantage in the market. In the year 2019-20, over 42 training programs and 32 workshops were organized on various banking issues, benefitting over 4000 employees.
Dutch Bangla Bank Library: The library is attached to the Dutch Bangla Bank's training institute offering a range of books across the topics of management, finance, and banking.
Study Leave: Dutch Bangla Bank offers study leave to the employees to inculcate the habit of continuous learning. This helps them take up new professional courses.
Technology strategy
Host Card Emulation (HCE): HEC enables Dutch Bangla Bank's Nexus Pay to offer a fast and more secure payment gateway. Customers can download their debit and credit card, agent banking card, and Rocket account information to smartphone and using the token, they can do transactions in-store, in-app and online within a single application without exposing their actual card information.
Electronic Toll Collection (ETC) System: Electronic toll collection is a technology for fast and efficient toll collection where payment is collected by the authorities without having the customers to stop at the toll plaza. DBBL is the first bank in Bangladesh that provides the facility of electronic toll collection.
Core Banking Software: To provide a faster and more efficient banking experience to customers, the bank has upgraded to Flexcube Universal Banking Solution (UBS).
Queue Management System: To diversify queuing problems faced in branches the bank has introduced a queue management system. The system is capable of categorizing the services/customers and manage it accordingly, using a token dispenser, Queue Pro Software, and display units.
Partnership strategy
Dutch Bangla Bank with Inter-Continental Dhaka provides 'buy one get one' offer on lunch and dinner to VIP customers.
With, Discover Network issues and accepts Discover and Diners Club International Cards.
Dutch Bangla Bank with Swisscontact and MetLife Foundation promotes financial inclusion via 'Sarthi'. They are working with ready-made garments (RMG) factories in Bangladesh to bring RMG workers, especially women, within the sphere of formal banking services.
The way forward
Dutch-Bangla Bank's financial inclusion drive is supported by two main pillars:
Rocket, a mobile banking platform to serve the underserved by creating a digital banking infrastructure in the rural parts of Bangladesh.
Banking Agents, who serve as doorstep bankers and bridges the gap between the bank and the rural households.
While the Bank will continue to work on the mobile Banking services and their agent banking model to promote financial inclusion in Bangladesh, the coming years will see a rapid rise in the Fast Tracks (FT).
Fast Tracks are small outlets that enable the customers to use banking facilities in the Upazillas (sub-districts) of Bangladesh. Fast Track is the next big thing in the bank's drive to promote financial Inclusion. Apart from the services like cash withdrawals and deposit, Fast Tracks witnesses a presence of banking officers to solve customer query and provide other facilities like:

Assist customers in the opening of a bank account or Rocket account
Issuance of Debit or credit cards 
Assistance in SME lending