Financial inclusion allows people to save for family needs, borrow to support a business, or build a cushion against an emergency. Having access to financial services is a critical step towards reducing both poverty and inequality, and new data on mobile phone ownership and internet access show unprecedented opportunities to use technology to achieve universal financial inclusion. – Jim Yong Kim (Ex-President, The World Bank)
Introduction
According to The World Bank, financial inclusion means the individuals and businesses have access to useful and affordable financial products and services for having their needs – transactions, savings, credit, and insurance – delivered in a responsible and sustainable way. 
By fulfilling the banking needs of the entire populace, we can achieve financial inclusion. However, struggle to do so, has led to a large part of the population being left unbanked.
The unbanked population in Asia Pacific
According to The World Bank, Asia Pacific has over 0.9 Billion unbanked population i.e. the Asia Pacific is home to 60% of the world's unbanked population. These figures are more worrying when it comes to women having a bank account. Estimates show that around 42% of the women in this region are unbanked. However, two-thirds of the unbanked population has access to mobile phones and internet connectivity which allows banks and fintech companies to easily reach out to and fulfil the banking needs of this population.

We have developed countries like Australia, New Zealand, Singapore, Japan, and Hongkong with over 90 percent of its adult population banked. These countries take advantage of the services and benefits that banks, fintech companies, and the government have to offer them. On the other hand, Asia Pacific has countries like Indonesia, the Philippines, and Vietnam that primarily have a population with low income, which hardly has any access to the banking services with over 65%-70% of its population being unbanked (Figure 1).
Figure 1: Country-wise split of unbanked adults as a percentage of total adults, 2017-2018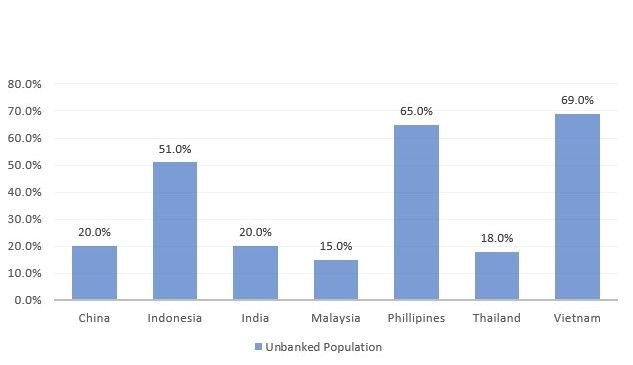 The two of the most populated countries of Asia Pacific, India and China, have a massive jump in the number of people getting banked. Today, the countries have almost 80% of its adult population banked, and this number will continue to grow in the future.
While the disparity exists among the countries, it is evident in a country's rural and urban population as well. If one is living in a rural area of a country in the Asia Pacific, his or her chances of easily accessing and using its banking services are approximately 30% less from those of a person living in the urban area.
4 key reasons why banking the unbanked is important
Helps in creating a sense of responsibility to park a fixed amount in the form of personal savings
Generates annualized interest income over and above the core means to earn money
Creates avenues to seek financial credit based on personal need and capability
Protects the hard-earned money and savings in a secure mechanism
6 factors leading to Asia Pacific's unbanked population:
Level of wealth: Our analysis states that an individual's low earning capacity and propensity to spend defines the need to own a bank account.
Financial illiteracy: Further, the lack of financial product awareness and its functions to meet the daily needs creates distrust among individuals. This results in low motivation to reach out to banks.
Know-your-customer remediation: The inability to produce accurate, complete, and valid documents have forced individuals to stay.
Conservatism: In specific Asia Pacific countries, individuals choose to stay unbanked based on their personal conservatism or religious beliefs.
Inaccessibility and dependency: In certain cases, where people reside in remote locations, reaching out to a bank or financial institution is difficult. Secondly, they tend to rely on a family member's bank account to support their financial needs, which builds an incorrect perception of not needing a bank account.
Technology adoption: This is especially seen in the rural parts of Asia Pacific. Due to the slow rate of digital adoption in rural areas, individuals are left unbanked and have limited access to facilities like digital payments and financial products.
5 recommendations to bank the unbanked
Protected de-regulation
1.
Governments in the Asia Pacific should try to de-regularize the existing retail banking regulations which allow non-banking players with wide mass customer reach to build banking products and services. The authorities can continue to protect its population through effective digital governance mechanisms, which avoids any bureaucracy and corruption. Further, they can incentivize low-income groups to open a bank account with a minimum balance provided by the government.
Financial and digital literacy
2.
A large portion of the population can be banked in Asia-Pacific through the implementation of financial and digital literacy programs. The awareness should be run by several channels, the government, banks, and fintech companies.
Penetration of national digital identity systems
3.
Government-issued biometric IDs should be explored by the countries.  Using 'electronic know your customer' (eKYC) and digitizing the onboarding process will enable banks and fintech companies to reach and bank more individuals in each period of time. This will also enable banks and fintech companies to lower their cost of operations. The convenience of having financial and banking services at their doorstep will be impactful for banking the individuals who sometimes travel long hours and lose a day of wages to reach a bank branch.
For example, India's Aadhaar system, provides real-time verification of identities using a fingerprint scan, iris scan, or digital face print. Aadhaar also enables the direct transfer of government subsidies and unemployment benefits. Banks could leverage such biometric ID programs to verify customers at ATMs or service counters and widen access to financial services.
Zero-balance zero-fee bank accounts
4.
High banking charges and account maintenance fees keep most of the people belonging to the low-income group, unbanked. They don't want to lose their minimal savings to high banking charges and fees and in order to serve them well, zero balance zero-fee accounts are vital and requisite.
Building partnerships
5.
The banks and fintech companies should engage into partnerships with companies of other domains. This would help the banks and fintech to felicitate innovations and leverage the expertise of the partnered companies.
Best practice learning examples
India: India Post is a classic example of how companies can play to their strengths to penetrate a market. It is a government-owned postal service entity that is now changing the shape of banking in India. Known for its huge distribution network and last-mile delivery, India Post can serve you even if you're in the remotest location. Thus, India Post realized its capacity and launched India Post Payments Bank which provides banking services at your doorstep and today has over 20 million bank accounts registered with the institution.
Since its launch, IPPB has enabled more than 1.36 lakh post offices and 1.9 lakh dakiyas (postmen) to provide a complete suite of banking services at the doorstep of the customer providing access to any Aadhaar-linked bank account, leading to an increase in rural banking infrastructure by almost 2.5 times
– Shri Ravi Shankar Prasad (Communications Minister, Government of India)
Bangladesh: The payment company bKash allows people to exchange hard currency for e-money through a network of community-based agents. Launched in 2011, bKash now has more than 80% market share for mobile financial services in Bangladesh.
China: An agriculture-focused fintech company, Nongfenqi assesses the creditworthiness of customers through conversations with their business partners, customers, and fellow villagers. Analyzing customers' reputations anecdotally has resulted in a default rate of just 0.1% on loans made to over 20,000 farmers as of early 2017.
Conclusion: – A collective effort
There lies a great potential for banks and the fintech if they can bank the 900 million unbanked Asia Pacific population. While this helps generate revenue or book profits, it will also allow them to enter new partnerships with peripheral companies to acquire technology, build a customer base, and facilitate product innovation. It makes the population financially independent and helps them make judicious financial decisions. Additionally, it requires the government to play a huge role by allowing banks to operate with relaxed regulatory norms and grant concessions.