"Memberdayakan Indonesia" or Empowering Indonesia – a common thread between cloud providers in 2020 as FDI pours from numerous CSPs into the sleeping giant
Competitive overview
The majority of the public cloud infrastructure market shares are held by Google Cloud Platform (GCP) and Amazon Web Services (AWS). Together, they take up 69% of the total market, equivalent to US$ 124million.
Alibaba Cloud, which is the largest IaaS provider in the Asia Pacific, only accounts for 9% of the Indonesian IaaS market, despite growing at a double digit rate.
Microsoft Azure holds just 11% of the market as they are limited by regulations, which deny their market access to public sector and BFSI accounts. This is slowing down Azure's footprint within the archipelago.
Market share analysis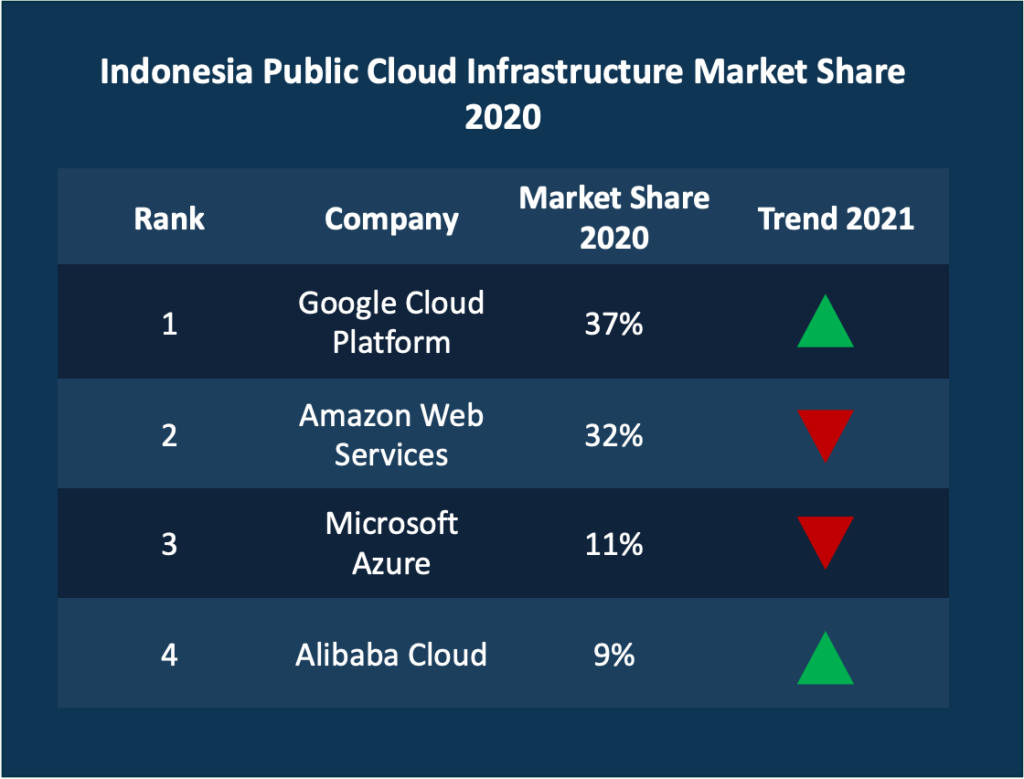 Indonesia public cloud revenue accounted for US$435million in 2020. IaaS accounted for 41% of the total revenue in Indonesia, which is twice as much as other neighbouring markets. Adding to this atypical characteristic, Indonesia is the only market where GCP triumphs over AWS in Asia Pacific.
Market Leader: Google Cloud Platform
GCP is the first cloud provider in Indonesia and in 2020 they went live with a landmark region, beating their counterparts, namely AWS, Azure and Alibaba Cloud. By having a local region, their cloud solutions are compliant towards the data regulations.
Furthermore, with key account such as Gojek, Indonesia's flagship startup, it helped attract customers to consider migrating to GCP as it is used as a proof case for GCP's solution readiness. This led to exponential development for the cloud provider.
Also, GCP sales were partly driven by competitive pricing, where some DNBs agreed that their prices are some of the lowest in the market. Consequently, internet-centric companies of all stages tend to opt for GCP's solutions rather than those coming from AWS.
Another driving factor for GCP's share was its strategic alliances. GCP's partners such as Accenture and XL Axiata are aggressively pushing for the adoption of GCP in Indonesia, which has opened doors for GCP in the enterprise customer landscape.
Therefore, GCP's leadership is sealed by:
Landmark region
Anchor customers as proof of technology
Attractive pricing
Strategic alliances
Underperforming Leader : Amazon Web Service
Unlike any other markets in Southeast Asia, AWS took the time to focus on Indonesia. Early on, they had higher reliance on partners to seed the market for them. Although these partners did acquire some large accounts, such as Gojek, Traveloka, Lion Air etc., most of these accounts are yet spending a larger portion of their cloud budget with GCP rather than AWS. In turn, it has limited AWS's full revenue potential in the country.
Furthermore, across markets, AWS targets are DNBs. However, this strategy is challenged as GCP has become a leading choice for DNBs even before AWS started to expand their effort in the market. Again, this is because Indonesia's SMEs are price sensitive, and many do view AWS' solution as expensive compared to alternatives.
More importantly, as AWS is still in the process of launching a data center, it has forced the local and traditional enterprises, who are currently undergoing digital transformation (DX), to consider GCP and Alibaba Cloud instead. This is due to the country's stringent laws on data locality and the authority's inconsistent position on cloud. Therefore, even though AWS has 32% shares, they are slowing losing them to GCP and Alibaba Cloud.
Runner-up : Microsoft Azure
Microsoft Azure held true to its tradition to acquire BFSI, oil and gas and public sector as its account, which is why they are losing market shares. This is because these verticals are tightly regulated by the government due to data sensitive. Although, there are plans for these regulations to be amended, but as of now, Microsoft Azure market access is limited.
As a mitigation strategy, Azure tried to play in the DNB market and successfully secured a US$100 million cloud contract with Bukalapak, which was GCP's account. The collaborations between the two companies include a 3 pillared objective:
Building a resilient infrastructure
Bridging the digital gap
Upskilling digital talent
However, there were no notable actions post this contract. Hence, Azure's prospect for 2021 seems slightly bleaker than others.
An Aggressive Rising Star : Alibaba Cloud
Alibaba Cloud entered the Indonesian market in 2018 with agile solutions and attractive pricing as its value propositions. When benchmarking their solution pricing, Alibaba is comparable to GCP but much lower when pitted against AWS, which is an early advantage.
With these value propositions, Alibaba Cloud caught the attention of many SMEs, nascent-stage DNBs as well as enterprises looking for a smaller-scaled DX. As a result, Alibaba Cloud caters to accounts such as Akulaku, Investree, and Kopi Kenangan.
Additionally, this aggressive regional player has cemented their presence with 2 data centres in Indonesia, ahead of the rest of the players of its size. Riding on the country's growing demand for cloud, they announced their plan to open its third data centre last year. This shows that Alibaba Cloud has an obvious interest in becoming a bigger cloud provider in Southeast Asia's largest digital economy.
Although they had an affordable pricing strategy, Alibaba Cloud's market share remained low compared to its competitors. However, this may change in the future if they win more large cloud contracts with their data locality advantages, which will award them a bigger cut in the market.
Twimbit Takeways
With high digital population, cloud providers are continuously gearing up the right infrastructure to meet the demand, from building data centres to collaborations to providing 5G network.
GCP and Alibaba are expected to increase in market shares as the country is still in its nascent stages and is sensitive to pricing. We are still unsure of AWS's and Azure's next big move in 2021.
Local telcos such as Telkom, XL Axiata and Indosat Ooredoo are all putting a foot into providing digital solutions by partnering with international cloud providers, but are still in their inception stages.