HDFC Bank has always been strong, growing consistently through multiple economic cycles – Aditya Puri (CEO, HDFC Bank)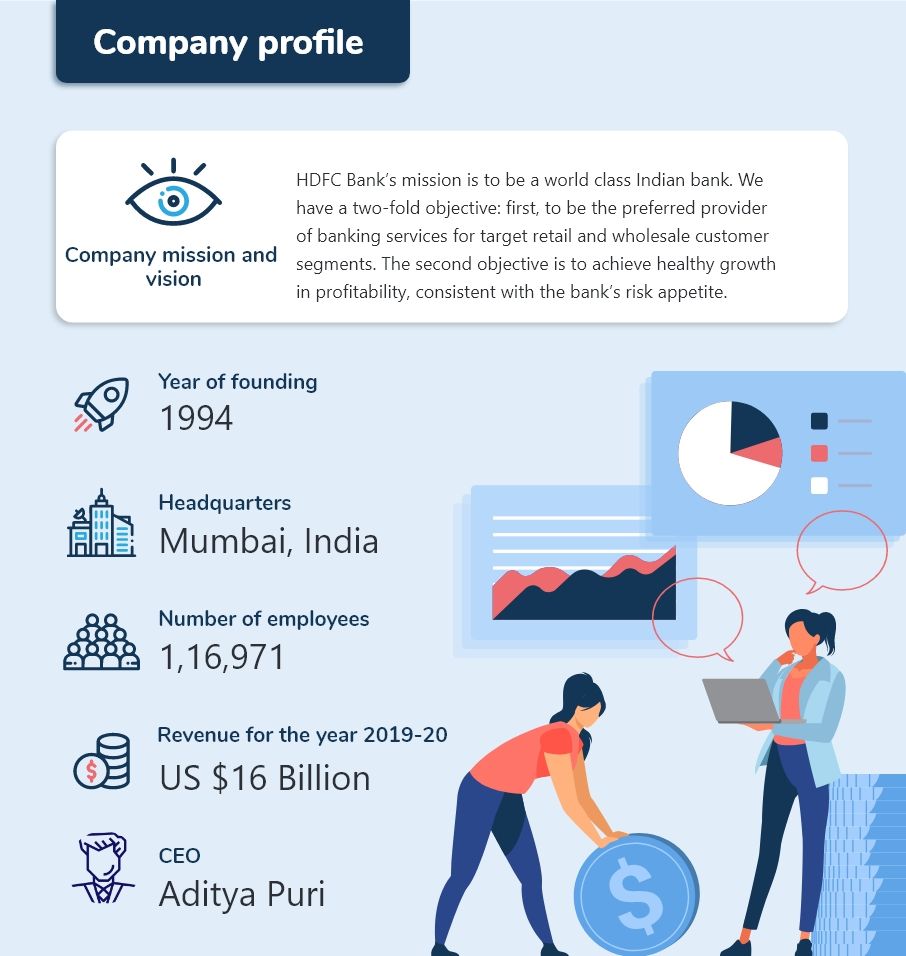 About the bank
India's leading private bank, HDFC was incorporated in August 1994 with its registered office in Mumbai, India. The bank commenced operations as a Scheduled Commercial Bank in January 1995. As of June 30, 2020, the bank has a nationwide distribution network of 5,326 branches and 14,996 ATMs in 2,825 cities and towns.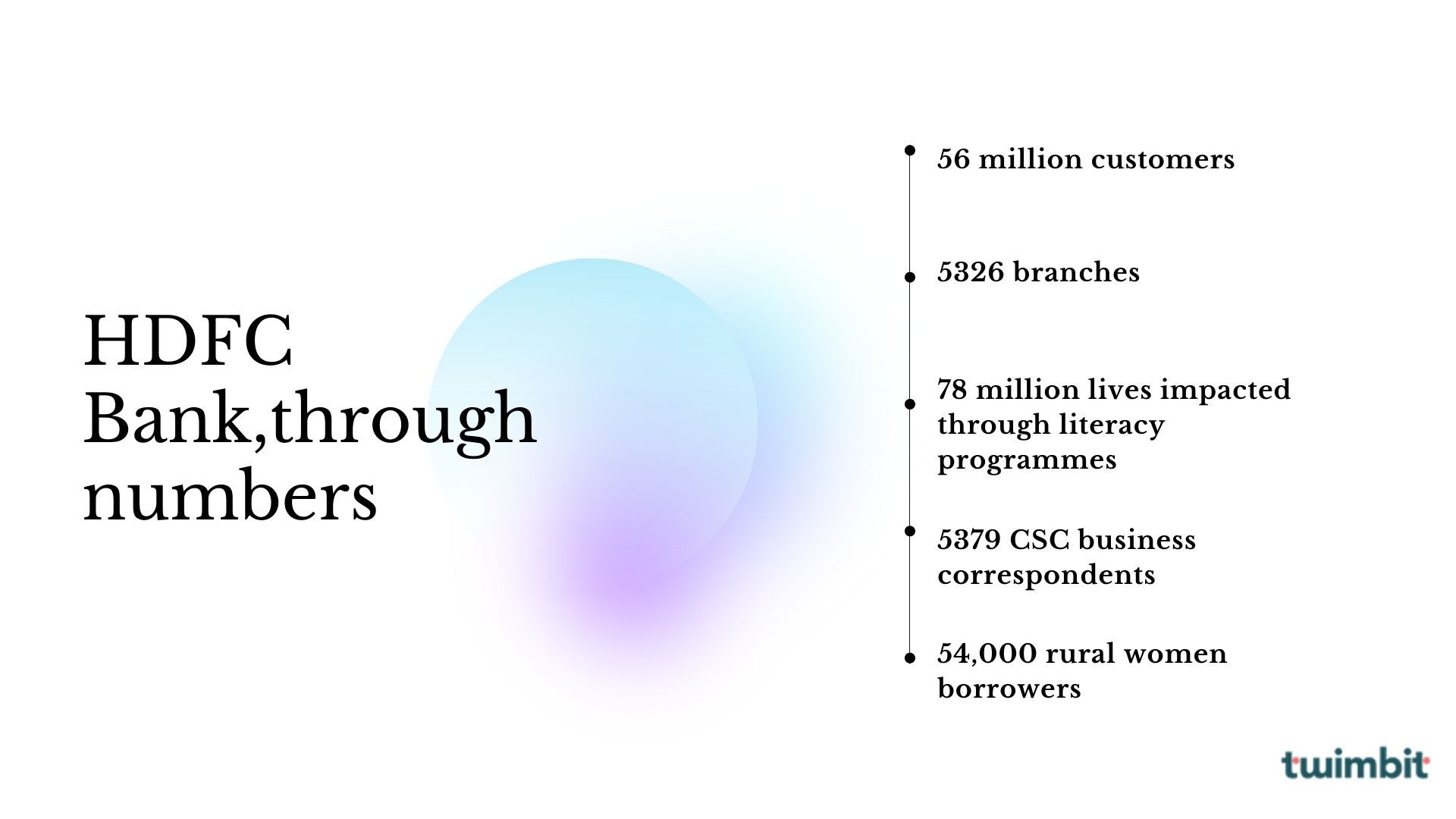 Challenges
HDFC Bank realizes that India is still far from achieving financial inclusion because of three primary reasons:
Tailor-made financial products to suit the needs of rural residents
Reach the masses
Financial Illiteracy
How is HDFC driving financial inclusion in India?
HDFC Bank is among the first few private players to establish a successful banking business in rural India. HDFC undertakes financial inclusion strategies to facilitate the unique needs of rural customers through 4 key ways: 
Distributing Kishan Gold Card across 1.25 lakh villages that provide loans to farmers and helping them meet their production cost and post-harvest expenses. The card enables farmers to finance the purchase of farm machinery and equipment among other services.
Bringing banking services for dairy farmers to their doorstep through their Milk-to-money initiative. By 2022, the bank plans to cover 3000 villages and 8 Lakh dairy farmers under this scheme.
Enabling customers to choose products that best meet their financial requirements from their comprehensive suite of offerings to their Har Gaon Hamara program. Under this program, a gathering of 30-40 villagers is organized to provide financial literacy, and products and services are made available to purchase at their doorstep. Till now, HDFC has covered more than 22,000 villages and has engaged with 4.6 Lakh customers.
Appointing VLEs (Village Level Entrepreneurs) as Business Correspondents (BC) by entering into an agreement with the government to drive financial inclusion in the rural areas.
People strategy
The bank invests heavily in upskilling and reskilling its employees to meet the changing demands and equations of the banking industry. For this purpose, it undertakes initiatives such as:
Structure role-based learning and development initiatives based on the principle of 70:20:10 for every employee and explore alternative channels to enable access to resources across locations. The 70:20:10 model for learning and development is a commonly used formula within the training profession. It holds that individuals obtain 70 percent of their knowledge from job-related experiences, 20 percent from interactions, and 10 percent from formal educational events.
Employees connect initiatives like talent meets (Hunar) and sports meets (Josh).
Future Bankers programme: A programme with the Manipal Global Academy of BFSI to provide a talent pipeline of job-ready candidates for entry-level roles in branch banking.
Technology strategy
The corporate banking business is supported by Flexcube, and the retail banking business by Finware, both from i-Flex Solutions Ltd. The systems are open, scalable and web-enabled.
The bank is developing disciplines around new technologies like Robotic Process Automation (RPA), Machine Learning (ML), Artificial Intelligence (AI), and Blockchain to further enhance its current digital portfolio.
To support the Digital India mission, HDFC Bank launches myApps, a suite of applications during 2019-20. myApps offers digital payment modes and other value-added services for four key segments – urban local bodies, including smart cities, housing societies, clubs, and religious institutions to enable digitisation of their entire ecosystem.
HDFC Bank's virtual assistant 'EVA' is India's first assistant. EVA is capable of both acquiring and servicing customers as well as processing banking transactions.
Partnership strategy
HDFC Bank with ToneTag for proximity payments
With Chillr for peer-to-peer and merchant payments
HDFC Bank with TaptisTechnology for biometric payments
With lifestyle and travel brands such as MakeMyTrip, Flipkart, Amazon, and Yatra for its banking application, PAYZAP
The way forward
The Bank, to date, has been successful in catering to the unique needs of rural customers of the country. Through product offerings and initiatives like Kishan Gold Card, Milk-to-money, and Har Gaon Humara, the bank has tried to fit into the unique wants of its banking consumers.
Going forward, HDFC Bank should try and make effort to introduce:
Zero Collateral loans
Banking application for financial inclusion