Our SME business has been built into an enviable franchise with extremely healthy metrics. We have one of the largest franchises amongst the private banks in dealing with the government and its various arms. – Amitabh Chaudhary, MD & CEO
Company profile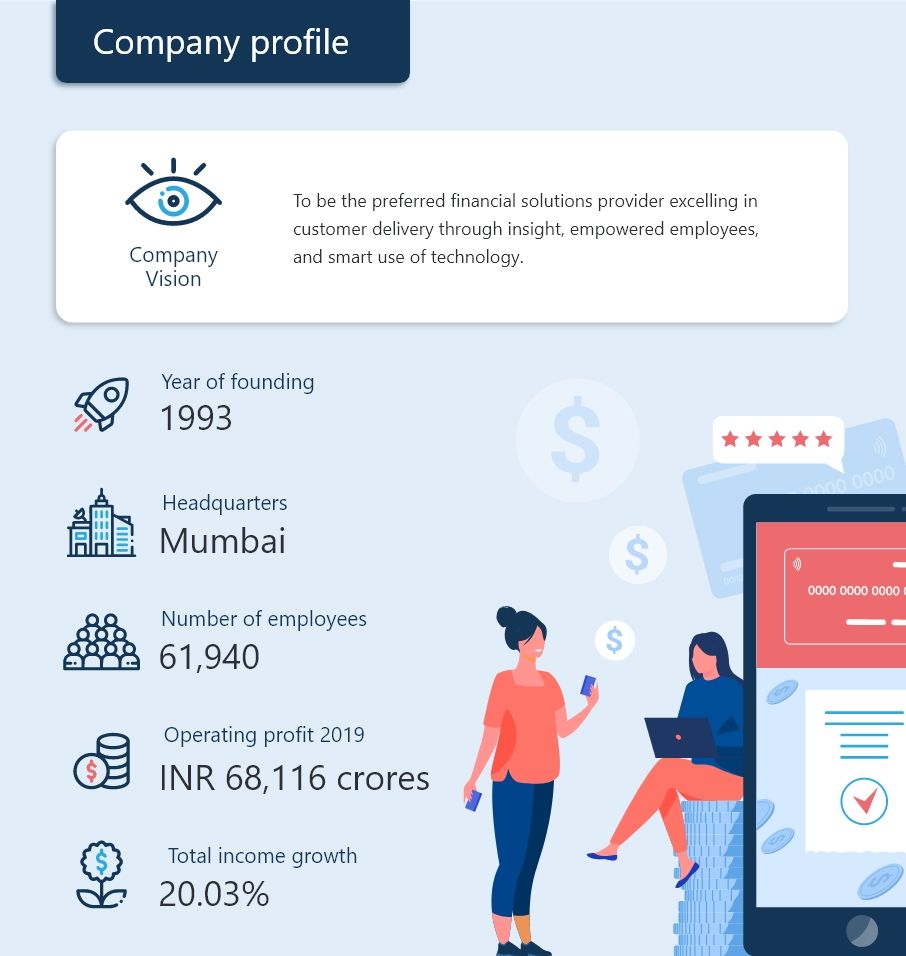 Background
The bank was previously established as UTI Bank with their first branch in Ahmedabad.
In 2007, UTI Bank changed their name to Axis bank with a new brand identity.
The bank has 25 years of legacy with 4,000+ branches, 78 small-medium enterprises (SME) centres, 5 lakh + point of sale machines, and 16,700+ ATMs.
The bank is driven by five core values: Ethics, customer-centricity, ownership, transparency, and teamwork.
Challenge
Axis identifies that the reason SMEs struggle to gain credit is that they are lost in the cumbersome traditional lending infrastructures, which involves:
Lengthy documentation
Lack of skills and awareness to sustain business
Lack of national/global recognition
Vast timelines that mismatch with SME urgency
Solution
Axis Bank wants to propel their SME clients to scale newer heights by:
Financing short-term and long-term business plans
Hassle-free customer experience with simple documentation
Knowledge enhancement of the SMEs to operate profitably
Business Model
Axis Bank has dedicated SME centres spanning key industrial segments to serve best in class lending and banking services to its customers.

13% share of SME advances in total loan advances
85% exposure to SMEs

Axis Bank is part of SME customer journey in the following ways:

Evolve

A knowledge enhancement series focused on burgeoning SMEs.
Conceptualized in 2014, in the past six editions, Evolve has reached out to over 9000 customers across 50+ cities.
As a knowledge partner, it equips SMEs with new-age strategies, case-studies, operational know-how, regulatory and governmental affairs, etc. that impact their business.

SME awards

To recognize the efforts and contributions of SMEs, AXIS Bank, along with the India SME Forum, felicitates successful SMEs through INDIA SME 100 Awards.
It is considered one of the most prestigious awards in the SME fraternity.

Axis start-up events

To mentor and create a platform for networking, Axis bank conducts online and offline start-up events for upcoming and existing entrepreneurial ventures.

Digital platforms

To help SME customers transact seamlessly, Axis bank has a dedicated business banking application along with TF Connect and FX Connect for trade and foreign exchange transactions.
People strategy
The Axis Bank Young Bankers and Axis Sales Academy programs ensure that it has a cost-efficient and sustainable pool of trained resources.

It onboards candidates from diverse backgrounds through We Lead – the women in leadership program and Access.

Axis Champions Awards, the bank's annual recognition event to recognize people who demonstrated customer excellence, leadership, citizenship, guardianship, and innovation.
The behavioural training program, customized to employee grades and role challenges.
Catalyst is an internal careers portal, to provide employees with an opportunity to chart their careers. Catalyst allows employees to seek and apply for roles across departments within the bank and across Axis Group subsidiaries through a transparent and fair process, realizing the vision of 'One Axis'.
My GPS is an internal platform for employees to crowdsource ideas and recommendations from employees to strengthen these vectors.
Axis Blitz is a bi-annual platform for leaders to engage with employees and drive core values, continued as a part of strategy cascade where senior leaders travelled to locations, and engaged with regional leadership teams.
Partnership strategy
Axis Bank is driving partnership-driven innovation in digital banking, actively contributing to India's key developmental initiatives such as

Smart Cities Mission
Digital India
Government e-Marketplace
Electronic National Agriculture Market (eNAM).

The bank partnered with m-Junction to set up TReDs Limited. The Bank's subsidiary for Trade Receivables Discounting System (TReDS), an electronic platform for facilitating cash flows for MSME.
Under the 'Axis Dil Se' CSR initiative, the bank partners with 17000 ft to install 'Digi Labs' in schools. This enabled 108 schools in Leh and Kargil districts of Ladakh to access digitized curriculum both for the students and the teachers.
The bank partners with Signcatch to launch first of its kind "smart bill pay" initiative for New Delhi Municipal Corporation (NDMC).
Technology Strategy
The bank partners with the government to implement 'SMART City', facilitating digital transactions by citizens and delivering on the digital-first vision.
It leverages artificial intelligence to simplify transaction narrations in digital channels to enrich customer experience.
The bank incorporates Artificial Intelligence (AI) and Machine Learning (ML) to reduce manual intervention and improved employee productivity and processing time.
Axis bank enhances their mobile application with the introduction of 'Axis AHA!', an artificial intelligence and machine learning tool, powered by a conversational banking assistant.
It has introduced 'Blaze', the first analytical cloud application for decision-making, to go live soon after getting requisite information security approvals.
The bank is launching One Raipur common payment system, which culminated in a significant rise in digital transactions.
Axis bank creates Big Data Lake infrastructure, which allows implementing customer-centric real-time analytical solutions. The Big Data Lake platform will become the mainstream analytics engine for the Bank in the next 18-24 months providing significant advantages over current analytics infrastructure.
The Bank has multiple customer-centric AI solutions like "simplified transaction narrations" live on the Axis Mobile Banking platform.
Computer vision algorithms are helping the Bank to solve critical use cases in the fields of Human Resource and Operational Risk management like ATM Skimming.
The way forward
As a way forward Axis Bank aims to:
Invest in strengthening the bank's core technology, processes, operations, digital, and analytics.
Make significant portfolio mix choices based on an assessment of Risk-Adjusted Return on Capital, or RAROC.
Focus on building a relationship-based model with SMEs and current account business customers to drive growth across both assets and liabilities.