Company profile
CEO of Axis Bank: Amitabh Chaudhry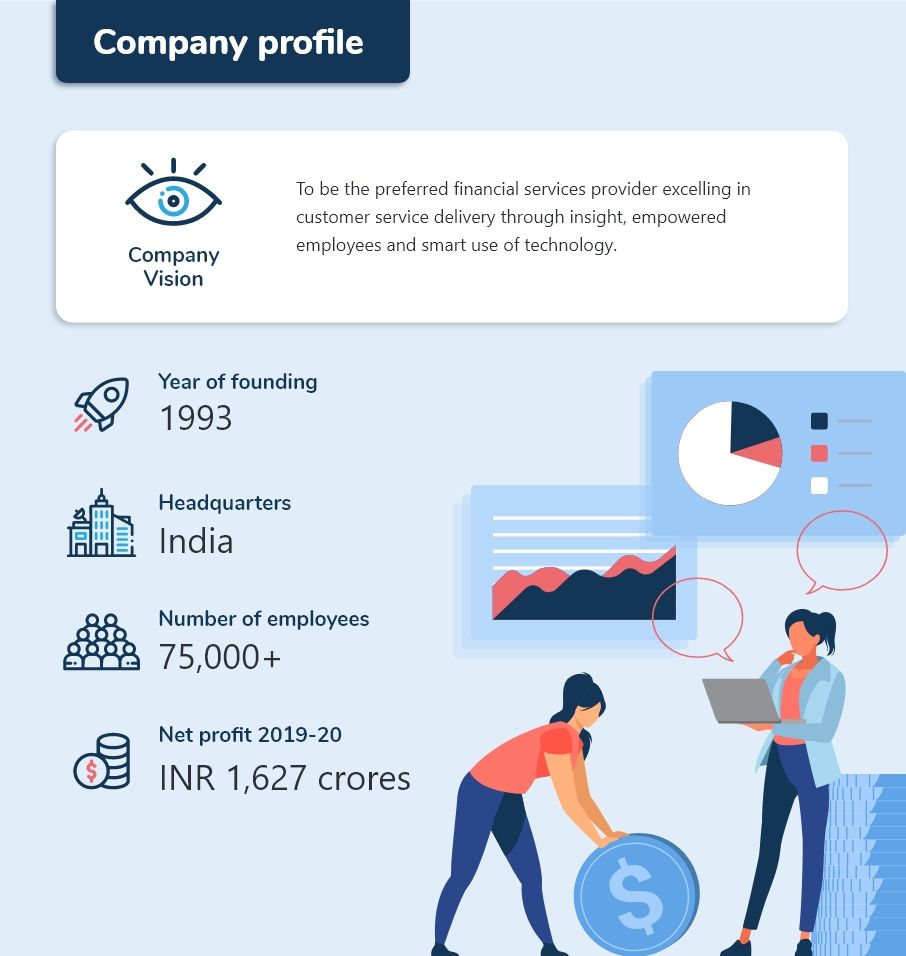 Axis Bank's Mission
Axis Bank's mission is to become the most preferred financial solutions provider, excelling in customer delivery by offering financial insights, empowering employees, and smart use of technology.
Challenge
Axis Bank is one of the largest private sector banks in India offering wide range of financial products and services to its customers. Axis Bank identified that the reason millennials struggled to bank with them was due to the traditional approach they followed. Their traditional persona (boring logo, monotonous interface, limited digital propositions) disengaged the millennials from banking with them.
Solution
Axis Bank capitalised the opportunities available to them by:
Launching a neo banking platform which offers all banking functions online to its customers.
Creating a mobile application named 'LIME', India's first mobile app integrating wallet, shopping, payment, and banking.
Introducing new millennial-centric products in India including digital savings account, LIME pay and piggy bank etc.
Partnering with various brands to offer their customers rewards.
Background
The bank was founded in December 1993 as UTI Bank with a capital of Rs. 115 crores.
Axis Bank is one of the new-generation private sector banks to have begun operations in 1994.
It was renamed as Axis Bank in July 2007 and has grown tremendously since then, in terms of the asset base and branch and ATM network.
Awards
| | |
| --- | --- |
| YEAR | AWARDS |
| 2019 | Award for excellence in operations at International Data corporation Insight Awards |
| 2019 | Best financial inclusion initiative at the Asian banking and finance awards |
| 2019 | Award for using data science technology and AI in banking by Cypher Analytics awards |
| 2020 | Award for best cybersecurity project and best financial AI project |
| 2020 | Award for innovation at The Finnoviti Awards |
| 2020 | Award for Best Banking technology at the IAMAI digital awards |
Business Model
The primary banking segments are commercial banking for corporates and retail customers.
A suite of products is offered to their corporate clients including loans, deposit products, forex and derivatives services.
The retail segment consists of lending and deposit services, providing third-party insurance and investment products to its customers.
Furthermore, Axis offers agricultural and rural banking products to its customers.
People strategy
Axis Bank focuses on nurturing and developing talents and building a healthy workplace across the bank by:
Injecting diversity and inclusion in the workforce.
Developing career prospects through expansion and inter-departmental training.
Incentivising employees through performance-based growth path and reward system.
Reflecting the core values- customer-centricity, integrity and ethics- in all their actions.
Partnership strategy
Max financial services, Bajaj Allianz and TATA AIG: To provide insurance products to its customers.
Flipkart: To provide co-branded cards to reward valued customers who shop online.
Indian Oil Corporation: To offer co-branded cards.
Ripple: For blockchain technology
Swift: For cross border payments
8 product and service offerings that make Axis Bank a
Contactless multicurrency forex cards
Video KYC for account opening
Totally digital onboarding
Virtual debit card with 1% cashback on online spending
Fastag connected bank account
Unlimited free ATM transactions with PRIME savings account
Offers on entertainment, food and other lifestyle products
AI-powered chatbot
Conclusion
Axis Bank has adopted multiple changes in its business model by employing the latest technologies. Axis faces stiff competition from its peers and upcoming neobanks. Nevertheless, With almost half of the Indian workforce comprised of millennials, the market is ripe with fresh talents and potential. In order to tap these opportunities, they should focus on:
Creating a more creative and attractive user interface to attract millennial traffic.
Providing innovative and simplified services that engage the millennial audience.
Offering hyper-personalised the products and service, real-time notifications, and insightful information on the customer's spending and saving pattern.
Note
Saksham Verma and Rajvardhan Bhatia contributed toward this research by conducting preliminary analysis and conceptualising the topic.