As an organisation, we seek to consistently position our business as the gateway to both financial inclusion and financial deepening. Despite the challenging environment we often operate in, we hold firm to this aspiration. – Dr. Ahsan H. Mansur, Chairman
Company profile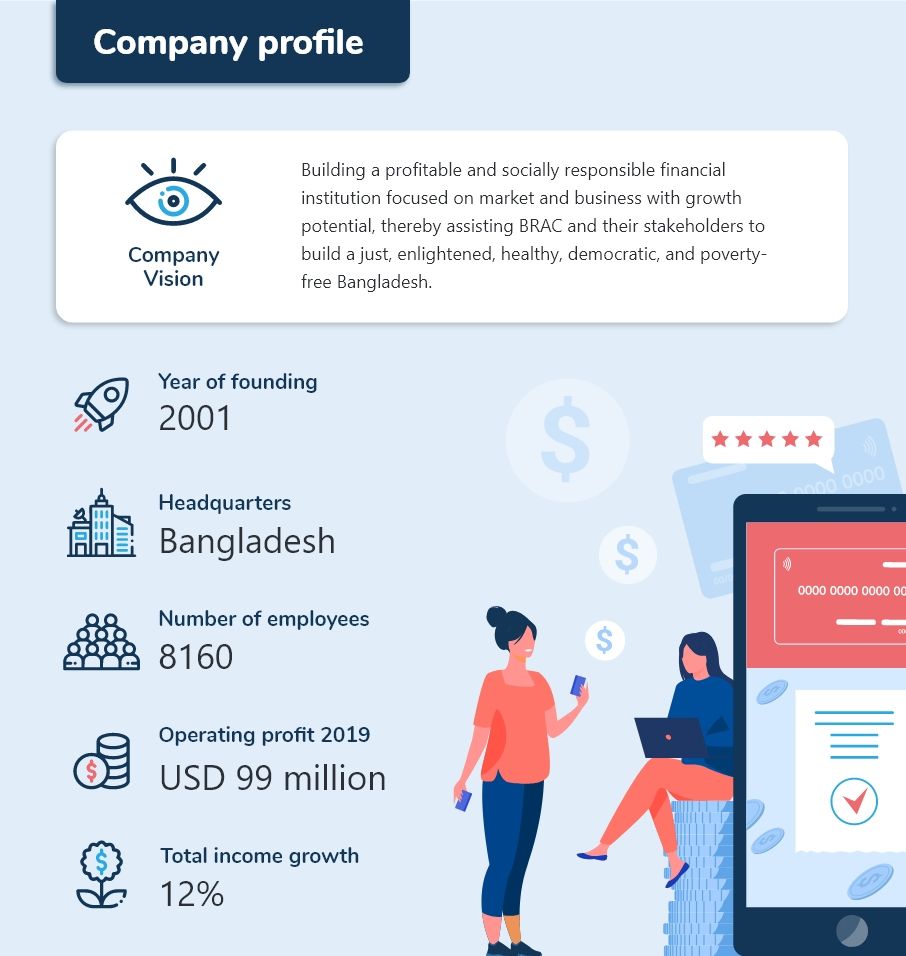 Background
BRAC Bank was established in 2011 by its parent non-governmental organization (NGO) BRAC. Today, BRAC Bank boasts 456 SME unit offices, 1.3 million customers, and a 43% Y-o-Y growth in SME business.
Challenge
Despite small-medium enterprises (SMEs) contributing to 25% of Bangladesh's GDP, SMEs are unable to secure a financial credit from the banks. BRAC Bank identifies that the key reasons for not securing a financial credit are due to:
Access to financing is at a high-interest rate
Lack of entrepreneurial skills
Gender disparity indicating low credibility of women to secure loans
Limited sources to gain financial credit
Solution
With a vision to take banking solutions to the 'unbanked' small and medium enterprises, BRAC Bank took inspiration from its parent company BRAC by:
Introducing small-ticket loans to bring grassroots entrepreneurs under the umbrella of formal banking.
Basing its banking model on three steadfast pillars of People-Planet-Profit.
Providing financial access to SME enterprises which were previously left out from the traditional commercial banking system.
Bringing women into the mainstream financial system.
Facilitating and promoting sustainability while discouraging the financing of business activities that pose a significant threat to the environment and society, e.g.: tobacco, brick industries.
Business Model
BRAC Bank is committed to uplifting the SME owners, especially, women entrepreneurs.
Governance, compliance, ethics, transparency, and accountability are the cornerstones of the bank's banking model.
The investment propositions are steered into consideration with their footprint on the community, environment as well as on the well-being of the surrounding.
BRAC strongly advocates for gender parity, financial inclusion, environment-friendly investment/services, and women empowerment through diverse networks.
It ensures easy access to the products and services by reinforcing digital capabilities and developing integrated digital platforms.
According to BRAC's 2019 annual report, the bank disbursed a shade under 32,655 fresh loans to SMEs. The fresh loans corresponded to US$ 411 million in disbursals.
The bank's portfolio scaled to a size of US$ 1349 million. The portfolio registered a 43% expansion over 2018.
The bank's high growth rates atop a large base is an unparalleled achievement in Bangladesh.
Figure 1: BRAC Bank's strategy and resource allocation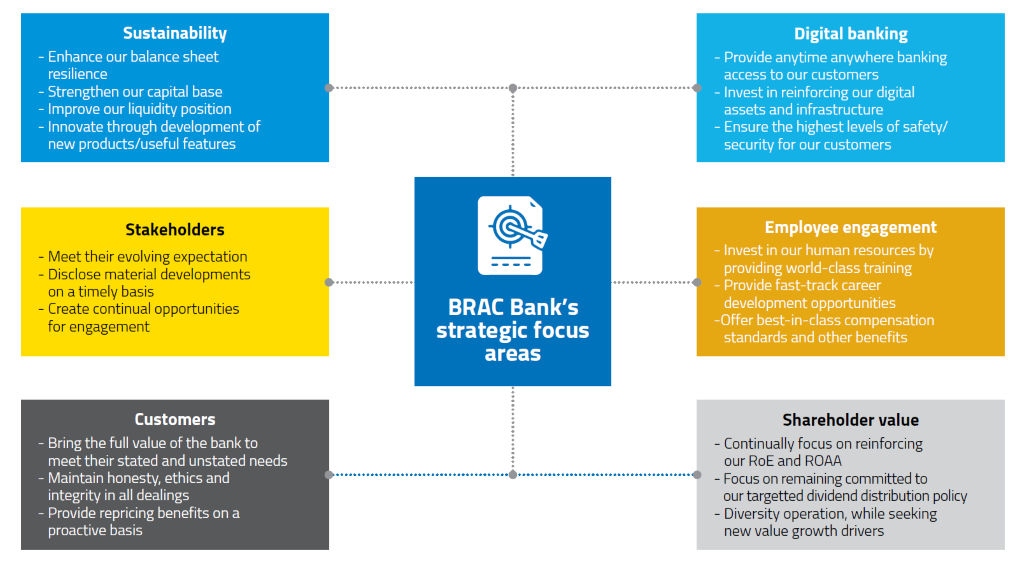 For SME business, the bank has invested in creating robust outreach through its 456 unit offices. The strategic location of these offices has supported the department's ability to cater to the needs of small manufacturing entities and trading and service-oriented businesses with speed, sensitivity, and surety.
The SME division of BRAC Bank engages in regular process improvements to ensure a superlative customer experience. Additionally, the bank also serves the national objective of including the SME businesses into the folds of formal finance. Hence, the inclusion of SMEs into the formal finance sector indirectly contributes to the local employment generation.
With strong experience and familiarisation of the operations of the SME universe, the SME Banking division offers a wide range of financial services. Consequently, these financial services suit the prevalent market needs and provide customized financial solutions based on the SME's profile and cash flow characteristics.
BRAC Bank aims to boost women's self-esteem and enhance their decision-making power through better access to knowledge. The bank launched "TARA" with the idea to inspire women through sharing experiences and networking.
TARA has 2,900 women SME business customers and more than 200,000 customers deposit.
People Strategy
The people strategy of the bank focuses on stability, security, and scalability for their workforce.
The goal is to build an engaged and diverse workforce. The inclusive work environment would help people find deep pools of value in their association with the bank.
The bank exposes its workforce to high-quality training and capacity-building programs (including deputation for international training).
In 2019, the bank promoted 1,409 colleagues, revised the compensation of 1,965 SME staff members, disbursed special increments to 259 personnel, and placed 33 outsourced staff into permanent positions.
Partnership Strategy
The bank embraces a partnership-based approach to bring synergistic strength to the table. A partnership-based approach ensures the maximum impact within the shortest possible time.
Forged relationships with 11 new exchange companies, including an overseas bank in the UK.
Co-operative partnership-driven approach for social responsibility programs.
Partnership with the CSR Centre Trust, UNGC, Bangladesh Bank, Prime Minister's Relief Fund.
Access to Information (a2i) for consolidated social investments in training, capacity building, and the development of digitally innovative devices.
Technology Strategy
BRAC bank expects to take the lead in digital banking by rolling out a strong, secure, progressive, and scalable digital banking platform. Key technological developments:

World-class core banking software (CBS)
Decision support system
Process automation
Highest security standards
Technology audits

The bank has initiated the implementation of a universal banking app (UBA) solution and mobile wallet management.
The bank is focusing on dispensing digital banking services to its customers located in rural areas through an agent banking platform.
BRAC bank has also developed an in-house payment management application, "Click2Pay, for managing employee rewards and remuneration.
BRAC bank implemented Hyperion, TALEO, and PMS, while embedding Oracle ERP processes to support their digital banking aspirations.
Results
BRAC banks' extensive work towards uplifting SMEs and women entrepreneurs through TARA is an exceptional achievement. Through their course of helping SMEs, BRAC has achieved:
Highest rural penetration with 75% of the total small business loans going to the rural areas.
Impact Measurement Study on SME financing revealed that the bank had created more than 1.5 million new employments in the course of its Small Business Financing. The employment generation played a pivotal role in the improvement of the standard of living of the borrowers.
The largest financier of collateral-free loans in the country with a 50% market share in this segment.
The bank conducts a SWOT analysis to assess sustainability and profitability. (see figure 2):
Figure 2: BRAC Bank's SWOT Framework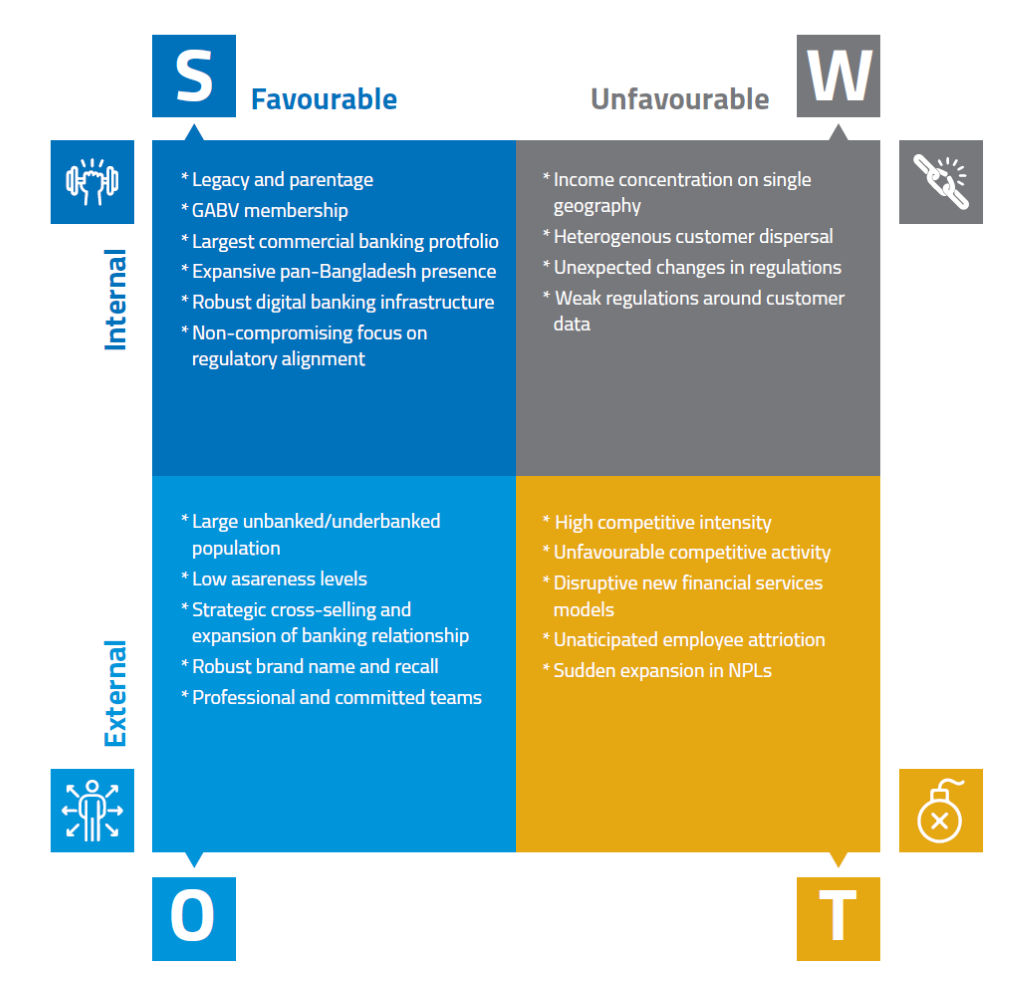 The way forward
As a way forward for fulfilling customer needs, BRAC bank should:
Leverage business opportunities through a model centred on innovation and collaboration.
Deepen the wealth management business and develop digital service channels for serving the sophisticated requirements of their wealth management customers.
Accelerate the restructuring of their business channels and expand the integration into digital platforms.
Strengthen the inter-divisional synergy to improve overall organisational efficiency.