DBS can offer digital trade financing services to SMEs in the ecosystem within 24 hours. This is significant as more than half of SMEs globally tend to face rejection by financial institutions for their trade finance needs, contributing to the world's trade finance gap of USD 1.3 trillion. – Peter Seah, Chairman and Piyush Gupta, CEO
Company Profile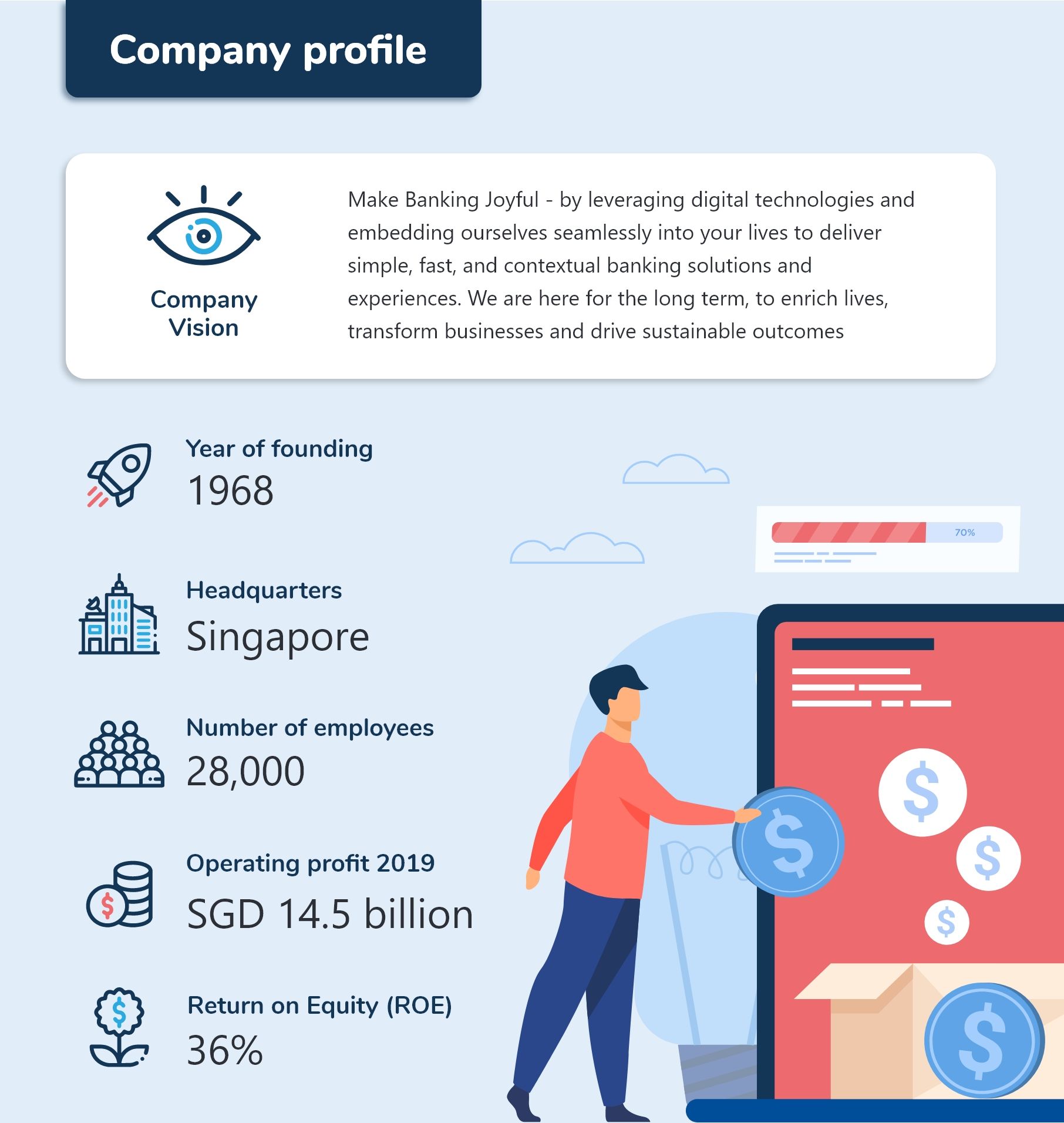 Background
DBS was established by a small group of people, to finance Singapore's existing and growing industries.
The bank believes in changing the fundamentals of banking thus making it deeply invested in digital transformation.
The bank works relentlessly to support SME interests by:

Supporting financing needs for half of Singapore's SMEs, which form the lifeblood of the economy employing two-thirds of Singapore's working population.
Providing SGD 37.2 billion in financing for SMEs in Asia.
Launching the first multi-tier financing facility on a logistics blockchain platform named Rong-E Lian, helping SMEs get quicker access to trade financing.
Furthermore, it is helping SMEs unlock digital solutions to power their growth.
Challenge
DBS identifies that the reason for SMEs to struggle for financial credit and profitable business is due the limited exposure to automation. Further, DBS identifies that SMEs face:
SME talent mismatch due to re-skilling and retaining employees
High operational costs and growing business revenue
Inability to expand overseas
Additional transaction fees charged by Mastercard, Visa, Apple Pay etc.
Solution:
DBS bank helps its SME customers through:
Digital innovation and automation: account can be opened in a day with a courier dispatched to collect the required documents and back-end processes streamlined.
Development of skills for SME clients: SME academy.
Understanding the pain points of SME customers and thus resulting in more predictive analysis, enhancing the credit assessment.
Business Model
DBS focuses on serving SMEs through their strong digital infrastructure.
The bank offers digital trade financing services to SMEs in the ecosystem within 24 hours.
This is significant as more than half of SMEs globally tend to face rejection by financial institutions for their trade finance needs.
DBS acquires nearly 75% of their SME customers digitally.
It aims to embed itself in the customer journey through digital innovation or ecosystem partnerships so as to make banking simple, seamless, and effortless.
The focus on the customer journey improves customer experience and allows them to create simple, suitable products for the mass market.
The lending models for SME include non-financial data and conduct network analysis on payment data to unlock supply chain opportunities.
The bank has deployed neural network data models in order to predict customer issues before calls were made, reducing call volumes by 180,000.
Apart from the multiple business banking platforms and digital services to their customers, DBS also runs an online academy to support the knowledge needs of the customers:

SME online academy – Apart from accounting and balancing social impact profits, crisis communication and actionable insights by subject matter experts are also packed into bite-sized online classes.
Bootcamp webinars and digitize disrupt series to enhance digital acumen of SME owners.

Grow SME client base through their DBS BusinessClass social platform, which runs an annual disruption event.
Moreover, its TechMatch programme matches customers with suitable providers and even potential acquisition targets.
People strategy
The bank experiments with innovative recruitment events such as Hack2Hire, Hacker-in-Her, and Paradigm Shift.

These challenges help the bank recruit coders who are skilled at managing emerging and disruptive technologies across cloud, ML and big data.

It reskills over 500 employees to take on 13 new job roles including content creators, live chat agents, and customer experience designers committed to diversity, which the bank believes is a source of strength.

As an example, DBS is recruiting female talent in technology – a conventionally male-dominated area – through targeted hackathons.

It creates a unique learning environment to infuse data culture into the organization with a curated e-learning curriculum and comprehensive training program, instilling a data-driven mindset.
It also emphasizes on performance evaluation to give more explicit focus on PRIDE! values. It has a dual-rating system in employee appraisals so that the what and the how of achieving key performance indicators are considered.
The bank also has a Building Great Managers program to improve both managerial effectiveness and team engagement score.
The bank has a dedicated team that identifies employee pain points and resolve identified issues.
Partnership Strategy
The bank has an ecosystem of partnerships with e-commerce, telecommunication and loan aggregator companies.
It expands the partnership with several vendors on the PayLah! app to provide a wide range of everyday services, encompassing transportation, food, shopping, entertainment, and bill payments.
The bank is one of the world's largest banking API platforms, with over 500 published APIs:

This allows accelerating API connectivity with more than 400 partners across various industries.
It led to co-creating a blockchain commodities trading platform with Trafigura thus providing an end-to-end trade documentation solution.
It also integrated the digital onboarding API into a blockchain platform, Rong-E Lian, to create a multi-tiered supply chain facility. The initiative gives access to more than 1,000 suppliers of a leading Chinese logistics player.
Partnership with Xero, a cloud accounting platform which gives SME customers a consolidated view of their accounts from any device at any time.
Technology Strategy
DBS operates as a technology start-up company rather than a bank, keeping digital at the forefront of doing business, managing people, and driving sustainability.
DBS invests heavily in the virtual private cloud infrastructure and rearchitecting their existing applications to be cloud-ready. As per the bank's annual report 2019-2020:

93% of existing applications operate in the new environment.
99% of applications have been migrated from physical servers to the virtual private cloud.

The bank follows a continuously evolving culture of building the applications to keep pace with changes.
It has adopted agile software development practices resulting in greater experimentation and innovation.
The bank leverages site reliability engineering (SRE) principles to build stable systems efficiently and deliver quickly. The SRE practices enable the creation of scalable and highly reliable applications.
DBS has also established the Platform Operating Model with the objectives of future-proofing their business and increasing agility of business outcomes.
The bank uses digitalized and simplified end-to-end credit processing for advanced credit risk management using on-demand cloud-native design, analytics, and machine learning (ML).
Results
DBS is able to achieve SME growth through their powerful end-to-end automation strategy:
Growth in SME revenue outside its home base over the last three years. Those year-on-year figures for the last three financial years were 50%, 51%, and 53% respectively.
The overall SME customer base grew just 4% year on year, deposits by 11%, transaction volumes through the digital channel grew 72%. Revenue per digital customer was up 10% year on year.
The way forward
Harness data and technology to identify and drive business value and provide a differentiated customer experience.
Enhance DBS's data infrastructure by upgrading data centres and moving from virtual private cloud to hybrid, multi-cloud infrastructure.
Scale the use of data, AI, and ML across business lines and internal processes to combat financial crime risk.
Expand their reach in Asia Pacific countries – India, Indonesia, Hong Kong, and China.
Build up analytics-based lending underwriting capabilities.