Designing solutions that are all-encompassing has been made possible by placing the customer at the centre of business operations and harnessing digital capabilities. – Girish Chandra Chaturvedi, Chairman
Company profile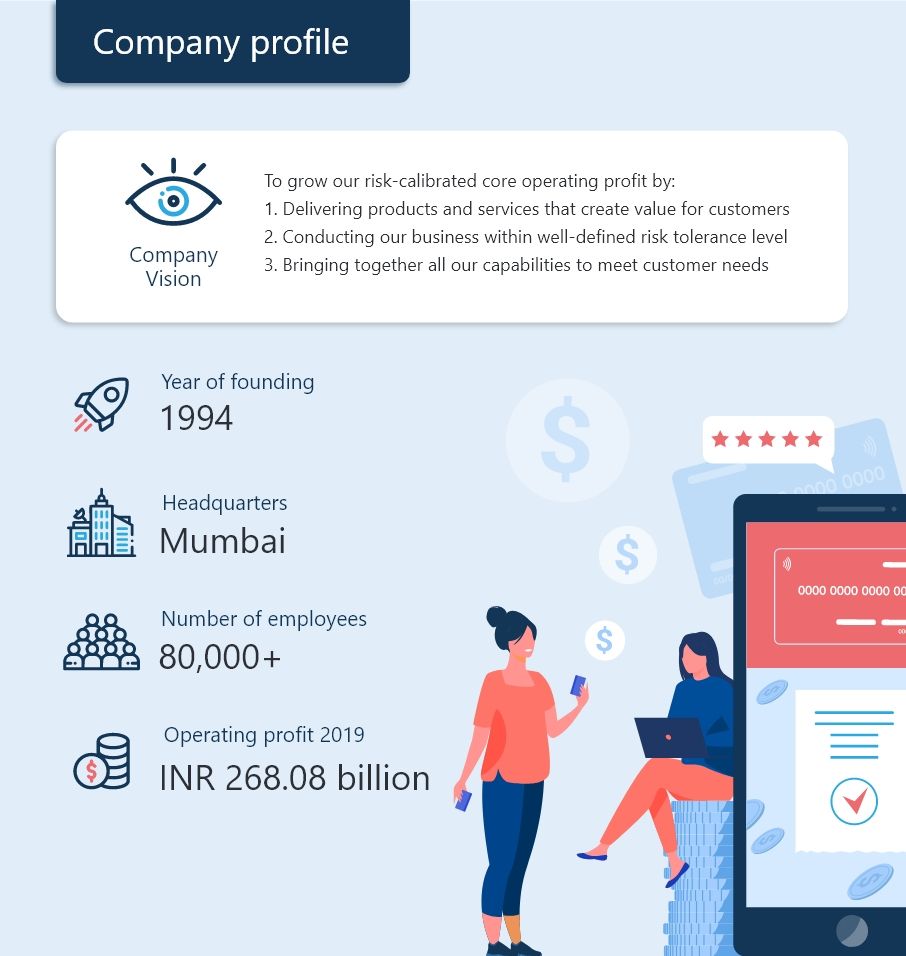 Background
The bank has over 25 years of legacy with 21,000 branches and ATMs, 4,000 business correspondents, and 483,538 POS machines.
The bank has 4 key drivers: emerging opportunity in the Indian economy, a strong franchise and brand, strong risk management and compliance, and continuous enhancements to products and services.
ICICI has 5 core businesses:

Provide savings products
Provide credit to support consumption and economic activities
Strategic investments to enhance business capabilities for long-term value creation
Facilitate payments and transactions
Wealth creation and management
Challenge
ICICI bank identifies that SMEs face the following challenges:
The lack of support for business processes despite having financial credit.
Failure to grow due to increased focus on internal processes and limited attention towards the core business.
Solution
ICICI has digital propositions for its SME customers:
Building relationships: Instabiz and API Banking Developer Portal, SME for Networking
Digital Transactions and instant loans
Care for self and business: SME toolkit and SME awards
Business Model
ICICI bank has an SME turnover of INR 2.50 billion comprising of SMEs with an average loan ticket size of INT 10.0-15.0 million.
ICICI Bank's Small Enterprises Group's (SEG) Investment Banking team is dedicated to providing niche and exclusive investment banking services.
It offers SME and business banking customers a wide spectrum of solutions addressing their evolving business needs such as:

Customized offerings
Faster turnaround time
Transaction convenience
Timely access to capital
Cross-border trade
Foreign exchange products

ICICI bank is part of SME customer journey in the following ways:

InstaBiz

The first digital banking platform which helps the self-employed segment and businesses to conduct all their transactions at one place.
It allows the customers to securely avail over 115 products and services on their mobile phone and the bank's internet banking platform.

Trade Online and FXOnline platforms

Customers can seamlessly execute their trade finance and foreign exchange transactions.

Flexi-credit

This product allows borrowers and co-borrowers to consolidate the cash flows and collateral properties for evaluating borrower credit eligibility.

SME toolkit

The SME Toolkit is a joint project between ICICI Bank and IFC (International Finance Corporation), a member of the World Bank Group.
The SME Toolkit website has been created as an online resource centre to empower Indian SMEs.
The website has had 7.5 lac visitors and over 2 million page views to date.
The SME Toolkit provides comprehensive and easy-to-use information on a variety of topics such as Business Planning, Accounting, etc.
It has free downloadable software tools such as the 'Business Plan Maker', the 'Website Builder' and a large collection of 'How To' Articles.

SME awards

Awarding India's Small and Medium Enterprises (SMEs), ICICI Bank and CNBC TV18's Emerging India Awards powered by CRISIL, to recognize the entrepreneurs who are striving to create world-class products and services.
SME Elite 50 – ICICI Bank's SME Elite 50, powered by ET Now, is a unique initiative which aims at selecting leading SMEs in India and recognizing their contribution to the Indian economy.

ICICI Bank SME events

A series of seminars for the CEOs of SME organizations to provide opportunities for SMEs to interact and access expert advice on strategic business and leadership facets.
People strategy
The bank offers 3 levels of training programs:

Proprietary programs: To equip employees with the fundamental knowledge & skills to perform in their role.
Master class programs: To equip employees with additional knowledge & skills to perform in future roles.
Design skills programs: To equip employees with higher-order skills to perform in future roles.

Universe on the move – An internal mobile application:

GPS enabled application
Integrated solutions: Business approvals, leave management, voice chatbots, financial and reward management

Be-Fit Session: An umbrella program to drive fitness in the bank and offer multiple health-related options for employees including wearable fitness devices at discounted rates and participation in activities such as Yoga and Zumba.
The bank conducts a transformative series titled 12×12 Ignite to keep the employees abreast with the breakthroughs in the domains of digital transformation, data science, and behavioural economics.
Partnership strategy
The bank is partnering with fintech companies to enhance customer propositions, including the area of supply chain finance and specialized ERP service providers.
ICICI Bank and Small Business FinCredit will jointly provide loans worth up to Rs 1 crore to the small and medium enterprises.
Technology Strategy
ICICIStack: A comprehensive digital infrastructure system to enable customers and businesses to continue uninterrupted banking services digitally, without visiting any bank branch.
API Banking: The bank has the largest and fully digital API (Application Programming Interface) Banking portal enabling partners to integrate various payment and product solutions.
The Bank offers a host of APIs and SDKs (software developer kits) which facilitate third-party apps to offer payment solutions for their retail customers.
Artificial intelligence-enabled systems, portals, and applications have been built across the employee life cycle to enhance employee engagement and experience.
The way forward
The bank aims to achieve the following in the future:
Based on the bank's digital strengths, it will continue to harness the opportunities in the SME segment through:

Streamlined processes
Default score-based analysis for better accuracy in funding decisions
Automatic fetching of annual reports

A combination of physical and digital channels enabling seamless service delivery.
Strengthening digital capabilities for cost efficiency, process efficiency and customer experience enhancement.