"Do Well and Do Good" – this succinctly encapsulates our values of doing well to deliver consistent and sustainable business performance and doing good by employing fair and socially-responsible business practices. – Mr. Samuel N. Tsien, Group Chief Executive Officer, and Mr. Ooi Sang Kuang, Chairman
Company profile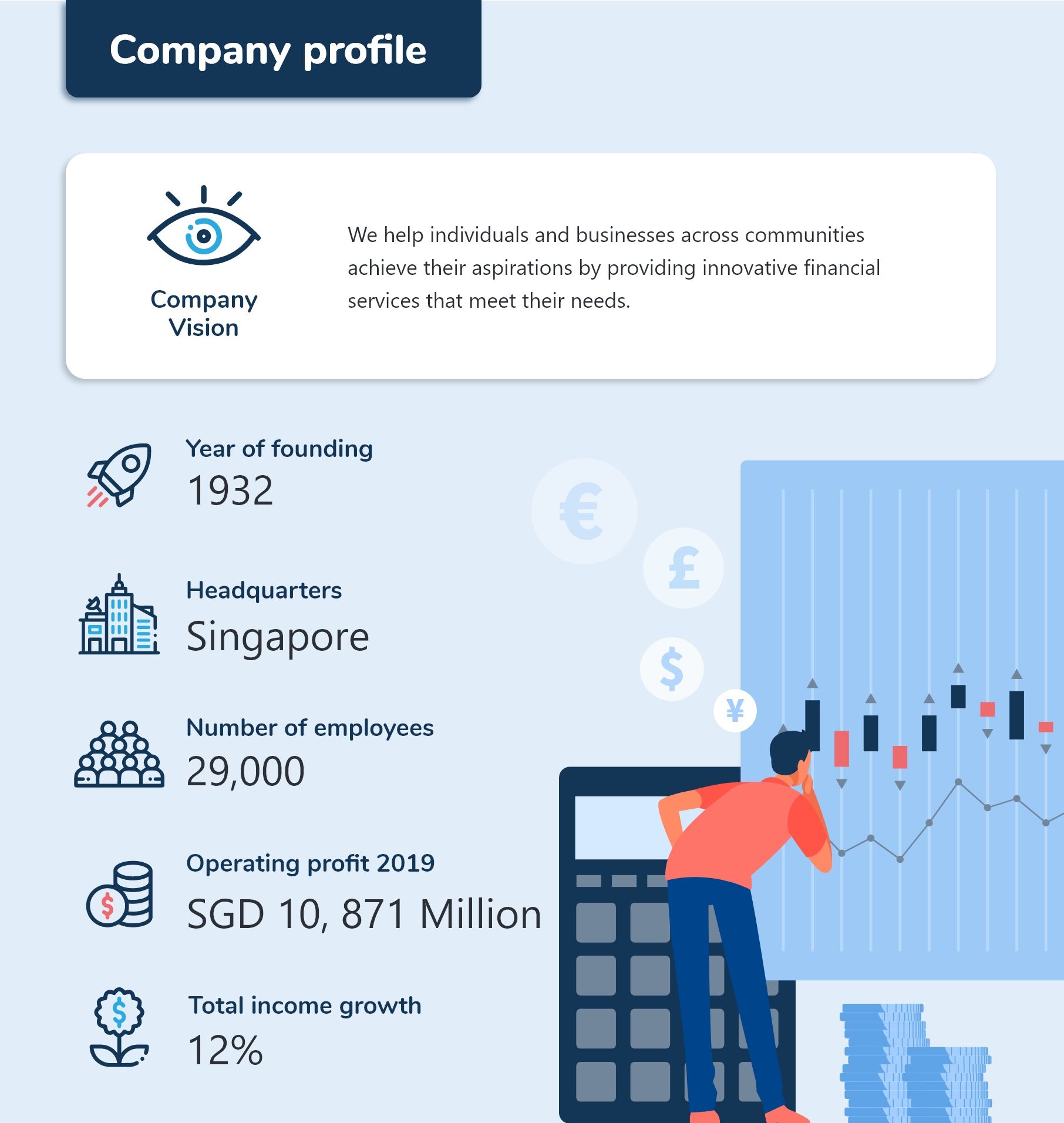 Background
A legacy bank with over 85 years of existence, OCBC is guarding the interest of their customers and the well-being of their employees through ever-changing market dynamics and a disruptive technological environment.
Challenge
Most SMEs fail to successfully run their businesses due to their inability to keep pace with the ever-evolving business dynamics. These business dynamics often include 5 key areas:
Change in customer preferences
Stiff competition
Obsolete technology
Inefficient internal processes
Inadequate financing
Solution:
OCBC adopts an approach to understand how SME customers are addressing sustainability within their businesses and help them achieve business outcomes through digital transformation:
Identify initiatives which can bring about meaningful change towards sustainability
Identify 100 companies with the potential to be early movers while leading the change within their respective industries
Work with the companies to define how can they support these companies through green financing and advisory services
Establish precedents for each industry which would encourage their peers to follow suit
Business Model
OCBC is building a strong digital foundation to serve their SME customers end-to-end in their business journey. The digital strategy starts with delivering solutions that address the pain points and the needs of the entrepreneurs and their businesses:
OCBC works with the customers to overhaul the account opening experience by enabling them to instantly open a business account online.
The bank helps to combine the online incorporation of their business with the online business account opening on the same day – both firsts in Singapore.
Moreover, it offers a suite of products through their business banking application – Velocity.
In addition to the bank's effort to reduce the burden of managing ancillary operational activities, it excels in helping SMEs run, sustain, and grow their business through customized financial credit options:

Working Capital loan
Business first loan
SME overseas loan
Contract financing
Venture financing – Business Venture loans for SMEs with innovative business models or those which adopt emerging technologies
Extending Loans to Small Business in collaboration with P2P lending partners
Online Business Loans, offering SME customers 24/7 self-service loan application capability and approval
People strategy
The bank invests heavily in upskilling and reskilling their employees to keep up with the ever-evolving market dynamics:
It provides the employees with the necessary tools and skills for the transition into the future
OCBC also works collectively with government agencies, educational institutions, and business providers to create opportunities for their employees.
Future Smart, a SGD 20 million, global three-year learning initiative to equip their employees in competencies that define the future of work, including data and cyber certification.
Additionally, the bank embarks on the Future Workforce Initiative, a bank-wide workforce transformation to reimagine the future of work, within which job role transformation will take place.
8 Key achievements:
1 in 9 jobs filled internally
7000+ curated learning and development programs
MyWellness, a digital one-stop benefits portal and app, to empower employees to create a wellness journey that best suits them
Best Employer Award, awarded by Kincentric Best Employers Awards (OCBC Bank)
Gold – Excellence in Leadership Development, awarded by Human Resources Online HR Excellence Awards 2019 (OCBC Bank)
Gold – Most Innovative and Sustainable Office Design (SG), awarded by Human Resources Online Asia Recruitment Awards 2019 (OCBC Bank)
IBF Workforce Transformation Award, awarded by Workforce Singapore (WSG) IBF Distinction Evening 2019 (OCBC Bank)
Grand – Best Employee Wellness Award, awarded by CT goodjobs
Partnership strategy
OCBC partners with Singtel's VIA mobile payment alliance to help their customers use OCBC Pay Anyone app. It can be used for making QR code payments at more than 1.7 million merchant partners on VIA's network.
The bank has partnered with Ngee Ann Polytechnic to groom 200 data scientists/analysts over the next three years. It has also partnered with Temasek Polytechnic, to train 200 Cyber Risk Analysts and Cyber Security Specialists in the next three years.
They're also partnering with GovTech and a proprietary eKYC platform for instant customer onboarding.
Furthermore, the postgraduate OCBC AI Scholarship was launched in partnership with the National University of Singapore (NUS), Nanyang Technological University (NTU) and Singapore Management University (SMU).
BOLD, a flagship 9-month program in partnership with IESE to help senior leaders overcome the increasingly complex challenges of a fast-changing world, tackling topics such as sustainability and digital transformation.
Technology
OCBC is the first bank to introduce a one-stop digital business dashboard to SMEs in Singapore, anchored on data analytics and artificial intelligence, providing business owners with a holistic view of their performance.
The dashboard integrates information from multiple business applications covering the core functions from accounting to marketing thus enabling them to make timely and informed decisions on the go.
E-invoicing and cash flow forecasting are two areas that the bank is working on to help SMEs better manage their working capital.
The way forward
The bank is vested toward deploying technology to digitalize the process and channels to enhance customer experience. As a result, there is greater dependency and complexity in third-party engagements to leverage external parties such as the fintech and other ecosystem partners. Nevertheless, it helps the bank to be a part of an SME customer's end-to-end journey and deliver customised solutions.
4 key successes in driving digital transformation for SME customers:
9 in 10 SME bank accounts are opened digitally.
SME go digital initiative, offering the Start Digital Pack across HR, accounting, digital marketing, digital transactions, and cybersecurity, exclusively for their business banking customers.
65% of SME customers are digital customers and the target is to grow to 70% by 2023.
2X growth in business venture loans to support fast-growing, innovative businesses.