Company profile
CEO: Ongki Wanadjati Dana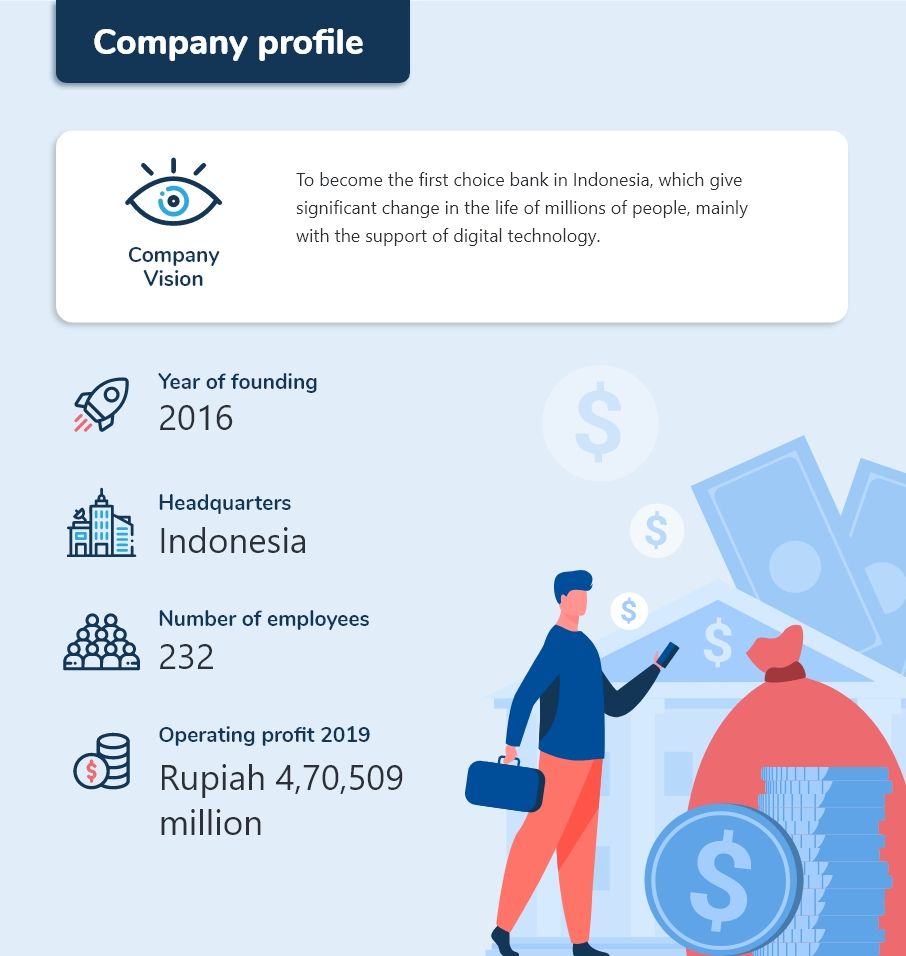 Jenius's Mission
Jenius Bank is the latest service offered BTPN which is committed to providing excellent and help organise life finances.
Challenges
BTPN identified that Indonesia's neo banking environment offers huge potential for growth. These internet users largely comprise of millennials. BTPN capitalised this opportunity by launching a neobank focusing on catering to the millennial generation. However, due to its lack of experience in retail banking, BTPN faced tough competition against well-established banks with large retail branch network and robust technology infrastructure.
Solution
BTPN launched Jenius, an innovative neobank as a subsidiary. It aims to satisfy the growing customer demand for increased connectivity and millennial needs.
It simplifies and secures the sign-up and authentication process.
Jenius offers a suite of innovative features designed specifically for the millennial population in Indonesia.
It offers products like $Cashtags, dream saver, send it, Split Bills, e-card and many more directed towards millennials.
Background
Indonesia's banking market offers great potential for digital banking with an internet penetration rate of more than 51% and 14% growth in the number of mobile users.
BTPN launched a neobank, Jenius in 2016 by leveraging this opportunity. Apart from focusing on retail banking and expanding its customer base it also aimed at targeting the digital and tech-savvy millennials.
The core of this innovative platform is a fusion of digital channels comprising of internet technology and mobile software in order to power a seamless and next-generation banking experience.
Business Model
BTPN is an established bank with a large customer base ranging from retail segment to corporates.
Jenius was launched by BTPN to cater the 46% of the workforce in Indonesia comprising of millennials.
Jenius allows its customers to open a bank account digitally.
It redefines how customers have control over managing their finances in an easy, efficient, and secure way by using their smartphones.
The model aims to present a Safe, Smart and Simple product to its customers.
People strategy
The company identifies itself as a 'force for good', impacting the lives of both their customers and their employees.
The organisation provides career development programmes that offer in-depth training and development modules and courses.
Volunteer programmes enable employees to switch between departments to better understand the customer segments of the other business lines.
Technology strategy
The bank uses Fusion Equation's core banking system and digital channels to ensure a consistent and well-connected customer experience.
Majority of the functions are completed with the help of IT infrastructure and upcoming technologies including AI bots and automation processes making banking functions seamless.
Additionally, Jenius uses the latest encryption systems and two-level transaction authentication.
Top product and service offerings that make Jenius bank a millennial focused bank
The bank enables simplified onboarding for new customers directly through mobile phones without the need to visit a branch.
The innovative $Cashtag feature enables its customers to use their name as their account identifier ID, as a result, they do not have to remember their complicate multi-digit account number.
Using the bank's unique service- Send It, customers can:

Transfer money to any person on their contact list
Use Pay Me for making payment requests
Split Bills among friends

Jenius customers get a Visa debit card upon opening an account, which gives them the power to perform transactions globally.
Customers can keep a check on all their money transactions. Customers can also access a list of money requests/ money transfers that have been scheduled and made.
With Monetary, customers no longer need to use a separate application for financial recording. Hence, all incoming/outgoing transactions will automatically be recorded, categorised, and summarised.
Account activation can be undertaken via a simple KYC videocall.
Customer can have 7 international currency options (USD, SGD, JPY, GBP, AUD, EUR, HKD) apart from Indonesian Rupiah, which can be connected to their ATM cards for transactions.
Awards
| | |
| --- | --- |
| Year | Award |
| 2018 | The Best Digital Bank for 2018 at The Asian Banker Indonesia Country Awards |
| 2019 | BTPN Bank Chosen in the World's Best Banks 2019 |
The way forward
Jenius bank is a revolution in Indonesia's digital banking sector, setting benchmarks for others to follow. In conclusion, for continuous growth, Jenius Bank needs to continuously focus on:
Developing innovative features that allow customers to manage their finance in a simple and insightful manner.
Enhancing existing e-KYC feature, to capture millennial customer across Indonesia.
Developing the digital ecosystem through a partnership which can be a good fit for the millennial needs.
Note
Saksham Verma and Rajvardhan Bhatia contributed toward this research by conducting preliminary analysis and conceptualising the topic.