SBI has a dedicated state of the art Innovation development, collaboration, and experience cell to try and test innovative ideas in the banking field – Rajnish Kumar, Chairman
Company Profile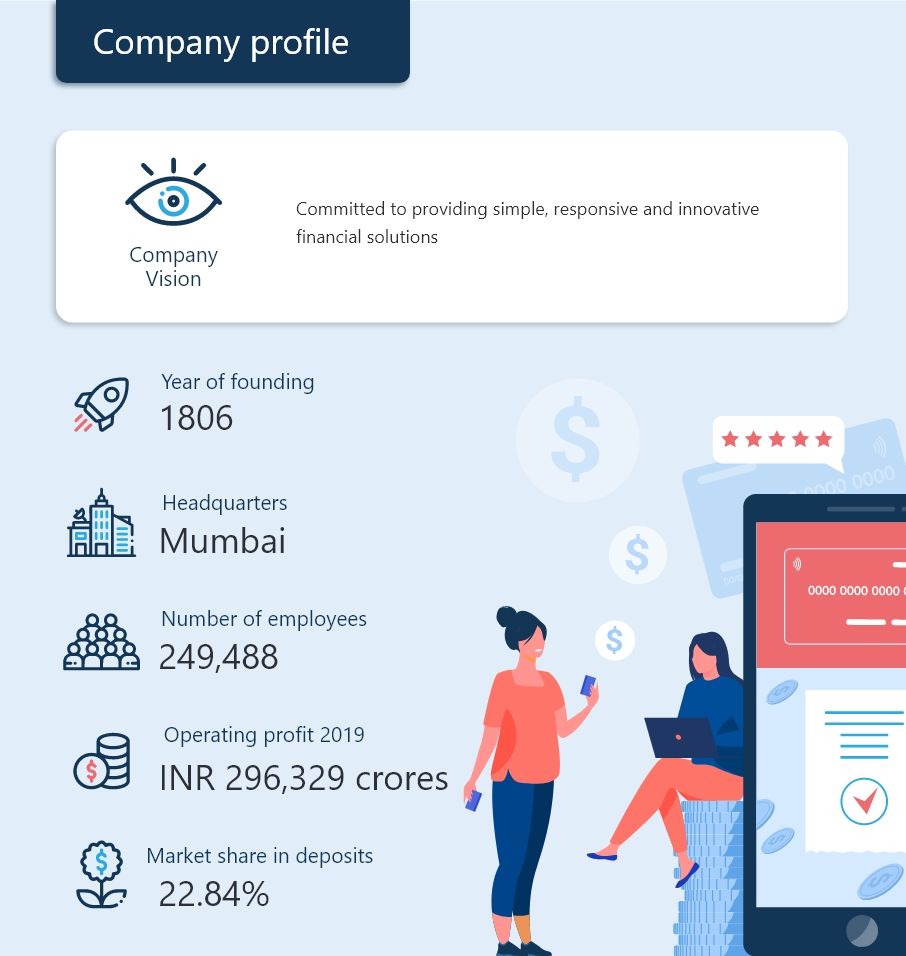 Background
The bank holds a legacy of 200 years, providing a wide range of banking solutions to their customers.
They are market leaders in small-medium enterprise (SME) business with loan advances worth INR 2,67,614 crores.
SBI's digital transformation is helping them make technological developments and build multi-channel platforms for their customers.
The bank aims at making its customers' day-to-day banking secure, intuitive, and easy.
Currently, SBI has 22,141 branches, 44.89 crore customers, and 58,555 pan-India ATMs.
Challenge
Despite the importance of SMEs in Indian economic growth, the sector is facing challenges forming a hurdle in their growth. SBI identifies that the key reason SMEs are unable to foster is the limited knowledge of digital avenues and incorrect perception of riskiness associated with digital adoption:
Absence of adequate and timely banking finance
Limited capital and knowledge
Constraints on digital modernisation and expansion
Solution
To solve for the above challenge, SBI's approach in driving SME growth is based upon 3 pillars:
Customer convenience
Risk Mitigation
Technology-based digital offerings
Business Model
SBI maintains focus on uplifting SMEs in India. In the digitalization journey undertaken by the bank, they have developed an end-to-end digitized model to sanction loans up to INR 1 lakh.
The bank's growth strategy for the SME business segment is based on three pillars:
Risk mitigation

Pradhan Mantri Mudra Yojana: The bank supports this Government of India initiative through asset-backed loans and bills discounting facility. Through this scheme, SBI has already disbursed INR 34, 977 crores in loans to SMEs.
Credit flow to micro and small enterprises: SBI extends collateral-free loans under Credit Guarantee Fund Trust for Micro and Small Enterprises (CGTMSE).

Customer convenience

SBI creates the highest number of touchpoints between SME owners and the bank through branches and other modes.
The bank modifies the current delivery model of SME centres to create asset management teams for maintaining relationships with business owners.

Technology-based digital offerings and process improvements:

Loan Life-Cycle Management: An online loan application and tracking facility with an integrated customer relationship management platform to support SMEs in their end-to-end journey.
Contactless lending platform: A portal to provide easy access to SME loans for businesses registered on GST and tax filling platforms.
e-Mudra: A web application to facilitate appraisals, sanctions, and disbursals of loans up to INR 50,000.
The digitalisation of services for borrowers: To submit financial statements and other records hassle-free through its internet banking platform.
Co-origination of loans: To partner with non-banking financial institutions for creating a pool of money to extend SME loans.
Project Vivek: A proprietary initiative to enhance the evaluation system to ascertain the creditworthiness of SMEs. It aims at shifting away from traditional balance sheet evaluation to using cash flow healthiness and other metrics.
Trade Receivables Discounting System (TReDS): A platform to extend financing to Micro SMEs registered in TReDS platforms.
People strategy
SBI believes their employees are instrumental in the bank achieving success. To continue succeeding, the bank invests heavily in employee development:
Career Development System: Project Saksham to ensure a credible data-backed performance evaluation process.
Special Allowance for Credit Officers: An initiative to reward specialists working at specialized positions supporting high-value clients and SMEs.
SBI GEMS: A mechanism to promote recognition and development of organizational memory for exceptional performance.
Extensive use of digital platforms in the recruitment process to reach out to a broader pool of candidates.
Sanjeevani: A redressal helpline to manage employee grievances and provide counsellor support to boost employee morale.
Abhivyakti: An employee engagement initiative to understand the pulse of the employees for identifying what drives them to perform at their best, and what puts them off.
The basket of role-based certification programs which includes 59 in-house and 41 external certifications.
Mandatory e-lessons on the domains of KYC/AML, Ethics, and compliance.
Digital transformation & leadership development courses to upskill, based on the latest digital technologies, and prepare for leadership roles.
Gamification of learning: Daily Quiz capsule My Quest Today, a regular quiz platform for knowledge refreshers on credit, emerging areas, and bank's guidelines.
To assimilate with the global acceptance of work-from-home (WFH) arrangements, SBI is upgrading their systems and policies to support WFH and 'work from anywhere' for their employees.
Partnership strategy
SBI is establishing multiple partnerships to expand the portfolio of warehouse receipt finance and supply chain finance for SMEs.
The bank has entered a partnership with seven NBFCs to co-originate loans for SMEs.
SBI is further strengthening its relationship with the corporates and has over 251 tie-ups with industrial majors covering 17300 dealers & vendors.
The bank promotes entrepreneurship through Entrepreneurship Development Programme (EDPs) under the tie-up with Entrepreneurship Development Institutes.
Technology Strategy
SBI is on an enterprise architecture journey for conducting enterprise analysis, design, planning, and implementation.
The bank has their private cloud Meghdoot:

SBI bank is successfully delivering IAAS for 1000+ applications.
It can host 15,000 virtual servers with a scalable architecture to provide infra on demand.
SBI is on the path towards establishing its PAAS (Platform-as-a-Service) proposition.
SMS Seva- Appliance Based SMS gateway: A single integrated system capable of handling 50,000 SMSs per second and 40 crores SMSs per day.

User Experience Design Centre (UXDC): It aims to provide meaningful and relevant experiences to users.

This involves the design of the entire process of acquiring and integrating the product, including aspects of branding, design, usability, and function.

Robotic Process Automation (RPA) Tool: SBI uses an RPA tool to configure computer software, or a "robot" to emulate and integrate the actions of a human interacting within digital systems.
Analytics, AI, and machine learning: SBI is developing multiple predictive AI/ML-based models in the areas of fraud and risk, income leakage, fraudulent cross-sell, credit risk, and recommendation engines for products such as 4-click SME Loan Product, Pre-Approved Merchant Loan, etc.
Trades Receivables Discounting Systems (TreDS)- Institutional setup TReDS, have been set up for the flow of finance to Micro SMEs, SBI is first among all PSBs to register on the TReDS platform RXIL and M1xchange for discounting of invoices of MSMEs.
Results and way forward
SBI is highly committed toward supporting and uplifting the society at large by fulfilling everyone's financial needs and going beyond:
SBI's SME portfolio shrank over 7% in fiscal year20 to Rs 2.68 lakh crore from Rs 2.89 lakh crore. About 9.5% of this portfolio turned non-performing.
As a way forward, the bank is considering building advanced-analytics tools and cash-flow based lending models to support SMEs.