Company profile
CEO: Mr.Rajnish Kumar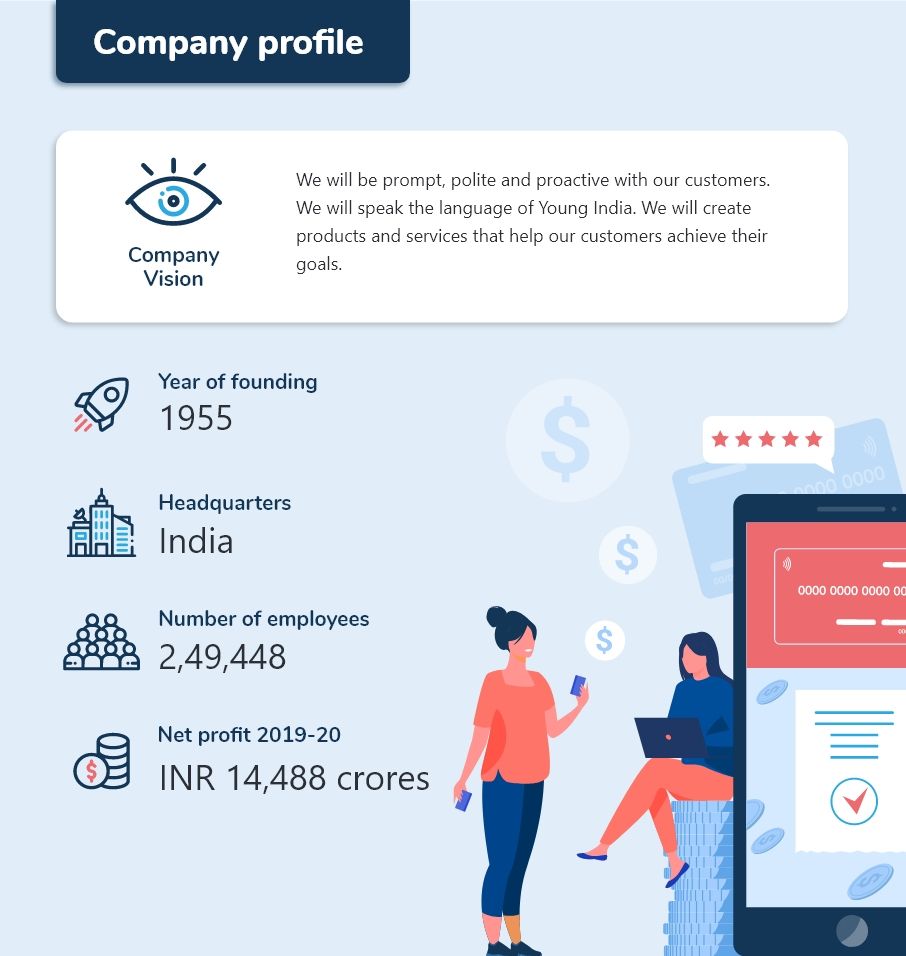 SBI Yono's Mission
SBI is continuously investing in building the bank of the future. The digital payments landscape in India is evolving at an accelerated rate, and SBI Yono is playing a pivotal role in transforming India through the digitalisation of the banking economy.
Challenge
Despite having the biggest network and largest customer base in the Indian banking sector, they were unable to target millennials in India. SBI identified that the traditional approach followed has resulted in them losing the millennial customer base. They realised that their products and services are not inclined towards the millennial mindset.
Solution
SBI launched YONO (You Only Need One), a neobank specifically to cater to the financial needs of the millennials.
YONO simplifies banking solutions and makes the banking experience quick and frictionless.
YONO allows and rewards its users for making payments to 80+ e-commerce websites.
It has AI-enabled Chatbot to support customers queries 24/7.
Background
With a legacy of more than 200 years of service, the State Bank of India (SBI) is an Indian multinational, public sector banking and financial services statutory body.
The interests of the common citizen have always remained at the core of their business model.
The bank has evolved by building a strong portfolio with distinctive products and services. They have leveraged technology to deliver and manage their banking functions and offer their customers personalised and customer-centric solutions.
The bank has 44.89 crore active customers, with a 22.84% share in deposits.
SBI launched YONO in 2017 and has since achieved over 46 million downloads with over 21 million Yono registrations.
Business Model
SBI YONO provides a wide range of products and services to individuals, commercial enterprises, large corporates, public offices, and institutional customers through its vast physical network, joint ventures, subsidiaries, and associate companies.
The bank has always been at the forefront of embracing changes without losing sight of their values- service, transparency, ethics, politeness and sustainability.
SBI YONO targets digital generation by competing with the upcoming neobanks in the market.
Consequently, they managed to capture a 29% share in debit card spending in India.
To stay ahead of the curve, SBI aims to expand its business line by investing in digital capabilities and technology-enabled backend operations and growing its presence in multi-channel platforms.
People strategy
The bank encompasses all aspects of employee empowerment by building a positive work culture aligned with the organisation's goals.
SBI has taken a host of measures to infuse confidence in their staffs and constantly encourages them to take business decisions and discharge their duties efficiently.
The bank also adopts a branch manpower model for workforce planning and optimal utilisation of its human resources.
SBI conducted an employee engagement survey- Abhivyakti. It is one of the largest surveys conducted by the bank to collate employee feedback. The purpose of this exercise is to understand the factors that affect an employee's performance.
Moreover, the bank stimulates a diverse workplace and instils a sense of harmony and diversity in its staffs and officers. It exercises good and healthy work practices that emphasise on mutual respect and empathy to foster a happy and focused workforce.
Partnership strategy
SBI partnered with Uber to provide instant vehicle finance to drivers.
Ezetap and SBI partnered for merchant acquisition through mobile POS.
SBI and Snapdeal partnered to create a digital real-time analytics tool to assign credit scores to sellers on the platform.
Technology
State Bank of India has introduced many services like:

Real-time demand loan for e-commerce transactions and pre-approved merchant loan.
A UPI-integrated platform for providing financial services through online and QR applications for merchants.
National Common Mobility Rupay cards on qSparc specification to ensure seamless mobility to commuters across the country.

Furthermore, to enhance customer convenience following new facilities including bill payment through FI channel (BBPS), doorstep banking and Aadhaar data vault in BC channel, (among others) were introduced during the year 2019-20.
9 product and service offerings that make SBI YONO millennial focused
All basic banking functions can be done digitally using the YONO mobile application.
YONO allows its customers to shop on 80+ e-commerce stores.
Mutual funds and trading can be done through the Demat account feature in the app.
It provides a '4 clicks' personal loans up to Rs. 8 lakhs.
They offer spending and saving analytics to give the customers a better idea of their cash flow.
AI-enabled automated customer support, SIA Bot, is available for instate query clarification.
YONO application allows users to make transactions through BHIM UPI.
YONO Money allows customers to withdraw cash from ATMs using OTPs instead of debit cards.
Customers can also book and finance their new car from the YONO app.
Awards
Year
Award
2018
Model Bank Award for operations and Risk by Celent
2019
– Best Transaction Bank in India by "The Asian Banker" Best Payment Bank in India" by The Asian Banker
– Mobile Banking Initiative of the Year- India at the Asian Banking and Finance Retail Banking Awards, Singapore
– Best Cash Management House in India" by Corporate Treasurer
– Best Innovation at the BT-MT financial awards
The way forward
SBI is the largest public-sector bank in India. It has continuously evolved and developed over time to address the challenges in the banking sector and keep ahead of the curve. SBI YONO is a big hit amongst the tech-savvy millennials. In conclusion, for long-run success, SBI needs to focus on the following areas:
Firstly, it has to focus on creating a more interactive and creative user interface to attract millennials.
Secondly, hyper-personalisation of products and services will engage more millennials.
Finally, investing more in technology can improve the banking experience.
Note
Saksham Verma and Rajvardhan Bhatia contributed toward this research by conducting preliminary analysis and conceptualising the topic.