Company profile
Group head of TMRW: Kevin Lam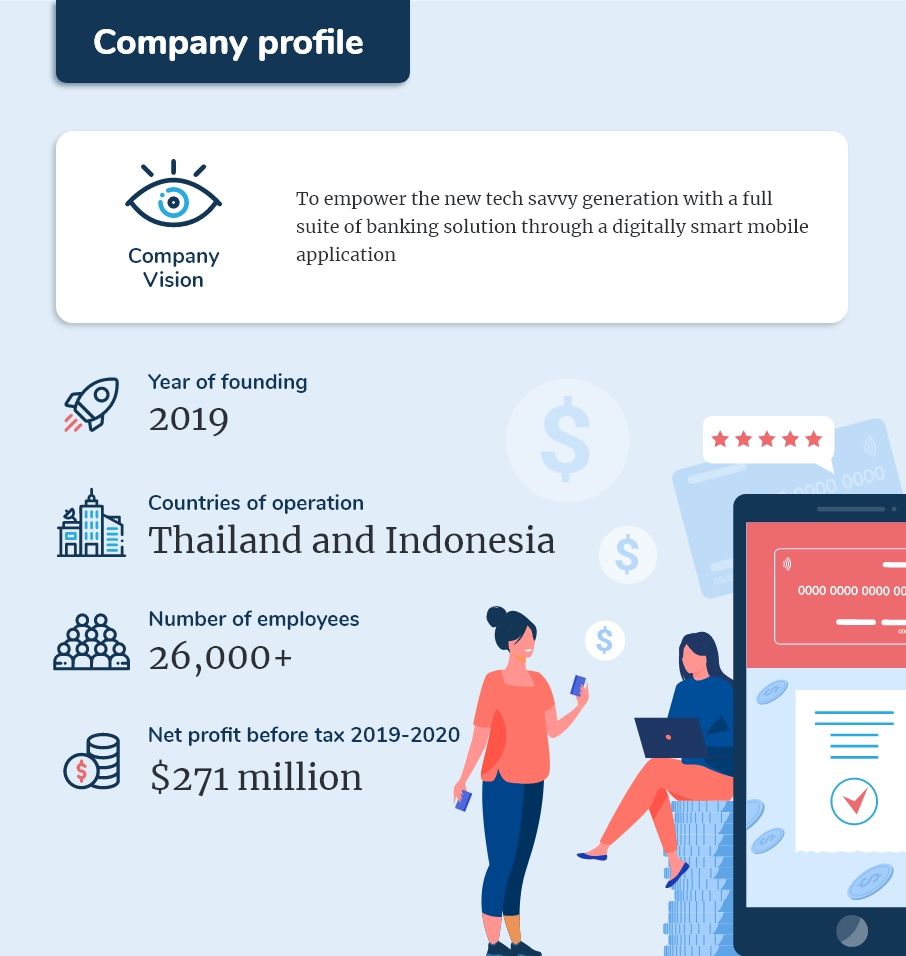 TMRW's Mission
TMRW aims to empower the new tech-savvy generation with a full suite of banking solutions through a smart mobile application. TMRW's Different Generation, Different Solution targets millennials in sync with, and distinctly for, their lifestyles.
Challenge
Thailand has the greatest number of internet users in South East Asia. UOB identifies the reason for Thai millennials disconnecting from their banks as the traditional approach followed by incumbent banks. They identified that Thai millennials spend most of their time playing online games:
85% of them agree that technology gives them the freedom of mobility.
83% of Thai millennials would like to use a mobile payment service provided by their own bank.
Solution
UOB launched TMRW in early 2019 in Thailand, claiming to be the first digital and mobile-only bank for ASEAN's millennials.
TMRW's user interface is designed to be simple and intuitive with no traditional app menu to allow customers to bank seamlessly.
It features a game named 'City of TMRW' where customers can save money and build their virtual city.
TMRW learns from each customer's behaviour to create a personalised and engaging banking experience.
They have an AI-enabled virtual chat assistant (TIA). TIA was the first Thai language chatbot launched by a bank in Thailand.
TMRW users can open their bank accounts digitally and securely in under ten minutes.
Background
UOB's TMRW is a part of the bank's strategy to accelerate growth and scale up its regional customer base.
It targets a SG$ 10 billion market opportunity in ASEAN, based on the lifetime value of young professionals in the region.
In 2020, to meet its target of capturing the ASEAN market, TMRW expanded its base to Indonesia.
Business model
TMRW is the first digital and mobile-only bank designed for ASEAN's millennial population.
The bank has been established to meet the demands of millennials' who wish to conduct their financial activities on their mobile phones, irrespective of place and time.
It makes banking simpler, transparent, and more inclusive for its users by employing AI-ML methodologies.
The digital bank analyses data and offers financial insights on a customer's spending and saving pattern, making the banking experience interesting and rich.
UOB's TMRW aims to expand its customer base by 3-5 million within the next five years by leveraging its position as one of the best banks in Southeast Asia.
People strategy
TMRW aims to invest in building the best talent pool and provide an environment that rewards superior and efficient performance. Employees are motivated to be creative, bright, highly active and engaged in a cohesive and productive environment. The bank emphasises on the core values of integrity, teamwork, trust, respect, and performance excellence. TMRW's millennial and customer-centric approach is embedded in its internal people culture.
Diversity: The bank thrives upon the diverse strengths, experiences, and capabilities of their colleagues from different nationalities. This helps enrich their knowledge and appreciation. As a result, the employees tend to be more sensitive to the needs of the customers coming from different backgrounds and serve them more effectively.
Millennial-focused: The bank's composition includes millennials representing 66.3% of the overall employee strength and 27.4% Gen X employees and 6.3% baby boomers.
Recreation: TMRW has partnered with wellness companies and organisations to conduct health activities and yoga classes in its premises to enhance employee wellbeing.
Flexibility: They offer a wide range of benefits to their employees to promote work-life balance, such as a flexible working environment and relaxed workstations.
Time off: TMRW offers annual leaves, parental leave, staff loans, annual health check-ups, life insurance and accidental insurance.
Partnership strategy
Grab, Qoo10, OctoRocket, Shopee: Partnership with leading e-commerce platforms to offer exclusive rewards to customers.
Personnetics: An Israeli company that employs AI tools to personalise recommendations based on user transaction data.
Meniga: An Iceland-based company providing service to consolidate and categorise consumer data. TMRW uses Meniga to collect and keep a track of all incoming data, and Personnetics to analyse the data collected.
Technology
TMRW combines technology and predictive machine learning algorithms to provide a seamless technology-backed banking experience for its customers.
It is powered by next-generation artificial intelligence, machine learning, data analytics, and user-friendly design for a rich user experience.
TMRW also enhances its security features by using biometric and facial recognition technology for quick and secured banking.
Top product and service offerings that make TMRW a millennial focused bank
Spend and save pattern tracker to give better financial insight.
TMRW everyday account for hassle-free and zero-fee transactions and 350 TMRW authentication kiosks.
Interactive AI-based insights to educate the customers about their spending and saving pattern.
TMRW's in-app virtual chat assistant with a call feature for instant customer service.
Smart insights and personalised real-time alerts, reminders, and tips.
Quick Response (QR) code payments to enable registered sellers and merchants to undertake quick transactions.
The city of TMRW game: An interactive game to create the habit of saving.
Awards
Year
Award
2019
– Best Biometrics Initiative by The Asian Banker
– Won Best Digital Bank by AsiaMoney
– Best Bank for Millennials
– Best Customer-Centric Business Model
– Outstanding Client On-Boarding and Account Opening by The Digital Banker
The way forward
TMRW, with their unique offerings, will be the future leader in Asia Pacific digital banking sector, setting benchmarks for traditional banks. For long term success, TMRW should:
Expand their ecosystem of partners to offer more dining, shopping, lifestyle and entertainment benefits and rewards.
Take feedback from customers about their service to improve customer experience.
Create multiple touchpoints in customers life by offering them more personalised services.
Note
Saksham Verma and Rajvardhan Bhatia contributed toward this research by conducting preliminary analysis and conceptualizing the topic.