We believe that growth must be sustainable and responsibly achieved. It is how UOB upholds our long-term commitment to our stakeholders. It is in keeping with our values. – Wong Kan Seng, Chairman
Company profile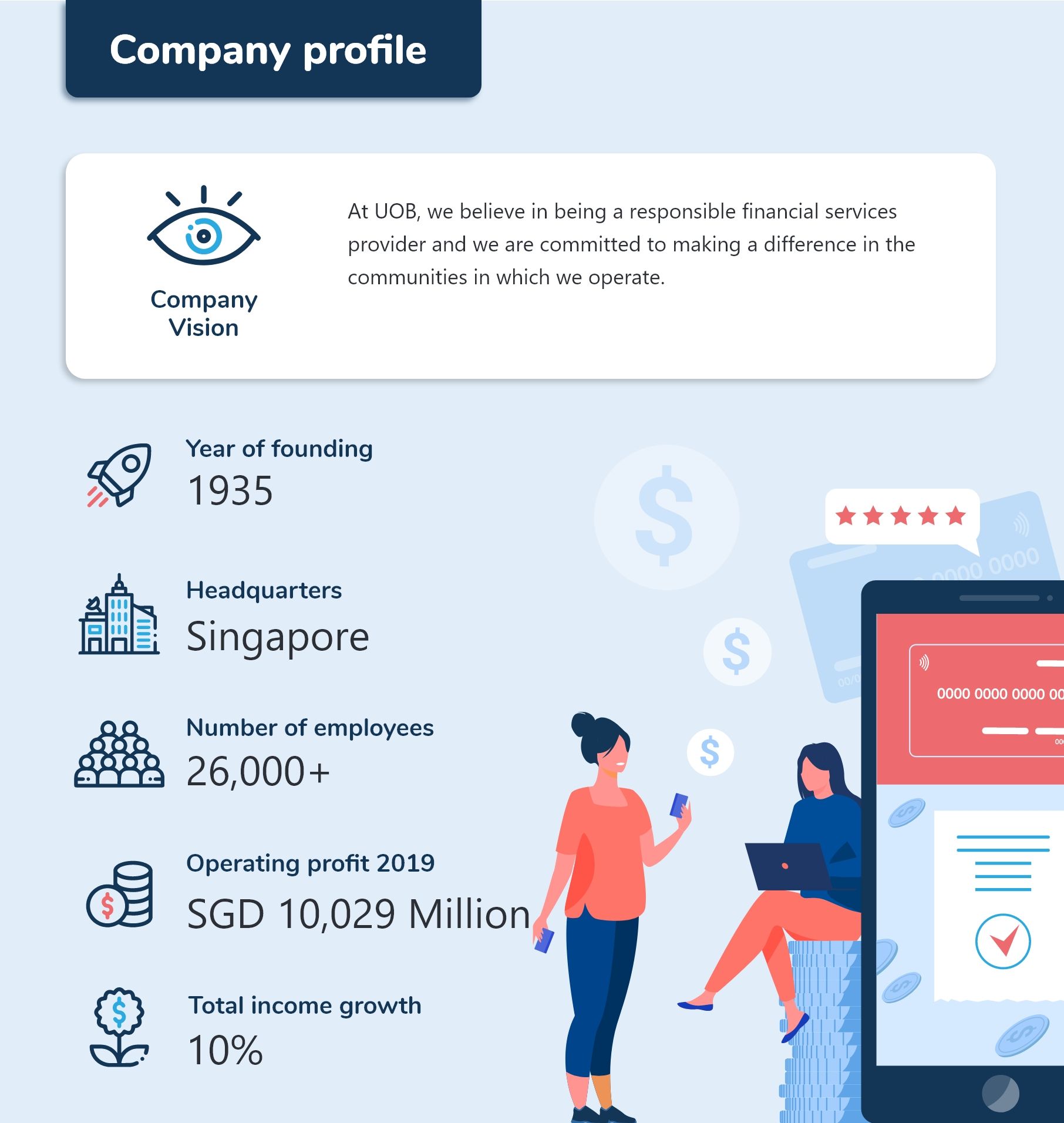 Background
A legacy bank with existence for over 85 years.
The bank drives economic growth with sector-specific solutions to help synergize business across value chains.
It has an integrated framework to achieve scalability as well as agility for rolling out solutions with a robust risk management system.
The bank serves customers with product innovation, sector specialization, omnichannel experience, and forging ecosystem partnerships.
Furthermore, by delivering digital solutions and empowering owners it aims to deepen the small-medium enterprise (SME) business.
Additionally, in 2019, UOB advanced SME loans amounting to SGD 61 billion, an increase of 9% year-on-year.
Challenge
The challenges faced by SME's are:
Investment for digitalisation
Shifting consumer trends as a result of a slowdown in global demand
Acceptance of increased digitalisation from customers
Mitigating the research and development costs without passing it on to the customers
Sustainability of business operations in order to increase the longevity of the business without going in a loss
Solution
The bank is leveraging digital technology, regional footprint and expertise in order to enhance its SME business:
Offering customised digital solutions to support the financing needs of small businesses
Providing a short-term credit facility to overcome the barriers of productivity and growth
Launching several digital initiatives to improve client experience
Implementing a data-driven strategy to cater to the financing needs of SMEs
Using its extensive ASEAN network to establish a cross-industry and border collaboration
Business Model
UOB is investing heavily in helping SMEs which will subsequently help them adopt effective digital solutions

A dedicated team of 40 technology specialists across the region. Specialists help SME clients understand how their businesses can be digitalized so as to increase efficiency and compete more effectively in the digital economy.
BusinessConnect: A community for SMEs to get resources as well as support for achieving business goals, growing networks, and learning from industry experts.

UOB is part of the SME customer journey in the following ways:

The Business Circle

Enabling the younger generation, and learning from successful entrepreneurs
Building cross-industry and cross-border connections
Accelerating their own companies' growth

The FinLab

SMEs, in addition to being guided on the implementation of digital solutions, are also encouraged to seek the expertise of ecosystem partners including leading private companies and technology solution providers.

UOB BizSmart

SME owners are offered an integrated suite of solutions from payroll management to e-commerce for improving productivity.

SME Leadership academy

To help SME owners gain insights through in-person training by experts from UOB and Google.

Operational solutions

To help SME owners manage payments and collections, payroll services, accounting, marketing, cybersecurity, digital transactions in addition to industry-specific operational support.

UOB-Asian Banking School Small- and Medium-Sized Enterprise Banking Executive Certificate Programme in Malaysia

To cultivate an entrepreneurial mindset among our business bankers and to equip them with digital marketing and credit analytical skills.
People strategy
We designed the Better U program to nurture a mindset that is curious and open to new avenues of personal and professional growth. – Mr Dean Tong, Head of Group Human Resources, UOB
UOB launched Better U

A learning and development program to equip the workforce with knowledge and skills in complex problem-solving, digital awareness, human-centred design, and data storytelling.

Professional Conversion Programme in Singapore

Deepen the digital skills of branch colleagues

AI in Finance online course in Singapore

Fundamentals of artificial intelligence (AI) and its relevance in the finance industry

AI Experiential Programme in Singapore

In Python, data visualization, and the application of AI using real data for case studies

UOB-Mahidol Banker's Executive Certification Programme in Thailand

Broaden business bankers' knowledge in digital banking, blockchain technology, and risk management.

First service inclusiveness training program for the financial sector in Singapore

Help colleagues grasp the everyday challenges faced by differently-abled people and help them learn the practical approaches in attending customers in this segment.

Service Competency Toolkit in Singapore

Empower branch colleagues to promote service leadership through role-playing and self-awareness quizzes.
Partnership strategy
For the purpose of accelerating e-commerce transformation and bringing the collective expertise for banking and business solutions, UOB partners with 9 e-commerce platforms.
These platforms will subsequently help UOB's SME clients to scale up their business faster and to connect with close to 300 million digital consumers in the region.
Additionally, UOB has multiple partnerships with various educational institutions to run learning and development programs for their workforce and business customers.
Technology Strategy
UOB invests $2 billion in IT and will continue to do so while incorporating design thinking in their product solutions.
The 3 flagship applications for their SME customers, namely:

A cloud-based solution, UOB BizSmart to run and manage the business
A banking application, UOB Business for all banking needs
UOB mCollect:

A QR-based collections solution to digitalize the cash-on-delivery model
Collect payments from buyers digitally at the point of delivery
Enhance efficiency so as to reduce cash handling risks and automate the reconciliation processes

Ocktorocket: A 15-minute loan approval AI platform that uses insights of cashflow and day-to-day operations.
Robo Advisory: The first digital advisory platform for corporate investors providing customised digital investment portfolios.
Results
The 4 key UOB victories in pushing its SME customers towards digitalisation:
Annual revenue growth of over 80% for UOB's SME business
UOB BizMoney

Provide $547 million in unsecured working capital loans to 2,800 SMEs in Malaysia, Singapore, and Thailand.
Provide $547 million in unsecured working capital loans to 2,800 SMEs in Malaysia, Singapore, and Thailand.

The UOB Regal Metal Business Card

Help SME customers in Singapore access card privileges, rewards and cut costs in business travel and entertainment.

UOB BizSmart

A one-stop solution for increasing efficiency and optimizing cost for SME customers
Provides businesses in Singapore access to the nationwide e-invoicing network for the creation of PEPPOL-standard e-invoices.