Indonesia holds one of the highest internet population in Southeast Asia with 176 million people. Growing at 14.6% Y-o-Y, it is an untapped market with public cloud adoption is still in its nascent stage. Digitalization is scattered both geographically and by sectors.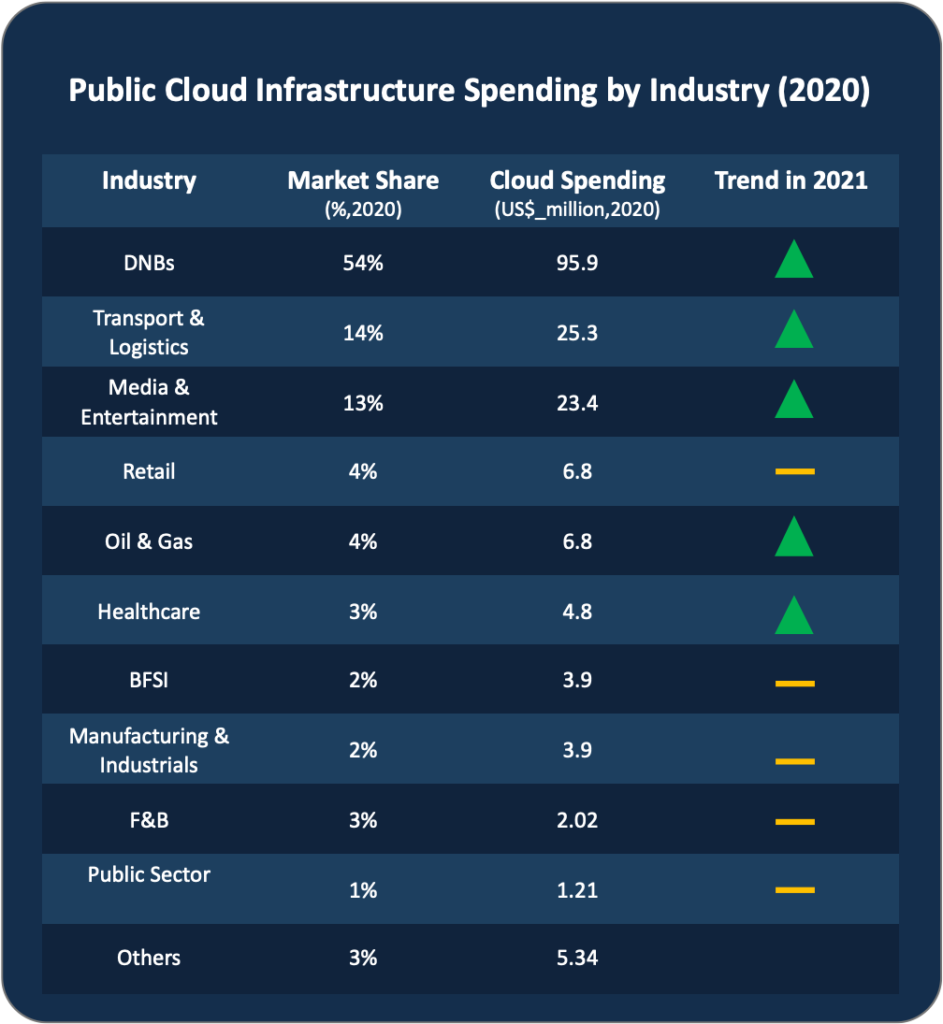 Today, an enterprises' cloud adoption and need for digitalization is no longer a question on "why," but "when." Digital Native Businesses (DNBs), the leading vertical with the highest cloud spending, has paved the way to digitalization for other sectors, including e-commerce and logistics. At the same time, more consumer-facing services are eager to adopt cloud.
Why are enterprises adopting Cloud?
DNBs scale seamlessly with cloud to meet fast-growing internet population.
DNBs are known to be the highest IaaS spenders. They have blurred the lines between traditional businesses and latest technology with cloud application. In relation to this, the DNBs cloud budgets are set to increase as they improve their ability to scale.
In Indonesia, the DNB segment has been taking the public cloud market by storm. Estimates show that a unicorn would spend a range of US$5-25million per annum on cloud. This is a monumental value compared to an emerging DNB's spending, with stands at an average of US$50k-100k per annum.
Go-Jek, a decacorn, has a cloud budget that leans towards the higher spectrum of a unicorn budget. With approximately 5TB of data from riders, businesses and consumers being collected and analyzed daily by machine learning, Go-Jek uses cloud infrastructure more soundly to help understand their customers' needs.
In addition, unlike most DNBs in other markets, local Indonesian DNBs focus more on B2C, with the top two DNBs-performing sectors coming from e-commerce and logistics. Just last year, the e-commerce market was estimated to reach US$ 44 billion, surpassing that of India. As logistics is an integral part of the e-commerce value chain, logistics and warehouse markets are also set to rise.
As the only country in SEA with 5 unicorns and 1 decacorn, each Indonesian player has significantly boosted the local public cloud revenue. DNBs will continue to adopt as they anticipate the digital economy in Indonesia to increase. This will truly level up once the mobile and legal infrastructure is more susceptible towards cloud adoption.
Players in multimodal transport and logistics industry utilizes Cloud for better geographical coverage.
Indonesia has one of the highest logistics costs due to its dispersed geographical structure, which led logistic players to move into a multimodal logistics strategy. Every transition drives up the cost of goods delivery. Due to this, the logistic players in Indonesia are price sensitive.
Going forward, most logistics players see digitalization and adoption of cloud as a way to push costs down by centralizing the sporadic value chain. The cloud infrastructure is also able to better manage goods by collaborating with all transport players in the supply chain.
In the case of port players, Pelabuhan Indonesia (Pelindo) III turned to cloud to create the Home Terminal application. This new inclusion interconnected the terminal's operating systems, including container management, vessel services, and port activities. Consumers could also connect to their parcels in real-time and settle all documentations within one application.
Via Angkasa Pura, the airport operators who transport goods throughout Indonesia are now able to do so with their in-house application, iPerform. The platform allows all employees to streamline daily goods movement operations throughout the country. This smoothens the transition of goods transported by air and land, driving costs down in each transition.
With cloud, objectives to centralize logistics' value chain and daily operations are met. This will subsequently reduce bottlenecks during a demand surge. Cloud adoption is even more crucial at a time where Indonesia has imposed a large-scale social restriction order (PSBB) due to COVID-19. The restriction order has driven sales in e-commerce to an all-time high and pars with the demand for logistics and transportation in the country.
Traditional media and television channels are turning to Cloud adoption to increase digital eyeballs throughout the country.
The media and entertainment segment has also began embracing digitalization as more companies increase their cloud budget to reach a wider audience. A study reported that the total online streaming via mobile increased by 60% last year, driven by the pandemic.
In recent times, Telkom (Indihome) began introducing its digital media platform. Livestream and sports channels by Indihome utilized cloud infrastructure such as CDN and network access to improve the quality of its channels. Telkom has also collaborated with iFlix from Malaysia to increase digital media consumption.
Another media that is seeing a digitalization surge is traditional printed media. Tempo News Magazine, a legacy printed media that has survived 2 government bans, came back in 2017 with a new strategy to reach the media market. Last year, they collaborated with AWS to turn towards digital prints. With big events and viral headlines increasing readership, the number of online consumers for Tempo News has touched a high point of up to 400%. With cloud, they can now handle the influx in website traffic by scaling on the spot.
As media consumption moves from traditional to digital, cloud infrastructure must be in place to support the viewer upsurge and offer the best user experience with minimal latency. In addition, aside from improved user experience, cloud infrastructure is also able to analyze data and users to better understand a user's preference in consuming media.
The slow movers and the doubters of Cloud:
Asset-heavy industrial players lack digital needs in its processes.
One vertical that is cautious in DX is the traditional asset-heavy industrial sector. Across this main sector, industrial verticals that include traditional agriculture, mining, manufacturing, and construction were reported to have one of the lowest IT budgets vis-à-vis to service sectors.
The single and largest driver of cloud adoption in Indonesia is the digital demand from consumers. With the manufacturing sector lacking consumer-facing engagement, there is an absence in digital customer pull and the need to adopt cloud for their operational processes and physical assets. In contrast, consumer-facing industries like BFSI are quick to adopt cloud as they cater more towards the internet population.
The shortage in skilled IT employees and poor internet access have made any cloud adoption a bigger liability.
Dispersed healthcare regulation lacks overall digital strategy in Indonesia.
Echoing the trend seen in most developing countries, healthcare players in Indonesia are also slow to adopt public cloud. In the past, the healthcare sector in Indonesia has had limited overall capacities, especially in rural and dispersed areas. As a substantial portion of the population is spread across the country, healthcare authorities have restrained capabilities to centralize any healthcare efforts.
However, at the peak of COVID-19, the sector turned to digitalization to cope with the expanding demand for consultation.
Premier Bintaro Hospital began digitalizing their hospital with an online appointment system and fully digital electronic medical records. Digitalizing their Radiology department helped the hospital achieve 31% in savings. In addition, the turnaround time decreased by 38% through an improved digitalized workflow. PBH is now able to generate better analysis for their patients, as data is analyzed digitally.
The movement to go digital is scattered in different districts, as private players are the only ones seen to aggressively include cloud adoption in their computing infrastructure. With issues such as a decentralized medical system and an outdated healthcare framework to contend with, the vertical has a long way to go before digitalization for medical and healthcare becomes a nationwide reality.
Twimbit takeaways:
DNBs is the door of opportunity for more enterprises to adopt cloud as Indonesia market is more susceptive towards digital services
Regulations are the number one hindrance of cloud adoption and can be seen in verticals such as BFSI
Improvement of the infrastructure to support cloud and other technological advancement will boost the market in the near future.
Click here to read more about the Indonesia market performance.