Key highlights:
The public cloud market accounts for 4.3% of Indonesia's ICT spending – a 3% increase compared to 2019.
SaaS leads with 51% of the total public cloud market while IaaS trails closely behind with 41%. This split is unlike neighbouring markets because of serious software piracy and cybercrime issues.
Amended laws and regulations on data locality are supportive of BFSI companies adopting cloud, which have driven significant digital transformation (DX) initiatives. These amendments will be made for other industries in the coming quarters. This will drive an accelerated growth in the Indonesian public cloud market.
Digital Natives Businesses (DNBs) in Indonesia, consisting of approximately active 2,000 digital startups, are again the top spenders of the public cloud. This is due to the market size they serve, which is Southeast Asia's largest internet population of 176 million users.
The market matrix: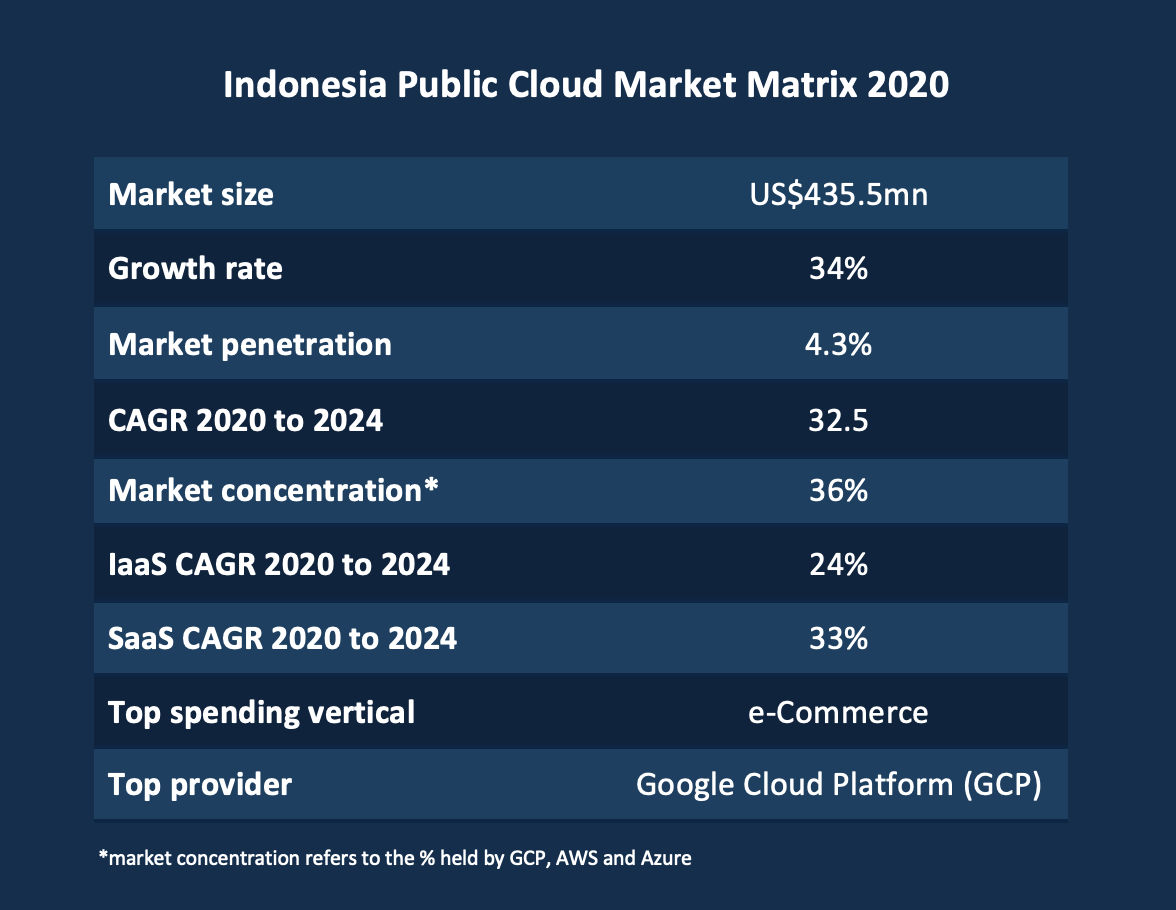 Key market drivers:
Increased consumer demand for digital services
In 2020, Indonesia's internet population rose by 17%. This totals to ~176 million users, which represents 65% of the total population. Additionally, 56% of digital consumers in the country are rural and/or from highly dispersed populations. Furthermore, due to the pandemic, the overall GDP of Indonesia has declined. However, the digital economy in Indonesia has grown by 11%, to US$ 44billion instead. These illustrate a strong demand for digital services despite an economic slowdown in the country.
Due to such roaring demand, the digital economy in Indonesia is projected to grow by 23% in 2021. This brings the digital economy size from US$ 44 billion to US$ 54 billion. Moreover, Indonesia is home to 5 out of 13 unicorns in Southeast Asia, each of which annually spends >US$ 10 million on public cloud services. Regional DNBs, such as Shopee and Lazada, emerging local DNBs, such as Socialla, Waresix, Inmobi, and over 900 active digital start-ups, all contribute a sizeable portion to the public cloud market. This has made this segment the single most important driver for the growth of public cloud usage in Indonesia.
Global providers introducing local regions
Last year, the Indonesian market welcomed a new region by Google Cloud. In total, it consists of 3 cloud zones. This adds to the 2 existing data centres by their global counterpart Alibaba Cloud. All these have turned the market interest towards public adoption as these addresses the strict laws of data locality. This led to enterprises large and small to consider public cloud for their operation. For instance, Bank Rakyat Indonesia (BRI), is a frontrunner in digital transformation within the banking industry. Using GCP's technology, BRI aims to use its core digital banking and API tools to meet increased financial inclusion with the unbanked population in Indonesia.
This factor will remain sizeable in the coming years as global players like Alibaba Cloud and AWS plan to launch a new region of their own in the Indonesia while Microsoft Azure is in stage of consideration. Therefore, by opening data centres with services focusing on security breach and malicious traffic, most cloud providers are aiming to win over BFSI and the gaming sectors.
Top industry challenges:
Advancement of digital economy hindered by a lack of trained IT personnel
The issue of low reserves of skilled human capital to support the latest technology has been an on-going one for most of Southeast Asian countries. However, it is more prevalent in Indonesia because there are only about 75,400 IT engineers in the country, and they require at least 10x the number to fully sustain a digital economy.
The two-fold issue worsens with an outdated education syllabus and poor organizational-level training. Additionally, World Bank reported that with the current trajectory, there is likely to be a shortage of 9 million skilled ICT workers by 2030. With an issue of this scale, enterprises are reluctant to adopt cloud tech. This is mainly due to the high costs to train employees to manage applications in the cloud.
Although technology enterprises such as GCP and Gojek are trying to combat these issues by providing edutech programs the Indonesian market is still in its early days and will take time to reap the benefits of such efforts.
Underdeveloped digital infrastructure limits the benefits of Cloud
The current IT infrastructure is unable to service the fast-paced industry just yet
Regulations and laws on cloud adoption are still in the process of amendments and approval
Internet access is still limited within the rural areas
Poor quality mobile data impacts internet access for mobile-first population
International investments, such as NTT's US$500mn investment for their third data centre, or SoftBank's US$2 billion investment via Grab, are flooding into the country. However, the underdeveloped digital infrastructures have hampered the confidence enterprises need to embark on their DX journey.
Market size and growth trend: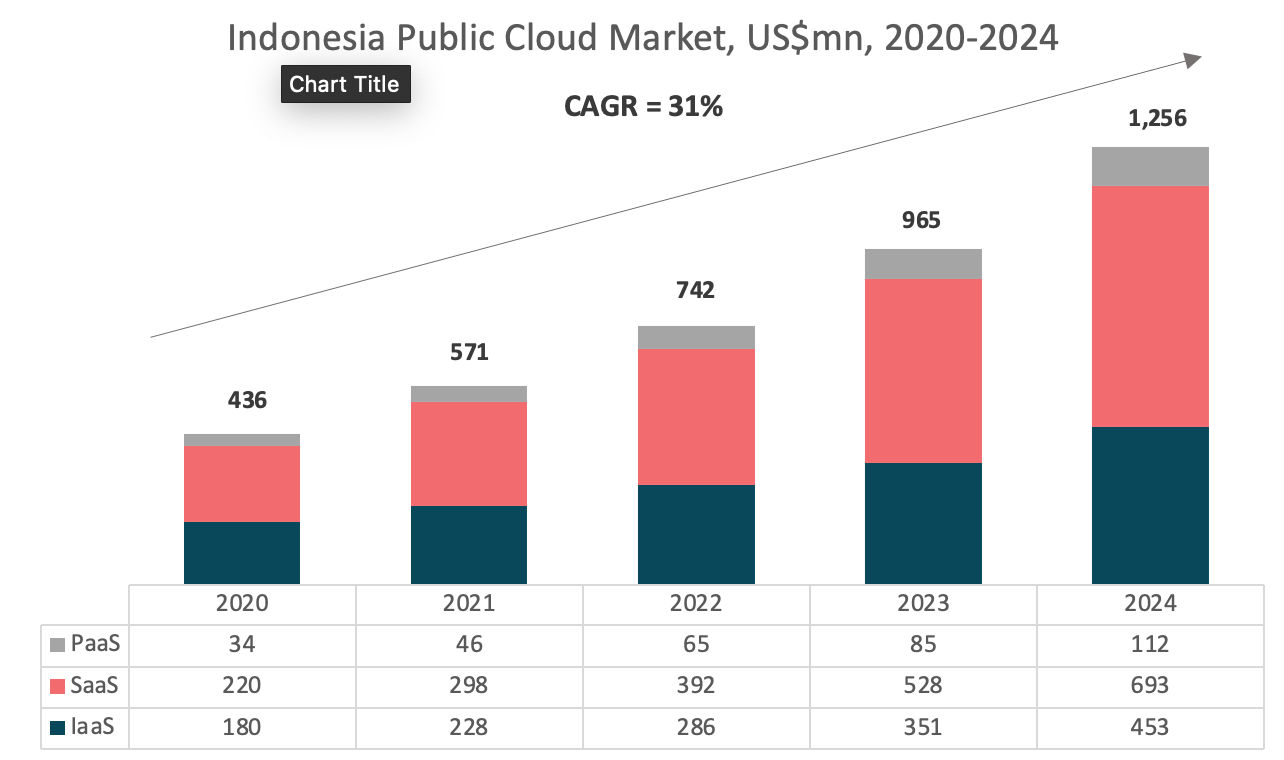 Trend by segments:
DNBs – e-Commerce is a thriving segment within DNBs with revenues estimated at US$ 32billion. With 5 unicorns and 2,000 DNBs in Indonesia, this segment is expected to increase their spending in the public cloud services by at least 5-10% as the demand for digital services continues to climb up. Gojek is in advanced talks with fellow unicorn, Tokopedia, on a potential US$18billion merger with plans to go public, which will scale up their operation considerably. With this, Gojek is likely to accelerate their cloud usage to support the expansion.
Large enterprises – Within large enterprises in Indonesia, the banking leaders have been adopting public cloud more and more, to reach a wider market within the underbanked populations. Currently, only commercial banks are allowed to adopt public cloud as OJK amends and updates current regulations revolving around the usage of public cloud and data locality. These amended regulations may extend to other industries, which will witness the conversions in healthcare, manufacturing and oil & gas industries.
hings to anticipate in the Indonesian Public Cloud market:
2 t
In the next 2 years, global cloud providers will launch their region in the country. This will increase competition between global and local providers as each attempt to grab share in a high-growth market.
The public cloud market is expected to witness an upward trend. As more local large enterprises start their multi-year long DX journey, coupled with improving ICT infrastructure of the country and valuable lessons from the pandemic.