'Banking inside'
The idea is to embed banking into the everyday lives of customers, so banking becomes invisible.  – Piyush Gupta, CEO, DBS
What Is invisible banking?
Invisible banking allows integration of banking products and services with the day-to-day digital touchpoints of customers. The whole process aims at making the customer journey as smooth as possible. In the end, the banks become a part of the user's subconscious.
FinTech's are changing the way customers engage with banking services, in turn, forcing banks to reimagine their role in the ecosystem. Today, the customer no longer wishes to go to a branch. Customers, by and large, prefer to use their mobile for an end-to-end banking experience. How will banking look in the face of such a scenario?
Become invisible
Choose value to customer over profit
Develop partnerships to serve the customers from start to finish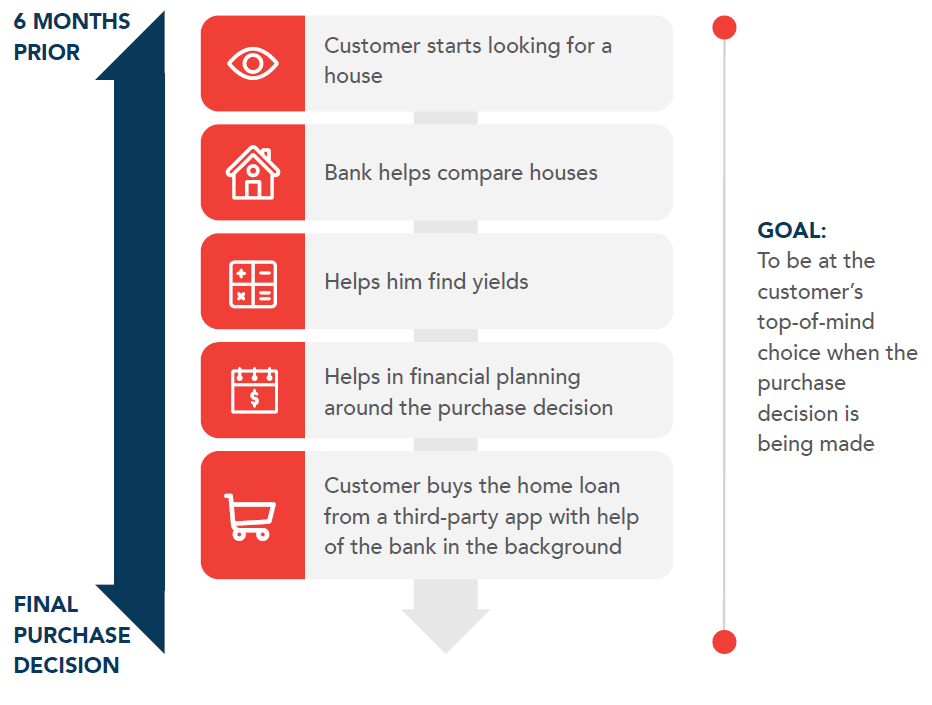 Incumbents are using technology to make customer journey seamless
Royal Bank of Canada has launched a mass scale AI digital service, NOMI. It offers customers insights into their financial habits and uses predictive tech to find money that those clients can save. Subsequently, it automatically saves that money for them.
BBVA's mobile banking app – CepBank, scans parts of the eye using eye recognition software to verify user identity. This data is then stored securely with the bank. On top, they have introduced an AI based voice assistant known as MIA, which lets customers use voice commands to transact
Google Hands Free is a free app that allows people to pay in stores, restaurants, and cafes without having to take out their phones. The system allows point-of-sale systems to detect the presence of a customer's mobile phone, allowing the individual to simply ask to "pay with Google"
Big tech is leading the way
So, what can bankers learn from the likes of Google, Netflix, Amazon, Facebook?
"If there's one reason we have done better than of our peers in the Internet space over the last six years, it is because we have focused like a laser on customer experience." -Jeff Bezos, Amazon
Understanding that the customer experience is the key to making a presence felt in their minds is a very important piece of the puzzle. From this data, the bank can look towards an increased share of customer's wallet.
Next, a customer does not want a home loan, he needs a house. Also, he or she does not want just an auto loan. They are in need of a car. If the focus is on the need of the customer and not what is being sold, service providers can hide (make invisible) the mortgage and auto loan component in the buying process.
The 5 questions to banking 'invisibility'
Why do customers consume our services or those of our competitor's?
What customer experiences pop up frequently?
What are the underlying social and emotional factors driving consumer decisions?
Which type of convergence will deliver the most customer value?
Is our strategy defining our tech or is the strategy being defined by tech?
Reimagine customer experience
Build an ecosystem approach
Design and think of customer value
Develop personalized solutions
Innovate Business models