Company profile
CEO: Yoon Ho-young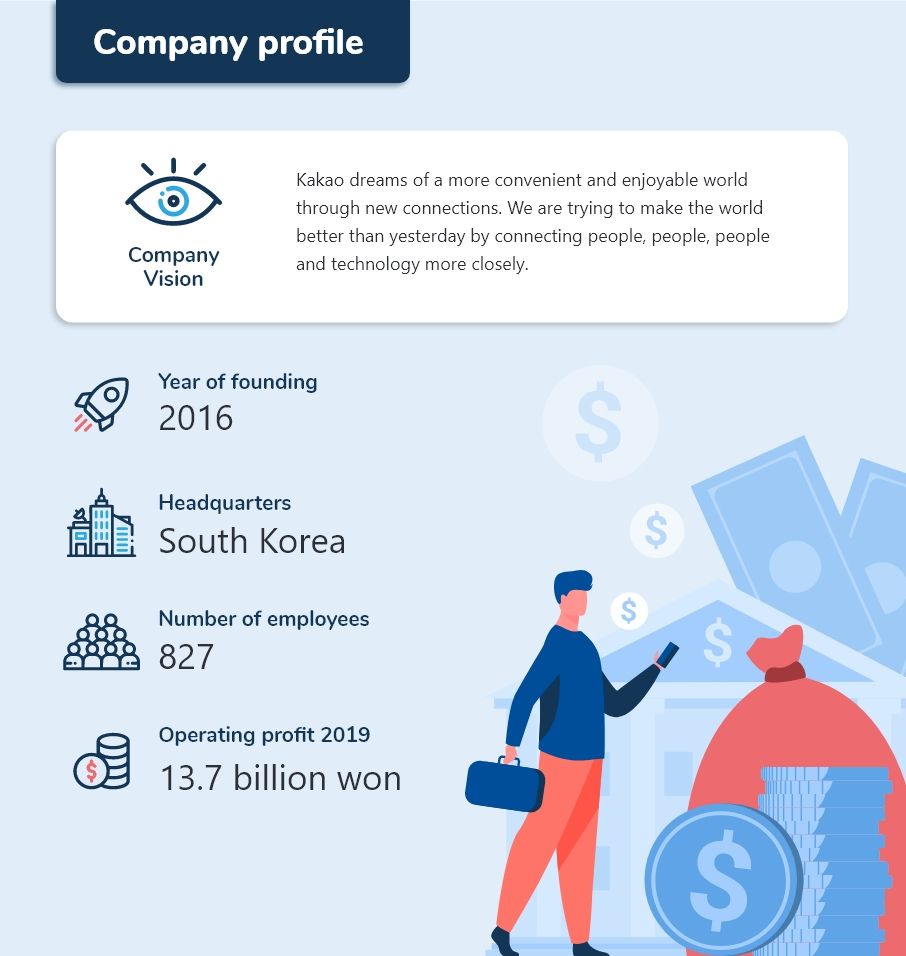 Kakao's Mission
Kakao Bank believes that meeting people and banking should happen more easily and more often. The bank wishes to embed itself in its customer's daily life by using a user-oriented and innovative technology. Kakao Bank states that it is not just another bank but the beginning of a new-age bank.
Challenge
Kakao Bank identified that the traditional bank's approaches are not customer-centric.
Traditional banks invest heavily on mobile application but they do not offer any innovative products.
moreover, traditional banks focus only on meeting stand requirements and compliances.
The reasons stated explain why millennials do not find their banking experience insightful and convenient. Kakao identified an opportunity to innovate the banking process and improve the user interface to meet millennial needs.
Solution
Kakao built a messaging platform Kakao Talk, which became highly popular in millennials.
It enabled users to open an account digitally within 7 minutes, thus, eliminating all paper works.
Kakao studied consumers' behaviour through Kakao talk and offered personalised products and services to meet their needs.
Background
Kakao Bank was established in January 2016, introducing digital banking solutions to its customers in April 2017. The bank is a hit among the Korean population. It has acquired over 1 million customers within 4 months of its launch.
In 2018, it was awarded as the Best Digital Bank by Asia Banker. It has also been selected as one of the top 50 innovative companies in the world. In 2019, Kakao Bank gained over 10 million customers in total, 18.6 trillion wins in deposits and 12.0 trillion wins in loans. In 2020, Kakao Bank's mobile application was relaunched, with AI-enabled features.
Shareholding Structure
| | |
| --- | --- |
| Shareholder | Shareholding |
| Kakao Corp. | 33.53% |
| Korea Investment Value Asset Management | 28.60% |
| Korea Investment | 4.93% |
| KB Koomin Bank | 9.86% |
| Netmarble | 3.93% |
| SGI | 3.93% |
| Korea Post | 3.93% |
| eBay | 3.93% |
| Skyblue | 3.93% |
| Yes24 | 1.97% |
| Employee Stock Ownership Association | 1.10% |
Business Model
Kakao Bank, the first neobank in South Korea was conceptualised by the founding members of South Korea's popular Kakao Talk, a social media messaging application.
Typically, banks incur large operational costs, some banks spend almost 60% of their expenditure on branch and back-office operations. Kakao Bank is transforming the digital banking ecosystem in South Korea by driving digital innovation and investing in low-cost digital propositions. This enabled the team to drastically reduce the operational costs and share the benefits with their customers in the form of higher interest rates and zero transaction cost. The Korean financial regulator plays a key role in issuing new digital bank licenses which affect how the benefits that could be passed on to the public.
Kakao Bank uses the data collected from Kakao Talk to understand millennial's behaviour, spending decisions, personal preferences, and design choices for building products and services. This helps the bank create a personalised experience for its customers, which attracts and engages.
People strategy
The bank follows a horizontal culture with the absence of any vertical hierarchy. The employees address each other by their name instead of their job title. The bank promotes an open office culture with no separate offices for the CEO or bank executives, this allows a seamless flow of ideas and transparency. Moreover, since it is a branchless bank, employees are allowed to work as per the needs of the customer rather than following fixed work hours. Key takeaways from Kakao Bank's people strategy are:
Project monitoring: Managers do not assign specific projects to the employees instead they are allowed to take up any projects. The managers only monitor the progress.
Idea generation: Employees can pitch ideas and views on a project, planning process, execution, design and marketing. This brings innovative millennial-centric ideas to the table.
Recreation: Employees are free to take breaks at the bank's sleeping room when required.
Flexibility: Kakao follows a flexible working system where the bank sets the number of hours employees have to work in a month and they can choose when to come to work.
Time off: Kakao offers up to 30 days of paid vacation for its employees who have been with the company for three years to incentivise them.
Kakao Bank's millennial-centric approach to customer offerings is also embedded in its internal employee strategies. The bank has been awarded the presidential award in 2019 for its efforts to create an employee-centred working environment.
Partnership strategy
Kakao Bank, in partnership with Korea Investment & Securities and NH Investment & Securities, has enabled its customers to open a stock trading account through its platform.
Kakao Bank launched four credit card programs in partnerships with KB Kookmin Card, Shinhan Card, Samsung Card and Citi Card.
South Korea's central bank, as part of BOK's 2030 growth initiative has partnered with Kakao Enterprise to boost AI capabilities.
Technology strategy
Kakao Bank's operating interface is based on machine learning technology and high-end software including, Linux of X86, MySQL, and Apache/Tomcat (open source). The use of cutting edge technology has enabled the bank to achieve high levels of efficiency and customer interaction. Its latest collaboration with Bank of Korea (BOK) allows the bank to further strengthen its AI capabilities.
10 product and service offerings that make Kakao Bank a millennial focused bank
Kakao offers end-to-end digital onboarding.
It provides easy and affordable overseas fund transfer.
The bank approves short-term fixed deposits and micro loans within a few minutes.
It enables paperless account opening and verification in under 7 minutes.
It offers a safe box to hold extra funds for up to 10 million with 0.50% per annum.
Kakao meeting account allows 100 people to clear their dues in real-time.
A customisable credit card, Kakao friends, was launched to attract millennials.
It provides cashback and rewards on streaming, delivery, cacao, coffee, online shopping, communication, gasoline, and academic sites.
The back launched an AI technology-based piggy bank for smart savings.
Awards
Years

Award
2017
– Innovative app category of Google Play's '2017 Year's Best Application'
– Apple App Store 'Popular Free App of the Year'
2018
– Best 'Digital Bank' by Asian Banker
– Awarded 'Voice Phishing Prevention Certificate' for 2 consecutive years by the Financial Supervisory Service
2019
– Selected '2019 Korea Job Best Company'
– Received the Presidential Citation in the financial innovation section to commemorate 'Financial Day'
– Selected 'Best Digital Bank' by Asian Money for 3 consecutive years
Results
Kakao Bank has revolutionised the digital banking sector in the Asia Pacific region, thus, setting a benchmark for traditional banks. The millennial-specific approach followed and products offered make it an ideal bank for the 5% millennial workforce in South Korea.
The high growth rate of their customer base and revenue clearly indicate that Kakao is one of the most favoured and innovative banks in the Asia pacific.
The way forward
To be in the lead for a long run, Kakao Bank needs to:
Constantly capitalise every opportunity and keep pace with the ever-changing and ever-growing needs of the consumers.
Partner with other brands to provide rewards to its customers when a transaction is made.
Invest in enhancing its digital capabilities to provide more seamless and frictionless services.
Note
Saksham Verma and Rajvardhan Bhatia contributed toward this research by conducting preliminary analysis and conceptualsing the topic.