Malaysia has a very high internet penetration of 83% and this has seen a CAGR of 6.7% from 2017 to 2020.[1] This was driven by improved network connectivity, an expanding number of technology providers, and a digital surge due to the recent COVID-19 pandemic.
The demand for a better digital customer experience has a high co-relation to the growth of the internet. Intense competition among digital businesses challenges CX practitioners in Malaysia to be innovative in enhancing their digital customer service delivery. Currently, one emerging technology used to elevate the digital experience is content delivery network (CDN).
Overview of Malaysia's CDN market in 2020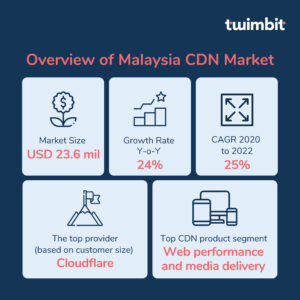 Market drivers
a. The growth in digital consumer numbers
2020 was a pivotal year, as it drove five years' worth of digitalisation in just one year. The number of digital consumers in Southeast Asia (SEA) reached a total of 310 million users. Malaysia emerged as the regional leader in internet penetration at 83%.[2] Mobile internet is a key enabler of growth with 88% of the population owning a smartphone.[3] Companies that struggle to keep pace of this digital trend will struggle to survive in the market.
b. Growing traction for e-commerce application
Online shopping is gaining traction among digital consumers in Malaysia. This trend is further driven by the movement restriction order during the pandemic. The adoption of online shopping channels is the highest in Malaysia among all SEA countries. It is, in fact, above the regional record. In 2020, online shopping adoption almost doubled in Malaysia compared to 2019.
Moreover, the current gross merchandise value in Malaysia stands at USD 4 billion. This is forecasted to increase by twofold in 2025. As a result, there will be an intense competition among e-commerce providers in the pursuit of the consumers' wallet share.
c. A surge in video streaming activity
The COVID-19 pandemic catapulted a major shift where consumers moved their activities online. The top three most popular online activities for 2020 are social media, messaging, and video streaming. Across the region, there is an average increase of 8% consumption in these three applications. 2
Video streaming applications are gaining popularity among businesses and consumers at large. These are not only used for movies, but also in product marketing. The growing popularity of video applications among users requires CX leaders to enhance their media content delivery experience. It should be able to cater to different platforms, operating systems, and across multiple devices.
d. The thriving popularity of the gaming industry
In 2019, Malaysia recorded a total of 20.1 million gamers throughout the country. This translates into a total revenue of USD 673 million, making it one of the biggest gaming markets in Southeast Asia. [4] Mobile is recorded as the most popular channel for gamers in Malaysia, followed by PC and console.
The gaming industry in Malaysia is forecasted to grow at a CAGR of 9.9% between 2021 to 2025. [5] This is driven by the government's effort to develop eSports, a 5G rollout, and an increase in Internet access in Malaysia. The government has allocated USD 5 million in Budget 2020, aimed at developing the local eSports industry.
Market restraints
Concerns regarding the complexity and quality of services continue to hinder the growth of CDN in Malaysia. Security and privacy risks are also concerns posed by business leaders. The lack of awareness and success stories among Malaysian enterprises who have adopted the technology are some of the other contributing factors. Additionally, the slow adoption among the public sector and large enterprises is yet another limiting factor for the growth of CDN.
Market size and growth rate
There are three primary CDN products available in Malaysia. This consists of Edge/traditional CDN, Telco CDN, and Cloud CDN. Cloudflare is one of the earliest entrants in the Malaysian market and has the first-mover advantage. Table 1 below shows the list of the major CDN players in Malaysia.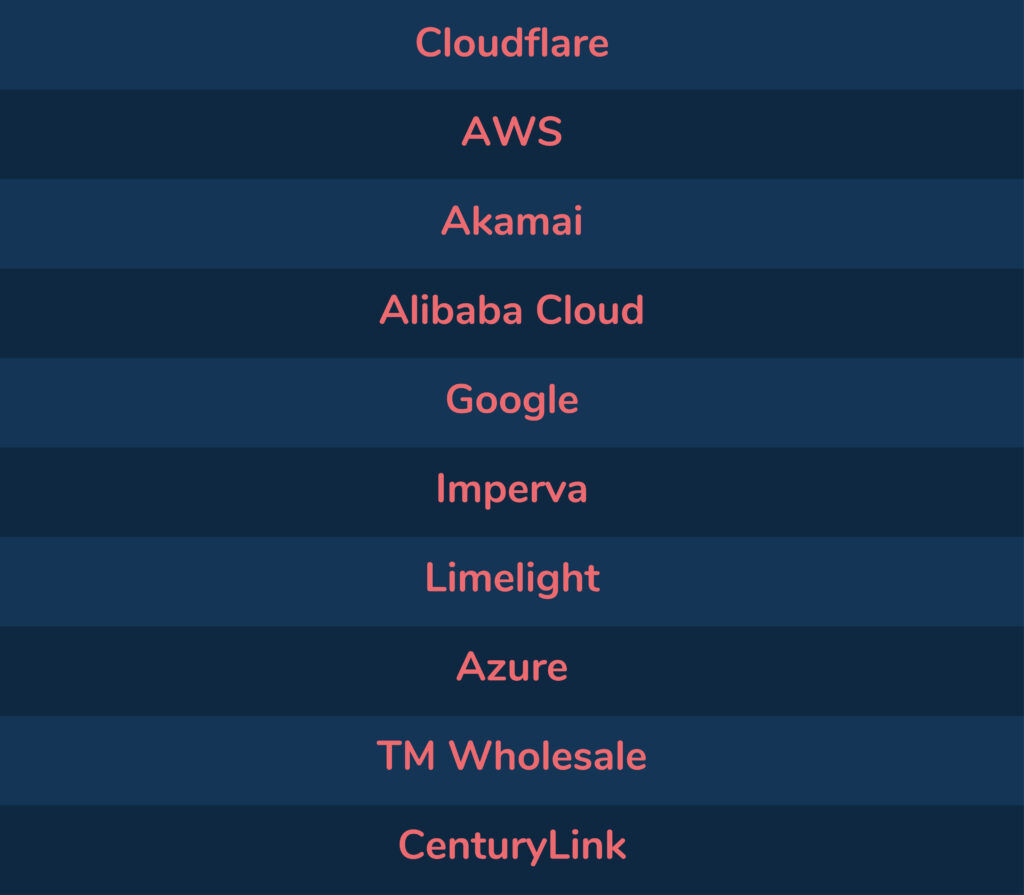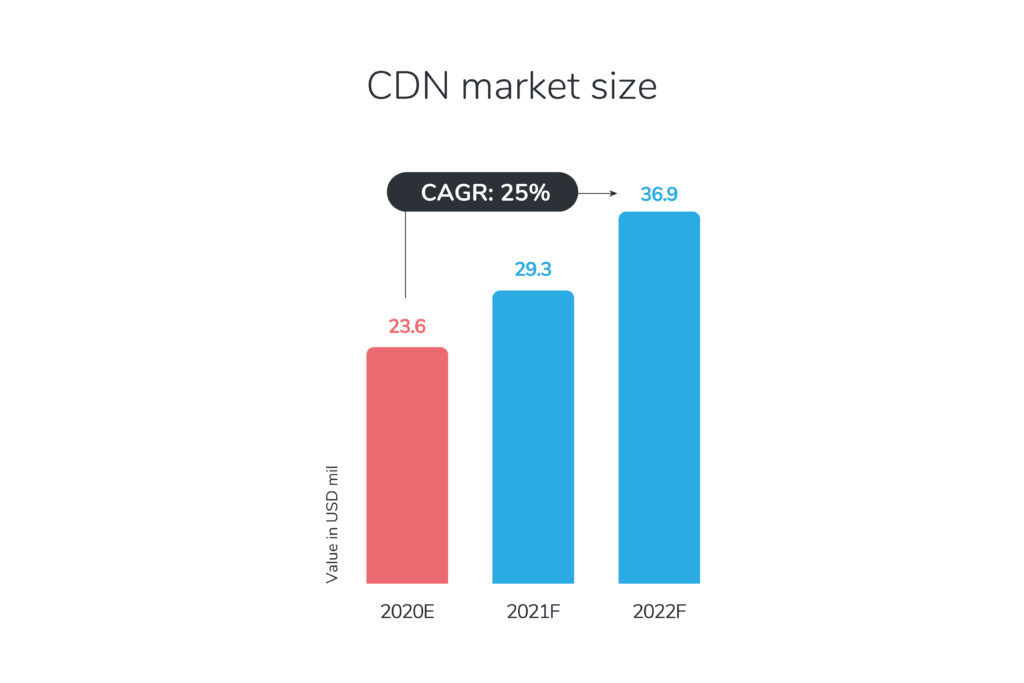 CDN trends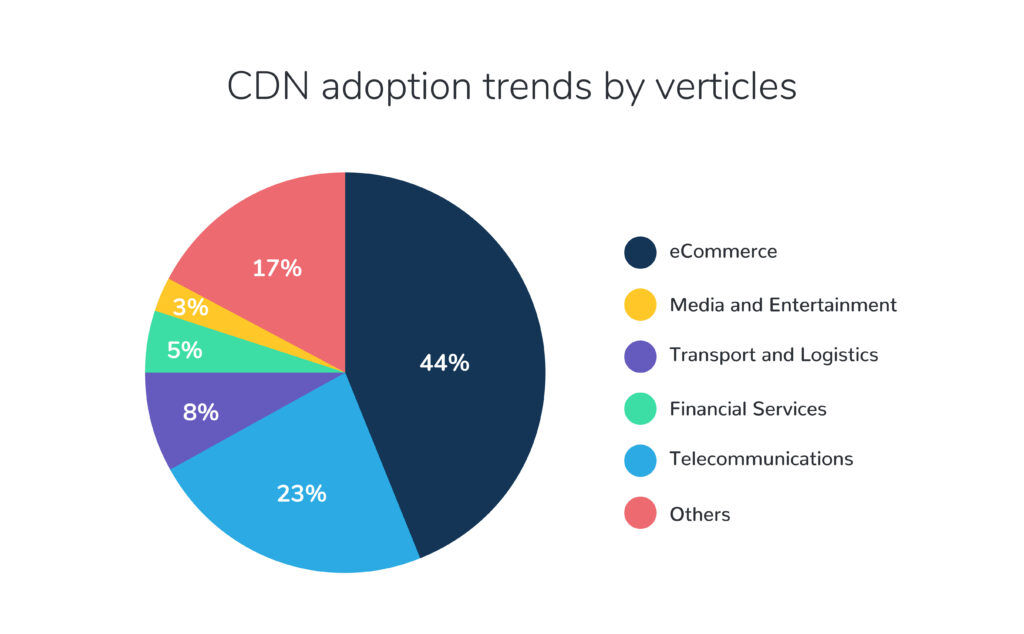 The flourishing popularity of e-commerce applications is driven by the increasingly digital consumer in Malaysia. Similarly, for the media and entertainment industry, the influx of 4K UHD videos, cloud gaming, and 5G applications are pushing for higher CDN adoption.
Table 2 below highlights large enterprises who have adopted CDN and their respective providers in Malaysia.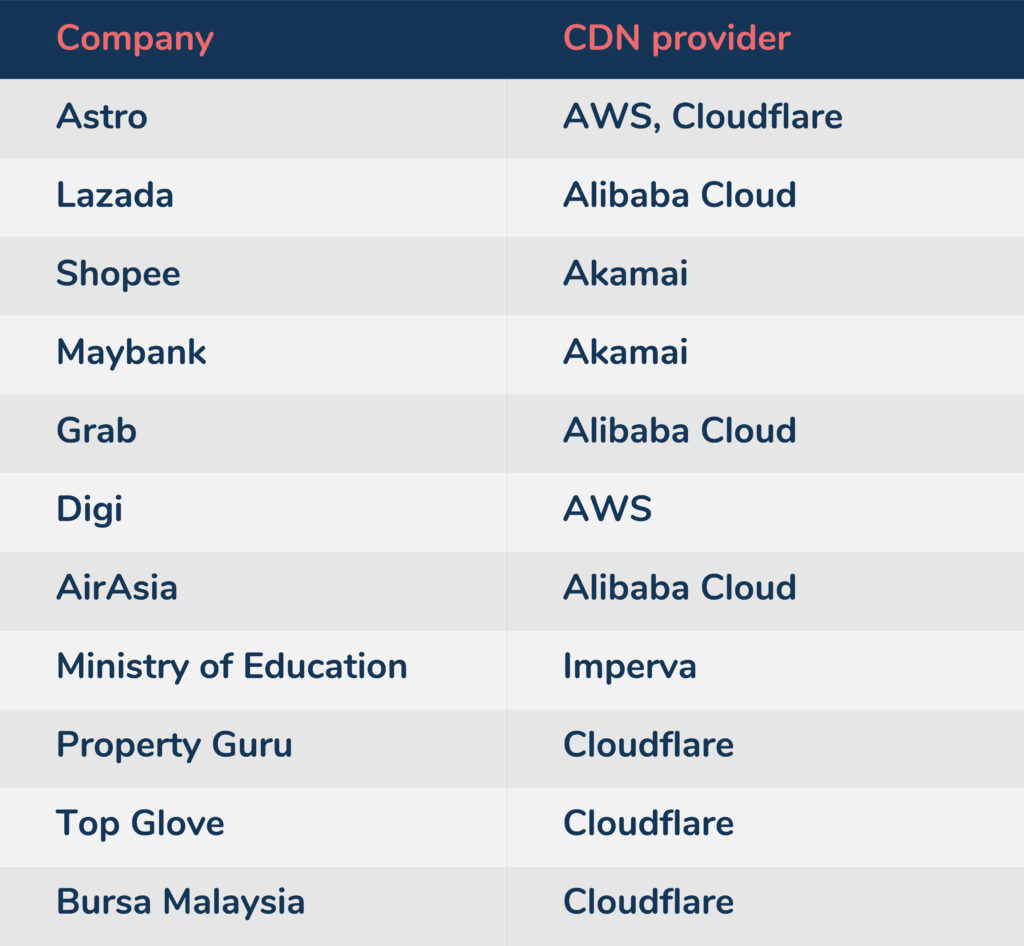 3 key takeaways for Malaysia's CDN market
The digital nation is here and now. Malaysian consumers are becoming more digital savvy, thanks to the pandemic. Companies must elevate their digital customer experience and emphasise on mobile-friendly solutions. Therefore, services and products need to be compatible and seamless across multiple devices and different operating systems. All of these are made possible with the help of CDN technology.
Multi-CDN offering and knowledge is still lacking popularity in Malaysia. There is minimal awareness among business leaders on the benefits that CDN and multi-CDN can bring to the business. This includes the opportunity to optimise cost, scale-up businesses, and enable a global consumer outreach.
There is a huge opportunity for CDN providers in Malaysia. Despite being a considerably small nation with limited domestic demand, Malaysia has a unique opportunity to serve the SEA region. Relatively low cost of operations, availability of talent and good connectivity with the neighbouring countries are key enablers that help enterprises to serve the region from Malaysia.
---
[1] Digital 2020 Malaysia, page 17
[2] Digital Consumers of Tomorrow, Here Today, A Sync Southeast Asia Report
[4] Insights into Malaysia's Games Market and Its Gamers
[5] Rapid Technology Growth Boosts Malaysia's gaming Sector
[6] Growth Segments in Malaysia Cloud Market, Twimbit Report