"Don't wait for your next job to do your best work."
-CEO: Satya Nadella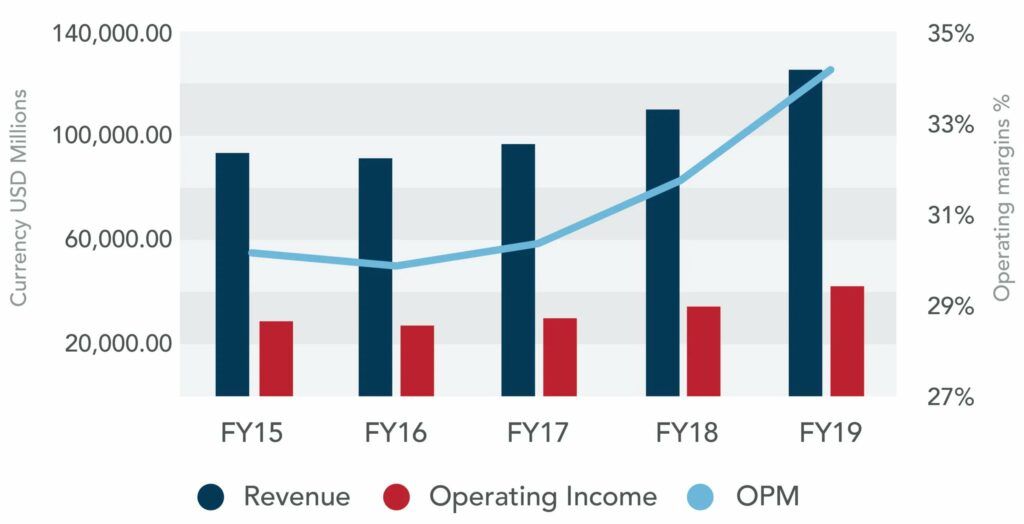 Platform as a service
Business Model Innovation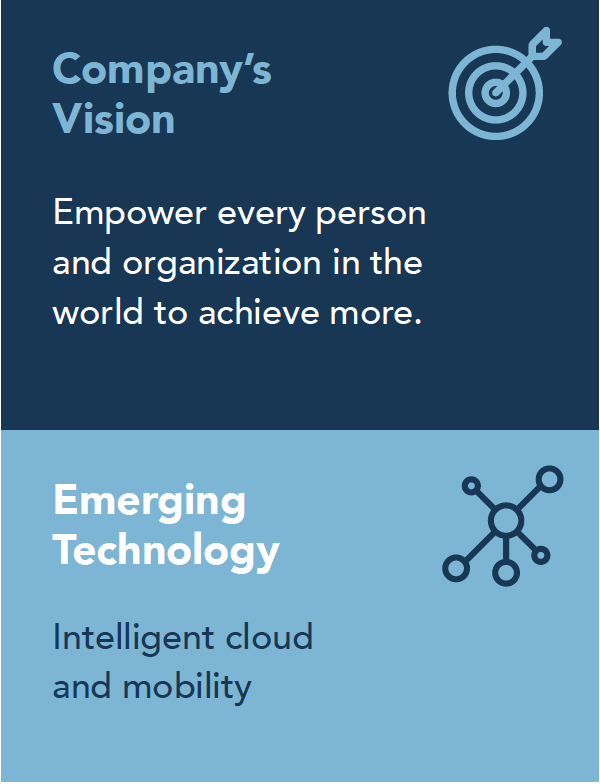 Microsoft's new service offerings are mobile first besides being powered by the intelligent cloud. It has built a scalable tech platform powered by the Azure cloud computing framework. It offers its technologies, products, and services like enterprise ERP, CRM, and office productivity solutions through subscription based plans.
Microsoft's phenomenal financial success is a result of the company's major initiatives to attract the developer community in addition to creating more open source systems along with applications to generate community value. Acquiring GitHub for $8.5 billion was a step towards creating value from the collective minds of the global developer community. There are over 26 million developers using GitHub not only to collaborate but also re-write the world in code.
Envisioning a world where every organization will eventually kneel towards technology. Some might become technology companies themselves. Microsoft has a vision of empowering people and organizations to achieve more. Firstly, this acquisition was a step towards aligning the developers with their vision. The company is secondly opening many closed loops and to unfurl as an open source platform, tools, and services ecosystem.
Leadership impact
For Satya Nadella, his role at the top of a leading technology company has been a difficult and challenging one. Moreover as a non-founder CEO, he had to make explicit his vision, values, and strategy in a robust way.
Satya's rise to the top of Microsoft and his subsequent impact on the company's stupendous business success in the cloud space can't be seen in isolation. The transformation at the leadership level is what has trickled down. It is now clearly visible in the amazing financial outcomes the company has achieved since the day he took over.
But what are the real core drivers of Microsoft's successful transformation? Is it the cloud technology, the noise created all around popular business media of the need for organizations to ride the digital transformation wave or just plain old luck?
Our research shows that Satya's focus on an inspired vision, nurturing the growth mindset, and making the organization people-centric in-and-out lie at the heart of this massive financial success.
Rise of Microsoft's Cloud Services
When Ballmer first asked Satya to spearhead the cloud division, it was still nascent. The organization had no clear-cut strategy to make it big in this space. However, Ballmer was prepared to make a zero-sum bet. This leadership support enabled Satya to focus on non-financial KPI's like customer satisfaction besides usage growth versus traditional KPI's like gross margins. For any new business, there is always a path to profitability. It may not be obvious at first, but staying on the path and learning from your stakeholders eventually tells you the right fitment of the value your product delivers. It also tells the price customers are willing to pay for it.
Microsoft's success in the cloud is an outcome of this slow and steady 'people-centric' mindset. Initially, the business didn't really contribute much to the firm's overall growth or profitability in the initial years. Although, today it is the relentless focus towards harnessing tech know-how, setting the right vision, and speaking to customers not to sell, but to discover their core needs that set the service apart.
The company has ended fiscal 2019 with $38 billion from its enterprise cloud offerings. It has now become the world's largest enterprise cloud company. It has surpassed Google cloud's revenue ($8 billion) 4X, Salesforce.com's revenue ($13 billion) 3X, and its largest competitor in this space, Amazon AWS ($25 billion) 1.5X.
Future
Microsoft realizes that the journey from possibility to reality is fraught with unknown challenges. It has still figured out that the way forward isn't a closed-door company but an open source, collaborative, and community-driven ecosystem.
Acquiring GitHub to support and deliver best-in-class solutions, platforms, infrastructure, and services to the global developer community was a step towards it.
Microsoft is betting on a future that is connected. By looping in the developer community at GitHub and the global professional community with LinkedIn, it lays the foundation for a business-developer collaborative ecosystem.
We foresee Microsoft to leverage more of such strategic acquisitions. It will continue to build its cloud and mobile technology and to make its technology and systems available to the open source community. The future for Microsoft is a world driven by data and empowered by Microsoft's cloud, productivity, and open source ecosystems.