Our extensive research shows that millennial customers want banking to be simple, digitally enabled, and customised – Anup Bagchi, Executive Director, ICICI Bank
Introduction
Millennials, also known as Gen Y, fall in the 18-40 years age bracket. They account for 29.4% of the Asia Pacific (APAC) population, which is expected to grow year-on-year by 3%. Furthermore, 60% of the entire workforce will comprise of millennials by 2025. According to a study by Simon and Kucher partners*, Asia-Pacific is currently undergoing the largest intergenerational wealth transfer in history. By 2046, the baby boomer generation will have passed on close to US$ 30 trillion to millennials. Thus, millennials are all set to inherit a major chunk of the global wealth and are primary demography for banks to extend their services. Approximately 75% of the millennials in the APAC region have a bank account.
Why the current approach followed by traditional banks fail to serve millennials
Historically, banks have had a standardised one-size-fits-all approach which does not resonate with the millennial audience, that belongs to a persona-based world. They find the standard approach followed and services offered by traditional banks to be time-consuming, difficult to navigate, and unappealing. To millennials, all the banks look the same, they tend to move from one bank to another if their banking needs are not fulfilled. Moreover, millennials fulfil their banking needs with 3 banks at a time on an average.
Figure 1: Millennial mindset towards traditional and non-traditional financial service providers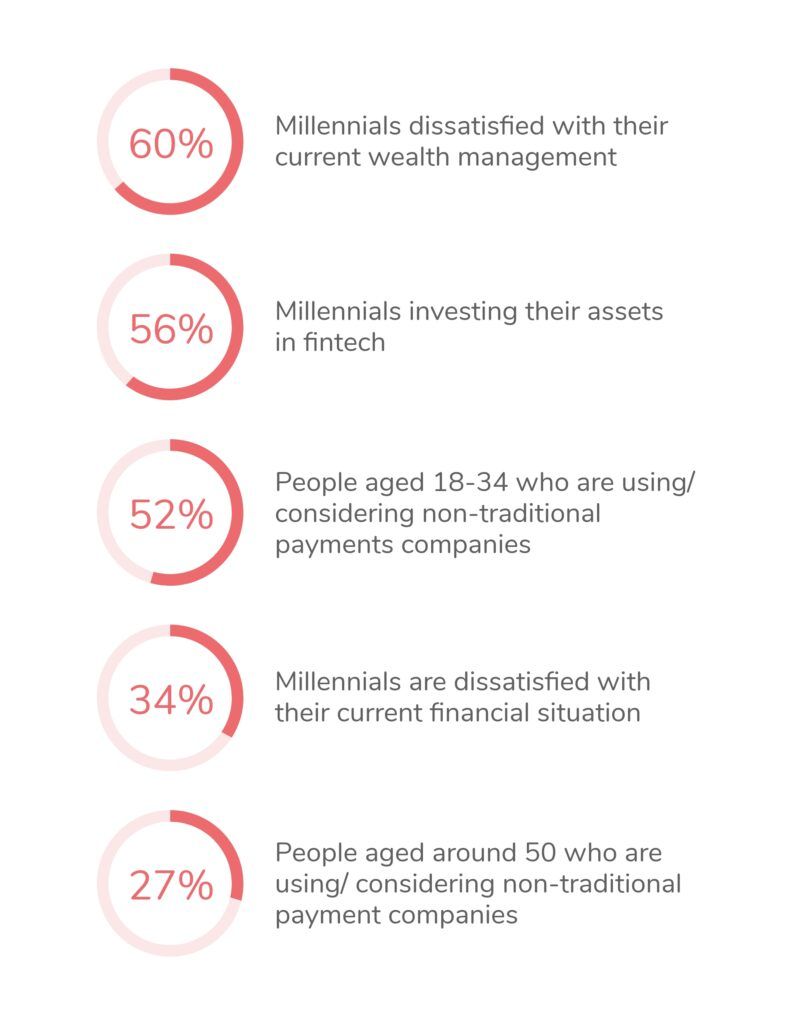 How banking is embedded through a millennial's lifetime
Millennials live at a faster pace as compared to their older counterparts. Moreover, they live each day different from the previous generations. This includes how they earn, spend, save and invest. Hence, banks must be a part of the individual before, during, and after every life stage (decision).
Figure 2: A millennial's life phases and banking needs

Twimbit's 5-point millennial banking checklist:
"By giving students the tools help them succeed financially, we can build a stronger and more economically resilient society." —Shannon Schuyler, Principal; US Corporate Responsibility Leader; Chief Purpose Officer, PwC; President, PwC Charitable Foundation, Inc.
ersonalisation:
1. Omnichannel experience and p
Millennials look for intuitive services that suit their needs, rather than simply looking for a stable association with a bank.
Actionable insights:
Spend-based rewards: By incorporating AI methodologies, banks can collect insights on a customer's spending pattern, search intent and purchase history to offer customised rewards in the product or service segment they spend the most on.
Location-based rewards: Timing is key for retaining a customer. Confirming the location of a customer using GPS, Wi-Fi or cellular tracking to identify the city, metro area, state, or country the visitor is coming from or going to will enable the banks to send real-time custom offers to the user based on the insights contained within the banks.
Targeted marketing: Banks can understand a customer's interest and propensity to buy a particular product by examining the content viewed, the website visit count, and the actions undertaken by them. Banks can then develop product-specific marketing campaigns and strategies to cater to each customer's personal needs.
Open banking: The willingness of the younger generations to share their data for convenient accessibility to banking services has led to the shift towards data sharing through open APIs. This extends great opportunities for banks to attract millennials. Thus, banks should invest in building a strong open bank ecosystem to meet their potential clientele on a platform of their preference and cater to their financial needs digitally.
Omnichannel experience: Establish an omnichannel digital transformation strategy, where the customer is able to interact with multiple and combination of channels (mobile, web, tablet, wearables) in a frictionless environment with consistent interfaces and functionalities.
For example, to attract millennial students and executives, OCBC Singapore launched FRANK by OCBC. The bank's objective is to offer their customers a simple and efficient way to manage their finances by- saving well, spending wisely, protecting early, and investing smartly. To achieve this objective, the bank offers personalised products such as:

Customised card designs with over 120 templates
Attractive cashback offers on minimum monthly spend
Spending and budgeting insights
2. Digitalisation of products and services:
Millennials rely on technology to bank with minimal fuss. The profound effect of increased internet use, high mobile penetration rate, the power of data, and customer experience-driven services are already visible in the banking sector. Moreover, banks can save money on physical infrastructure and hiring by going entirely online.
Actionable insights:
Banks can attract millennials by going beyond the standard digital banking services, including services such as:
Digital onboarding with e-KYC and e-form filling.
24/7 customer service and in-app assistance through chatbots and virtual assistants.
Gamification of money management tools to offer a fun-filled customer experience.
For example, TMRW by UOB designed a simple and intuitive interface with no traditional app menu to offer their customers a personalised and seamless banking experience. It also features a game named 'City of TMRW' where customers can save money and build their virtual city.
3. Data Security:
Transparency about data usage and sharing based on the customer's express and informed consent must be paramount for banks. Moreover, the customers should be apprised of the value created for them when they share their information. A robust security infrastructure enforces the idea that their money is safe with the bank.
Actionable insights:
In-app protection such as biometric verification and two-factor authentication should be embedded in the banking process to ensure data security.
Improve breach detection controls by investing in automated security intelligence systems. This will enable banks to examine, understand threats, and prioritise risk on a real-time basis.
Communication is the key to instilling trust in customers. Thus, regular videos and notices should be released to maintain transparency and keep the customer well informed about their rights and how their data is being used.
For example, Webank provides eKYC facility for easy and seamless account opening and verification. Further, it uses face recognition and biometric technology to secure the banking process.
Firm corporate social responsibility:
4.
Millennials seek a bank with a purpose beyond profit. According to a study by Aflac, 77% of consumers say they would be more willing to purchase a company's products or services if the company demonstrates a commitment to addressing social, economic, and environmental issues.
Actionable insights:
Banks should not hesitate to showcase the initiatives taken by them. Document all initiatives taken by the bank and their employees, and events held by the bank on social media handles and the bank's website.
Banks should use and offer innovative green products to reduce waste generation, emissions, and carbon footprint such as:

Virtual cards, and pulper cards to reduce plastic waste
Renewable sources of energy such as solar power, to meet electricity requirements at on-site facilities
Eco ink, and carbon-neutral press machines to reduce emissions and minimise environmental impact
For example, CIMB Malaysia reduced 25% of paper, and printed papers using carbon-neutral press machines and eco-materials to reduce carbon footprint and emissions.
Financial Literacy
5.
Millennials want ownership and independence far more than previous generations, building additional responsibility and planning for decisions such as investing in higher education, repaying student debt, and retirement. Millennials, being the first generation to grow up with broadband, laptops, smartphones, and social media, expect instant access to insightful information that will improve their financial status and well-being.
Actionable insights:
Banks should release byte-size videos to educate millennials about their financial rights, options and goals, especially for those who are known for having a notoriously short attention span.
Banks should conduct regular surveys to identify the areas the customers wish to be educated in and provide them with customised learning materials.
Trusted advisors should provide personalised advice based on the age, income, financial need, and personality of the customer online.
For example, DBS Singapore's Tele Advisory provides actionable insights and helps one understand their finances better. It also offers products and services such as Nav Planner that enables customers to track, protect and grow their money.
Conclusion
The current and incoming generations have compelled banks and other players in the financial services industry to reinvent themselves. The acceleration in digital adoption and utilisation of disruptive technologies is helping fintech ecosystems to bear new business models that will embed financial services seamlessly into the customer's lifestyle paving the way for growth of the industry. By ticking every box on the checklist, the bank can achieve the following objectives:
Customer centricity
Operational cost reduction
Customer loyalty
End notes:
* https://www.simon-kucher.com/en/about/media-center/study-shows-millennials-are-frustrated-traditional-private-banking
** https://www.aflac.com/docs/about-aflac/csr-survey-assets/2019-aflac-csr-infographic-and-survey.pdf