This new generation will not tolerate waiting in lines, repeating their problems or being treated like a number. Companies that do not adapt to risk obsolescence as Millennials become an economic powerhouse. – Joe Gagnon and Jason Dorsey, study co-authors (The Center for Generational Kinetics)
Millennials, today
Millennials, also known as Gen Y, who fall in the age demographic of 18 to 40 years. They account for 29.4% of the Asia Pacific (APAC) population (Figure 1) and are expected to grow year-on-year by 3%.
Figure 1: Millennial map for APAC 2019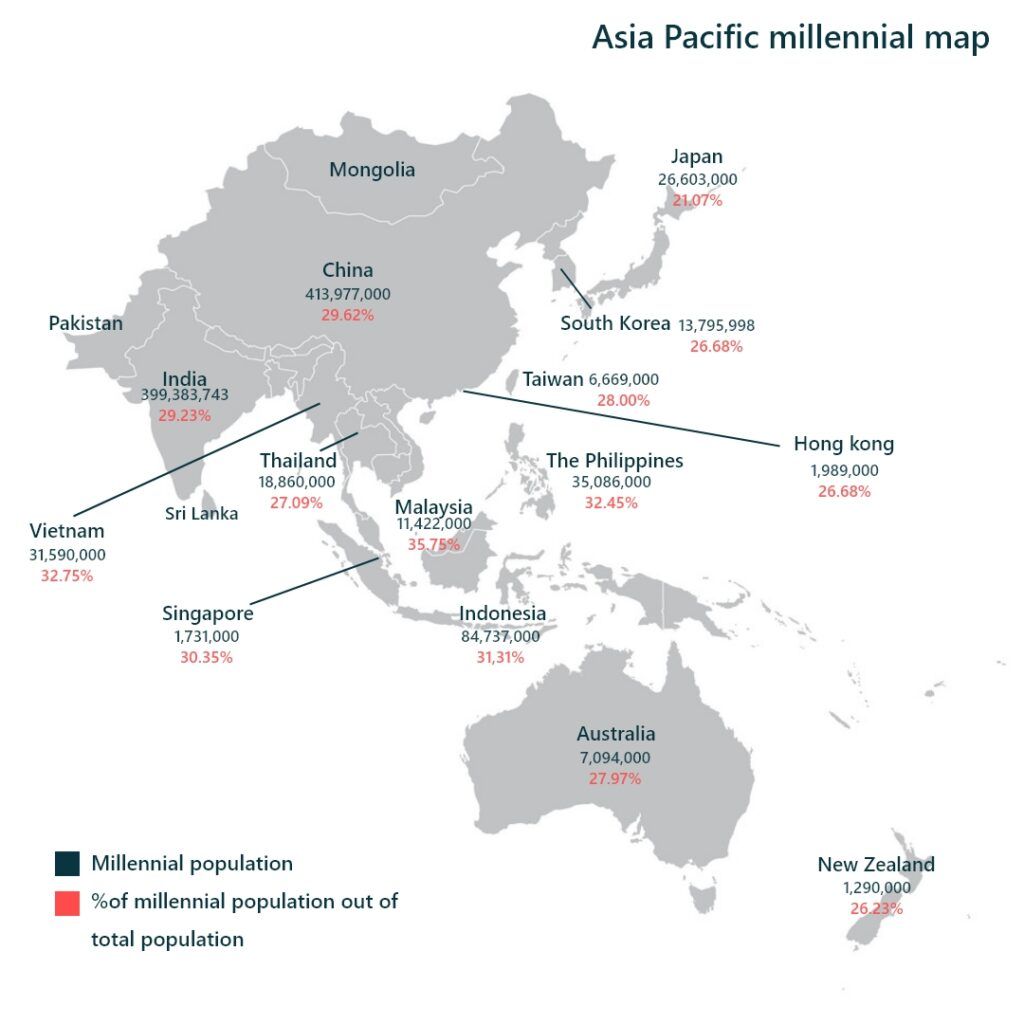 Top 5 millennial banking needs
Being the largest and the most educated group, millennials have begun dictating the demand for innovative financial products and services. Figure 2 states the country-wise distribution of millennials holding a bank account.
Figure 2: Country-wise millennial population holding a bank account in 2019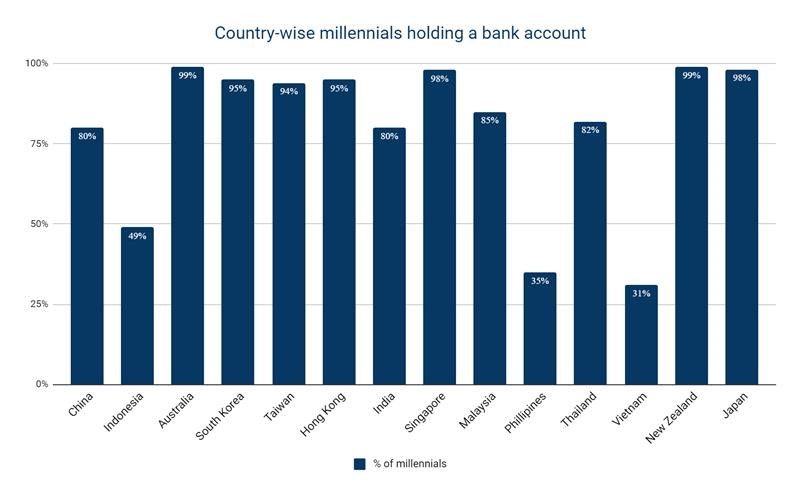 Figure 3: 5 millennial banking needs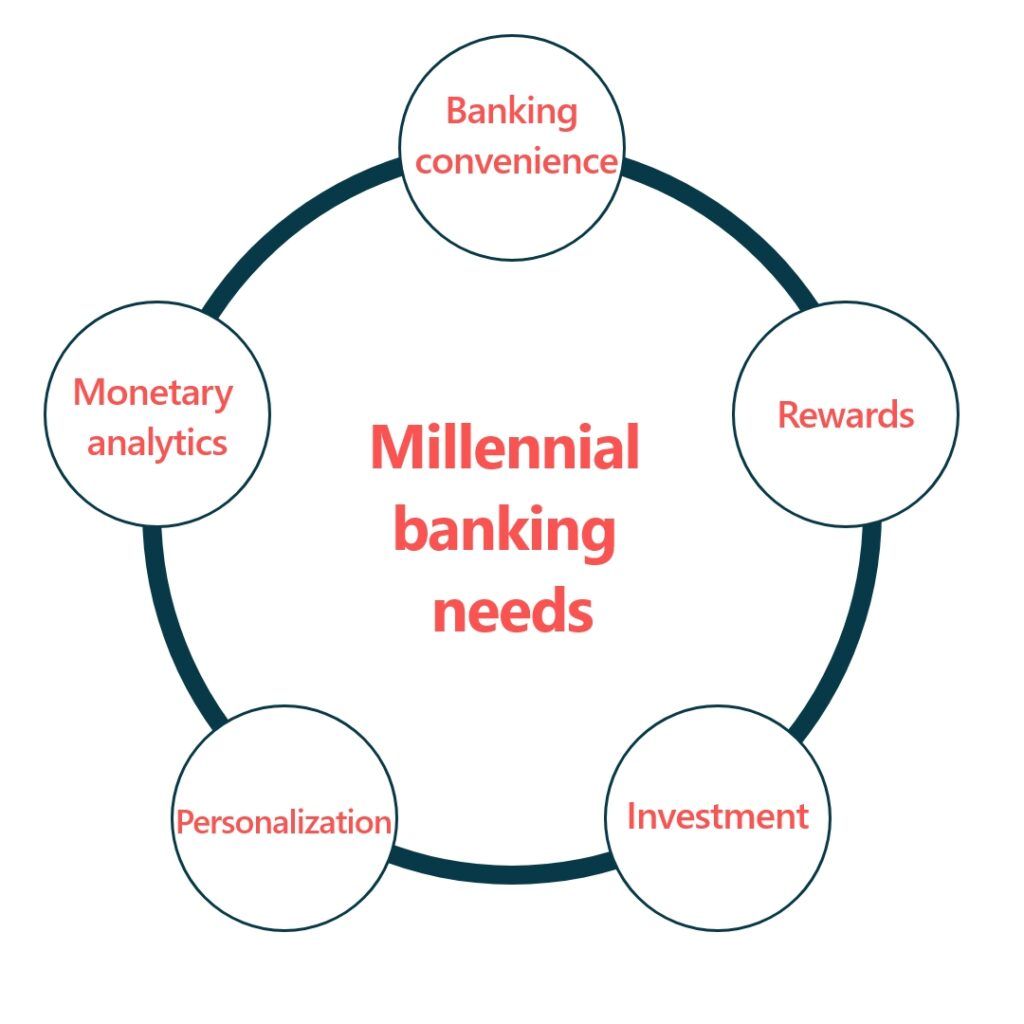 Banking convenience– Millennials prefer banks loaded with new-age technologies such as voice assistants, AI functions, and bots that provide users with a rich end-to-end banking experience.
Reward – Millennials prefer banks that offer benefits beyond standard banking services. Banks should build a reward-based user experience with products such as discounts on tickets, food vouchers and cashback offers.
Investments – Millennials require personalised banking services that help them in making smart investment decisions. Offering byte-sized videos and advice over digital platforms can help banks capture the interest of the millennials.
Personalisation- 62%1 of customers prefer using personalised products and services, and 83%2 of them wiling to switch institutions if not kept satisfied. Thus, banks should focus on addressing individual customer's pain points by offering tailormade banking solutions.
Monetary analytics – Millennials want greater insights about their expenditures and savings. Through AI and ML technologies banks can create dashboards that give a holistic view of the customer's spending pattern.
Millennial v/s Boomers: 5 key differences
Millennials in APAC on an average, spend almost one day a week on their mobile phones. Of this, 46%3 browse through social media platforms and 48%4 either play games and watch videos. These numbers differ drastically from the numbers of the boomers* and Gen X*. This indicates the change in psychology over generations and the need for a change in the approach followed by traditional banks. Twimbit identifies how millennials differ from boomers in their respective banking approaches: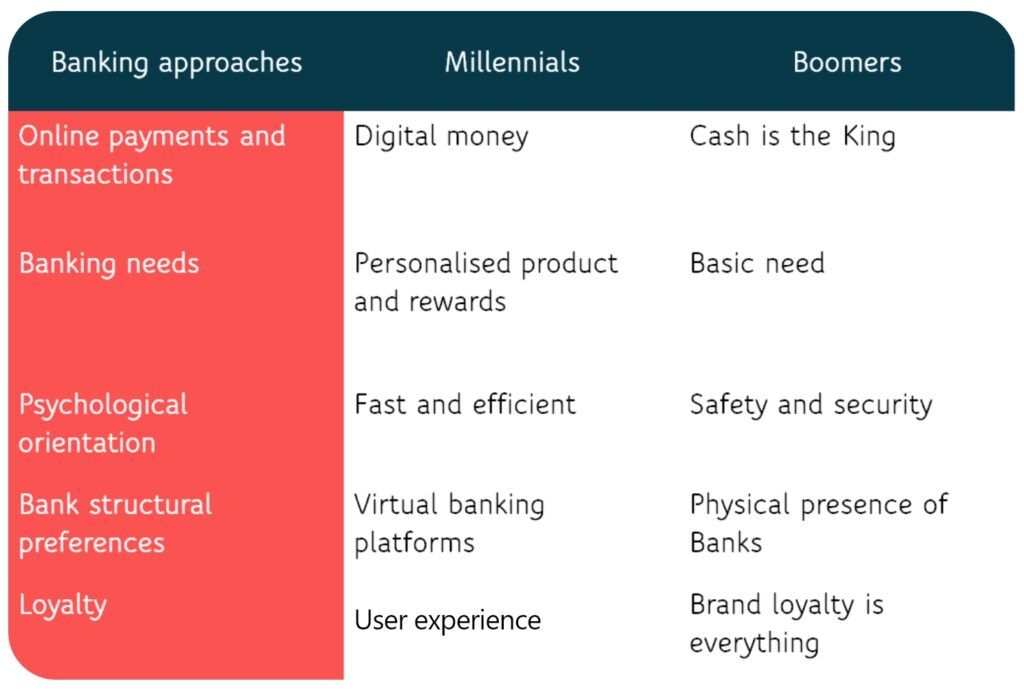 Shortcomings in traditional banking models
Stereotypical in nature-

Traditional structure- Banks craft their products and services keeping in mind the demands of the previous generations. These traditional notions and structures limit the banks from going beyond their standard products and services.
Standalone services- Banks fail to embed themselves in a millennial's life cycle by not providing end-to-end digital services and real-time alerts.
Lack of innovation- Banks lack innovative products and services that cater to an individual customer's need. Continuous incremental innovation is needed to meet the ever-changing and ever-growing needs of the customers.

Not data-driven–

Failure to converge– Banks must allow account aggregation and integration to track all transactions made by the users on various platforms by constructing a robust open banking ecosystem to provide customised insights.
Lack of financial analytics– To ensure customer satisfaction, banks need to collaborate with the third-party organisation to purchase surveyed data and to data and analyse the collected data using agile AI-ML methodologies to meet customer's financial needs and provide them with useful insights.
Examples of millennial banking best practices
Figure 4: Millennial population in Asia Pacific countries in 2019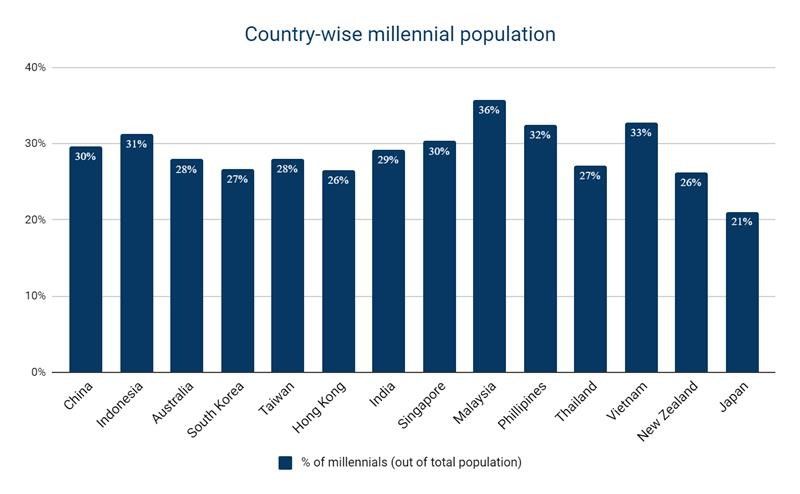 Westpac- The Australian bank allows extension of their mobile banking application to iPhone users, allowing them to link their bank accounts. In addition to that, customers can make payment to pre-existing payees and check their account balance through Apple's virtual voice assistant- Siri.
Kakao Bank-The bank uses the data collected from Kakao Talk (social media messaging app) to understand millennial's behaviour for building personalised products and services
FRANK by OCBC– FRANK is sub-brand of OCBC, launched to target millennial population. The bank uses cutting-edge technology to provide its customers with insightful and agile banking solutions.
Standard Chartered (SC)- SC launched MortgageOne, a product which offsets loan interest with savings account interest. They are currently working with InstaBase to automate due diligence processes used for business criteria, sourcing of information etc.
Credit Suisse- In Singapore, they reward their senior managers with cars, resulting in long-term employee motivation as the automobile laws in the city make purchasing vehicles by oneself a tedious task.
Finin – An Indian Bank which offers great rewards such as complimentary airport lounge accesses, 2% cashback on every purchase and mobile protection plan to secure your smartphone.
While certain banks have understood the behavioural patterns of the millennial customers, there lies a long road ahead of them in fulfilling end-to-end customer requirements.
Conclusion
Approximately 75% of the millennials in the APAC region have a bank account, and 60% of the workforce will comprise of millennials by 2025. To attract this population, banks need to deliver what millennials demand, whether it is convenience in banking or personalisation of services. Millennials, unlike previous generations, do not compromise easily. In conclusion, they might not hesitate to change banks if they are not fully satisfied with their bank's services.
Key Takeaways
Understand millennial banking needs
Focus on millennial behavioural pattern
Provide utmost convenience and accessibility
Innovate business models consistently
End notes
1 & 2 The future of personalisation and how to get rid of it.
3 & 4 Mobile millennials in Asia Pacific.
* Baby Boomers: Baby boomers are the demographic cohort following the Silent Generation and preceding Generation X. The generation is generally defined as people born from 1946 and 1964, during the post–World War II baby boom.
6 Gen X: Generation X (or Gen X for short) is the demographic cohort following the baby boomers and preceding the millennials. The generation is generally defined as people born from 1965 to 1980.
References