What is "neo" about neo banking
Neo banking is the new face of banking, where neobanks are digital-only banks that operate exclusively online without a physical branch network. While these models have existed for the past 5 years, they have seen a sudden popularity gain among the customers, complimenting their mindset shift and the rise of the experience economy. This has given rise to a new set of banks; we characterise them as Neobanks 2.0.
Figure 1: 5 Key characteristics of neobanks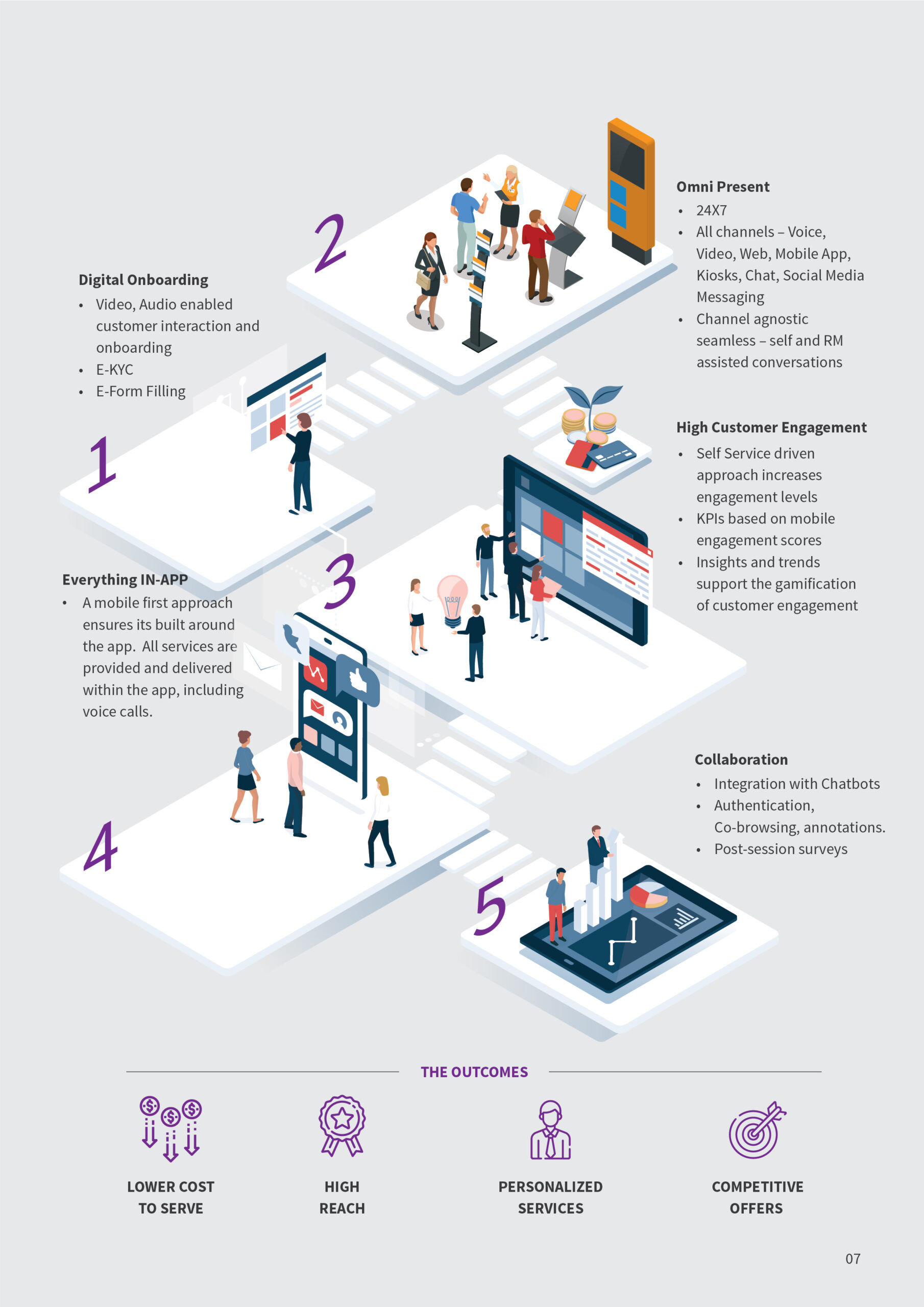 Types of neobanks
Neobanks classify into three broad categories:
Standalone digital-only neobanks
Digital platforms
Digital spin-offs
1. Standalone digital-only neobanks
A bank with a fully operational banking license obtained by the respective regulatory authority in the country of origin
Non-traditional banking players stemming from the telecom, technology industry form consortia to form these banks.
The banks have the liberty to independently roll-out their product and service proposition without a traditional bank's involvement.
They boast their core banking platform as technological innovation, allowing frictionless customer experience and seamless partner integration.
A few banks also choose to have an additional service to operate as banking marketplaces.
Examples of standalone digital-only neobanks in the Asia Pacific: WeBank, MYBank, Judo Bank, Kakao Bank, and ZA Bank.
2. Digital platforms
A digital platform without the ownership of a banking license, offering a suite of products or a unique solution through the operating banking license of financial institutions and banks
The platforms offer products and solutions at a lower cost than the incumbents
These digital platforms often act as banking marketplaces, leveraging open banking practices to provide various financial products offered by multiple players
The differentiation factor for the digital platforms arises with:

A product or a solution niche
A targeted customer segment: Gen Z, millennials, and small-medium enterprises
Frictionless customer experience through their platforms
Examples of digital platform neobanks in the Asia Pacific: Open, Parpera, Grab, Arival, Niyo, Razorpay Fintech.
3. Digital spin-offs
A digital spin-off is an independent digital-only bank created by incumbents
The customer interface and the banking platforms of these spin-offs are completely different from their parent traditional bank
The digital spin-off is specifically targeted toward a niche segment of the customers, millennials, Gen Z who are technologically advanced and highly mobile-dependent
A digital spin-off neobank enjoys the traditional banking capabilities and experience while overcoming the challenges of legacy infrastructures
Examples of digital spin-offs in the Asia Pacific: Digibank by DBS, TMRW by UOB, Frank by OCBC, SBI YONO, 811 by Kotak Mahindra Bank.
Building blocks of a neobank
A neobank is built on five distinctive blocks as described in figure 2 below:
Figure 2: 5 building blocks of a neobank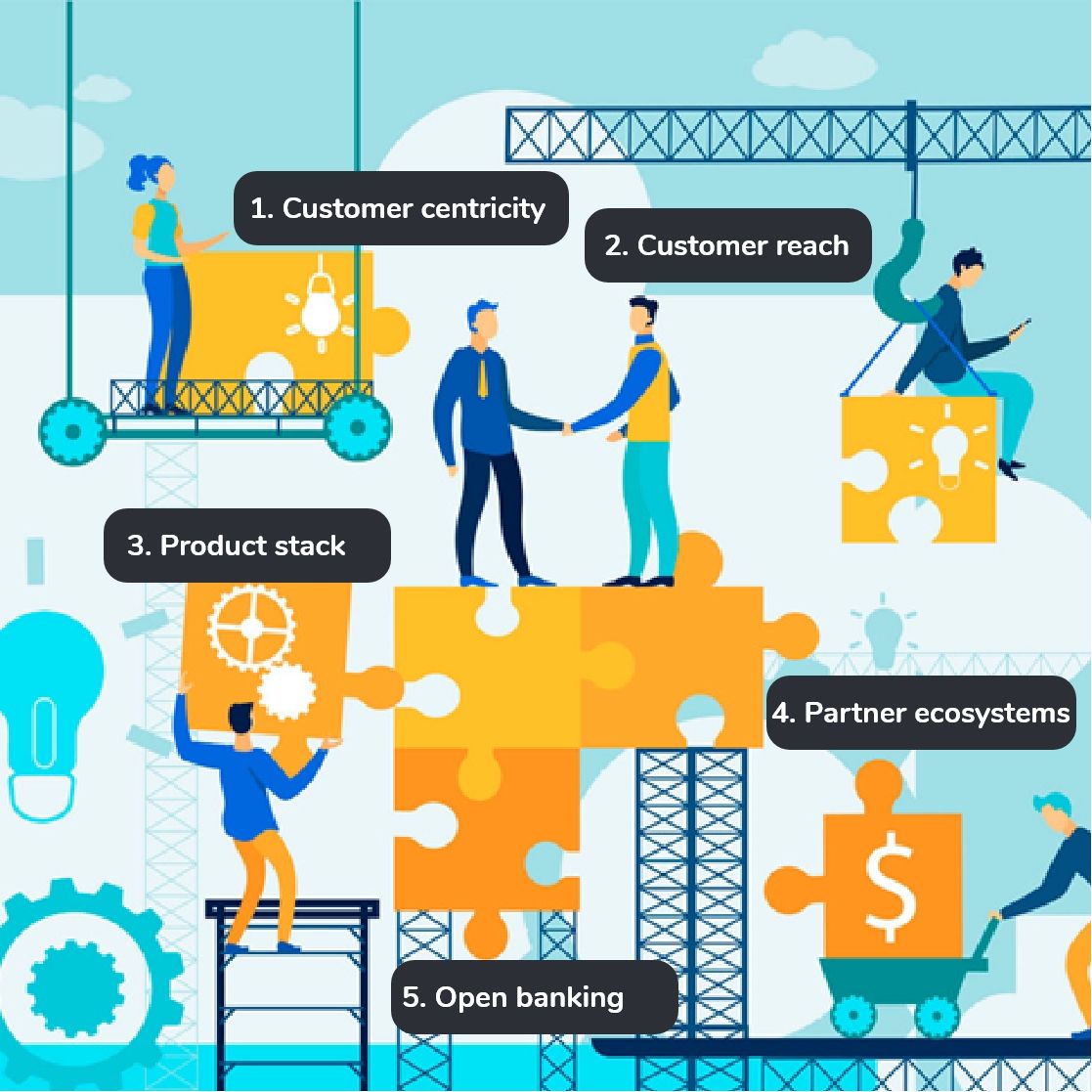 Each building is defined as follows:
Customer centricity: Building a unique personified experience for each customer to achieve customer engagement
Customer reach: Targeting a specific niche of customers to cater to an underserved, unserved, and/or unbanked segment
Product stack: Creating banking solutions to meet customer needs and expectations
Partner ecosystems: Collaborating to support internal and external infrastructural, strategical needs
Open banking: Developing a mechanism of internal, external, and public data use to create products, enhance productivity, build synergies, and introduce revenue streams
Table 1: Deep diving on the building blocks of a neobank
#
Building block
Description
1
Customer centricity
1. Mobile-first approach
2. User-friendly UI-UX design
3. Gamification
4. Hyper-personalisation
5. Real-time notification
6. Virtual assistants and chatbots
7. Market place integration
8. Data security
2
Customer reach
1. Millennials
2. Gen Z
3. Small-medium enterprises (SMEs)
4. Other retail customers
3
Product stack (banking solutions)
1. Mobile application
2. Payments (Retail and business)
o International payments
o Money transfer
o Debit and credit cards
o Virtual cards
o Peer-to-peer payments
o Automated recurring transactions
o Split payments
3. Accounts
o Personal account (Savings/current)
o Business current account
o Joint account
o Teen and kid account
o Multi-currency account
4. Lending (Retail and business)
o Loans
o Business overdraft
o Personal overdraft
5. Business management tools and advisory
6. Insurance
7. Wealth management
8. Spend analytics
9. Rewards and offers
10. Open Application Programming Interfaces (APIs) and third-party marketplace
11. Account aggregation
4
Partner ecosystems
Partnership with:
1. Financial service provider
2. Payment gateway providers
3. Technological infrastructure (For cloud storage and computing, data privacy, and AI, ML, and data analytics)
4. API partners
5
Open banking
Types (Based on who has access to the information):
1. Internal: Developers use within the organisation for internal purposes such as product development, cost reduction, etc.
2. External: Used by partners of the bank such as retail suppliers or businesses
3. Public: Public use for extended research and product development (Only limited information is shared publicly)
Two illustrative examples:
1. Payment authorsation (allowing third-party to initiate a payment)
2. Sharing access to your banking data
4 challenges faced by banks
Next-generation banking needs

Millennials and Gen Z banking needs are radically different from the previous generations
They expect the bank to instill in their daily lifestyle, integrating banking solutions with the underlying needs of the customers
Banks' traditional approach of "one size fits all" toward customers, however, fails in today's world of personalisation

Technology-driven interfaces

Asia Pacific countries made a generation-leap in embracing digitalisation, especially in adopting mobile devices
Platforms, today, are built with state-of-art technologies including, voice chat assistants, artificial intelligence, visual personas, analytical dashboards
Platformication is reshaping the banking industry, hence putting pressure on banks to continuously innovate and adopt which becomes difficult with legacy architectures

Regulatory pressure

Compliance and obligation cost is a predominant challenge for banks while maintaining their profitability and sustainability
New regulations such as Consumer Data Right (CDR) mandating the banks to open their information through APIs with fintech and third-party developers, hence losing customer relationships
Customer remediation measures have become far more stringent than in the past with hefty fines applicable to banks in case of failure to do so

Mindset evolution

The evolution of the younger generation mindset which propagates a sharing economy, putting the existence of traditional products like a car loan in jeopardy
Customers' choice to own and manage their digital identities with control over sharing the personal data based on the value
The need to build their banking marketplace through a combination of products and services from different providers in a single platform
phygital models
Banks adopt
While there is a strong push toward digital adoption, the physical interface between the customer and the bank continues to be an essential factor of engagement. Therefore, for customers and the banks, branch facility is still an important channel of business, especially in Asia Pacific countries like India, Japan, Australia, and Taiwan.
Whereas incumbents are also heavily investing in innovative banking solutions, building a strong digital presence with their mobile application, virtual assistants, and advanced contact center capabilities.
A combination of human and digital interface establishes both customer experience at convenience and physical interaction at disposal with an established technological architecture. This powerful blend is known as a phygital business model, stemming from physical and digital. Banks realise that for a customer making a financial decision is complex, nerve-wracking, valuable, and emotionally important. Hence, it is important to continue building trust and credibility through traditional means.
Phygital models give a competitive advantage to the incumbents to leverage the physical network, data monopoly, and scale of customers over neobanks, bringing stiff competition and consolidation in the market.
Case-in-point
ICICI Bank, creating a symphony of traditional and digital channels
The bank has a strong branch presence in India – 21,000 branches and ATMs
InstaBiz platform, the first business banking platform for individual and small business owners, allowing digital access to 115 products
ICICIStack, a comprehensive digital infrastructure for an uninterrupted online banking experience
88% of the saving account transactions are done digitally
1,151 branches and ATMs added to the network in fiscal 2020
1,638 insta-banking touchpoints
483,538 point-of-sale (POS) machines and 1,791 cash acceptance machines
16.8 million transactions processed through Mera iMobile retail banking application
The Bank's ability to leverage technology combined with analytical insights and partnerships have created new ways of serving customers through digital journeys and one-stop solutions for all banking needs. The insta-lending products, the focus on seamless onboarding of customers, simplifying processes to enable smooth transactions are together creating a rewarding digital experience for our customers. – Girish Chandra Chaturvedi, Chairman
97% of the branches being functional during the lockdown along with an operational ATM network. – Sandeep Bakshi, Managing Director and CEO
3 scenarios shape the future of neo banking
Consolidation

The banks revamp their digital infrastructure to become customer-relevant and compete with the large neobanks and consolidate with the small players
Banks become pure backend providers, whereas consolidating with neobanks to be the face for the customers

Legacy wins

Banks increase their technology investments to provide customer-centric digital, personalised, and omnichannel experience
Neobanks fail to compete with the incumbents' size, aggressive approach, digital infrastructure, and customer trust. Hence begin to lose valuation, leading to the closure

Technology behemoths

Players such as Google, Amazon, Alibaba, Tencent, Facebook become industry invaders creating a huge expectation between the incumbents and customers
Technology giants capture market share with state-of-the-art digital experience, customer loyalty, and massive data pools to construct, disrupt, and reconstruct banking solutions