United as one, we shall work harder; the greater the difficulty, the further we advance – Zhang Jinliang (Chairman, Postal Savings Bank of China)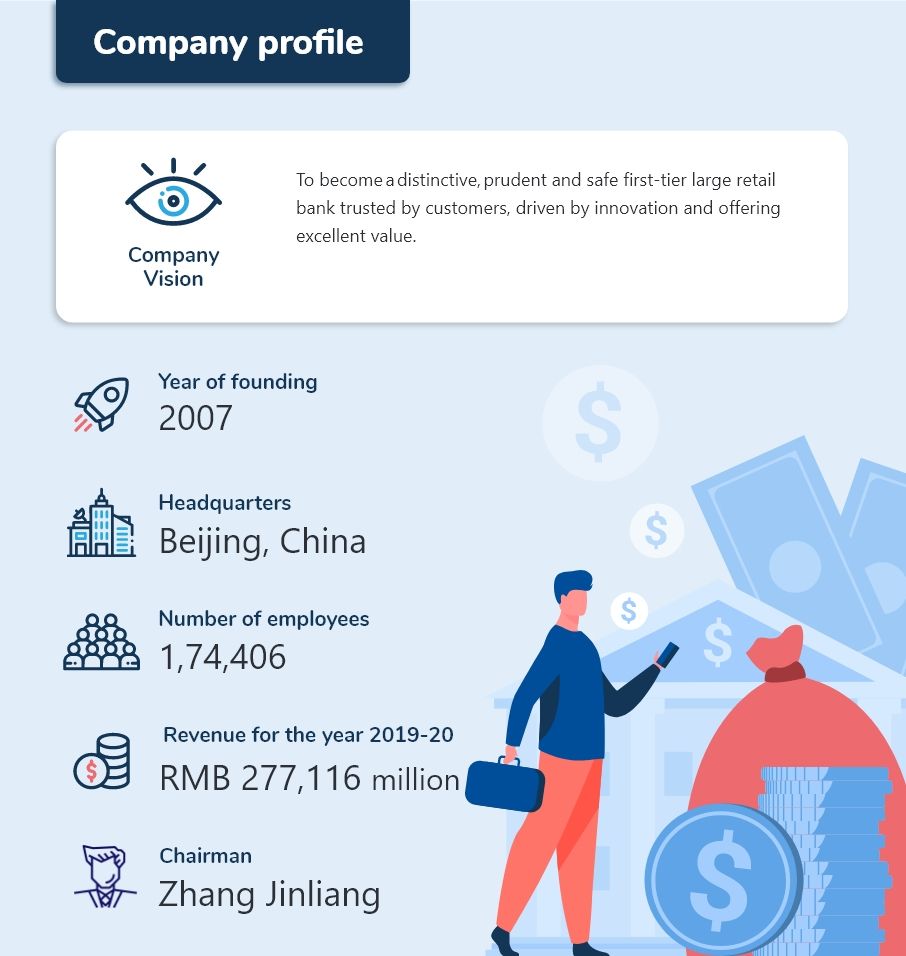 About the bank
The Postal Savings Bank of China is one of the four big banks of China, with:
600+ million unique customers
40,000 outlets (27,700+ in Rural China)
98% of the country covered
71% of the business coming from the rural areas of China
The bank focuses on providing financial services to 'Sannong'. 'Sannong' refers to the three issues relating to rural development in Mainland China. These three issues are:
Agriculture – the issue of industrialising agriculture in China.
Farmers – the problems include improving the income level of the farmers, alleviating the burdens of the farmers, increasing the cultural qualities of the farmers, and safeguarding the rights of the farmers.
Rural areas – there is a need to narrow down economic disparity and cultural development between the urban and the rural areas.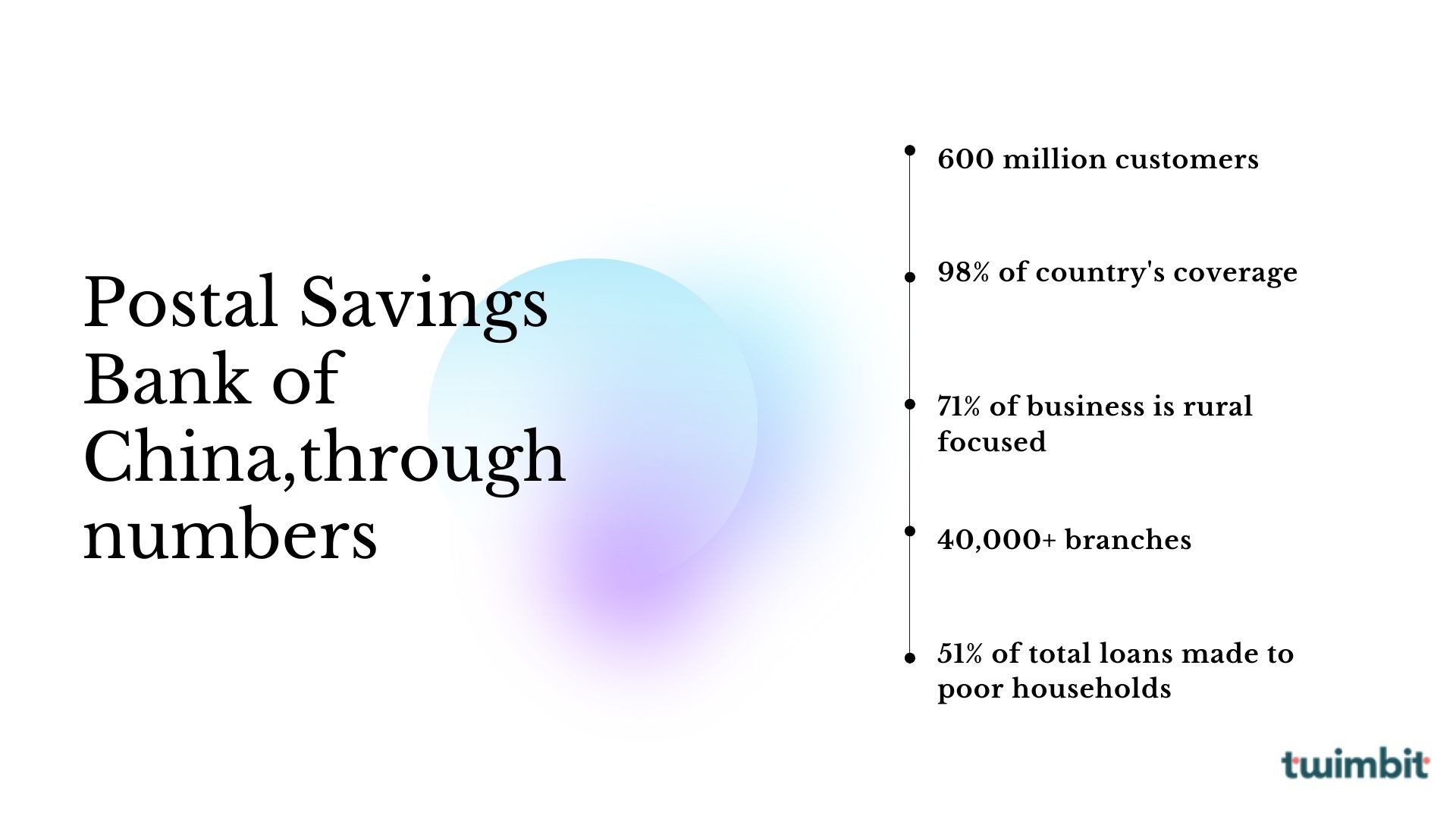 Challenges
Postal Savings Bank of China, identifies that the Chinese villages lack banking infrastructure. It further realizes the importance of:
Last-mile delivery of banking services
Micro-credit
Tailor-made custom banking products
How is Postal Savings Bank of China driving financial inclusion in China?
Postal Savings Bank of China is driving financial inclusion in four key ways:
Reach: PSBC operates the largest fleet of banking outlets in the country that covers almost 98% of China. The bank alone has over 27,700 outlets in rural China and with the help of over 152,000 agent-based service points, it can deliver banking services to the remotest location. 
MicroCredit: PSBC has a high commitment to developing business and supporting farmers with microcredits. As of the end of 2019, the balance of inclusive financial loans to small and micro businesses amounted to RMB653,185 million, and the total cumulative loans granted throughout the year amounted to RMB605,960 million, representing a net increase of RMB108,194 million compared with the prior year-end.
Tailormade products: PSBC identifies and appoints local graduates as loan officers who can custom make products to suit the residents' needs. Meanwhile, at PSBC headquarters in Beijing, a risk-control IT system monitors each loan disbursement.
Innovation and Technology: PSBC is improving the effectiveness of micro-credit schemes in Rural China by developing a specialized credit technology called 'IT-PADS' (I-Industry Screen, T-Target Market, P-Project Constitution, A-Authorization, D-Development, and S-Supervision). To encourage automation, the bank is using functions such as electronic signatures, electronic maps, and face recognition.
People strategy
The PSCB is committed to serving the human capital in the following ways:
Employee Representative Assembly: In 2019, PSCB laid the foundation of the Employee Representative Assembly system. The assembly consists of employees elected from the various business segments of the bank who will work for employee welfare. The assembly will be liable to make decisions on issues relating to human capital, such as on remunerations, welfare schemes, misconduct, etc.
Training and Development: PSCB organizes targeted training and development programs for employees: 

For executives, to enhance their leadership and managerial skills
Training for the professionals, to enhance their domain expertise
For tellers, to enhance their customer service techniques
Training for the salesforce, to enhance their marketing capabilities
Technology strategy
Technology Innovation Fund: PSBC has set up the Technology Innovation Fund to encourage the development of new products and services in the field of cloud computing, security, big data, and artificial intelligence.
PSCB Canteen: PSBC operates PSCB Canteen, a value-added platform, where suppliers provide their products directly to the members of the platform at lower prices. Through popular activities, featured benefits, conveniences, and discounts, the platform attracts customers to join as members and penetrates all kinds of life scenarios such as food, clothing, housing, transportation, health care, education, recreation, and sports.
Face recognition payment system: PSBC has combined big data and artificial intelligence to launch a face recognition payment system. The system is a safer and faster alternative to password-based payment systems.
Partnership strategy
Postal Savings Bank of China, with Ant Financial to focus on online lending, digital payments, and rural finance.
Postal Savings Bank of China, with IBM to develop a blockchain-based asset management system.
The way forward
Postal Savings Bank of China operates over 40,000 Banking outlets in China and has over 152,000 banking agents. It plans to expand the reach in three key ways:
Firstly, by investing at least 3% of annual revenue in technology. In due course, the bank plans to hire more talent and by 2023, double their IT staff.
Secondly, PSBC is embracing 'touchless business' by building an ecosystem that integrates both the online and offline segments of the banking business.
Thirdly, to generate new revenue streams and share mutual benefits, the bank will promote open banks.