Key highlights:
Public cloud accounts for 3.63 percent of the total IT spending in Malaysia. This makes Malaysia the second biggest cloud market in ASEAN behind Singapore.

Software-as-a-Service (SaaS) is the biggest market segment accounting for US$402.6m. Infrastructure-as-a-service (IaaS) is the fastest growing at 17.21 percent and is estimated to cross US$260 million in 2023.

Digital native businesses are the engines of growth for the Malaysian IaaS market. They accounted for US$53 million of all IaaS revenues in 2020. These companies are the fastest growing in the country. This sector alone generated a revenue over US$4.45 billion in a single year.
Government and FSI are limited by regulatory and compliance challenges that slow down the adoption of public cloud. The government is adopting a Cloud First Policy starting from Q1-2021 and should positively impact cloud adoption in these industries.
The Market Matrix
Key Market Drivers
Digital Native Businesses (DNB) booming in the market – Malaysia has a well-developed digital economy with over 3000 start-ups. 96 of these start-ups have a valuation of US$100 million each. These digital native businesses which are built on the cloud contribute US$53.5 million to the total expenditure on IaaS.
Accelerating Industry 4.0 cloud adoption – The Industry4wrd policy established by the Ministry of International Trade and Industry (MITI) to facilitate and encourage digital transformation in the manufacturing sector by providing comprehensive and systematic guidelines towards embracing digital technologies such as cloud. In addition, Malaysia is home to many global rubber glove manufacturing companies namely Top Glove (the largest glove manufacturer in the world) and Hartalega. These companies spend about 1 percent of their total revenues on ICT and are leading adopters of public cloud.
Top Industry Challenges
Limited clarity on regulations – Two of the leading vertical segments, viz., government and the financial services have been slow to adopt the cloud. The financial services industry has been at the forefront of digital transformation in the country. However, a lack of clear understanding of the compliance obligations required by the Central Bank has resulted in limited adoption. As a result, the sector only spent US$3.2 million in 2020 for IaaS. Banks such as Maybank and CIMB have embraced public cloud solutions for prototyping and testing. Nevertheless, they still resort to on-prem infrastructure once these prototypes materialize and become the overall solutionary infrastructure. Many government agencies have also been slow to adopt the cloud, citing concerns around security. This is likely to change as industry leaders expect the government to announce the Cloud First policy in early 2021. Consequently, following the announcement, and clearer guidelines, this should pave the way for higher cloud adoption.
SME sector slow to adopt cloud – SMEs account for 81 percent of the total number of businesses in Malaysia. Nonetheless, misconceptions have led to a rather slow adoption. For example, many assume high costs associated with the transition to cloud and a difficulty in attaining the cost benefits of adopting cloud in the short run. Studies of Malaysia's business ecosystem have shown that only around 32 percent of SMEs are ready to adopt new technologies.
Market Size and Growth Trends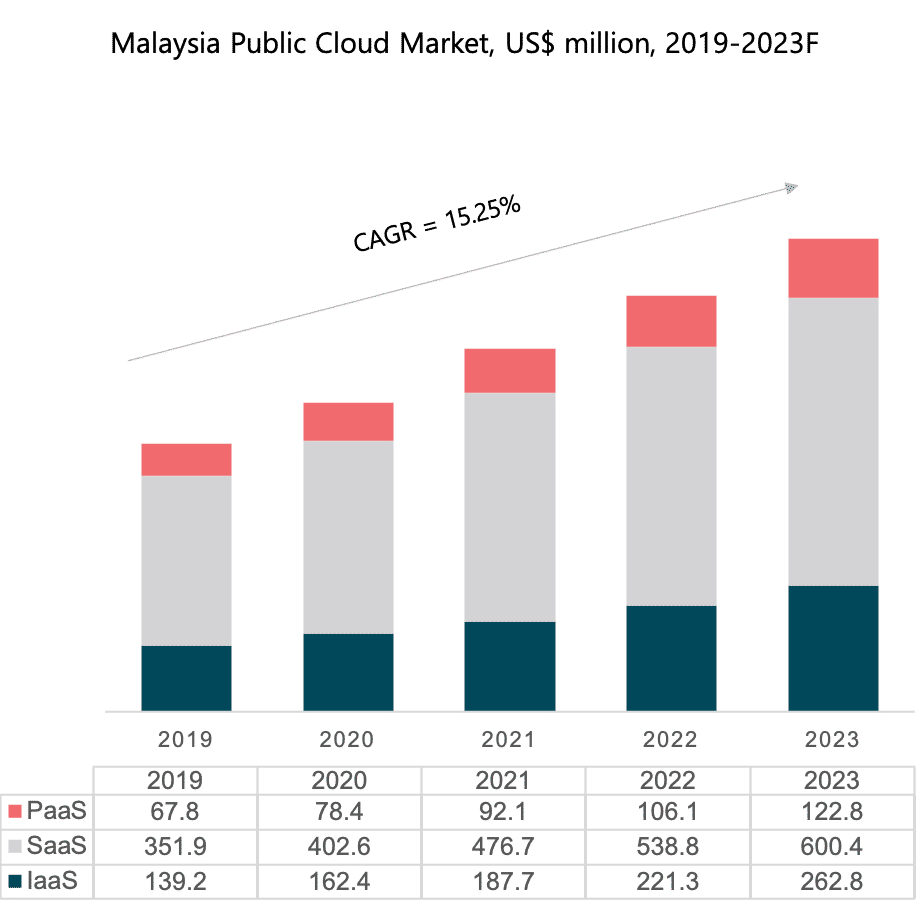 Trends by key segments
Small/Medium Sized Enterprises (SMEs)
In 2019, SMEs in Malaysia contributed US$ 143.4 million to the country's GDP, with the services and manufacturing sectors contributing 83.1 percent to the total value. While the growth of the SMEs has been consistent in the past 3 years, the unprecedented Covid-19 pandemic is bound to negatively impact the industry. Now, there is a dire need for SMEs to create an agile digital workplace that allows employees to collaborate more securely.

The Malaysian government continues its efforts in ensuring the growth of this sector by making available several grants worth US$ 134.4 million to the entire industry.
Enterprises
Enterprises in Malaysia such as Petronas and Star Media Group contribute an average of US$ 5 million to the IaaS market. Lately, this sector has been riding the digitalization wave by adopting technologies such as AI and IoT in order to automate their systems.

Enterprises continue to contribute big amounts to the local public cloud market. In the last 5 years, there has been an estimated 34 percent increase in the public cloud adoption rate amongst enterprises.
Key Analyst Takeaways
Cloud computing is a pillar on which stands the ecosystem of the digital transformation technology. The sectors in Malaysia are quickly adopting this technology at their capacity. The E-commerce industry is anticipated to contribute US$51.56 billion to the country's GDP. As a result, this will make way for more internet based companies in Malaysia.

Government adoption will be the biggest catalyst. Therefore, the strong advocacy of public cloud by companies such as TM will positively influence adoption amongst GLCs and large local conglomerates.

Another industry that has recently emerged in Malaysia as a result of digitalization is digital content creation. Malaysia is home to a rapidly growing digitally creative populace with animations, video games and movies at the forefront. This will definitely be a significant growth driver for the nation.

Malaysia has the potential to be a hub for many global, and regional cloud consulting companies to serve Asia Pacific as a region. Therefore, there is a need to build the talent pool locally as well as attract talent to support this development.

Malaysian consumers are demanding digital services, pushing many of Malaysia's largest direct-to-consumer companies to accelerate their digital transformation.