I am confident that in its new avatar, Punjab National Bank 2.0 will scale still greater heights and continue its growth trajectory. – Shri CH. S. S. Mallikarjuna Rao ( MD and CEO, Punjab National Bank)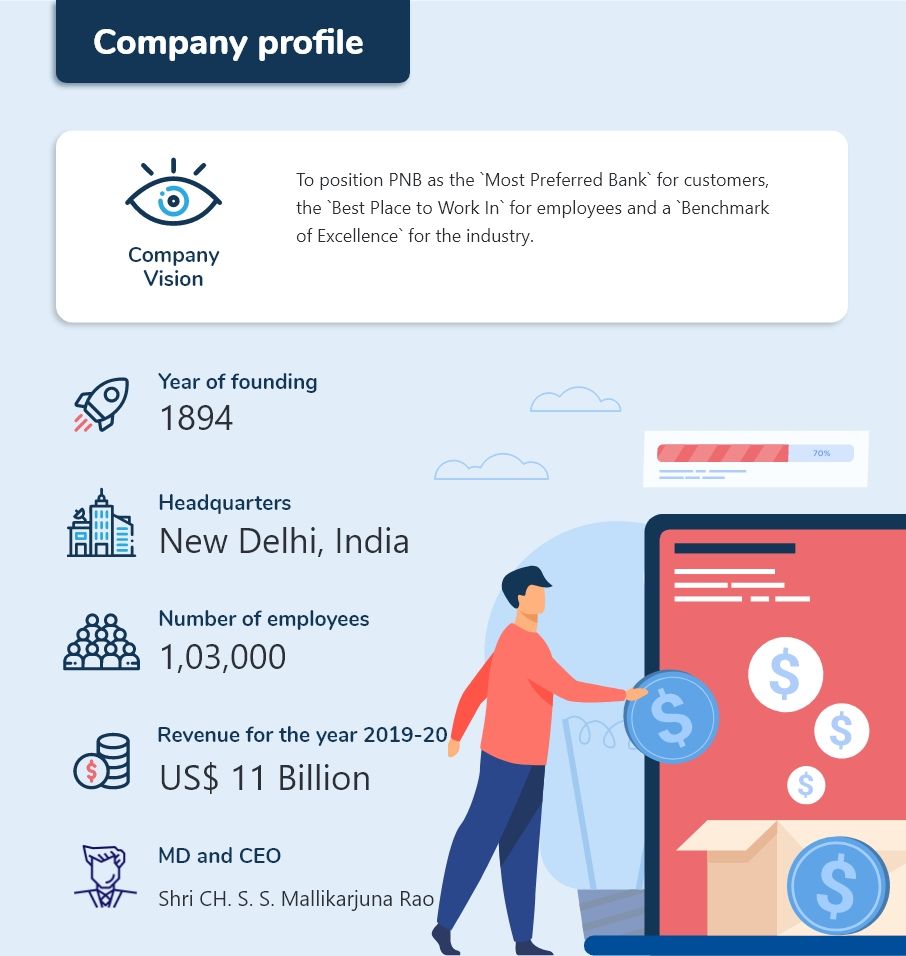 About the bank
Punjab National Bank commenced operations from Lahore, on April 12, 1895, with an authorised capital of Rs 2 lac and working capital of Rs 20,000. Today, Punjab National Bank is the second-largest public bank in the country. The Bank was established with the spirit of nationalism and was the first bank purely managed by Indians and with Indian Capital. During the long history of the Bank, 7 banks have merged with PNB.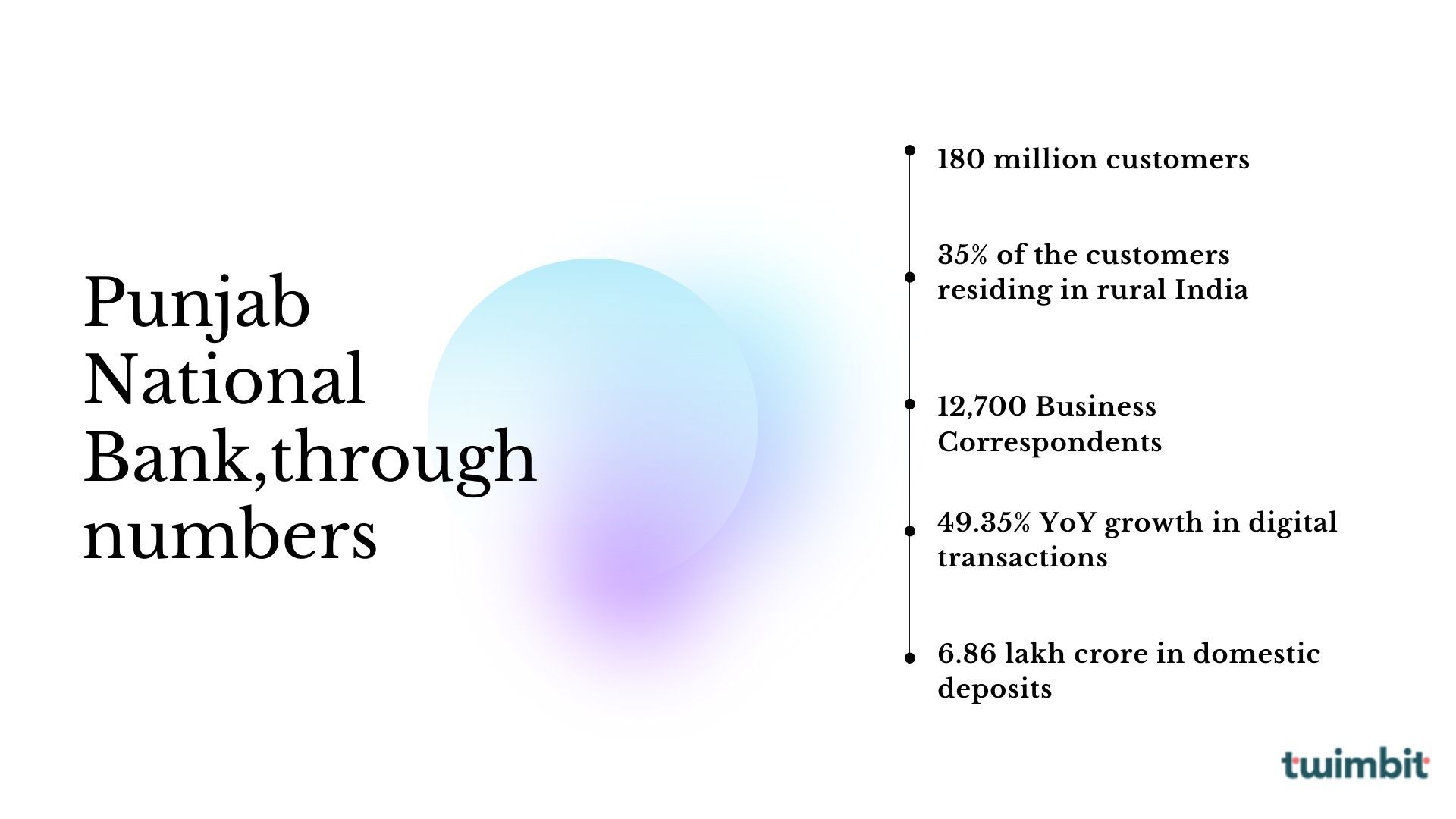 Challenges
Punjab National Bank is India's oldest bank and one of the first few banks to work on financial inclusion. In the course of doing so, the bank identifies three key challenges:
Rural reach
Custom-made banking products
Lucrative savings schemes
How is Punjab National Bank driving financial inclusion in India?
To date, Punjab National Bank has successfully served the unserved in different ways and means:
Over 60 percent of the bank's branches are present in rural and semi-urban parts of the country. These branches cater to almost 35% of its 18 crore banking customers.
All the six lakh villages of the country are mapped to at least one of PNB's branches/banking outlets to create 'sub-service areas'(SSA).
PNB is successfully leveraging the services offered by its 12700 Business Correspondents (BCs). With the help of the business correspondents, PNB is providing basic banking facilities like the opening of bank accounts, withdrawals, deposits, transfers, and mini statement facilities.
Punjab National Bank's micro deposit scheme 'PNB Sanchay' is inculcating the habit of savings in its FI customers.  The scheme has been designed for a fixed period (like term deposit) with the aim to accumulate the small deposits into a lump sum amount for future requirements.
Mudra Loan Product on the pnbloansin59minutes.com portal provides digital loans to customers with low credit requirements.
PNB provides an overdraft facility of up to Rs. 10000 to eligible people in PMJDY accounts.
People strategy
To enhance productivity and efficiency of its employees, the bank has taken a number of measures:
Mandatory leave policy gives an opportunity to the employees to take a break from work and rejuvenate themselves to perform better.
PNB knowledge park contains exhaustive study material in the shape of lessons updated on a weekly basis. The site is for quick reference to key areas of banking.
 PNB UNIV, the bank's web, and mobile app, an exclusive e-learning platform is accessible 24×7, to all employees across the country and abroad. This interactive model of learning covers Banking topics on various focus areas viz. credit, foreign exchange, retail banking, CBS/IT, KYC, AML, risk management, and even the 'train the trainer' programs for BCs, etc.
Technology strategy
PNBONE, the banking app of Punjab National Bank hosts features like PIHU- the AI chatbox and PNB Suraksha, and an additional cheque authentication feature for the safety of cheques issued by customers.
PNB has upgraded the core banking business to Finacle 10. Finacle is a core banking product developed by Infosys that provides universal Digital banking functionality to banks.
PNB-Verify is a device binding solution for retail internet banking users, in which the transactions can be authenticated using the Mobile application in-app notification instead of using the typical SMS-based OTP.
The way forward
Post amalgamation, as the second-largest public sector bank in India, PNB will have new opportunities due to a wider customer base and their credit demands. Going forward, Punjab National bank will base its business on four pillars:
Customer centricity i.e. prioritizing the needs of the customers.
Verticalization and segmentation i.e. segmenting various verticals of the business to increase efficiency in business operations.
Technology and digital delivery i.e. focus on onboarding and serving the customers digitally.
Human Resource i.e developing human capital for sustained and perpetual growth.