The underserved Asia Pacific small-medium enterprise market provides growth opportunities for fintech companies and the region's leading financial institutions. A combination of technology and new business models will pave the way for the eventual winners of this largely untapped market segment.
Introduction
SME's are the backbone of the economy of every country globally. They account for about 95% of the total number of companies registered and 50 percent of the total employment for major countries. By 2030, it is estimated that SMEs will account for 50% of the total GDP in the Asia Pacific region.
SMEs can be defined as companies with less than 250 employees. Figure 1 shows the country-wise distribution of SMEs across all countries in the Asia Pacific region.
Figure 1: SMEs as a percentage of the total number of businesses in the Asia Pacific, 2018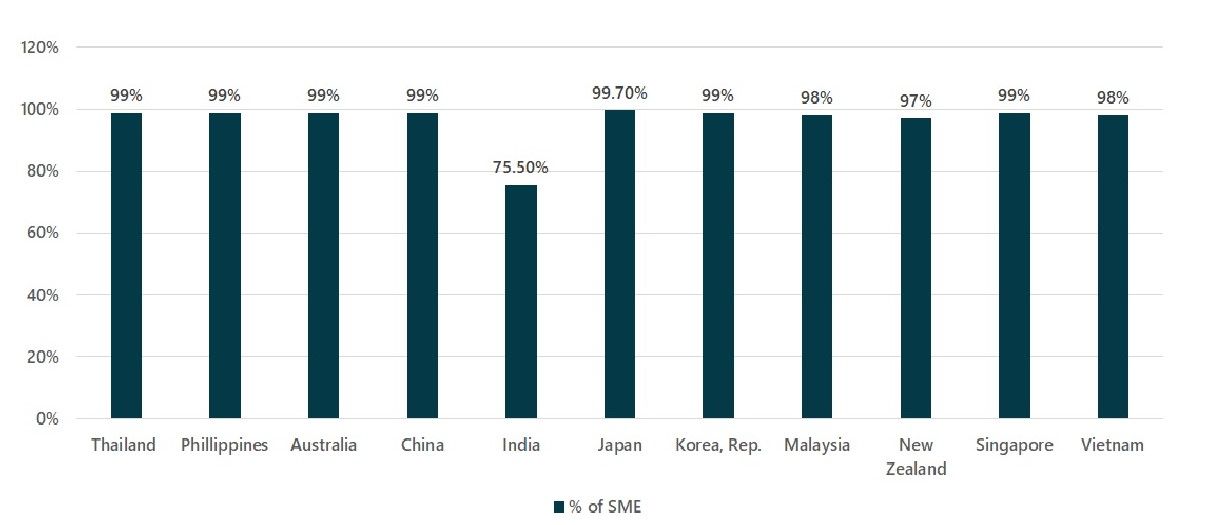 Table 1: Country-wise SME statistics, 2018
| | | | |
| --- | --- | --- | --- |
| APAC regions | Number of SMEs | SME as % of total | SME contribution to GDP |
| Thailand | 2,872,026 | 99 | 43% |
| Philippines | 816,759 | 99 | 36% |
| Australia | 2,309,436 | 99 | 34.20% |
| China | 74,000,000 | 99 | 60% |
| India | 63,388,000 | 75 | 29% |
| Japan | 3,500,000 | 99.70 | 50% |
| Korea, Rep. | 3,550,000 | 99 | 51.20% |
| Malaysia | 645,136 | 98 | 38.30% |
| Indonesia | 62,922,617 | – | – |
| New Zealand | 476,709 | 97 | 28% |
| Singapore | 263,000 | 99 | 45% |
| Vietnam | 5,648,000 | 98 | 40% |
Source: Twimbit analysis
Figure 2 shows the SME contribution to GDP for the various countries in the Asia Pacific. It ranges from a low of 28% of GDP in New Zealand to a high of 60% of GDP in China.
Figure 2: SME contribution to GDP for 11 countries in the Asia Pacific

Underserved market
It is estimated that the total demand for financing amongst SMEs in the Asia Pacific is US$5.245 trillion. Only 54% of this total demand is today met by the various financial institutions. Consequently, it represents a huge untapped opportunity (Figure 3).
Figure 3: The underserved SME market in the Asia Pacific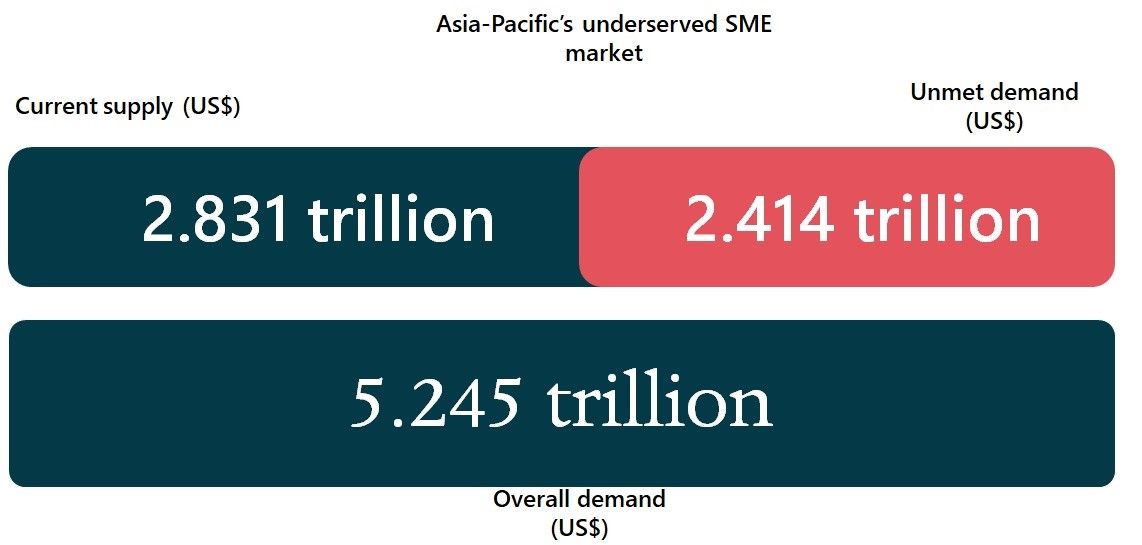 The arduous and time-consuming paperwork combined with the slim prospects of getting the financing have for long limited the growth of this market. Banks have always perceived lending to SMEs as high risk. Figure 4 below shows the percentage of SME's constrained by financial credit by country.
Figure 4: Credit constrained SMEs in the Asia Pacific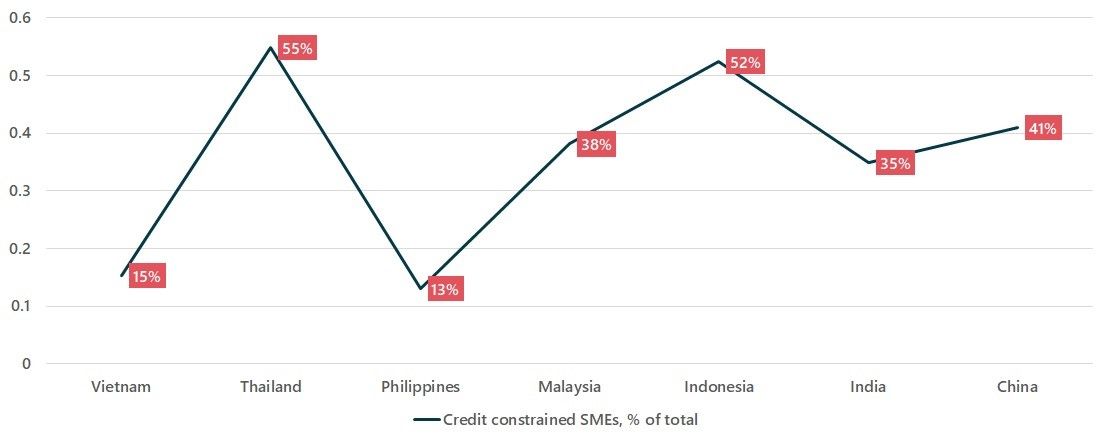 Most Asia Pacific countries fall under the lower-middle-income group, where the informal, rural SME sector is a large part of the overall SME market. Informal SMEs refer to the entities that are not officially registered with the Registrar of Companies in their respective countries. In today's banking environment, accessibility and awareness of financial aid are non-existent for them. In conclusion, estimates of the informal sector in Asia Pacific economies vary and are guaged to be as high as 30 percent of the total number of enterprises across the region.
The challenge in SME lending
The challenge for the banks and the financial institutions lies in their inability to accurately assess the creditworthiness of the SMEs. Moreover, credit risk assessments are based on the traditional norms of evaluating the company's financials. As a result, the risk costs associated with SMEs are much higher, compared to that of large enterprises.
Non-Performing Loan (NPL) ratios for SMEs are higher than large enterprises and vary between 2 to 12 percent for most countries in the region. This adds to the high cost of financing for SMEs. According to Mckinsey Global Banking Pools, the non-performing loan (NPL) ratios for SMEs are high in Thailand, Vietnam, and Indonesia and at 11.7%, even higher in India. The inability to fulfil financing needs from banks lead the SMEs to alternate financing mechanisms (Figure 5) at much higher loan cost. Covid-19 is putting the lives of the SMEs in rather harsh circumstances, with over 50% of them stating drastically decreased sales or having had their businesses shut down altogether1.
1 Source: Accenture Purpose-Driven Banking Survey, second post-COVID-19 wave, April 2020
Figure 5: Alternate financing mechanisms are SMEs' favorite in Asia Pacific

SMEs in the digital world
In the digital world, SME lending is a huge growth opportunity for banks, neobanks, virtual banks, and SME lending platforms. They can utilize the power of digital channels to reach the mass SME market which remains untapped in the Asia Pacific.
In today's scenario, the regulatory authorities across the Asia Pacific are bullish toward the digitalisation of SMEs and Micro SMEs. Further, they are encouraging healthy competition to uplift the underserved SME market. This competitive landscape involves the use of business platforms, open data-application programming interfaces (APIs), and advanced analytics to build SME products. For example, Judo Bank, WeChat, MYbank, GrabPay, Open, Stripe, PayTM, and Rakuten are shifting from just commoditised lending solutions to delivering end-to-end digital services, going beyond financing needs.
Example: MYbank (Ant Group) operates a fully digitised SME services platform, which enables a customer to secure a loan within 3 minutes. Mybank has created the intelligent loan application process by capturing customer data of 550 million active users on Alipay's platform, coupled with Credit Sesame's big data credit rating system. It boasts a non-performing loan (NPL) ratio of only 1.3% lower than the national average of 1.89%. It further attracts activity on the platform by linking to Alipay's API for providing additional services.
Conclusion
In the Asia Pacific region, SME is a US$2.5 trillion opportunity for the financial services industry. The integration of a multitude of technologies will help companies effectively address the challenge of high NPLs, poor access, availability of information, and informality in the sector. The regulatory intervention will be a further catalyst as governments will seek to propel the regional economies as they look at recovering from the impact of Covid-19.