Introduction
As our research states, small-medium enterprises (SMEs) are the underserved segment of most Asia Pacific countries. While SMEs struggle to gain financial credit, market players, including banks, neobanks, and fintech companies, are redefining the way to conduct SME business.
Incumbents or legacy banks continue to provide in-person branch support with a radical shift toward digitally supporting SMEs.
Neobanks and fintech companies harness the power of data, technology, and partnership to create a pure-play customized digital offering for SMEs.
Two ways in which the industry is solving the financial credit gap for SMEs
Incumbents: The banks realize the opportunity loss and are changing the historical approach taken in catering to SMEs. Further, banks are under competitive pressure to change the conservative perception built around providing SME financing.
Neobanks and fintech: The aggressive, customized, and collaborative approach toward understanding the financial need and in addition to that, SME owner's propensity to repay is helping fintech companies address the credit gap.
For example, a unique model to address the immediate needs of the SME owners is the Buy Now Pay Later mechanism. It enables them to access an easy credit line with the click of a few buttons. While this model is successfully adopted in the retail segment, banks, neobanks, and fintech companies have begun to test it for the SME segment as well. For example, ePaylater (India), offers instant credit to SME owners for setting up or running their businesses.
4 Key lessons for incumbents to learn from new-age SME focused neo-banks and fintech
Collaboration: Identify propositions that complement the bank's strategic vision to gain from added synergies. These propositions are technology know-how, product models, data, and experience of operating in complex countries.
Customer acquisition: Build and provide products and services personalized to the SME owner's needs.
Customer retention: Sustain and grow relationships beyond catering financing needs, while becoming a part of the customer's business journey.
Start-up mindset: Become a risk taker rather than a risk-averse entity to experiment and test innovative solutions for SMEs.
Segmenting the addressable opportunities for SME banking
The growth opportunity for SME-focused players is dependent on two key factors:
Knowledge of creditworthiness: It defines the level of information available for the SME lender to accurately assess the credit profile of the business owner.
Digital adoption: It determines the rate of adopting digital tools for SME business.
With the onset of Covid-19 channelizing the above-mentioned factors suited to today's scenario, a rapid shift toward people's needs and accelerating digital adoption has been triggered. Hence, the framework in the below Figure 1 illustrates the industry-wise growth opportunities in the SME segment.
Figure 1: Twimbit's SME Growth Opportunity Industry framework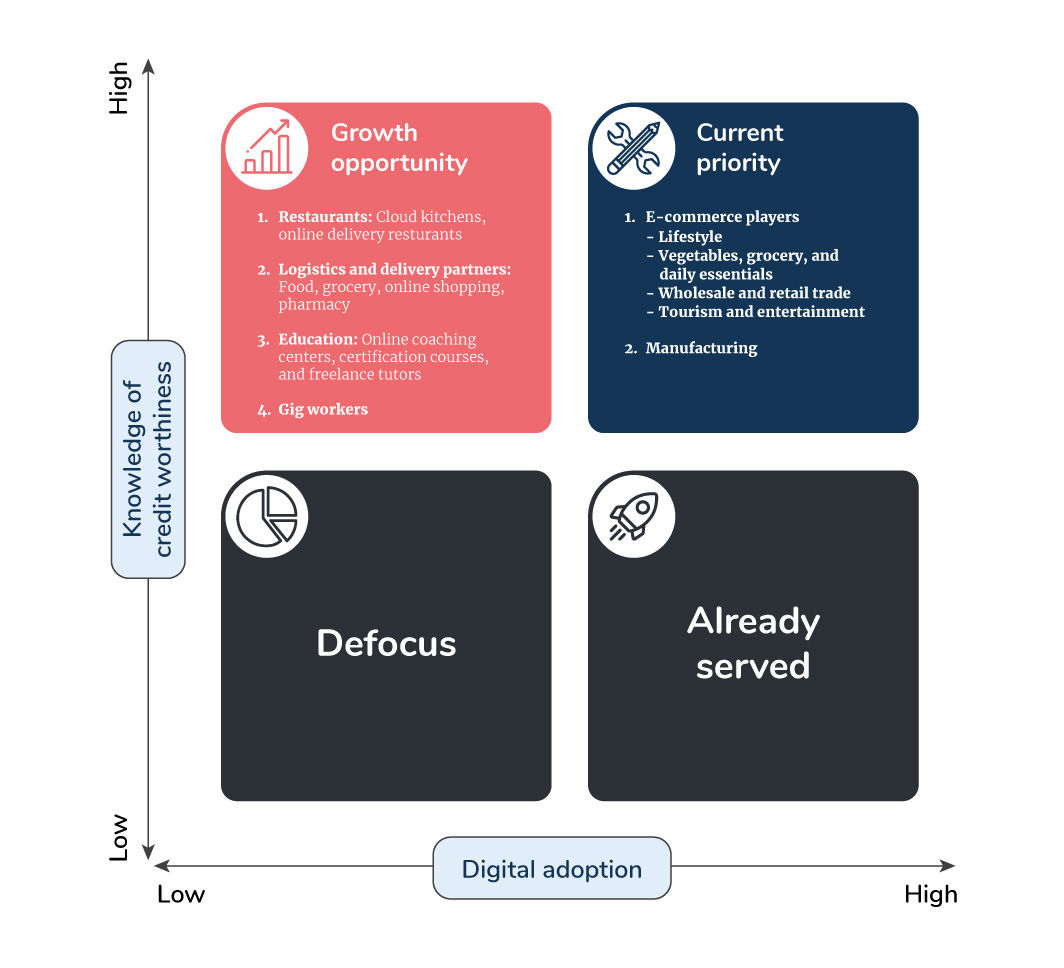 Multiple players are focusing on specific sectoral needs based on bifurcation of need and ticket size of the loan, especially if you look at the manufacturing and transport industry. However, in my view, not any specific player(s) is targeting a particular industry as a whole. – Shelly Arora
Typically, in Southeast Asia, and certainly from my experiences having worked in Singapore, a lot of the population is mostly dependent upon the food delivery chain, and while people are not willing to go out and eat in the current scenario, they still want to eat out so they're just calling in, they are ordering in, and the model is picking up more and more… – Kunal Patel
Authors
Twimbit facilitated a conversation with two industry leaders, Shelly Arora and Kunal Patel. We discussed the SME-focused market players and their unique propositions to serve the SMEs. Each participant's view is expressed in their personal capacity and does not necessarily reflect the views of their respective organisations. We thank our panelists for their contribution.