FY2020 was another year of balance sheet strengthening, on the back of secular progress across all our business segments. – Rajnish Kumar (Chairman, State Bank of India)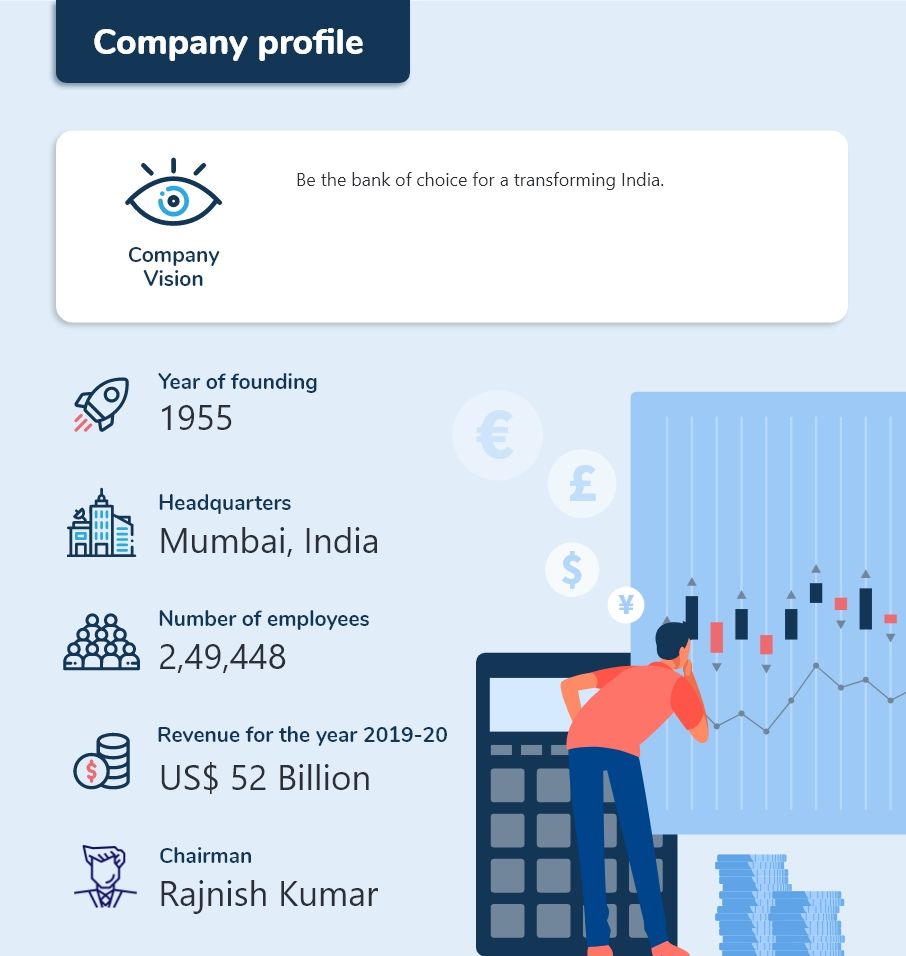 About the bank
With a legacy of over 200 years, State Bank of India (SBI) is an Indian multinational, public sector banking and financial services statutory body. For SBI, the interests of the common man always remain at the core of its business. The bank has a strong portfolio of distinctive products and services, and leverages technology to deliver and manage them in a personalised and customer-centric way.
Headquartered in Mumbai, SBI provides a wide range of products and services to individuals, commercial enterprises, large corporates, public bodies, and institutional customers through its various branches and outlets, joint ventures, subsidiaries, and associate companies.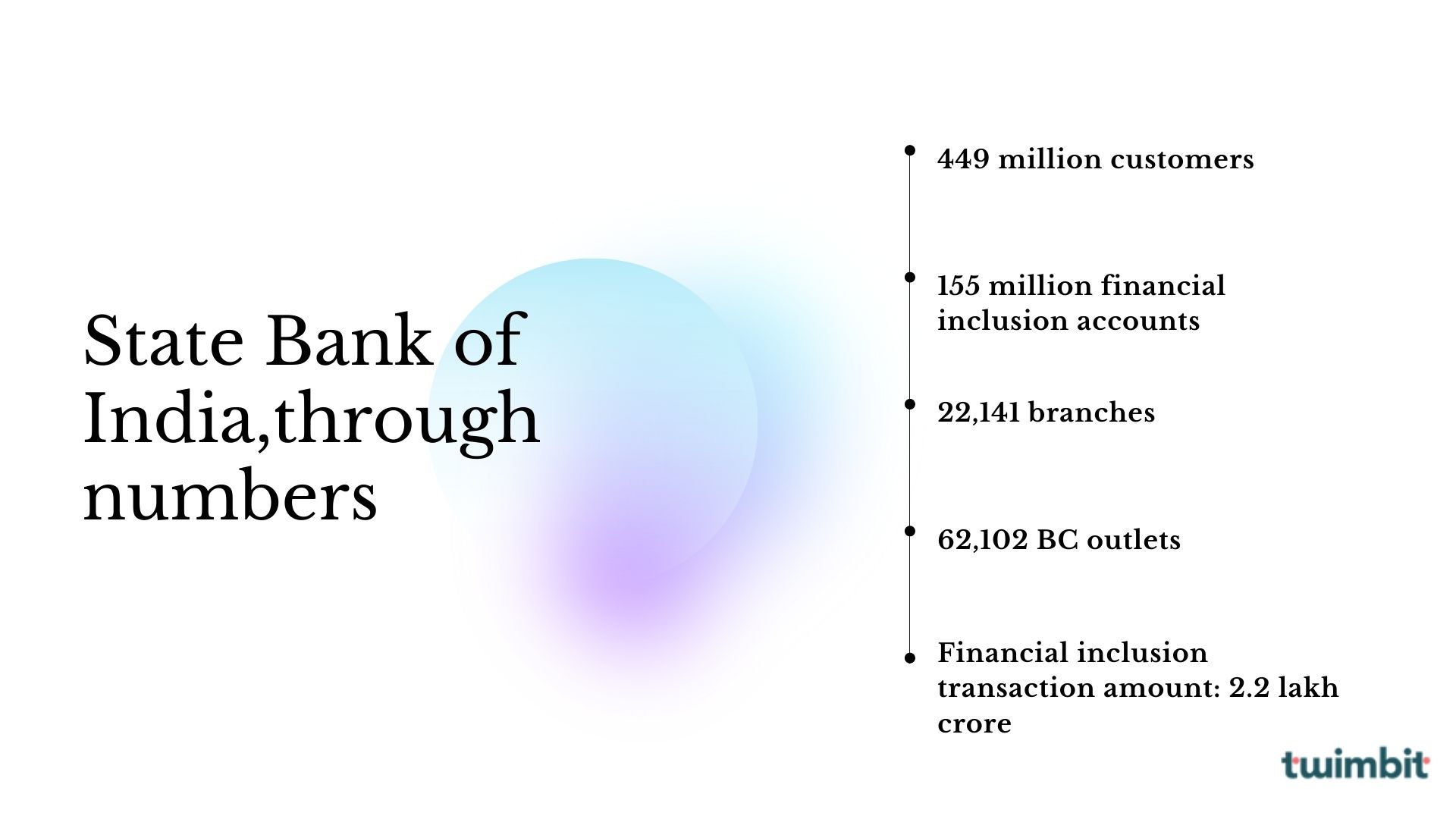 Challenge
State Bank of India, the largest of all Indian banks identifies the following FI challenges:
Lack of reach in rural areas
Personalisation of banking services
Lack of representation
How is SBI driving financial inclusion in India?
SBI was serving the underserved way before the term financial inclusion was coined. To accomplish that, SBI adopted the 'Kiosk Banking' model. Under this model, the bank sets up a kiosk-like structure in the village or an area where the bank lacks presence. These kiosks are known as Customer Service Points and provide the following services:
Urgent money transfer to any bank account
AEPS facility i.e. Aadhar Enabled Payment System
Balance inquiry/IMPS transaction
Issuing of identity card/Rupay ATM card
Withdrawal/Deposit of cash
Recurring deposit/Loan deposit
Electronic-KYC enrolment/Fixed Deposit
Social Security Schemes like PMJJY, PMSBY, and APY
The success of this kiosk banking model has compelled other banks to adopt the same. SBI now provides doorstep banking through its business correspondents (BC). The year 2019-20 saw 49.29 crore financial inclusion transactions through BC channels. To strengthen the financial inclusion initiatives, SBI launched the FI&MM vertical (Financial Inclusion and Micro Market) on the 1st of June,2020.
People strategy
Establishing an independent ethics and business conduct vertical headed by a Chief Ethics Officer.
SBI has adopted a 'Branch Manpower' model for manpower planning, and to ensure optimal utilisation of human resources. The Model is based on the productivity parameters at the branches such as 84 work-drivers of operations, transaction load factors, the number of advance accounts, feedback from the operating units and organisational structure, amongst others.
SBI Gems is a structure to recognise and promote exceptional performers.
To drive a cultural change in the bank, a mid-year online feedback process was launched for all officers.
Technology strategy
State Bank of India is leading the digital banking drive in India. YONO is a digital banking app launched by SBI and already has over 46 million downloads. Apart from the banking facilities, YONO also facilitates lifestyle needs like membership shopping and discount privileges.
SBI has introduced many new services such as Real-Time Demand Loans for e-commerce transactions, pre-approved merchant loan,s integration with merchants in the UPI platform for providing financial services through online and QR applications, and National Common Mobility Rupay cards on qSparc specification to ensure seamless mobility to commuters across the country.
Furthermore, in order to enhance financial inclusion and add customer convenience following new facilities including bill payment through FI channel (BBPS), doorstep banking and Aadhaar data vault in BC channel were also introduced during the year 2019-20.
Partnership strategy
State Bank of India with UBER to provide instant vehicle finance to driver-partners
With Ezetap for merchant acquisition through mobile POS
State Bank of India with Snapdeal to create an online real-time analytics tool to assign credit scores to sellers on the platform
The way forward
State Bank of India today can reach villages through the banking kiosk and can serve every household through its Business Correspondents (BCs). It is the result of efforts like these that today the bank caters to around 45 crore customers.
Further, to strengthen its financial inclusion initiative:
SBI has launched the FI&MM vertical (Financial Inclusion and Micro Market).
Digitalisation of all banking activity is another top priority of the bank which the bank aims to achieve through its banking app, YONO.