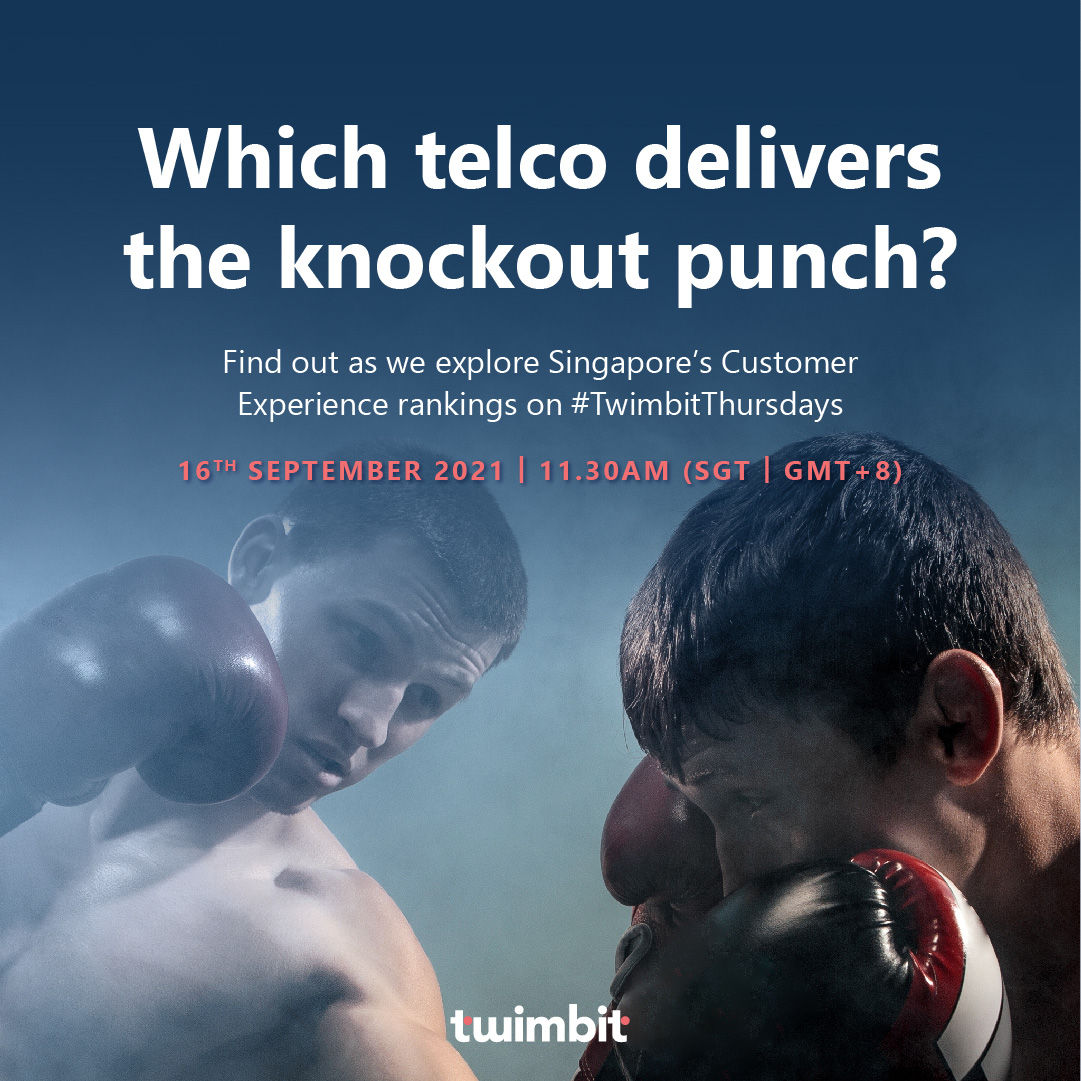 Background
Maintaining reputable customer experience is key to sustaining a concrete competitive advantage in the highly dynamic and digitally evolving telecom industry. However, the Customer Satisfaction Index of Singapore (CSISG1) for the telecom industry has plummeted by 2.5 points, from 71.7 in 2020 to 69.2 points in 2021.
Value creation now lies in the cultivation of hyper-personalised and digitalised experiences. As telco leaders, define your customer's journey by shifting the focus from delivering standard products to orchestrating customer experiences.
In this report, the twimbit analyst team helps Chief Executive Officers (CEO), Chief Experience Officers (CXO), Chief Marketing Officers (CMO), and business leaders of telecom companies like you understand the importance of creating a customer-centric journey. We outline the top initiatives taken by leading Singapore telcos in six customer experience benchmark parameters, going across three customer experience milestones to build long-term relationships.
Speakers
Manoj Menon
Hi there. Good morning, everyone, and welcome to this session where we release our latest findings on benchmarking Singapore's top six telcos on customer experience. I am Manoj Menon, MD and founder of twimbit. And I'm thrilled to be your host this session. And I'm joined by my colleague, Varnika Goel, who is the lead analyst for this study. And she worked with Aarushi, as well as with Akshita in our team, to produce this study. So good morning, Varnika. Thank you for joining me!
Varnika Goel
Good morning, Manoj. Thank you for having me.
Manoj Menon
Excellent. So yeah, we initiated this study, you know, the telecom industry in Singapore has been one of the most hyper-competitive markets, thanks to the entry of some newcomers in the last maybe three to four years. These mobile virtual network operators have brought about a degree of excitement, competition, both in terms of price as well as in terms of customer service. So we thought this is a fascinating time for us to get into understanding – where are we with customer experience in telecommunications in Singapore? What does the customer journey look like? And who is really excelling at it?
And most of us, consumers in Singapore, have had many frustrating stories to narrate about how long we wait till we are, you know, addressed by somebody at the customer service office of one of the telecommunications companies. So, the objective of the study was, we want to do this on a regular basis. And our goal is to challenge, propagate, and continuously provide insights so that we can help facilitate and improve the delivery of customer experience in telecommunications in Singapore. And so, we had a very comprehensive approach to doing this study.
Maybe I'll first invite Varnika. So Varnika, how is our framework? So, when we decided we want to benchmark these telecom companies in their customer service and customer experience now, how did we define that framework? And what is this twimbit's telco's CX framework?
Varnika Goel
Yes, so we were super excited when we were actually coming up with this framework. And the way we came up was by opening, actually, real accounts with these telco companies. So while we were going through the journey, we understood that customer onboarding is a huge milestone.
And within that customer onboarding, we thought that there are three parameters, which actually create the most inflexion of friction between the customer and the operator, where we felt that the first step would be about purchase. Then we thought that once you complete your purchase, what's next? How frictionless can you make the delivery? How exciting can you make it for the customer when they receive their SIM card that they are elated to just get onto the operator? And then finally, it's about activation. So, once you've activated, how easy is that process? Can you do it in like a fraction of seconds? It takes minutes? How many steps? Do you have to go through the process again?
And then, the second part was the overall – the brand and how the brand is projecting itself. And what kind of experience does it create for the customer? Is the customer able to associate themselves with the brand? And how does the design reflect the choice that the customer has made? So, it was primarily about how the packaging looks like, how the UI and the UX of that particular brand is all about, and what kind of services are they providing and are they innovative enough?
And then finally, we talked about customer support. So, in the end, it's all about how you are making the, empowering the customer to actually know, that you know, you have, you can self-service, you can be self-reliant, and at the same time provide the right support. Whether it is, it is in terms of voice, it's in terms of chatbot, it's in terms of like, going and talking to a customer executive.
To view the full conversation click on the download button below.