Key Highlights:
The public cloud market is estimated to account for 2.8% of all IT spending in 2020. We estimate that the revenue will grow by 3.9% by 2023. The increase in the number of new providers is contributing to this acceleration in market growth.
Software-as-a-Service (SaaS) is the dominant segment, and is contributing US$369mn of overall public cloud revenue. On the other hand, Infrastructure-as-a-Service (IaaS) has the highest CAGR of 16.3% and is expected to bring US$221.6mn in 2023.
Government of Thailand is an important market driver and is helping create a cloud friendly business eco-system. Their efforts include creating a DX-focused Guidelines and Agencies.
Leading verticals to adopt public cloud include BFSI, startups focusing on fintech and eCommerce and Government Linked Companies (GLCs). Together, they take up approximately 35% of 2020 revenue.
The Market Matrix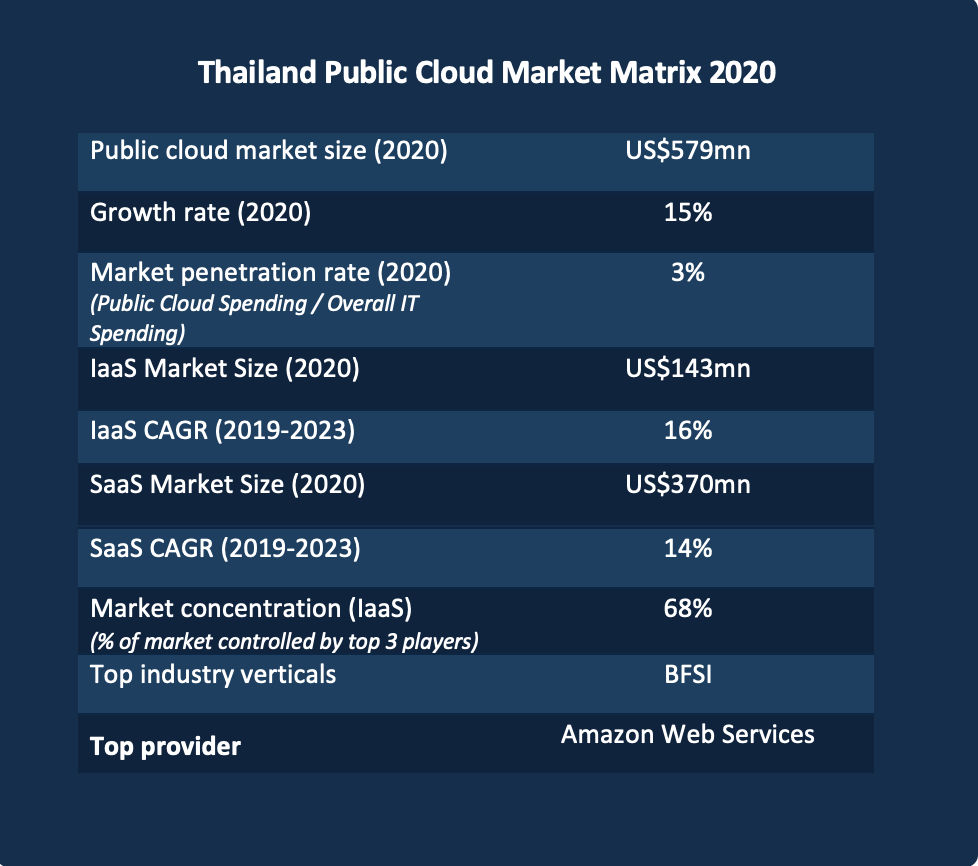 Key Market Drivers
Government Support – The government began their nationwide digital development by creating the e-Government Development Plan and the Thailand Digital Economy Blueprint. The first phase of these guidelines is about improving Thailand's hard and soft infrastructure. This includes increasing the coverage and the internet speed and amending/creating acts that governs technology use within enterprises. Some of the approved guidelines includes PDPA 2019, Cybersecurity Act 2019 and Cloud Guideline 2019. Certainly, this may result in an increased in confidence for more players to adopt public cloud. Nevertheless, it is still unclear how these updated infrastructures will be able to increase market efficiency in Thailand.
Early adopters – Some of these early adopters includes large-scaled banking and energy companies. It includes the continuous investments from Siam Commercial Bank, Kaidee, 2C2P and PTT Energy. These players boosted the cloud market and paved the way for other enterprises to initiate DX on their own.
Business Continuity Planning – Cloud Service Providers (CSP) are to adhere to very stringent BCP measures. This factor is the main driver for many local Thailand companies to adopt public cloud. Today, we are seeing an increased trend of local partners that includes cloud-based BCP. Most of the time, they include Disaster-Recovery-as-a-Service (DRaaS) as part of the value proposition of public cloud. This appeals to the Thai markets as they are prone to annual natural disasters.
Top Industry Challenges
Lack of skilled talent – The current education syllabuses is not preparing the future human capital for the latest technology. To make matters worse, only 1.03% of the total labor in Thailand are IT Specialists. For the most part, service sector will have higher cut of skilled IT as the demand for their skills is higher there. This can result a negative impact for Thailand 4.0 and the EEC project.

Enterprise driven by a traditional mindset – With the recent introduction of Thailand 4.0, enterprises are not familiar to the concept of DX. This can be attributed to to the lack of digital mindset in Thailand is present in almost all user groups. However, with the right education, this issue might resolve on its own in the future depending on how well enterprises will incorporate technology with the updated syllabuses.
Market Size and Growth Trends
Cloud Market worth US$579mn with 15% growth in 2020F – Overall, the public cloud revenue has been increasing. At the same time, as more companies mature in their respective DX journeys, starting 2020, adoption growth rate will slow down to an average 12-14% per annum. In spite of that, public cloud revenue will take a larger portion of Thailand's IT spending in 2023F, i.e., 3.5% vis a vis 2.8% in 2020F. This is mainly due to increased usage of public cloud in a more saturated market.
Infrastructure as a Service is expected to bag US$143mn this year with an 18% jump from 2019 – Yet we are forecasting to see a relaxed growth of 15-16% in the future as major enterprises advance to the next stages of their DX. Morever, the growth is slowed down further as public ministries and agencies plan on moving to their own private cloud, G-Cloud 2021 onwards. This is mainly to save the cost of renting cloud storage. Though, with BFSI still on the forefront of IaaS top spenders, government-state banks such as Bangkok Bank and EXIM Bank are foreseen to adopt IaaS to align to their DX migration.
BFSI, Startups and GLCs together take 35% of the public cloud revenue in 2020F
Currently, the more aggressive verticals include BFSI, with better regulations circling electronic transactions and public cloud adoption inspiring confidence amongst the bigger players, with contributions totaling US$18.6mn.
Even with no unicorn in sight, Thailand seem to be fostering a number of emerging startups focusing on fintech and eCommerce. The whopping US$16.2mn generated by the 300 startups have already put up eCommerce and fintech as the second top spenders in Thailand.
As market drivers, GLCs adopted public cloud as part of the effort to update hard infrastructure in Thailand. They are contributing ~US%16mn.
Key Analyst Takeaways
Government adoption of G-Cloud is likely to impact the business for global public cloud service providers
Large Thai conglomerates, the energy and education sector will be the fastest growing sectors in the near future
Chinese companies such as Huawei is likely to gain shares in the coming years as they make their presence known in the fairly competitive market.
The intense competition is growing, as a number of local providers participate.