This report aims to help industry leaders understand, design and deliver a differentiated employee experience (EX). We look at an applicable EX framework and 10 case studies of global companies making employee experience experiential.
It is our perspective on outcome driven EX-practices of these companies. We want to help align the intent, practice and sustainability of EX.
It is our perspective on outcome driven EX-practices of these companies. We want to help align the intent, practice and sustainability of EX.
The rising tide of stakeholder capitalism
Business Roundtable recently shared a new statement on the Purpose of a Corporation signed by 181 CEOs.
These companies have one thing in common. They all believe their reason for being is for the benefit of all stakeholders – customers, employees, vendors, communities and shareholders.
It is a tectonic shift from shareholder value being the only shining star.
It affirms the essential role corporations can play in improving our society when CEOs are truly committed to meeting the needs of all stakeholders.
– Alex Gorsky, CEO at J&J and Chair of Business Roundtable Corporate Governance Committee.
This study is to celebrate the companies we think are taking meaningful steps to treat their employees as customers. (stand out statement)
We want to help align the intent, practice and sustainability of EX.
The shaping of EX
(these are 3 data points/indicators/trends)
In the past 5-years, Google searches for the term 'employee experience' have increased by 130 percent.
Organizations that score in the top 25 percent on employee experience deliver 3X the return on assets and 2X the return on sales in comparison to companies in the bottom quartile. – an IBM research
"If I could pick just one way to measure engagement at LinkedIn, it would be 'If employees show up to work each day wanting to create a sense of belonging for others.' "– Pat Wadors, Former CHRO, LinkedIn (Current Chief Talent Officer at ServiceNow).
EX is the outcome of aligning an individual's journey of changing contexts and aspirations with organizational systems to fulfil them.
The right employee experience is not a set of repeatable tactics that companies can adopt and apply. They are unique for each industry, company and most of all, each employee. The journey is from attracting talent to talent exiting. And ideally, beyond.
It's the coming together of culture, technology and the physical to achieve a common sense of purpose for both the organization and the individual.
The 3 big questions to design employee experience
1. The culture question
Do you celebrate each other's success?
Example
Today's Supreme Court ruling means Dreamers who work, study, and contribute to our country can continue to do so without the fear of deportation. Airbnb was founded on the simple idea that our lives and the world are better when we accept one another. We continue to believe this reflects more than just a business value, it is an American value and we will continue to advocate for a permanent legislative solution for Dreamers who call the U.S. home.
– Airbnb after an American federal court's ruling on Trump administration's deportation drive.
The technology question
2.
Is technology helping you work better?
Example
Google makes the source code for the company's core apps – Search, YouTube, Gmail – securely accessible to all it's new developers.
RBS rolled out Workplace (FB business) to over 100,000 employees. They recognize that employees use Facebook in their personal lives and want something that emulates that experience at the workplace.
The physical environment question
3.
Is your workplace/workstation designed for upliftment?
Example
Apple park is extremely configurable and you can very quickly create large open spaces or lots of smaller private offices. The building will change and evolve.
– John Ive, former Head of Product Design
Amidst this puzzle, people seek camaraderie, community, and a strong sense of connection. This includes an environment of deep trust, safety and feeling deeply valued. This presents a huge opportunity for leaders to practice empathy and make a difference.
Those who truly provide employees all of this are creating the experiential organisation.
– Jacob Morgan
The top 10 global companies making EX experiential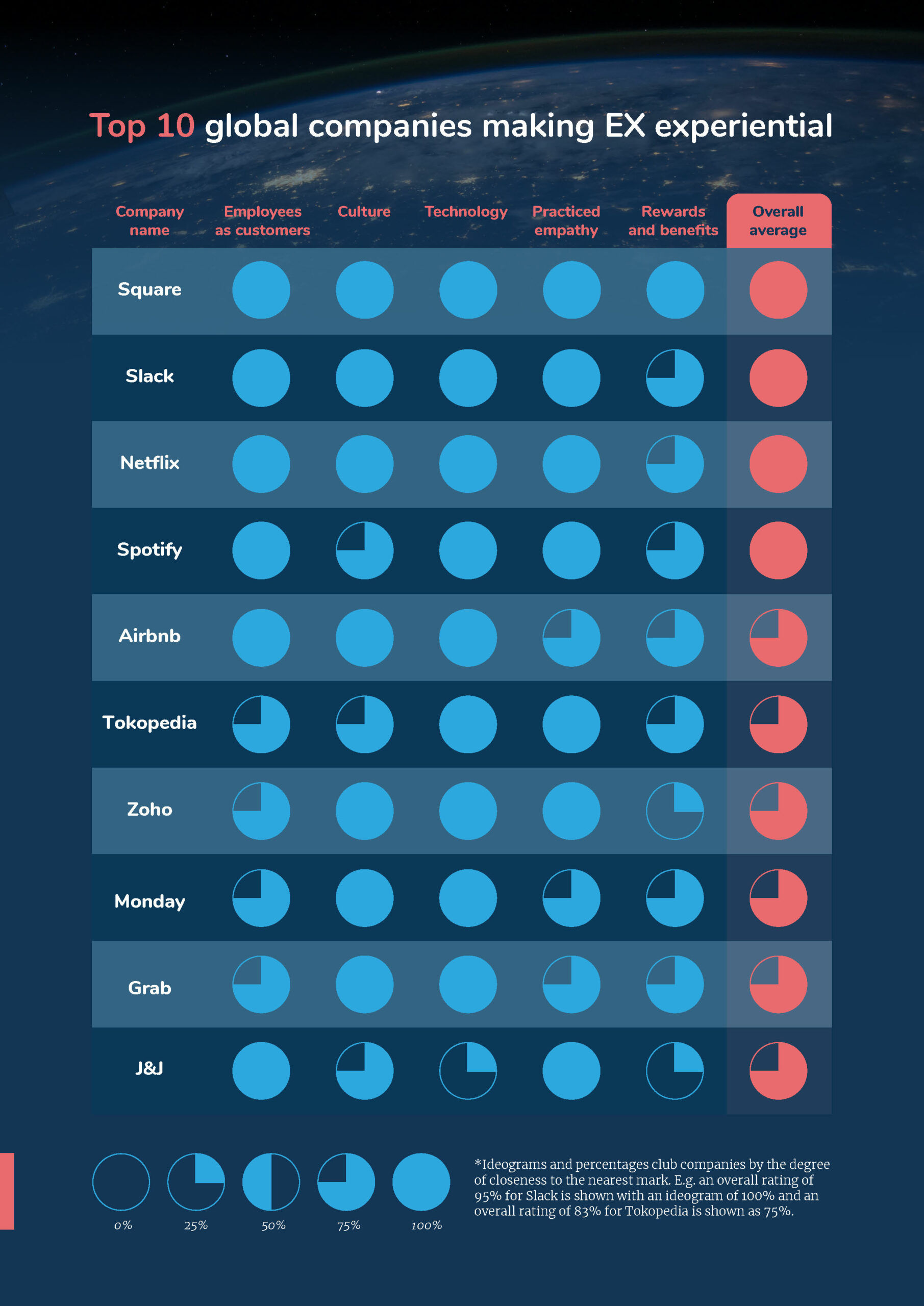 Legends:
*Ideograms and percentages club companies by the degree of closeness to the nearest mark. E.g. an overall rating of 95% for Slack is shown with an ideogram of 100% and an overall rating of 83% for Tokopedia is shown as 75%.
Twimbit's EX framework:
Employee as customer
Culture
Technology
Practiced empathy
Rewards & Benefits
Our methodology
Discussed the state of EX with several industry leaders to evolve our 5-point framework and the associated best practices
Studied 40+ companies across industries, geographies and sizes on our EX-framework
Developed informed perspectives through the financial statements, annual reports, Glassdoor ratings, published anecdotes and specific actions taken by these companies to address EX.
Evaluated our top 10 EX companies using the Harvey balls analysis presented above
Top 10 global companies making EX experiential