5G lessons from China
Using a mid-band spectrum with a sufficiently large channel capacity is important. With the low-band and mid-band spectrums already being used for legacy mobile services, the 5G device ecosystem has developed quickly. Complementing mid-band frequencies with a 700MHz band is helping operators achieve broader 5G coverage at a lower cost.
Government and regulatory support structures ensure funding and subsidies for developing the local 5G ecosystem. The government and regulators have addressed two key areas: improving the coordination among industry stakeholders and providing sufficient support to raise an entire technology ecosystem for 5G innovation.
Like many other Asian counterparts, China also granted 5G licenses to all existing operators. The ministry also awarded a new 5G license to late entrant China Broadcasting Network (CBN). The government's approach to aggregating coverage is enabling a rapid upgrade of legacy infrastructure.
Active network sharing for both non-standalone (NSA) and standalone (SA) 5G networks will save significant operators' CAPEX and OPEX. The multi-operator core network (MOCN) allows deeper infrastructure sharing and promises improved spectrum utilisation alongside the reduction in 5G CAPEX.
The framework for succeeding with 5G
Spectrum policy
New spectrum bands and large bandwidths are key to support 5G. Ensuring these two requirements is essential, alongside timely access to the required spectrum.
Government and regulatory support
5G is expensive. Its rollout will cost operators at least twice their 4G investments. The role of government and regulators should involve lowering the investments, administrative barriers and other perceived risks of industry participants.
Competition framework
Promoting competition between telecom operators at both infrastructure and service levels. This promotion is necessary to encourage differentiation, innovation, and better services to consumers.
Competition framework
One way to lower investment risks for the industry is to bring efficiencies to the infrastructure rollout. This move also addresses the need for wider network coverage for 5G's success.
Measuring progress & 5G status
Measuring the current progress on 5G compared to targets announced by various operators, regulators, and governments.
Benchmarking China's 5G progress
Figure 1: Benchmarking China's 5G progress
1. China has mainly focused on mid-band frequencies to unlock 5G's promise
The Ministry of Industry and Information Technology (MIIT) auction spectrum for 5G took place in December 2018. The three incumbent operators, China Telecom, China Unicom, and China Mobile, acquired spectrums in 2.5GHz, 3.5GHz and 4.8GHz bands, respectively. Following this, the new entrant, China Mobile Network, acquired the spectrum for providing 5G in the 700MHz band. Overall, China operators hold 600MHz in mid and low band frequencies for rolling out 5G services.
The three incumbent operators launched 5G NSA for commercial use in November 2019.
Figure 2: 5G spectrum awarded in China
Low band spectrum: The 700MHz band, which was only available for broadcasting TV signals, is now being repurposed for 5G use. China Broadcast Network (CBN) was awarded 80MHz in the band for 5G use.
Mid band spectrum: In China, there were allocations for 5G in 2.6GHz, 3.5GHz, and 4.9GHz bands. China Mobile has 160MHz and 100MHz spectrum in the 2.6GHz and 4.9GHz bands, respectively. On the other hand, China Telecom and China Unicom have each 100MHz spectrum in the 3.5GHz band, while CBN possesses an additional 60MHz in the 4.9GHz band. China Unicom has also upgraded its existing 4G BTS in the 2.1GHz band to support 5G.
High band spectrum: Frequencies in the millimetre wave (mmWave) bands are currently under discussion for 5G use. Operators have run several trials for vertical use cases in the mmWave band. The regulator may award some spectrum in the high band frequencies in 2021.
The government maximised spectrum access and supportive policies for faster infrastructure development
2.
The Ministry of Industry and Information Technology (MIIT) ensured a lower spectrum fee for 5G licenses. There is a waiver of the spectrum usage fee for 5G during the first three years of acquiring a 5G license. Operators will start paying the full fee only after seven years of receiving the 5G license.
5G is a national strategic priority for China. The MIIT has announced multiple policies and plans that support the rollout of 5G.
Public-private partnership funds for boosting 5G investments (National integrated circuit industry investment fund & 5G Innovation Industrial Fund).
5G+ Industrial Internet: aimed at accelerating 5G in vertical industries. In 2020, MIIT launched about 1,100 5G+ industrial internet projects.
14th Five-year plan (2021-25) emphasises completing the 5G rollout in 5 years.
Made in China 2025 initiative provides support for developing the domestic electronics industry.
China to kick-off a rampant scaling of 5G infrastructure, adding about 2 million base station over the next two years
3.
Figure 3: 5G base stations in various spectrum bands, China, 2019-25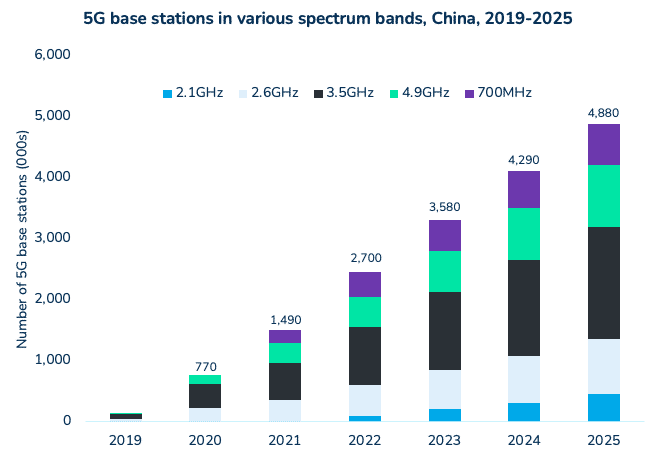 By the end of 2020, the three operators have collectively deployed 770,000 5G base stations across China. In alignment with the 5G spectrum allocations, most deployments have happened in the mid-band frequencies covering 2.6GHz, 3.5GHz, and 4.9GHz.
China Mobile alone deployed about 390,000 5G base stations, accounting for 50% of the country's total 5G base stations. The operator had also started deploying the cloud-based 5G standalone (5G SA) core network in September 2020.
China Telecom and China Unicom have jointly built and currently operate over 320,000 5G base stations across China through a commercial 5G network-sharing agreement.
The rollout of the CBN 5G network will further boost infrastructure developments in 2021 and 2022
We expect the number of the operators' 5G base stations to double, almost, in 2021. The rollout of 5G in the 700MHz band, where China Broadcasting Network (CBN) is the sole receiver of the spectrum, drives this increase.
Under the network-sharing agreement, China Mobile and China Broadcasting Network are co-constructing a 5G network using the 700MHz spectrum. The two plan to deploy over 400,000 base stations to provide complete coverage of urban areas in key counties and towns across the country.
4. Investments in 5G to peak at 54% of total industry CAPEX, summing USD 140 billion between 2021-25
Infrastructure co-building and sharing to help in lowering the cost of 5G network rollouts
In 2020, the collective investment in 5G-related infrastructure stood at about USD 27 billion. The figure represents 52.8% of the total industry CAPEX for the year.
China Mobile lead 5G investments, accounting for over 58% of the country's total 5G CAPEX.
The initial network sharing agreement between China Telecom and China Unicom cut 5G rollout costs, as both operators agreed to co-build and share the network across 15 cities.
Operators saved over CNY 76 billion in CAPEX as they jointly developed 5G infrastructure.
China Mobile and China Broadcasting Network (CBN) are jointly constructing a 5G network using spectrum in the 700MHz band. 
China Mobile will share its transmission network and 5G infrastructure in the 2.6GHz band with CBN.
Using a 700MHz band will help the operator offer 5G coverage with lower BTS density. The use of the low-band spectrum may help China improve its CAPEX deployment to a great extent. 
Figure 4: 5G as a per cent of industry CAPEX, China (2019 – 2025)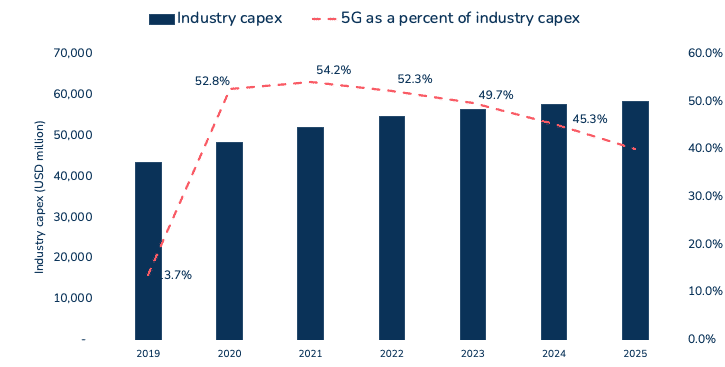 Achieving active component sharing for both SA and NSA 5G – China Telecom and China Unicom
Sharing passive network components, such as access to masts and power at cell sites, is a common practice. An active network infrastructure that involves the shared use of radio access network (RAN) elements such as antennas, however, has not been widely observed. Issues such as disparate spectrum holdings of various operators limit a radio system's capability to manage a wide range of frequency bands.
China Telecom and China Unicom have agreed to jointly deploy the 5G RAN infrastructure while also sharing radio frequency resources. The two will achieve significant resource optimisation by:
Using shared RAN equipment: the two share a single RAN network enabled by MOCN standard. This feature allows both operators to use the same RAN infrastructure as well as shared frequencies. The 5G core networks are separate for each operator.
Sharing spectrum: 200MHz of the spectrum between the 3.4GHz-3.6GHz band. ZTE is working to enable spectrum sharing by increasing the operating bandwidth and transmission power of existing radio equipment. Other features supporting spectrum sharing, such as dynamic spectrum sharing (DSS) and carrier aggregation, are also introduced.
Geographic separation: there are no overlaps for geographies covered by the two operators.
5G will drive consumer revenue growth, adding USD 22 billion in new revenues over the next five years
5.
Figure 5: 5G subscriber packages in China, 2019 – 2025
After launching 5G NSA (5G in non-standalone mode) in 2019, operators ramped their efforts towards introducing 5G SA (5G in standalone mode) in 2020. China Unicom and Telecom launched 5G SA in 3Q2020.
A large scale infrastructure rollout is helping operators quickly gain 5G subscribers. With a different definition for 5G, which counts subscriber using 5G data packages, the country crossed the 300 million 5G customers mark in 2020. This count represents about 20% of total mobile subscribers in China.
To drive service uptake, operators have encouraged various 5G devices with more choice in the affordable segment, available from USD 150.
In 2021, 5G package customer penetration may reach 32%, with about 500 million subscribers. Customers consuming 5G packages will account for over 45% of service revenues:
The China Telecom ARPU for 5G package customers is 48% higher than blended ARPU.
For China Mobile, 5G ARPU is 6% more compared to 4G mobile ARPU.
Subscribers are upgrading to higher-rate plans to fulfil their increased data demands, driving higher ARPU for 5G package customers.
A range of new consumer applications, such as 5G ultra-HD live streaming, cloud gaming, and AR & VR based services, lifted data consumption.
In addition, operators are now focusing on introducing cloud-backed devices that will significantly impact average data consumption. The most recent example is the China Telecoms Tianyi 5G smartphone. A cloud-based device means operators will realise the benefits of lower network latency to run not only certain applications, but also the entire phone on the cloud.
How did operators in China fared compared to the regional peers – find out here