How did I ever live without Coupang? Our goal is to make customers' lives so effortless that our services feel magical. We are excited to dedicate ourselves to creating a world where customers can't imagine life without Coupang.
– Bom Suk Kim, CEO of Coupang
Introduction
We live in an experience economy. Distribution, product features, and services are no longer enough to enable a bank to differentiate itself from others in this highly competitive global marketplace. The intensive globalisation of brands and experiences has ensured that consumers experience the world's best in every part of the world. Their expectations are at an all-time high, with personalization as a critical requirement embedded in every offering. They expect you to anticipate and solve their challenges.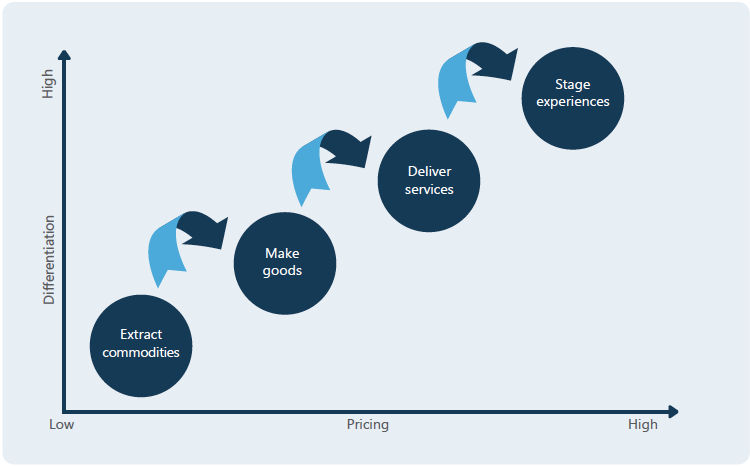 The value creation now lies in the curation of experiences through the digital technologies. This is enabling companies to reimagine customer journeys and develop new business models. Business leaders are looking at innovative ways to provide experience as a service to their customers, placing experience as an economic offering on its own. The Harvard Business Review (HBR) article captures the essence of this megatrend as illustrated in Figure 1. Businesses that shift from just delivering services towards staging experiences are able to differentiate themselves and align their pricing towards the premium end. A study shows that customers are willing to pay 13% higher for a better experience2.
On a global stage, Apple, Netflix, Amazon and Disney are often quoted as benchmarks for great CX. We asked ourselves who could be seen as Asia Pacific's true leaders in providing great CX. This research project is an attempt to identify and recognise the region's best companies. To qualify, you have to be a company headquartered in Asia Pacific. Figure 2 below captures the rigorous four step research methodology we used to arrive at this elite list. The information was gathered through their websites, annual and sustainability reports, press releases, news articles and online reviews.
The 4-step approach
Our research methodology follows these four steps.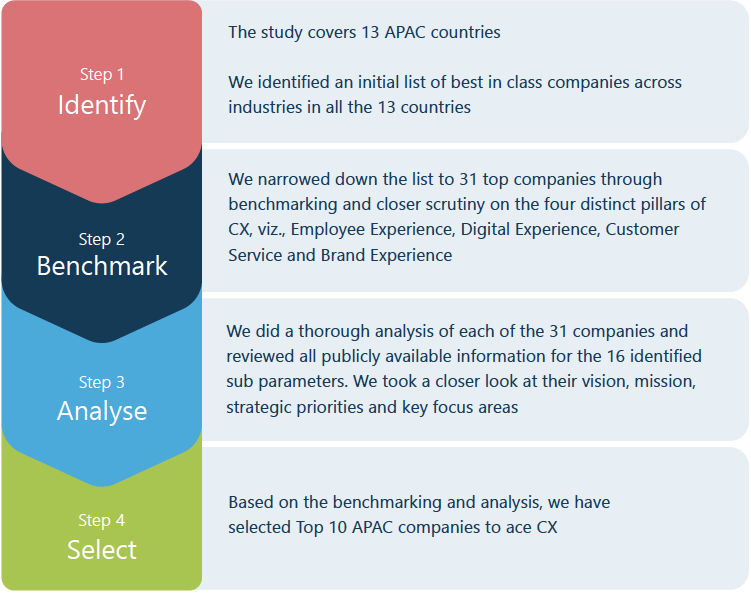 We view these Top 10 companies as a learning list. This list will enable us to study the best practices and inspire the rest of the companies to emulate their footsteps. The companies have been listed in alphabetical order and we have not ranked them. It will be unfair to rank them given the very diverse nature of their businesses and geographies of operation.
In the era of digital economy, we must realise smart business management, data driven operations, robust channel development, and personalised customer services
– Ma Mingzhe, Chairman of Ping An
Benchmarking on 4 themes
Twimbit developed a framework for the detailed evaluation of the companies to arrive at the Top 10 list. The framework asserts that the ability for any company to deliver CX in a holistic manner is best done through the benchmarking on four distinct themes. Each of these pillars are key in delivering stellar CX performance. These pillars are employee experience, digital experience, brand experience and customer service. The four pillars together encompass a total of 16 sub-parameters. The region's best companies were evaluated on each of the 16 parameters and that helped finalise the top 10.
Employee Experience
Digital Experience
Customer Service
Brand Experience
The checklist
Measure Employee Experience
Hiring & onboarding
Role centrality
Learning & development
Compensation & benefit
Culture
Exit experience
Enhance Digital Experience
Omnichannel
Frictionless
Personalisation
Phygital
Gamification
Digital engagement score
Measure Customer Service
Customer satisfaction score

Net Promoter Score (NPS)
OR

Customer Satisfaction Index (CSAT)
OR
Customer Effort Score (CES)
Differentiated Brand Experience
Brand story
Global delivery
Degree of innovation
Top 10 APAC companies to ace CX
The list of companies reflects the fundamental characteristics discussed above. We looked at companies which have successfully achieved and have continuously emphasized focused efforts on the four pillars and have made a shift in the way they create and define value for their customers. We took the opportunity to understand how these organizations have transformed and are succeeding in the experience economy.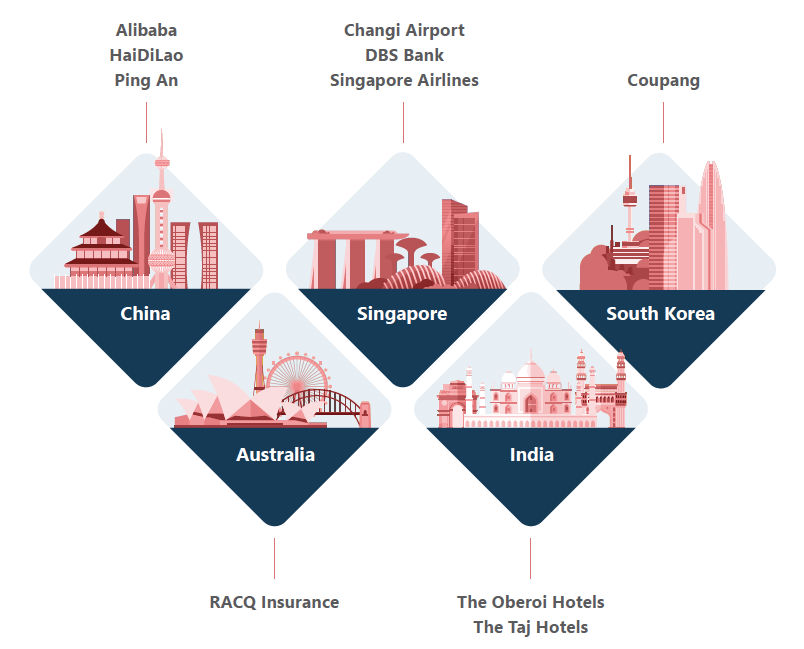 The 3 key takeaways
The entire journey of reviewing over 100 companies across Asia Pacific and distilling it down to the final ten has given us some very valuable insights. We see three distinct opportunities for companies to be able to deliver on the promise of great CX.
Employee experience – While there is considerable investment and discussions around employee experience, few companies view the entire employee journey from onboarding to exit in an integrated manner. There is a huge opportunity to leverage digital tools to address the biggest challenges associated with learning, disruption and employee engagement.
Compelling brand story – Companies need to review their purpose in context of today's digital world. The purpose has to extend beyond the immediate need to deliver profits and increase shareholder value. A compelling brand story brings together all the stakeholders in a committed manner to serve the bigger purpose that the company aspires to deliver for the community.
The need to cultivate emotional experience – Many companies are outstanding in delivering great customer service in a frictionless manner. Competitors are quick to latch onto these best practices and keep pace. The emotional engagement with the brand is what unlocks the most value. The element of surprise, the emphasis on continuous innovation and the pursuit of a larger purpose has helped the top companies drive emotional engagement.
Luxury is not just about service anymore but creating exceptional experiences and memories for our guests.
– Kapil Chopra, President of Oberoi Hotels