"If banks can't offer something more valuable than Amazon Prime, then we are probably in the wrong business" – Bradley Leimer
Introduction
The millennial generation falls under the age bracket of 18 to 40, that demands convenience, personalisation, and design experience in every engagement. This experiential persona is translated into millennial's banking needs as well. A bank providing feature-embedded products and services powered by new-age technologies in a few clicks will succeed in the market.
Millennial growth opportunity
For millennials, to achieve financial independence, opening a bank account is the first step. However, many millennials struggle to do so as their first-hand banking experience results in them feeling disengaged. Having said that, in the coming 5 to 10 years, millennials will account for more than 60% of the workforce in the Asia Pacific countries, and to tap this market, traditional banks will have to go through a radical change.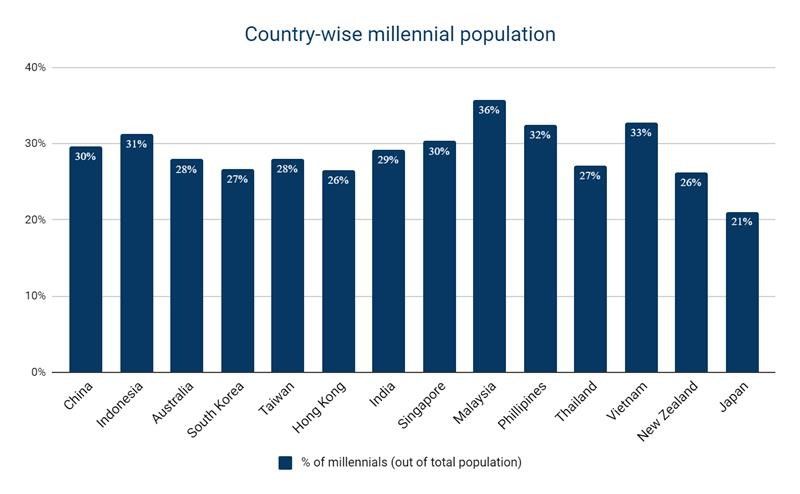 With the vision of millennials as a growth opportunity, we see several neobanks creating state-of-the-art product propositions, catering to specific millennial needs. This further brings disruption and competition in the market as these banks operate as technology companies with an agile mindset, unlike the traditional banks' incremental change approach.
Our approach
To identify the best-in-class product and service propositions while fulfilling the experiential needs of the millennials, we studied 60 banks in the 7 Asia Pacific countries. Based on our in-depth analysis, we have come up with a list of Twimbit's top 10 millennial banks in the Asia Pacific, which are setting up a benchmark for banks that cater to millennial needs.
To narrow down the top 10 banks from an exhaustive list of 60 banks, we assessed each of them on five key features stated below, listing the millennials' expectations from their respective banking partners. Further, we ran a short survey inviting 200 millennial respondents across these countries to determine their preferences in banking services.
Evaluation Criteria
A strong and secure digital identity
Presence of personalised offers
End-to-end digitalisation
Significant corporate social responsibility
Advanced social media integration
Top 10 millennial banks
Rank 1, Frank, Singapore
The brand name is stylish, quick, and enables instant recollection
The physical presence is in millennial-centric areas such as college campuses and popular malls
The physical interface is more like a casual café than a boring bank branch
Rank 2, Kakao, South Korea
The bank uses its social media messaging app KakaoTalk, popular among millennials to cross-sell banking products
Popular cartoon-based cards named 'Friends' strike an immediate resonance
Nostalgia-based 'piggy bank' saving plans
Rank 3, DBS, Singapore
Online banking through facial recognition – First of its kind
DigiPortfolio is a robo technology-enabled portfolio management
Quick and hassle-free money transfer using only mobile numbers
Rank 4, TMRW by UOB, Indonesia/ Thailand
Popular cartoon-inspired UI strikes immediate resonance among millennial population
Financial insights based on spending patterns, allowing better expense and saving decisions
Personalised discounts and cashback at restaurants and shopping centres
Rank 5, WeBank, China
The bank uses its social media messaging app WeChat, with a 90% customer penetration in China to cross-sell banking products
Partnered with China's leading car dealerships Weichedai auto loan for easy access to vehicle loans
WeBank app allows Withdrawals, money transfer and wealth management all in one application
Rank 6, Jenius, Indonesia
An integrated one-stop solution for multiple banking accounts
Dream Saver is an auto mechanism to calculate and save money every day/week/month
Pay Me and Split Bill features help avoid awkward conversations with friends by enabling direct expense sharing
Rank 7, Bank Danamon, Indonesia
Financial protection to overcome monetary challenges- Proteski Prima Ema Plus (PPEP)
Personalised offers on purchasing a favourite sports team's kit or reserving a luxury hotel room
Pilgrimage Savings accounts to help individuals save for a lifelong desired trip to Mecca
Rank 8, Axis Bank, India
The Axis Pay UPI App is an integrated one-stop solution for multiple banking accounts
Axis OK allows banking without internet on any android device
Axis AHA, a virtual assistant to carry out tasks such as transferring money or paying bills
Rank 9, Westpac, Australia
An international student account with no monthly service or withdrawal fee along with a complimentary student card
A zero service fee Mastercard along with online banking if you are under 21
BT Invest, a platform to create a diversified investment portfolio
Rank 10, SBI YONO, India
YONO mobile app allows access to everything from calling a cab to repaying a loan
SBI's YONO Omni Channel helps maximise returns on investments with interactive portfolio dashboards
YONO Omni Channel helps maximise returns on investments with interactive portfolio dashboards
Key takeaways
The banks discussed in the list have made incredible shifts to identify, cater to, and continuously support the ever-changing needs of the millennial population. Therefore, based on our analysis, there are four key best practices to successfully attract and engage millennials:
Unique digital brand identity
User interface inspired by cartoon and social media
Enjoyable, accessible, and aesthetic physical and digital presence
Reduction in clicks through facial and biometric recognition
Despite the new and upcoming challenger and neobanks, whose value proposition is far more superior to traditional ones, they struggle to acquire customers due to their loyalty and security trust with traditional banks. However, we see these banks as strong competitors for the future years when customers will have developed a broader mindset and will be more willing to prioritise services over safety.
Note
This research was contributed by Saksham Verma and Rajvardhan Bhatia