We want to work with SMEs to identify initiatives which can bring about meaningful change towards sustainability. This is not a simple task because of the wide range of industries that our SMEs participate in and the varying levels of readiness across the markets that they operate in. – Linus Goh, Head of Commercial Banking, OCBC Singapore
Introduction
While Small medium enterprises (SMEs) are at the core of a country's economy, they remain an underserved market. A key reason for banks and financial institutions' inability to serve SMEs is the huge diversity in the SME market segment, which requires banks to support SMEs in their end-to-end journey. This includes functional and value-added banking products and services, where SME banking is no longer limited to traditional lending and deposit product portfolio.
Our approach
To fulfil SME needs to its greatest potential, we studied 45 top banks in 12 countries that are serving SME customers in their respective geographic locations. Through this study, we aim to understand how banks, technology-driven financial institutions, neo-banks, and challenger banks can help SMEs in their end-to-end customer journey while improving their overall sustainability and growth.
Based on our in-depth research and expert discussions, we have come up with a learning list of Twimbit's top 10 SME-focused banks in the Asia Pacific. Therefore, to gain deep insights to understand how banks serve SMEs, the evaluation is based on six key aspects that fulfill the SME customer journey. The four critical priorities in SME owner's business journey are:

Figure 1: 6 pillars of evaluation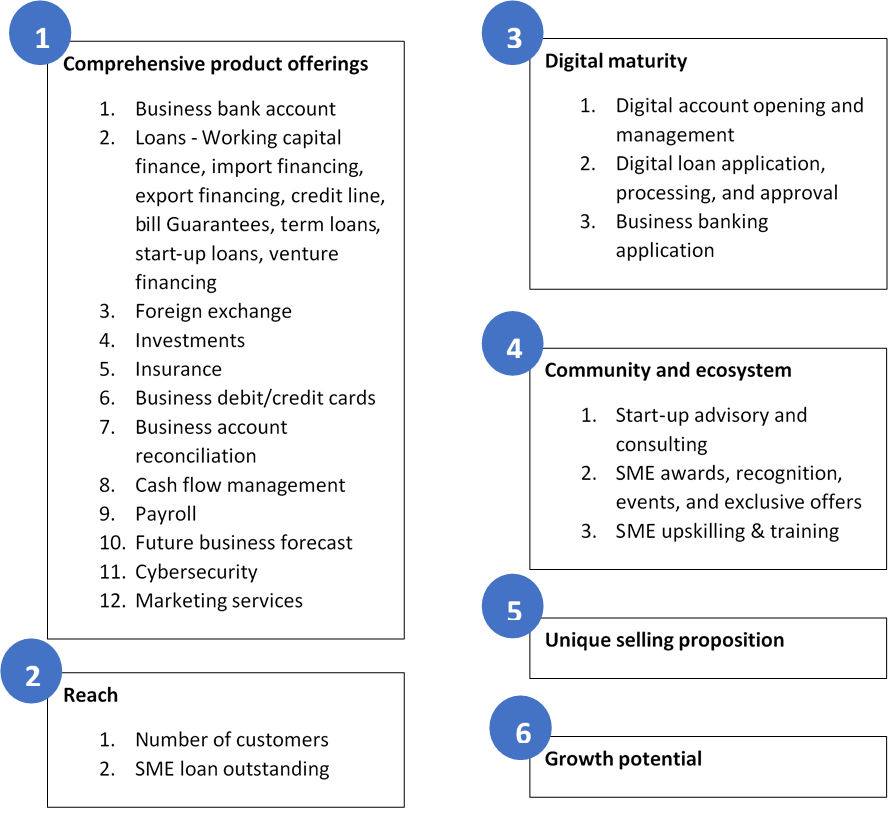 Top 10 SME banks in the Asia Pacific
The banks listed below excel at the fundamental aspects of an SME's end-to-end customer journey. Each bank exhibits an exemplary effort to serve SMEs through its product and service offerings. In addition, this leads to an improvement in the operational outcome for the bank's SME customers in its area of business.
Here are the Top 10 banks in the Asia Pacific that we believe excel at serving SMEs:
Rank 1 Oversea-Chinese Banking Corporation (OCBC), Singapore
Bank highlights
OCBC provides a suite of products beyond SME financing to support end-to-end customer journey:
1. Velocity by OCBC – A business banking application
2. SME Go Digital initiative, offering the Start Digital Pack across HR, Accounting, Digital Marketing, Digital Transactions, and Cybersecurity, exclusively for business banking customers.
3. SME sustainability agenda- Identified 100 companies that have the potential to become early movers, leading the change within their respective industries.
Rank 2 DBS Bank, Singapore
Bank highlights
DBS digitizing the end-to-end SME customer journey:
1. 5 business application to support all SME needs – DBS Rapid, IDEAL Connect, DBS IDEAL, e-advices, and business assessment tools
2. Bootcamp webinars
3. SME online academy – Actionable insights by subject matter experts in bite-sized online classes
4. Exclusive thought leadership for SMEs
Rank 3 United Overseas Bank (UOB)
Bank highlights
The bank digitally delivers an integrated solution for all SME needs:
1. A business banking application, UOB Business, to support all SME banking needs
2. A cloud-based solution, UOB BizSmart, to run and manage SME business – UOB BizSmart
3. A community, UOB BusinessConnect, to get resources and support and help achieve SME business goals, grow a network, and learn from industry experts
Rank 4 State Bank of India (SBI), India
Bank highlights
SBI offers SME customer-centric propositions:
1. e-Mudra – web application to facilitate appraisals, sanctions, and disbursals of loans up to INR 50,000
2. 'Standby Line of Credit' for MSMEs with limits up to 5 crores to meet temporary liquidity mismatch
3. 'SME Assist' product to address the issues of the units facing liquidity constraints, wherein WCDL loan is granted against the pending input tax credit claims (GST)
4. Project Vivek, Bank's appraisal system from traditional balance sheet based funding, to a more objective appraisal system using cash-flow health and other information sources
Rank 5 BRAC Bank, Bangladesh
Bank highlights
1. BRAC Bank introduced small-ticket loans to bring the grassroots entrepreneurs under the umbrella of formal banking
2. It is the only active member of the Global Banking Alliance for Banking on Values (GABV) from Bangladesh, an international platform for sustainable and responsible banking practices
3. BRAC Bank is the first Bangladeshi bank that has crossed USD 1 billion market capitalization
4. The bank's women entrepreneur-only initiative Tara aims to boost women's self-esteem and enhance their decision-making power through better access to knowledge regarding banking and banking solutions
Rank 6 ICICI Bank, India
Bank highlights
ICICI offers multiple unique propositions to SMEs:
1. 4 types exclusive digital applications – CorpConnect, iBizz, Bizz Circle platform for networking, and InstaBiz
2. SME Elite 50 – ICICI Bank's SME Elite 50, powered by ET Now, is a unique initiative which aims at selecting leading SMEs in India
3. The SME Toolkit, www.smetoolkit.in is a joint project between ICICI Bank and IFC (International Finance Corporation), and an online resource center for SMEs
4. Emerging India awards – Awarding India's Small and Medium Enterprises
Rank 7 Axis Bank, India
Bank highlights
Axis bank is highly focused on improving the business capacity of SMEs through:
1. 'Evolve', a signature initiative for building SME capacity, coordinating the program in 31 cities across India, where 3,200+ SMEs have participated
2. India SME awards – To recognize the efforts and contributions of SMEs, AXIS Bank has joined hands with the India SME Forum to felicitate successful SMEs
3. An integrated one-stop mobile application – Axis mobile
Rank 8 Bank for Investment and Development of Vietnam (BIDV), Vietnam
Bank highlights
BIDV bank has put relentless efforts into implementing solutions to uplift SMEs in Vietnam through:
1. Commitment to sustainable development, environmental protection, SME development in rural areas and women-owned SMEs
2. BIDV digital solutions – ibank, BIDV online, and BIDV immobile
3. Value-added products to support SMEs in cash flow management, business reconciliations, discounted value papers, and money transfers
Rank 9 MYBank, China
Bank highlights
A digital-only bank to support the financing needs of SMEs at a click of a few buttons:
1. Online loan – Borrowers apply for a loan with just a few taps on their smartphones and receive cash almost instantly
2. MYbank has a product called Sell More, Borrow More that provides loans to more than 50 million offline, quick response (QR) code merchants.
3. Integrated QR-enabled interfaces with – Weibo, Alipay, and WeChat
3-1-0 model: It takes only 3 minutes to apply for a business loan, less than 1 second to be approved — and involves zero human intervention
Rank 10 Australia and New Zealand (ANZ) Bank, Australia
Bank highlights
ANZ has a range of resources that could help start, run, and grow an SME business:
1. Option to easily import your Business Black card transaction history directly to compatible accounting software platforms, such as Xero or MYOB
2. The bank's large network of branches and Smart ATMs and the availability of dedicated relationship managers, allowing small business owners easy access to their banking facilities and ongoing support
3. A comprehensive merchant terminal device for retail businesses called ANZ BladePay
Do now – 6 actionables for SME banks
Building SME products and services is not a linear gateway for supporting SME owners' lending and deposit needs. It is about creating radical changes for delivering truly digital services and improving operational business outcomes for SME customers. Hence, banks, financial institutions, challengers banks, and neo-banks should cater to the following SME needs:
Custom offerings to support ever-changing market dynamics
Fast turnaround time to meet its daily operational needs
Convenient transaction mechanism to support timely payments and collections
Easy and on-time access to working capital finance
Support for conducting cross border trade and leverage foreign exchange products
Digital solutions at the core of the business to achieve efficiency gains