Company profile
CEO: Peter King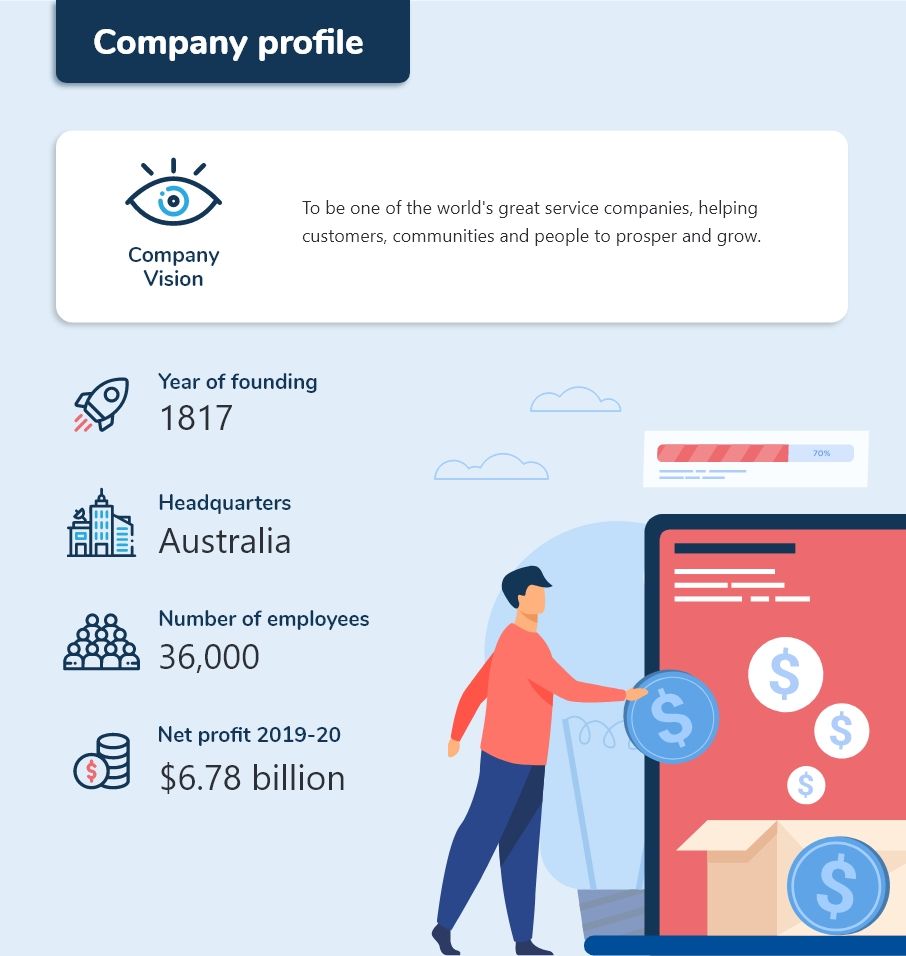 Westpac's vision
Westpac's vision is to be one of the world's great financial service companies by helping customers, communities and people to prosper and grow. Creating deep and enduring customer relationships is the driving force behind their every action.
Strategic priorities
They follow a five-step guide to achieve their goals: service leadership, digital transformation, performance discipline, growth highways and workforce revolution.
Challenge
Westpac wanted to differentiate itself in the digital banking market. A lack of an internal workforce with the right skills to serve the next generation, Westpac was unable to understand and cater to the millennial needs and mindset. Westpac realised that it was still operating within the traditional banking mindset and it required an internal workforce revamp.
Solution
In order to overcome the above-mentioned challenges Westpac:
Conducted primary consumer researches with Fiserv to understand consumers' attitude towards digital banking.
Launched an online banking platform in 2015 to target millennials.
Introduced products like autopilot account, BEEM application, and various rewards on payments specifically for millennials.
Provided experiential, theoretical and leadership development activities to reskill and upskill their internal workforce.
Background
Westpac was established in 1817 and was first titled as Bank of New South Wales. In October 1982 it was renamed as Westpac Banking Corporation, following the acquisition of the Commercial Bank of Australia.
The bank faced major losses in 1800s which was followed by multiple acquisitions in the 1900s.
After successfully becoming the primary sponsor of the Sydney Olympic Games 2020, the bank faced a strategic reshaping.
Furthermore, a merger with St. George Bank Ltd. in 2008 resulted in the bank being declared as a larger multi-brand group.
Business Model
Westpac's business comprises of four key customer-facing divisions:
Consumer– This sector is solely responsible for the entire sales division in Australia, under the brand Westpac, St.George, Bank of Melbourne, Bank SA, BT and RAMS.
Business– This sector is responsible for sales and services to micro, small-to-medium enterprises, commercial business and private wealth clients in Australia under Westpac, St. George, Bank of Melbourne, BankSA, BT brands and Capital Finance.
Westpac Institutional Bank (WIB)- WIB delivers a broad range of financial products and services to commercial, corporate, institutional and government customers. The WIB also provides a full range of banking services in Fiji and Papua New Guinea.
Westpac New Zealand– This sector is responsible for the sale of banking, wealth, and insurance products for consumer, business and institutional customers in New Zealand.
People strategy
Aiming to establish pillars of strong customer relationships by building a revolutionary and highly skilled workforce is one of Westpac's strategic priorities:
Their priority is to build a workplace where the best talents work out of interest and not just for the steady paycheck.
Westpac continues to strengthen their workforce to serve their customers more efficiently and as a result, achieve greater financial numbers.
The employees are encouraged to share their opinions and ideas since Westpac aspires to drive innovation and deliver new and improved banking solutions by staying responsive to change.
A constant effort is made by the board to maintain a diversified workforce to prevent gender and racial biases.
Partnership strategy
Following are few of their recent partnerships of Westpac:
Open Agent- Helps homeowners to better understand their buyers based on in-depth analysis of past sales history and customer reviews.
InDebted- They specialise in providing customers with a detailed debt recovery solution. Their value proposition is based on a digital-first and data-driven approach to collections.
Valiant- This partnership aims to help SME's make better financial decisions. By asking them the right questions. Valiant recommends a loan suited to every SME's personal needs.
QLabs- With their highly advanced quantum technology, they encrypt confidential data using advanced engineering methods.
10x Future Technologies- This UK-based cloud-native banking technology provider assists the bank in building a standalone digital "banking-as-a-service" platform.
Technology
Westpac's innovation utilise the most recent cloud and robotisation strategies available in order to be more productive.
9 product and service offerings that make Westpac Bank a millennial focused bank
Autopilot saver accounts for the age group under 21 years.
3% variable interest on savings for customers within the 18-29 demography.
Virtual card for online shopping and bill payments.
Apple Pay for making payments with the help of NFC technology.
Direct money transfer using BEEM application allowing split payments among friends.
Offers exclusive rewards on major brands, travel, entertainment and so on.
Westpac Choice Everyday account lets you win $50 on opening a new account.
It provides end-to-end digital onboarding.
Westpac, along with BT, offers a range of investment options crafted to suit your investment goals and needs.
Awards
| | |
| --- | --- |
| Year | Award |
| 2016 | The Asian Banker Excellence in Retail Financial Services Awards |
| 2016 | Internet Banking Product of the Year |
| 2016 | Best Retail Bank in Australia |
| 2015 | Commercial Asset Finance Brokers of Australia's Financier of the Year |
| 2015 | Banking Website/New Online Banking Offering of the Year |
| 2015 | Australian Premium Banking Service Proposition of the Year |
| 2015 | Money Magazine's Socially Responsible Bank of the Year |
The way forward
In conclusion, for their continuous growth, Westpac should:
Firstly, take every opportunity available and create more opportunities to engage with customers to better understand the needs of millennials.
Secondly, be responsive, innovative and visible.
Finally, create a more creative user interface which can drive more millennial traffic.
Note
Saksham Verma and Rajvardhan Bhatia contributed toward this research by conducting preliminary analysis and conceptualizing the topic.